Wine. That is probably the first thing that comes to mind when you think of Napa Valley. Californian wine may seem like a new thing to many people, but viticulture has been well established in this particular region for a long time.
Some wineries here date all the way back to the late 19th and early 20th centuries. As a result, the wineries and vineyards here really know how to make a beautiful bottle of wine. They're often housed in rustic buildings that exemplify the history of the region, which definitely complement the natural environment that also makes this part of the world so beautiful.
Whether you're hiking through trails in state parks, clambering your way to the tops of peaks to get a better view of the tumbling landscapes, or simply strolling along the Napa River itself, experiencing slices of nature in the Napa Valley area is all too easy. And since it's located along a valley – the clue is in the name – the best places to stay in Napa Valley are within easy reach of one another.
Drive the St Helena Highway between charming Napa in the south and wine-heavy St. Helena in the north and take your pick of where you'd like to stop off for a bite to eat – and maybe a little bit of wine tasting, too.
Map of Napa Valley
© OpenStreetMap © MapTiler © Touropia
But of course, you won't be able to drive on to your next destination if you've been enjoying one particular winery a bit too much. All that wine is first and foremost going to make you unable to drive (it's against the law!), but it's going to make you sleepy too. Luckily for you, there are a whole lot of places to stay in Napa Valley, most of which fall in the upper mid-range to high-end bracket. Expect boutique offerings, spas, and resorts, often housed in beautiful historic buildings, and all with a fantastic array of wine, naturally.
Napa
Napa is right in the heart of the Napa Valley – you can tell that from its name. Staying here means good connections to outlying areas – thanks to the Napa Valley Wine Train – and getting to stay in the pretty town itself.
But it doesn't come cheap; the selection of hotels in Napa begin at mid-range and quickly becomes predominantly high-end. So be prepared to open your wallet if you choose to stay at Napa. However, it might well be worth it.
The Wine Train operates from here, using a historic, restored train and offering up delicious local cuisine while you tour the countryside.
The downtown area is filled with beautiful late 1800s buildings, there's a lovely riverfront to stroll along, and plenty of restaurants to eat at. Swing by Oxbow Public Market for some tasty cheese to go with all that wine.
Where to Stay in Napa
St. Helena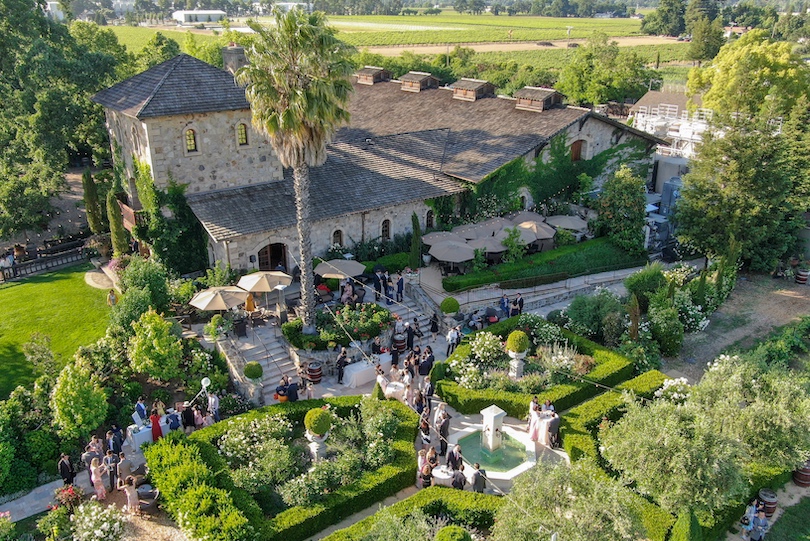 Napa Valley is famous for wine – that much is obvious – but it is in St. Helena where you'll find all 6,800 acres of vineyards, including 416 wineries. Needless to say, St. Helena is the place to stay in Napa Valley for wine, and plenty of it.
Alongside its accommodation, pretty B&Bs, and elegant inns, which are upwards of mid-range prices, there are elegant restaurants and boutiques to explore within the town itself.
There's a little history, too; the stone built St. Helena Catholic Church dates back to the late 19th century. Plus, St. Helena is home to the oldest stone bridge in Napa County – the Pope Street Bridge built in 1894.
But really, you will most likely be here for the wine. It's easy to tour the wineries that dot the nearby area. Or you could go for a stroll around nearby Lake Hennessey.
Where to Stay in St. Helena
Calistoga
Further upstream from St. Helena is the even smaller city of Calistoga. Like other places to stay in the Napa Valley, the hotels here aren't what you would call budget friendly, but there are still a few mid-range options; it's not complete luxury, though that's also easy to find here.
The hiking is good nearby. There's the pleasant Oat Hill Mine Trail, for example, or Robert Louis Stevenson State Park, where you can hike to the summit of Mount Saint Helena for great valley views. There's also the Old Faithful Geyser of California – Napa Valley's answer to its famous Yellowstone counterpart – as well as hot springs and mud baths to enjoy in Calistoga.
Bale Grist Mill State Historic Park offers the chance to see a wooden, waterwheel driven mill dating back to 1846. Of course, there are plenty of wineries here – one even includes a medieval style castle, the Castello di Amorosa.
Where to Stay in Calistoga
Yountville
Yountville is famous for playing host to the Veterans Home of America. Founded in 1884, around one-third of Yountville's population actually lives within the grounds of this idyllic spot.
For visitors, of course, there are hotels in Yountville to choose from. But don't expect anything too wallet friendly; the hotels here come with spas, upscale facilities and are definitively high-end.
But it's the proximity to Napa itself that makes Yountville a good destination; clustered around the St Helena Highway – between Napa and St. Helena – and not far from the Napa River itself.
When you've had your fill of wine tasting and touring the handful of wineries just outside town, you can head to the Napa Valley Museum to learn a little about the history of the area; it also puts on art exhibitions too.
Gourmet diners should head to one of two Michelin star restaurants in town – Bouchon Bistro and The French Laundry.
Where to Stay in Yountville
Rutherford
North of Yountville along the St Helena Highway lies Rutherford. Boasting its very own American Viticultural Area – the Rutherford AVA – the soil here is particularly suitable for cabernet sauvignon. But like much of the Napa Valley, there are a lot of different wines produced here, making it perfect for any wine connoisseur.
In fact, there are some famous wineries in the area, such as Inglenook, St. Supéry Estate Vineyards & Winery (acquired by French fashion house Chanel in 2015), and Beaulieu Vineyard, which dates back to 1900. You can even see the charming Holy Family Roman Catholic Mission, a stucco building sitting by itself in the middle of vineyards.
In general, Rutherford isn't packed with many different accommodation options. But there are a couple of famous places to stay, like Auberge du Soleil – a high-end restaurant and resort combination – and the historic Rancho Caymus Inn. Neither are good for anyone on a budget.
Where to Stay in Rutherford
Oakville
Between Yountville in the south and Rutherford in the north, lies the little town of Oakville. Another stop along the St Helena Highway, Oakville doesn't boast a great selection of accommodation options; you're better off staying on the outskirts of the larger towns bordering it, like Napa Valley Lodge to the north of Yountville.
But besides the lack of hotels in Oakville, it is definitely still a good place to visit in its own right. For a start, here is where you will find the 'Welcome to Napa Valley' sign – the perfect photo opportunity.
There's also the quaint Saint Stephen's Episcopal Church, the Napa River flowing to the northeast, and plenty of rustic wineries to check out – all reachable thanks to the winding roads that lead from Oakville into the hills.