A lovely place to visit and live, sun-kissed San Diego is often called 'America's Finest City' and it is easy to see why. Besides boasting a huge stretch of scenic coastline, the city is blessed with natural beauty, a mild southern California climate, and is famed for its laidback vibe and surfer culture.
Set alongside the twinkling waters of the Pacific Ocean, there are a myriad of amazing museums and historic tourist attractions in San Diego with many relating to its rich maritime heritage. In addition, plenty of great shops and restaurants are dotted about with brilliant bar and nightlife scenes on offer at both Mission and Pacific Beach.
See also: Where to Stay in San Diego
Add in excellent outdoor activities and easy access to Tijuana in nearby Mexico to the list of things to do in San Diego, and it is no wonder that California's second-largest city has long been a popular tourist destination.
In this post, we'll cover:
25. San Diego Air & Space Museum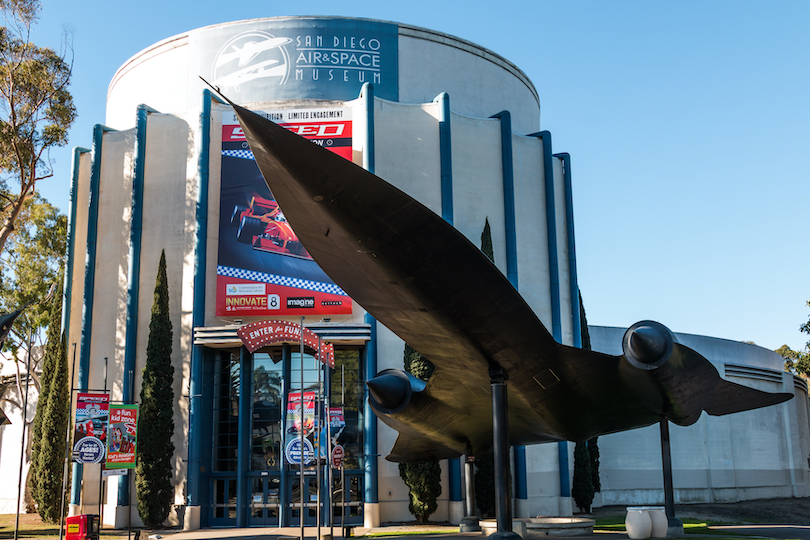 Home to a huge array of historic aircraft and sparkling spacecraft, the superb San Diego Air & Space Museum can be found not far from the city centre in Balboa Park. Its extensive collection of artifacts and numerous exhibits are housed within the fabulous Ford Building which sports such a delightfully distinct design.
Since being established in 1961, the museum has expanded considerably and now has replicas of Wright Brothers' gliders on show alongside gleaming jets and rockets sent into space by NASA. As you wander around its galleries full of planes, photos, and displays, you'll learn all about the history and evolution of aviation and space exploration.
24. Sunset Cliffs Natural Park
Just fifteen minutes' drive west of downtown San Diego, you can find a stunning stretch of coastline known as the Sunset Cliffs. Now protected as a natural park, the area is named for its steep coastal cliffs that look out over the ocean and is a very popular place to watch the sun set over the Pacific.
Tumbling their way down to the ocean, the sheer cliffs and craggy coastal bluffs certainly make for a dramatic sight with hidden coves, tidal pools, and beaches lying at their foot. Aside from enjoying its spellbinding scenery and sunsets, visitors can sometimes spot California gray whales migrating along the coast from atop of the cliffs.
23. Little Italy
One of the best places to shop, dine and go out in the city is undoubtedly Little Italy which lies in the northwest of downtown. Located not far from Waterfront Park and the Embarcadero, it is dotted with Italian restaurants, grocery stores, and art galleries and hosts a fantastic weekly farmers' market.
Once the center of the city's tuna industry, the lively neighborhood is now instead home to pizza places, bodegas, and breweries that opened after the canning factories closed down. Besides strolling about, shopping, and stopping for a bite to eat or coffee, locals and tourists can enjoy the numerous festivals and events related to Italian culture that the community hosts each the year.
22. Belmont Park
With a lovely old-style look and feel, the historic Belmont Park certainly makes for a fun day out thanks to its roller coasters and rides, attractions, and eateries. Since 1925, the beachfront amusement park has been one of Mission Beach's main draws and can be reached in just fifteen minutes from downtown San Diego.
Although it is home to some charming carnival rides such as a carousel and bumper cars, the park's standout sight is its iconic Giant Dipper roller coaster which is now a National Historic Landmark. Aside from shooting along its wooden tracks and taking in the ambience, guests can try Belmont's newer features which include ziplines, escape rooms, and laser tag.
21. SeaWorld San Diego
With more than 130 million visitors since its opening in 1964, SeaWorld is the leading tourist attraction in San Diego and one of the most popular marine-life parks in the world. Through shows, displays and enclosures people can learn about the world's oceans and the creatures that inhabit them such as dolphins, killer whales, walruses, penguins and Polar bears.
Rides include a flume roller coaster, rafting through the Shipwreck Rapids and a simulated helicopter ride to experience the Wild Arctic.
20. Pacific Beach
Just north of Belmont Park, you can find the popular Pacific Beach which is actually connected to Mission Beach by a three-kilometer-long boardwalk. Much livelier than its southern neighbor, the beachside town is renowned for its nightlife and boasts one of the best bar scenes in San Diego.
While lots of college students and young adults head here for its many clubs and party atmosphere, families also visit for its lifeguard-supervised swimming areas and excellent amenities. In addition to strolling along its bustling boardwalk or the peaceful Crystal Pier, Pacific Beach has some great surf spots for you to check out and countless shops and restaurants in the center of town.
19. Seaport Village
Home to dozens of shops and dining outlets, Seaport Village can be found just a short distance from the center, nestled along its waterfront. Designed to look like a village, the complex's cobbled paths lead you past lovingly landscaped lakes and gardens with lots of attractive architecture on display.
Since opening in 1980, it has been a firm favorite with visitors due to its delightful design and its superb shops and waterfront restaurants that now number more than seventy in total. With so much going for it, Seaport Village really is a great place to grab a bite to eat, shop for souvenirs, or simply enjoy wonderful views over the water.
18. Maritime Museum of San Diego
Also located along the waterfront is the marvelous Maritime Museum of San Diego which offers up a fascinating look into the city's seafaring past. Besides boasting one of the largest collections of historic vessels in the States, it also has interesting artifacts and exhibits that highlight San Diego's rich maritime heritage.
Founded in 1948 along the Embarcadero, the museum now has everything from ferries and frigates to yachts and submarines to explore. Its main attraction, however, is undoubtedly the Star of India; a remarkably well-restored ship that dates back to 1863 and still sails about the bay from time to time.
17. La Jolla Cove
Hemmed in by some spectacular sea cliffs, the small and scenic La Jolla Cove is one of the most picturesque and photographed places along the Californian coastline. Part of a marine life refuge, it offers up all kinds of excellent activities and lies just twenty minutes' drive northwest of the center.
As well as lounging on its lovely beach, visitors can swim, snorkel, and kayak about its waters. Just north of the cove are some sea caves to explore with seals and sea lions sometimes spotted sunning themselves on the surrounding rocks. There are also quite a few cafes and restaurants nearby with fabulous viewpoints dotted along the top of the cliffs.
16. Birch Aquarium
Just to the north of La Jolla Cove is another of the city's many marine attractions – the brilliant Birch Aquarium. Perched on a bluff overlooking the ocean, it has lots of incredible aquaria to explore, full of shimmering shoals of fish and amazing aquatic animals.
Part of the Scripps Institution of Oceanography, one of the world's largest marine research institutes, the aquarium opened in 1903 and has been a favorite with locals and tourists ever since. In total, it houses over 5,000 fish and countless sharks, sea turtles, and stingrays in its sixty or so aquaria. It also has a special seahorse feature and touch tank where you can stroke sea snails and small sharks.
15. Torrey Pines State Natural Reserve
Also located along the Pacific coastline north of the city is the stupendous scenery, landscapes, and nature of Torrey Pines State Natural Reserve. One of the wildest remaining stretches of shoreline in Southern California, it contains everything from craggy cliffs and pristine beaches to salt marshes, badlands, and a large lagoon.
Thanks to its unspoiled wilderness, the reserve boasts a wide array of fauna and flora and has lots of scenic hiking trails and views for you to enjoy. While bobcats, racoons, and coyotes reside among its remote reaches, migrating seabirds and whales can sometimes be spotted along the coast.
14. Comic-Con
Every year, thousands of cosplayers, comic book lovers, and costumed superheroes descend upon San Diego for one of the most colorful and chaotic events in the calendar – Comic-Con. What started as a small convention in 1970 has since morphed into a massive multi-day celebration of comic books and pop culture with countless events, exhibits, and award ceremonies taking place.
Centered on the San Diego Convention Center, the festival has interesting panels and workshops for you to attend as well as gaming events, film screenings, and even a costume contest. In addition, a myriad of stands and stalls sell collectibles, movie memorabilia, and, of course comic books.
13. Mission Beach
If you're after some sun, sea, and sand instead, then you can't beat the lively seaside town of Mission Beach which lies just fifteen minutes northwest of the center. Set on a sandbar between the Pacific Ocean and Mission Bay, it offers a wealth of outdoor activities and is known for its beachside bars and happening nightlife scene.
Connected to Pacific Beach by its gorgeous golden sands and long and bustling boardwalk, Mission Beach is a great place to relax and unwind with lots of other attractions and entertainment options lying nearby. Besides Belmont Park you can find SeaWorld San Diego and Tiki Town Adventure Golf with fun watersports also being on offer.
12. Petco Park
Another fun thing to do when in town is to watch the San Diego Padres play baseball at the state-of-the-art Petco Park. Considered to be one of the best stadiums in Major League Baseball, it exhibits some lovely architecture and boasts fantastic views over the skyscraper-dotted downtown.
Opened in 2004, the striking stadium is clad in sandstone, stucco, and white steel which are meant to evoke the sandy color of the city's beaches and cliffs. While watching an exciting game is certainly the highlight of any visit to the ballpark, there is also an entertainment zone for kids to enjoy as well as lots of food stands and a fabulous Hall of Fame.
11. Torrey Pines Gliderport
While exploring San Diego's scenic shoreline is always a treat, slowly soaring through the sky and seeing the coast and ocean from above really makes for a unique and unforgettable experience. At Torrey Pines Gliderport, guests can enjoy exhilarating hang gliding and parasailing with phenomenal views and a fun time guaranteed.
As the gliderport lies alongside the natural reserve of the same name, the twenty minute or so flights pass above some of the most pristine scenery and nature in Southern California. Besides basking in breathtaking views of the coast, you can also see the centre of San Diego sparkling in the distance.
10. Children's Pool Beach
One of the most popular and memorable places to visit in town is undoubtedly the Children's Pool Beach which lies just twenty minutes' drive from the center in La Jolla. While its sturdy seawall was originally erected to protect swimmers from San Diego's rough waves, it is instead seals and their pups who enjoy its golden sands and gentle waters.
Built in 1931, the concrete breakwater shelters a small stretch of sand at which a colony of harbor seals and sea lions now sun themselves, play about, and even give birth. Watching them from the top of the seawall flopping about at such close quarters is an amazing experience and is now one of San Diego's top attractions.
9. San Diego Zoo Safari Park
warriorwoman531 / Flickr
The San Diego Zoo Safari Park, located near Escondido, is one of the best attractions in San Diego when traveling with kids. The 1,200-acre zoo has more than 300 species of animals, especially those that are endangered in the wild, concentrating on breeding them and then reintroducing them back into their wild native habitat.
Visitors can take a tram tour of the zoo or see it from above via a hot-air tethered balloon. Other activities include watching a cheetah run at up to 70 mph, a petting zoo, walking among the lemurs and visiting an aviary. San Diego Zoo Safari Park is one activity that appeals to the young as well as the young at heart.
8. Old Town San Diego
Prayitno / Flickr
Though Native Americans lived in the area for thousands of years, the area known as Old Town wasn't "discovered" until 1542 by a Spanish explorer. Old Town is considered the birthplace of California since it was the first permanent Spanish settlement in California, with Father Junipero Serra establishing his first mission here on Presidio Hill.
Today, Old Town is a great place to see San Diego's colonial roots. Casas, or houses, built in the 19th century, are now museums, shops or restaurants; adobe churches add to the color of Old Town.
7. Cabrillo National Monument
SD Dirk / Flickr
Located at the tip of Point Loma, the Cabrillo National Monument honors Juan Rodriguez Cabrillo, the Spanish explorer who landed at San Diego Bay in 1542, thus becoming the first European to set foot on the West Coast of what is now the United States. The Cabrillo National Monument offers plenty of activities for visitors who enjoy the great outdoors.
Activities range from watching for Pacific Gray whales that swim by during the winter months to hiking the two-mile Bayside Trail with its stunning views of the city and bay. Other trails lead to tidal pools and the restored Old Point Loma Lighthouse, one of the first lighthouses on the West Coast.
6. La Jolla Shores
SD Dirk / Flickr
La Jolla Shores is one of the San Diego area's best beaches. La Jolla is an upscale community sometimes referred to as the "jewel of San Diego," but this gem really shines when it comes to its beaches.
La Jolla Shores is a mile-long beach that is popular with locals and visitors alike for a variety of water activities: swimming, surfing, scuba diving and kayaking. But the fun doesn't end when the sun goes down as beachgoers light fires to roast hot dogs and party awhile longer.
5. Gaslamp Quarter
The Gaslamp Quarter, San Diego's premier dining, nightlife and shopping center, dates back to 1850, when a San Francisco man, William H. Davis, built a home for his family on land he wanted to develop into a town. That venture failed, but his house survives. Seventeen years later, another San Franciscan was more successful at developing the waterfront, though in later years it became known as a Mecca for gamblers and prostitutes.
Decades later, this Victorian district was cleaned up, both in appearance and reputation, and became known as the Gaslamp Quarter. Now home to more than 200 restaurants, plus boutiques and art galleries, it is on the National Historic Register.
4. Balboa Park
Balboa Park isn't just another park. It has plenty of green space, flora and fauna, naturally, but it also contain 15 museums, a carousel, miniature railroad, the renowned San Diego Zoo and the historic Old Globe Theatre, among other attractions. The list of museums include a couple of art museums while others are devoted to natural history, air and space, science and the famous Museum of Man.
Numerous gardens are devoted to native plants, roses, cactus, a veterans memorial and a children's garden. The nation's largest urban garden also includes restaurants, and biking and hiking trails.
3. USS Midway Museum
The USS Midway Museum, located on the Embarcadero's Navy Pier, offers visitors a chance to explore, from stem to stern, one of the longest-serving aircraft carriers in the U.S. Navy. Nearly a quarter-million sailors served on the Midway from 1945 to 1992, when it was retired.
It has been a San Diego tourist attraction since 2004, receiving more than one million visitors annually, making it one of the world's most visited ship museums. Guided tours take visitors to the ship's sleeping and officer quarters, engine room and galley. There's even a flight simulator for more adventuresome guests.
2. Coronado Island
hoteldelcoronado / Flickr
Travelers who want to put themselves in a relaxing mood may want to head to Coronado Island, where a laid-back small-town atmosphere prevails. The quaint island community is connected to San Diego by the San Diego-Coronado Bridge.
Whether strolling on the beach or riding a rental bike around the inland, visitors can partake of the charm of this community, home to the Coronado museum of History and Art, the shops and art galleries at Ferry Landing, and views of San Diego across the bay. A "must" stop is the Hotel del Coronado, which is said to be the inspiration for the Emerald City in The Wizard of Oz.
1. San Diego Zoo
The San Diego Zoo is one of the most famous zoos in the world with over 4,000 animals of more than 800 species. The sunny maritime climate of southern California is well suited to many animals and almost all of the major exhibits of the San Diego Zoo are in the open-air.
The San Diego Zoo is also extremely active in conservation and preservation efforts and many species are bred in captivity for release into their native habitats where appropriate.
Map of Tourist Attractions in San Diego
© OpenStreetMap © MapTiler © Touropia