Once the capital of Spanish California, the small seaside city of Monterey is renowned for its incredible coastal scenery, abundant marine life, and delicious seafood. Set along the southern shores of the massive Monterey Bay, it makes for a wonderful weekend away from either San Francisco or San Jose.
While most of the things to do in Monterey relate to its waterfront, a scattering of fine historic tourist attractions and art museums can be found around town. Most people, however, visit for the sublime scenery and nature, idyllic beaches and secluded coves set in dramatic cliffs.
Visitors can also take whale watching tours or head to the brilliant Monterey Bay Aquarium to see yet more marine life. Seals and sea lions can be spotted simply sunning themselves at the city's wharf. With the vibrant Cannery Row and charming Carmel-by-the-Sea nearby; Monterey certainly makes for a delightful holiday destination.
12. Monterey State Historic Park
A fascinating place to explore, Monterey State Historic Park is home to beautiful centuries-old buildings that shine a light on the state and city's past. Set in Old Monterey, its scenic streets contain historic homes with interesting landmarks and attractions.
Once the capital of California, the whole area is now protected as part of a National Historic Landmark. As well as a huge array of architectural styles, there are also pleasant gardens to visit, and informative displays and exhibits highlight the district's history.
As you follow the 'Monterey Walking Path of History' you'll come across sites, such as the excellent Pacific House Museum and well-restored Custom House; California's oldest public building.
11. Dennis the Menace Park
Andrew Fitzhugh / Flickr
Just ten minutes walk east of the historic area you can find the family friendly Dennis the Menace Park. Located within the larger El Estero Park, it has slides and swings, a suspension bridge and even an adventure ship for kids to enjoy.
Since opening in 1956, the park has proved very popular thanks to its colorful and creative play areas. Named after Hank Ketcham's famous character, the playground was actually designed in part by the cartoon's creator who himself was a Monterey resident.
In addition to its climbing wall and maze, there is an authentic old steam engine from the 1920s for children to play on, picnic areas, and places to rent paddle boats.
10. Point Lobos State Natural Reserve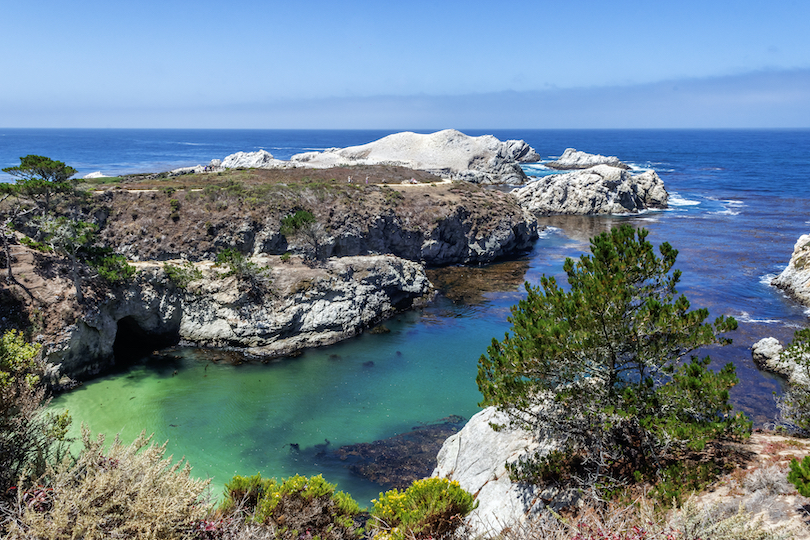 Boasting stunning scenery, Point Lobos State Natural Reserve shouldn't be missed when in town. Set just fifteen minutes drive southwest of the city, it offers all kinds of outdoor activities, as well as epic ocean views.
Often considered the crown jewel of California's state parks, its dramatic rock formations and rugged cliffs certainly make for a spellbinding sight. Hidden away amidst its headlands are secluded coves, caves, and beaches. Seals and sea lions are often spotted sunning themselves or swimming in the surrounding waters.
As it borders two massive marine protected areas, there is some fantastic scuba diving, snorkeling and kayaking to be had here. Terrific hiking trails also weave their way about its scenic coastline.
9. Monterey Museum of Art
Sgerbic / Wikipedia
In the center of town you can find another of the city's many enticing attractions: the Monterey Museum of Art. Now located in two different downtown buildings, its huge collection focuses on the art and artists of California, covering from around 1875 to the present day and age.
Founded in 1959, the impressive museum is home to over 14,000 artworks with paintings and photographs, ceramics, and sculptures on display. While highlights include galleries of contemporary American art and objects from various parts of Asia, it also features works by big names such as Henri Matisse, Joan Miro, and Pablo Picasso.
The museum regularly hosts temporary exhibitions, while its La Mirada location is set in a historic mansion surrounded by gorgeous grounds and gardens.
8. Go to the Beach
As life in the coastal city revolves around the sea, no visit can ever be complete without spending at least some time at the beach. Monterey has five fabulous public beaches close to town for you to try.
Curving their way gently around the beautiful bay are Del Monte and Monterey State beaches; both of which offer superb sunbathing and swimming. In addition, the smaller San Carlos Beach which lies right next to Cannery Row has some great scuba diving.
Other popular places to head are Asilomar State Beach, which boasts sublime scenery and fun watersports, while Lovers' Point Park is renowned for its striking sunsets. With so many beaches and activities to choose from; spending some time at the seaside really is a must when in Monterey.
7. Monterey Bay Recreational Trail
Another wonderful way to enjoy the city's nearby natural riches and coastline is to walk, run, skate or cycle along the Monterey Bay Recreational Trail. Winding its way alongside the waterfront, the paved path takes you past lovely views wherever you go.
Reaching almost 18 miles in length, it stretches from Castroville in the north of the city to Pacific Grove in the south. On the way it passes popular places such as Cannery Row and Old Fisherman's Wharf, as well as tourist attractions, such as the Monterey Bay Aquarium.
As it connects countless beaches, parks and historic sites, the trail is perfect, for not only exercising and enjoying the great outdoors, but sightseeing and exploring the city and its surroundings too.
6. Carmel-by-the-Sea
Just ten minutes drive south of the city you can find yet another of the state's picture-perfect seaside settlements: Carmel-by-the-Sea. Also situated on the Monterey Peninsula, the small town is noted for its spectacular natural setting that attracts artists, writers, and poets.
Lying alongside the Pacific Coast Highway, its cluster of charming cottages and historic houses are surrounded by towering cliffs and rolling hills. Add in a gorgeous white sand beach and mist-shrouded coast, and it is easy to see why the quaint Carmel-by-the-Sea used to be an artists' colony.
This rich heritage is still on show today as the town has numerous galleries and studios for visitors to check out. With cozy cafes, local restaurants, and the historic Mission San Carlos Borromeo de Carmelo, also on offer; Carmel is definitely well worth visiting when in Monterey.
5. Old Fisherman's Wharf
Right next to Monterey State Historic Park is another very interesting area to explore. Once a thriving fish market, the Old Fisherman's Wharf is one of the top tourist attractions in Monterey that is home to dozens of seafood restaurants and souvenir shops.
Built in 1870, the historic wharf was first used for loading and unloading both passengers and goods before later hosting a fish market. Nowadays, it is lined by excellent eateries and waterfront restaurants, with art galleries, candy shops, and jewellery stores.
Visitors can arrange to go on fishing trips or whale watching excursions from the wharf. You don't have to go very far to see animals, as sea lions and seals can often be seen sunning themselves on nearby buoys and boats.
4. Whale Watching in Monterey Bay
Monterey Bay is one of the best places in the States to go whale watching, so it is well worth taking a trip to see the majestic creatures when in town. From both Cannery Row and the Old Fisherman's Wharf numerous companies run excursions that generally last three to four hours.
Over ten different species of whale can be spotted in the enormous bay, as well as countless kinds of dolphins and porpoises, seals, and sea lions. As both the feeding and migrating seasons overlap, visitors stand a great chance of seeing the massive mammals at any time of year.
While watching out for whales, you can learn everything there is to know about their feeding, breeding, and diving habits from the knowledgeable crew members.
3. Cannery Row
Located along the waterfront is Cannery Row; a vibrant historic district which once lay at the heart of the city's canning industry. Immortalized in John Steinbeck's novel of the same name, it offers an array of attractions and an appealing ambience.
Following the collapse of sardine stocks in the 1950s, its warehouses and canneries lay empty until the world-class Monterey Bay Aquarium moved in and revitalized the area in the eighties. Now it's packed with bustling shops and restaurants, and has a lovely waterfront area to stroll along.
While boutique hotels and cafes now line its streets, Cannery Row still has some historic sites, such as the atmospheric Antique Mall and magnificent Cannery Row Monument.
2. 17-Mile Drive
A treat to travel along, 17-Mile Drive takes you past stunning coastal scenery. Tracing the southern side of the Monterey Peninsula, the scenic route has beautiful beaches, nature spots, and viewpoints to stop off at along the way.
The long loop starts around Pacific Grove Gate before meandering its way past dramatic cliffs, secluded coves and stretches of golden sands. In addition to standout sights, such as the famous Lone Cypress lookout point and snow-white dunes of Spanish Bay, the road also weaves its way through Del Monte Forest.
Besides breathtaking views and photo-worthy coastline, 17-Mile Drive has countless outdoor activities for you to enjoy. It also passes massive mansions, immaculately manicured golf courses, and the charming seaside town of Carmel-by-the-Sea.
1. Monterey Bay Aquarium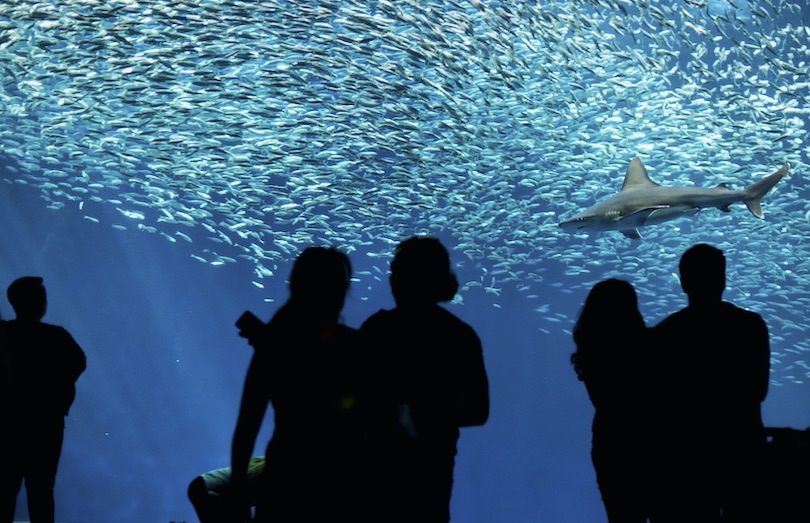 No trip to Monterey can be complete without visiting the massive Monterey Bay Aquarium; the city's top tourist attraction. Located alongside both Cannery Row and the bay, it boasts a staggering array of animals, ecosystems, and exhibits.
Since opening in 1984, the aquarium has expanded considerably and now has more than 35,000 fish and marine mammals on display representing over 550 different species. In the enormous aquarium, guests can see everything from endangered African penguins and playful sea otters to sea turtles, sharks and stingrays swimming about.
Aside from learning all about its amazing animals and ecosystems, you can also view its giant kelp forests and gaze out over the ocean from its outdoor area. As it offers an up close and personal look at the marine life of the Californian coast, this world-class aquarium is definitely not to be missed.
Map of Things to Do in Monterey, CA