The southern Californian city of San Diego is where you'll find beaches, beautiful blue skies, and surfing opportunities aplenty. California's beach city also has all the vibrancy of a larger metropolis, with a good trolley system to ferry you around the cool urban neighborhoods. These offer up museums, world-famous attractions, delicious cuisine, nightclubs – and even historic districts that give you a glimpse into the long history of this city.
Founded in the mid-1700s by Spanish explorers, San Diego is referred to as the birthplace of California; it was the first place visited by Europeans on what is now America's West Coast. From its beginnings as a Mexican fort, it grew to become the 8th largest city in the United States. It's not far from the Mexican border, showing just how close (literally) this city it is to its Mexican heritage.
In this post, we'll cover:
Map of Neighborhoods in San Diego
© OpenStreetMap © MapTiler © Touropia
Today, the Old Town is an amazing place to witness how it all began. San Diego is a fantastic destination for families. There is always something to do for those who come to see this city with their children, whether that's playing on the beach, seeing the animals at the famous San Diego Zoo, exploring Balboa Park's 17 museums, watching shows at SeaWorld, or enjoying a ferry ride.
San Diego is a friendly place – the 20th safest city in the US – and even boasts a liberal, LGBT friendly district in the form of Hillcrest. With plenty of places to stay, including budget hostels for world travelers, motels for those just dropping by, and upscale resorts or historic boutique lodgings, you'll easily get to see what San Diego has in store for you.
Downtown
The Downtown area of San Diego is where you'll find Victorian-era buildings and excellent nightlife in the historic Gaslamp Quarter; the scenic roads, boutique stores and delicious eateries of Little Italy; and the waterfront shopping opportunities in Seaport Village.
It's a great place to stay if you're arriving in the city by plane – thanks to the nearby San Diego International Airport – or by train, with Amtrak and Coaster trains serving the 100-year-old Santa Fe Depot. There are also numerous trolley stations in the area, making it easy to get around.
The northeast border of Downtown is defined by Interstate 5, beyond which visitors will find Balboa Park – which houses big attractions like San Diego Zoo, San Diego Natural History Museum, the Botanical Building, and San Diego Museum of Man. For the most part, accommodation in this area of San Diego is mid-range to decidedly high-end.
Where to Stay in Downtown
Hillcrest
gazeronly / Flickr
Tolerant and liberal, Hillcrest may not have any trolley stops, but it is still well located in the city and makes for a convenient place to stay.
Many northern entrances and paths leading into Balboa Park are located in the southern portion of this district, making it very easy to get to the numerous cultural exhibits and attractions of the park – including the top-notch San Diego Zoo.
This area of San Diego is very walkable, with numerous cafes, shops, and restaurants dotted around. Hotels may not be rife in this area, but there are a few mid-range B&Bs to choose from, as well as hostels, which are great for those on a budget who want to meet other travelers.
Hillcrest is famous for its yearly pre-Pride block party, which it hosts on Friday night before the march itself on Saturday, which begins in Hillcrest.
Where to Stay in Hillcrest
Old Town & Mission Valley
If you've come to San Diego looking for history, then you should look no further than the Old Town district. Practically neighboring San Diego International Airport to the south, the Old Town area boasts a few mid-range options, some of which are housed appropriately in historic buildings.
For further convenience, this district even has its own trolley stop – Old Town. The Old Town San Diego State Historic Park is a living museum; here and at adjacent Presidio Park is where the city was first founded in 1769 as part of Spanish California.
Continue north on the trolley, and it makes a turn for the northeast, where you'll find the overlapping Mission Valley area. With the San Diego River running through its center, you'll find more accommodation here – particularly in Mission Valley West. Shopping is great in this area; try Fashion Valley on for size, or the branch of Westfield here.
Where to Stay in Old Town & Mission Valley
Coronado
Situated on a spit of land stretching northwards a stone's throw from the Mexican border, with its tip facing Downtown San Diego, Coronado is actually administered as a separate city and has been known for decades as a resort getaway.
Evidence for this lies in the numerous places to stay in Coronado – from historic places like the famous and sprawling wood-built Hotel del Coronado (constructed in 1888), all the way to the RV parks further south along the spit – and just about everything in between. You'll find the latter in the Silver Strand State Beach area, which boasts both Bay and Pacific Ocean facing stretches of sand.
Getting to Coronado is easy from San Diego proper, either via the Coronado Bridge or one of two ferry crossings – one from the Fifth Avenue Landing adjacent to the Gaslamp Quarter, and one from Broadway Pier near Santa Fe Depot.
Where to Stay in Coronado
Point Loma & Ocean Beach
Curving around from the north, the peninsula of Point Loma – along with Coronado – shelters San Diego proper from the Pacific Ocean and defines San Diego Bay itself.
In the northern part of Point Loma is Ocean Beach; there's a bohemian vibe here, where surfers and sunseekers enjoy the waves and catch rays. You'll even find the regular Ocean Beach Farmers Market, which puts on live music amongst all the organic food stalls.
If this sounds like your thing, there are a handful of budget hotels with brightly colored facades, as well as some waterfront villas for you in Ocean Beach.
Point Loma is more isolated and rugged, offering excellent hiking opportunities like Cabrillo National Monument – featuring tide pools and trails – plus Sunset Cliffs National Park, which is a great place to watch sunsets from, of course.
There are mid-range hotels here, but not a huge selection; however, it is reasonably close to San Diego International Airport.
Where to Stay in Point Loma & Ocean Beach
Mission Beach
Mission Beach may well be famous for its shore, but in the main Mission Bay area, you'll also discover the top attraction of SeaWorld San Diego. It also plays host to big hotels like the Hyatt, as well as spa resorts.
Needless to say, accommodation here is mid-range to high-end, and there's a lot of choice on offer for any potential visitor.
Lots of beach communities surround the area, making it great for anybody who loves a bit of sun, sea, and sand. There's a beachfront promenade linking all these different communities, which are dotted with cafes, beachside eateries, and restaurants.
While popular with families who visit with children – thanks to SeaWorld and Belmont Park (a rollercoaster and attraction-packed theme park in the area) it's also good for younger visitors who come to enjoy the boisterous nightlife to be had here. South Mission Beach area is away from the crowds, with more space to enjoy beach games.
Where to Stay in Mission Beach
Pacific Beach
Just a little further north from Mission Beach, you'll find Pacific Beach. With its wide selection of beachside inns clustered along the seafront, ranging from budget-friendly to more luxurious affairs, there's plenty of choice when it comes to finding a place to call your own when you're visiting this part of San Diego.
A super popular spot for surfers, Pacific Beach is a trendy neighborhood, where you can enjoy shopping in clothing boutiques, sipping cocktails in bars, practicing a bit of yoga on the beach, or simply strolling along the boardwalk.
Called 'PB' by the locals, at night, things hot up a little – with a pumping nightlife and bonfires on the beach.
The area of Pacific Beach itself stretches from Crystal Pier to Pacific Beach Drive; it's a great idea to rent some bikes and cycle along the coast here. You'll also find a more family-friendly area in North Pacific Beach, complete with lifeguards and good facilities for children.
Where to Stay in Pacific Beach
La Jolla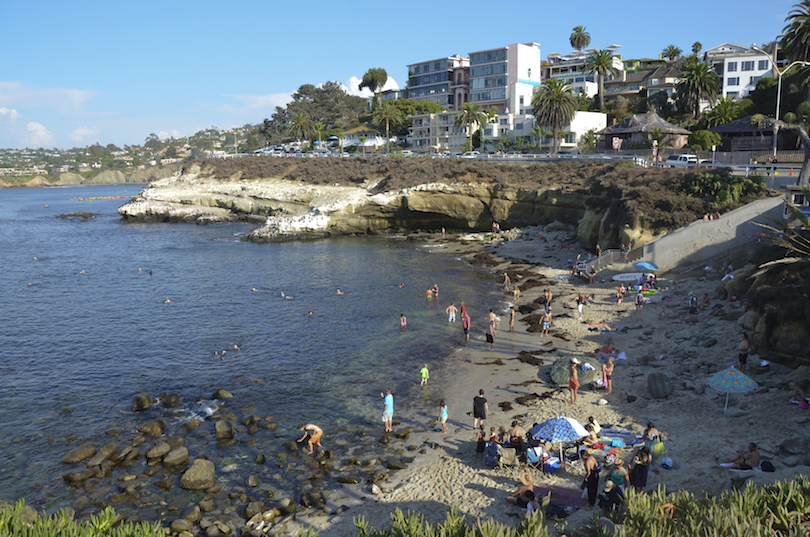 Neighboring the area of Pacific Beach to the south, the district of La Jolla boasts a beautifully rugged coastline, sandstone canyons, and a whole lot of pine forest to enjoy, making it great for outdoor enthusiasts.
There's something for everyone here in terms of accommodation, from budget motels to more exclusive beachfront hotels, meaning everybody gets to enjoy San Diego's backyard.
In fact, La Jolla is not just one of the most beautiful beach destinations in San Diego, but the whole of California. Practically all of its coastline is made up of beaches.
The town of La Jolla is punctuated by museums, fashionable boutiques, and little art galleries, for those who like to wander and window shop. Families might want to head over to Scripps Park, which is perfect for a picnic – or you could try to spot the local seals at Children's Pool.
Where to Stay in La Jolla