Although often overlooked in favor of both Los Angeles and Santa Monica, the sun-kissed coastal city of Long Beach has more than enough about it to warrant a visit. One of the largest and busiest ports in the world, there are plenty of fun things to do in Long Beach and the city is particularly known for its wonderful waterfront.
Its harbor has countless tourist attractions and innumerable shops and seafood restaurants while interesting museums and imaginative architecture can also be found about town. Besides lounging on the beach or enjoying watersports, you can easily take day trips to see the islands, nature spots and cities that lie nearby.
With gorgeous gardens, great events, and even romantic gondola rides to enjoy; Long Beach is certainly well worth visiting if you have the chance.
In this post, we'll cover:
12. Belmont Shore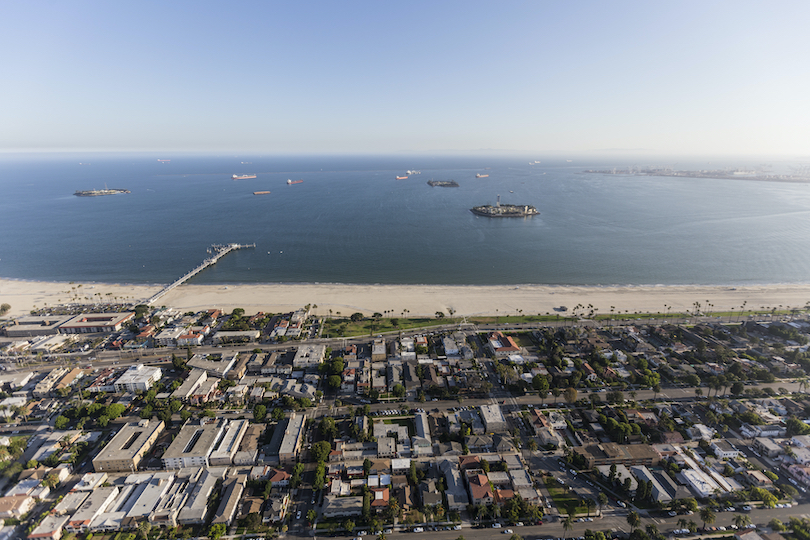 One of the most popular neighborhoods to explore in Long Beach is Belmont Shore. Lying just ten minutes drive from the center of the city, it is a very pleasant area to wander around and has a laid back ambience.
Much of life in the district revolves around Second Street, which is lined by unique boutiques, restaurants, cozy coffee shops, and trendy bars. Aside from these bustling blocks, most of Belmont Shore is residential with delightful Spanish-style homes.
The other main reason for visiting the neighborhood is its beautiful beach, which has vast swathes of golden sands. Besides lounging lazily on its soft sands, you can also amble along the Belmont Veterans Memorial Pier and bask in fine views over the ocean. There's also swimming, cycling, and kitesurfing to enjoy.
11. Long Beach Museum of Art
Tom Ipri / Flickr
On the way back into town you'll come across the Long Beach Museum of Art, which overlooks the ocean. Its fascinating collection features everything from decorative arts and furniture to paintings, drawings, and sculptures.
Established in 1950, the small but superb museum occupies what was once the summer home of the wealthy philanthropist Elizabeth Milibank Anderson. Inside the century-old arts-and-crafts mansion are over 3,000 artworks with many exhibits focusing on local Californian artists.
As well as its permanent collection of pop art and early twentieth-century European art, the museum regularly hosts temporary exhibits and has a peaceful sculpture garden to visit. In addition, its on-site restaurant, Claire's at the Museum, is a popular spot to have brunch and gaze out over the ocean.
10. Walter Pyramid
Rising dramatically above its surroundings the Walter Pyramid, a massive multi-purpose arena, lies on the California State University, Long Beach campus, just fifteen minutes drive northeast of the center.
Opened in 1994, the towering building is one of only four mathematically true pyramids in the country. Clad in dark-blue aluminium, each side measures 105 meters with the arena's summit remarkably rising over eighteen storeys above the city's skyline.
In the cavernous interior both the university's men's and women's basketball and volleyball teams play their games. Besides taking in the incredible architecture and watching an action-packed game, you can also catch some of the other sporting events that are often held in the pyramid.
9. Museum of Latin American Art
mark6mauno / Flickr
Another of the city's buildings to exhibit interesting architecture is the Museum of Latin American Art, located right in the heart of downtown. The only museum in the States dedicated solely to modern and contemporary Latin American and Latino art, it is definitely well worth checking out if you have the chance.
Established in 1996, its captivating collection occupies what was once a silent film studio and later a roller rink in the East Village Arts District. While its galleries still showcase historic features, such as high vaulted ceilings and wooden floors, recent renovations added contemporary elements to its campus as well as a gorgeous sculpture garden.
On display are over 1,500 artworks that range from paintings and photos to drawings, sculptures, and video installations. In addition, it regularly hosts traveling exhibitions on other aspects of Latin American art and culture.
8. El Dorado East Regional Park
Although it only lies fifteen minutes' drive northeast of the center, El Dorado East Regional Park feels a world away from the hustle and bustle of downtown. Home to stunning landscapes, scenery, and nature, it boasts an astounding array of excellent amenities and outdoor activities.
The largest park in Long Beach, it is a very popular place to relax and unwind. It has countless playgrounds, picnic areas, and playing fields for visitors to make use of. There are also nature trails and bike paths, archery ranges, disc golf courses and a skate park to enjoy, as well as basketball and volleyball courts.
On top of all this, the park has a huge nature center with informative displays teaching you all about the local fauna and flora.
7. Catalina Express
Another great thing to do when in town is hop on the Catalina Express and enjoy a scenic ferry ride to nearby Catalina Island. Located around an hour's journey from Long Beach, the idyllic isle is home to spectacular scenery and the trip to get there is just as enjoyable.
While Catalina Island has been a popular getaway since the 1920s, the daily ferry service only started in 1981. Since then, countless locals and tourists alike have boarded its sleek catamarans that skip across the waves on their way to the island's serene shores and secluded settlements.
As it only takes an hour from Downtown Long Beach's waterfront to the isle, the Catalina Express is a fantastic option if you are looking for a day trip destination or a quiet weekend away.
6. Earl Burns Miller Japanese Garden
Also located on the enormous California State University, Long Beach campus is the gorgeous Earl Burns Miller Japanese Garden. A treat to wander around, it has paths and green spaces to explore with ponds, pagodas and little stone lanterns also dotted about.
Founded in 1981, the beautiful gardens and their lovingly landscaped layout were inspired by the extensive Imperial Gardens in Tokyo. As well as decorative bridges and colorful cherry blossoms, it has charming koi ponds and a traditional tea house.
You can also attend one of the numerous cultural events that it holds each year that includes a koi auction, chrysanthemum show, and ikebana workshops.
5. Naples Island
Home to scenic canals, beautiful houses, and picture-perfect streets; Naples Island really is a delight to explore. Set in the southeast of Long Beach, the wealthy neighborhood is named after Naples in Italy with most of its streets also bearing Italian names.
Besides strolling about, visitors can take peaceful gondola rides along the canals or rent kayaks and paddle about the waterways. At the heart of the district lies La Bella Fontana Park which has a fantastic three-tiered fountain on show with exquisite local restaurants and shops lying nearby.
In addition, the isle has a little beach for locals and visitors with volleyball courts and playgrounds on offer. A particularly pleasant time of year to visit is in winter when the huge homes are clad in colorful Christmas lights and decorated boats parade about the canals.
4. Shoreline Village
Much closer to the center of town is lively Shoreline Village alongside the shimmering waters of Rainbow Harbor. The delightful waterfront area has a whole host of great shops and restaurants, as well activities, events, and entertainment options on offer.
Set just a short stroll from both downtown and many of the city's main sights, its vibrant boardwalk is lined by unique boutiques, souvenir shops, cozy cafes, and seafood restaurants. Particularly popular is the landmark Parkers' Lighthouse restaurant due to its fresh fish and stunning harbour views.
Aside from taking in the ambience, visitors can cycle or skate along the boardwalk, listen to live music or enjoy the fun arcade games and classic carousel at Pelican Pier Pavilion.
3. Long Beach Waterfront
Right next to Shoreline Village you can find Long Beach Waterfront and all its amazing attractions. One of the most popular places to visit in the city, it has an attractive esplanade to wander along that leads to parks, piers, historic sights and an aquarium.
While the excellent Aquarium of the Pacific and the Convention Center's innumerable events attract many people, simply ambling along the esplanade is a wonderful way to spend some time. As well as gazing over the reflective waters of the harbour and seeing boats bob about the bay, you can stop off at its numerous shops and stores or enjoy a delicious meal at its waterfront restaurants.
From here you can also arrange to go on fishing trips and whale-watching excursions, or just bask in fine views from both its piers and the peaceful and picturesque Shoreline Aquatic Park.
2. Aquarium of the Pacific
One of Long Beach's top tourist attractions, the fabulous Aquarium of the Pacific can also be found on the waterfront. Home to an astounding array of exhibits, ecosystems, and animals; it is one of the biggest and best facilities of its kind in the States.
Since being founded in 1998, its collection has expanded considerably and now includes more than 11,000 animals and 500 different species. While perusing its endless aquaria you can see everything from jellyfish and penguins to sharks, sea lions and shimmering shoals of fish.
While some sections focus on animals and ecosystems of Southern California, others look instead at the Tropics or Pacific. With terrific touch pools to stop by, a lagoon teeming with rays and sharks, and over 100 educational exhibits to explore, the aquarium really is a must-visit.
1. Queen Mary
A fascinating ship to explore, the RMS Queen Mary acts as a museum, hotel, and tourist attraction and has various restaurants and bars to visit. Now permanently moored at Long Beach, the huge historic ocean liner boasts a beautiful Art Deco interior with fine furnishings and interesting artifacts and exhibits.
Between 1936 and 1967, the ship plied the North Atlantic with royals and dignitaries, such as the Duke and Duchess of Windsor and Winston Churchill, aboard. Impressively enough, the liner was larger and more luxurious than the Titanic, with this elegance and grandeur still on show today.
Besides taking tours around the cruise ship or staying in its luxury hotel, guests can delight in some fine dining at one of its restaurants or enjoy a cocktail in its atmospheric Art Deco lounge.
Map of Things to Do in Long Beach