The third-largest state in the US, California is home to a diverse array of beautiful landscapes. Its scenic Pacific Ocean coastline contrasts with the Sierra Nevada and Tehachapi mountain ranges, Sacramento and San Joaquin valleys, and the arid conditions of the Mojave Desert. It is also home to some of the most famous and treasured national parks in the country, with Joshua Tree, Redwood, and Yosemite among the most popular.
Boasting such famous sights as Beverly Hills, Hollywood, and the Golden Gate Bridge, California's world-famous cities include Los Angeles, San Diego, and San Francisco. 'The Golden State' really is a trendsetter when it comes to popular culture. With its laidback feel, beautiful beaches, and arresting scenery that includes lush wine regions, majestic peaks, and glorious forests, California really does have it all.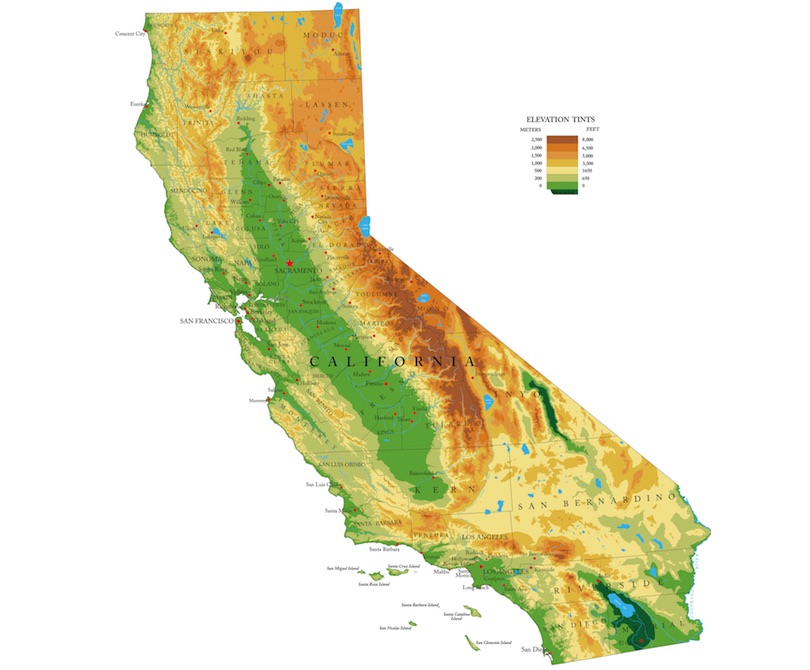 Southern California
Los Angeles with its plethora of incredible sights – such as Hollywood, Beverly Hills, Malibu, and Venice Beach – attract the lion's share of visitors, but there is much more to see in Southern California than just 'the City of Angels'.
The region is home to a beautiful mix of different people and cultures; this diversity is not only on show in the thriving cities, but also in terms of its majestic landscapes. There's the Mojave Desert in the east, the glittering beaches and lovely Channel Islands along the scenic Pacific Ocean coastline, and the majestic peaks and valleys of the Peninsular Ranges also on show.
One of the most populated regions in the States, Southern California is renowned around the world for being the home of Hollywood and the American movie industry, while attractions such as the original Disneyland Park are equally popular. Alongside Los Angeles and its large metropolitan area, San Diego and Long Beach are well worth visiting for their wealth of things to see and do and their beautiful beaches.
Desert
Covering the southeastern corner of the state, the California Desert is an excellent place to head to if you love the outdoors. Alongside the magnificent Mojave Desert, there are also the marvelous national parks of Death Valley and Joshua Tree for you to explore.
Due to its diverse habitats, this beautiful part of California lends itself perfectly to all kinds of outdoor activities. The White and San Bernardino mountains are fantastic for hikers, climbers, and campers, while the region's wonderful national parks boast all types of incredible wildlife and scenery.
Although most people visit the California Desert for its outdoor wonders, there are some lovely towns and cities for you to check out, with the desert resort oasis of Palm Springs being particularly popular. There are also some charming wineries in Riverside County, and at Big Bear Lake, you can enjoy all types of watersports in the summer, with skiing and snowboarding on offer in winter.
Central Coast
Covering the Central Coast of the state, this lovely region is tranquil and laidback in comparison with the neighboring cities of San Francisco and Los Angeles that lie respectively to its north and south. It is ideal for people looking to enjoy splendid nature in peace and quiet.
While Big Sur, with its rugged cliffs, beautiful beaches, and untouched scenery is undoubtedly the main draw, there is lots more delightful nature to be enjoyed. The Coast and Santa Cruz mountain ranges run through the state, with wildflower-filled grasslands, steep canyons, and impressive rock formations all on show alongside the gorgeous Channel Islands National Park, which lies offshore.
Tucked away among its amazing natural sights are centuries-old Spanish missions and charming wineries. Carmel, Santa Barbara, and Santa Cruz are all delightful oceanside cities that are well worth a visit for their golden beaches, lively downtowns, and scenic settings.
San Joaquin Valley
Mostly consisting of endless farmland, San Joaquin Valley is the breadbasket of California and is one of the most important and productive agricultural areas in the world. While most people simply drive through the region and enjoy the rural landscapes as they go, there are some beautiful pockets of nature here and there.
Although the region is mostly flat, from time to time, forested nature preserves punctuate its gorgeous scenery, as do the foothills of the Sierra Nevada mountain range and tracts of desolate yet strangely beautiful desert. The Sacramento and San Joaquin rivers also run through the valley.
Dotted among its patchwork of fields and farms are the cities of Fresno and Bakersfield. While neither of them will ever be popular tourist destinations in and of themselves, they do have some nice attractions on show, such as Forestiere Underground Gardens, the Fresno Art Museum, and the fantastic Kern Country Museum, which is home to all kinds of historic buildings.
Sacramento Valley
Home to Sacramento, which is the state capital, the Valley of the same name lies around the California Delta, with the Sacramento River running through it. As it is mostly made up of extensive agricultural areas, farmland, and rolling fields, Sacramento Valley has lots of fantastic farmers' produce for you to try out, with Yolo County being particularly worth visiting for its brilliant wineries.
Due to its rural nature, the region is also home to some lovely wildlife reserves. Both Plumas and Tahoe National Forests are great to head to if you want to go birdwatching, boating, or fishing.
While the city of Sacramento is the main draw with its delightful historic district and scenic setting on the Sacramento and American rivers, it is well worth venturing further afield to discover the hidden gems and peaceful scenic spots that are dotted around the region.
Sierra Nevada
Boasting rugged mountains, sweeping canyons, and a vast array of dramatic landscapes, California's Sierra Nevada region is a delight to explore, with lots of stunning nature and outdoor activities on offer.
While Yosemite National Park is undoubtedly the highlight, with its towering peaks and incredible vistas, Sequoia and Kings Canyon National Parks are both well worth a visit. So is Devils Postpile National Monument, with its sparkling Rainbow Falls, and the majestic Mount Whitney – the highest peak in the mainland USA. Each of these offers a wide array of great activities, with hiking, rock climbing, and camping all popular.
As the region is predominantly visited by outdoor enthusiasts and nature lovers, Sierra Nevada's cities and towns are mainly used as gateways to the marvelous nature all around them. For instance, both Tahoe City and South Lake Tahoe lie on the shores of the sparkling Lake Tahoe, which provides so many amazing watersports and boating opportunities.
Gold Country
Named after the gleaming mineral that brought so many prospectors to California, Gold Country lies in the foothills of the Sierra Nevada mountains. Lots of historic towns and mining villages dating all the way back to the Gold Rush times can be found scattered around the region.
The country offers the perfect combination of history, culture, and nature. Its marvelous mountain scenery is home to caves and giant sequoia trees in Calaveras Big Trees State Park, as well as charming wineries and long-abandoned mines. The Kentucky Mine Museum is particularly worth a visit.
Of most interest to visitors to the region are the historic towns of Grass Valley, Jamestown, and Twain Harte. Each of them has lovely old buildings for you to discover, as well as museums and monuments to the California Gold Rush that so shaped the state's identity.
Bay Area
Home to one of the most famous cities in the States, the Bay Area surrounds the magnificent San Francisco Bay. In addition to its glittering waters and the infamous Alcatraz prison, it also sports cities such as San Jose – the center of Silicon Valley – and Berkeley, one of the most prestigious universities in the country.
The main attraction, however, is undoubtedly San Francisco, which is full of incredible historical sights and cultural landmarks such as the Golden Gate Bridge and Fisherman's Wharf. Its famous cable cars can help you get around the vibrant and scenic city. Renowned for its unique and quirky counterculture, San Francisco is one of the most popular cities to visit in the States.
Away from its sprawling metropolis, the Bay Area boasts some wonderful natural sights, with lots of great hiking trails and cycle paths weaving their way around Mount Diablo State Park. A plethora of world-class wineries and vineyards await you in the scenic Napa Valley, a world-famous wine area.
North Coast
Hugging northern California's scenic coastline, North Coast is a beautiful part of the state to explore. Its inland valleys and towering redwood forests contrast delightfully with its beautiful beaches and charming coastal towns.
Due to the delightful scenery on show, the region offers a vast array of recreational opportunities, with birdwatching, hiking, and horseback riding all very popular. Along the coast, you can go boating, fishing, and whale watching. Among its many awe-inspiring natural sights, it's the breathtaking Redwood National Park that really stands out; its majestic trees are sure to be unlike anything you've ever seen.
Although its beautiful coastal highways and impressive nature reserves are what many people come for, the North Coast also boasts a huge number of fantastic wineries, which you can find in Sonoma County. In addition to this, the laidback city of Santa Rosa and the artsy and trendy town of Mendocino are both well worth visiting.
Shasta Cascades
Covering the northeastern corner of the state, the sparsely populated Shasta Cascades is home to a delightful array of mountains, hills, and forests, while volcanoes and lakes are also found among its magnificent wilderness.
While much of the region consists of remote and scenic landscapes, some of its most impressive scenery is on show in Lassen Volcanic National Park and Lava Beds National Monument, both of which have fascinating geographies and topographies for you to check out.
Due to their small populations, Shasta Cascades' towns and cities feel a world away from the bustling cities of Los Angeles, San Diego, and San Francisco, with most people only stopping by Redding and Weaverville for the fantastic nature that lies nearby.