In recent years, the underrated Idaho has become an increasingly sought-after spot to live, work and travel as word spreads about the Gem State's considerable charms. As more than a hundred rugged mountain ranges scar the state, its small towns and vibrant cities are never far from some absolutely spectacular nature sights with hiking, kayaking and skiing all being popular pastimes.
Most of its large landmass is made up of endless rural areas and pristine wilderness with pockets of life exist here and there. Among the best cities in Idaho are its bustling capital Boise and adventure-filled Idaho Falls, as both are very lively. With a laidback pace of life for the most part and a low cost of living, it is no wonder that Idaho is enticing families, young professionals and retirees alike to uproot and settle in the scenic state.
In this post, we'll cover:
12. Twin Falls
Set in South Central Idaho, Twin Falls lies along the stunning Snake River with the large and lively city acting as a hub for the surrounding region. As well as being a gateway to the colossal canyon of the same name and its captivating cascades, it is a popular place to settle down due to its low cost of living, growing job market and extensive array of outdoor activities.
While agriculture is still a key part of its economy, nearby nature sights and casinos in neighboring Nevada also entice plenty of tourists to town. Asides from hiking, biking and kayaking about Snake River Canyon, you can snap photos of the spellbinding Shoshone Falls and enjoy divine views from the impressive Perrine Memorial Bridge.
On top of this, you can always explore Twin Fall's historic downtown, see daredevil Evel Knievel's jump site or catch a play or performance at the College of Southern Idaho.
11. Sandpoint
As it lies along the scenic shores of Lake Pend Oreille with soaring mountains rising up all about it, the lovely little Sandpoint really is located in an idyllic spot. Due to its natural riches and wealth of wonderful watersports and snowsports, the resort town is one of Idaho's top tourist destinations with residents also enjoying a high quality of life though costs have been rising in recent years.
Regularly listed among the most beautiful small towns in the States, it is surrounded by the Selkirk, Cabinet and Bitterroot mountain ranges while the tranquil waters of the lake stretch endlessly away into the distance. Besides skiing and snowboarding at the massive Schweitzer Mountain Resort, you can swim and sail at the lake or hike and horseback ride around its valleys with the northerly town lying not far from vast national forests and the border with Canada.
10. Pocatello
At the opposite end of Idaho you can find the sizeable city of Pocatello which is endearingly known as the 'United States Smile Capital'. Thanks to Idaho State University's large student population, the happening college town has a dynamic and youthful feel with all kinds of attractions, amenities and entertainment options being on offer.
Tucked away in the southeast corner of the state, it is located not far from Shelley and Idaho Falls with a myriad of amazing outdoor activities to be enjoyed in the surrounding mountains, rivers and lakes. In addition to all downtown's restaurants, shops and bars, there are a couple of museums and a small zoo to check out with Pocatello also displaying a rich railroad and trade union heritage.
9. Coeur d'Alene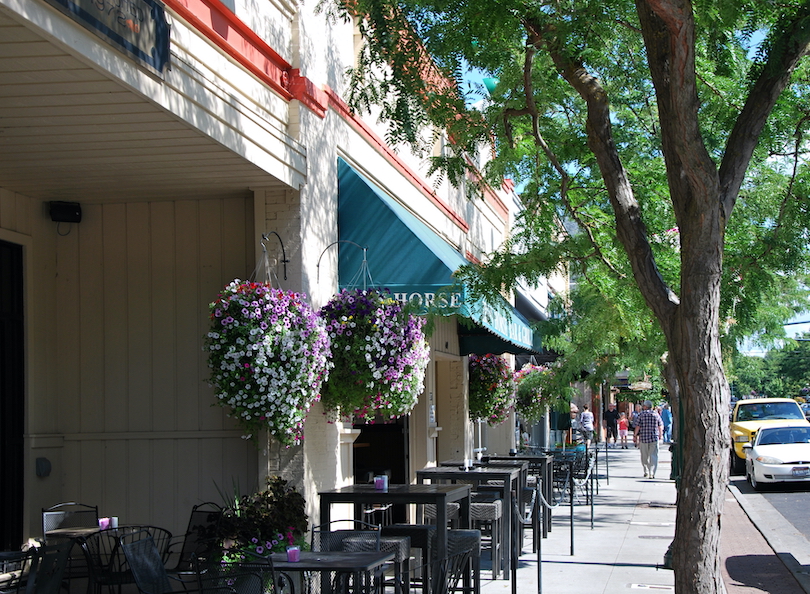 Another city that occupies an absolutely gorgeous spot is Coeur d'Alene which is nestled amidst the mountains of Northern Idaho with rivers and lakes also lying around it. Once an important center of mining and forestry, it is now a very popular place to live and holiday due to its staggering natural beauty and almost overwhelming array of outdoor activities and watersports.
While the substantial increase in tourism and skyrocketing costs have put pressure on its population, residents still benefit from excellent amenities, countless community events and a growing arts and culture scene. Asides from cycling, skiing and kayaking about all its breath-taking landscapes, make sure to explore its vibrant downtown while a casino resort, water park and Tubbs Hill count among its other main attractions.
8. Idaho Falls
Long rated one of the best cities to live in Idaho, the attractive Idaho Falls acts as a major economic and cultural hub for Eastern Idaho. After Boise, it is the state's largest metropolis and so has everything you would expect from a city of its size with quiet neighborhoods and lively districts to be found along both sides of the Snake River which it straddles.
With a strong economy, superb public school system and affordable cost of living, it is a great place to raise a family or retire with its incredible landscapes and pristine parks being yet another perk. As well as ambling along the river and stopping by downtown's museums and shops, locals and tourists alike love exploring the nearby national parks with not only Craters of the Moon and Grand Teton but Yellowstone all lying within driving distance.
7. Lewiston
Set at the spot where the Snake and Clearwater rivers meet, the laidback Lewiston is remarkably the farthest inland port in the Western United States. As such, transportation is one of its key industries alongside agriculture and manufacturing with the secluded city also acting as a gateway to the Hells Canyon National Recreation Area and the Seven Devils Mountains.
While there is not much going on in the way of nightlife and entertainment, Lewiston's safe streets, affordable housing and ample employment opportunities particularly appeal to families and retirees. Although its location right in the west of the state on the border with Washington means that it is far removed from other settlements, the untouched landscapes, scenery and nature all about it offer up lots of fun outdoor activities and recreation opportunities.
6. Shelley
Pastelitodepapa / Wikipedia
While it is perhaps mostly known for its Spud Day celebration, Shelley has much more going for it than just its annual potato parade. Although it is a rather quiet and quaint community, residents can enjoy umpteen attractions and amenities in Idaho Falls which lies just a fifteen minutes' drive away.
Lying on the eastern side of Snake River, it is backed by the beautiful Blackfoot Mountains with its safe streets, small schools and friendly and welcoming population making it a fantastic place to live. Besides benefiting from its high quality of life and closeness to the city, locals' highlight of the year has to be its week-long Spud Day festival which sees games, concerts and contests all take place.
5. Boise
Nestled amidst the rolling foothills of the rugged Rocky Mountains you can find Idaho's largest city and capital Boise. Despite its sprawling size and wide range of establishments and amenities, it has a lovely small town feel and is surprisingly affordable with many describing it as a hidden gem.
Asides from excellent employment opportunities and an exciting arts and culture scene, both locals and tourists can enjoy its numerous museums and cultural landmarks while its downtown is packed with bustling restaurants and bars. After having experienced its nightlife and seen its stunning state capitol, you can always float or fish on the Boise River, hike and cycle along its scenic banks or ski and snow tube at the city's nearby mountain resorts.
4. Moscow
Although Moscow might not seem to have much in common with big and busy Boise at first sight, the much smaller city is also regularly ranked among the most desirable places to live in the state. A cozy college town that acts as an agricultural and economic center for the region, it lies in Northern Idaho right next to the border with Washington.
Plus, points include not only its brilliant public schools and pristine parks but its pedestrian-friendly downtown which is home to lots of local shops and restaurants and hosts a fabulous farmers' market in the sunny summertime. Largely thanks to the University of Idaho's sizeable student population, it has a vibrant cultural and nightlife scene while all kinds of epic outdoor activities can be enjoyed in the nearby forests, mountains and valleys.
3. Chubbuck
Located immediately north of Pocatello, the peaceful community of Chubbuck's streets almost seem to blend with that of its sister city with both being a part of the same massive metropolitan area. As it is an increasingly popular place to live and work, it has seen countless new buildings, businesses and parks spring up in recent years as more and more families move to southeastern Idaho.
Set amidst the foothills of the Rockies, the small town has a very community-focused outlook with cultural events, festivals and concerts taking place all the time. Together with Pocatello it provides residents with plenty of employment and entertainment opportunities with its numerous parks and Pine Ridge Mall also enticing people alongside its relaxed pace of life.
2. Post Falls
As it is both a city-suburb of Coeur d'Alene to the east and bedroom community for Spokane to the west in Washington, Post Falls has grown a lot over the last decade or so. This is because residents benefit from a more affordable cost of living and charming small town feel while an extensive array of amenities, entertainment options and outdoor activities lie on their doorstep.
While young professionals and families have flocked here for its ample employment opportunities, fine public schools and quiet streets, outdoorsy types love all the mountains, rivers and lakes that lie nearby. Without leaving town you can already bask in the sublime scenery of Park Falls and hike, rock climb and boat in Q'emiln Park with an ever-increasing number of new restaurants, shops and cafes opening up all the time.
1. Eagle
Another of the most desirable spots to settle in the state is Eagle on the northwestern outskirts of the capital Boise. Known for its gorgeous green spaces, immaculate golf courses and even its spas, the somewhat chic suburb is so highly rated due to its outstanding public schools and short commute to the city center.
As well as brunch spots and wine bars, it has a swimming beach for locals and visitors to enjoy with Eagle Island State Park offering all kinds of fun recreation activities. Although the cost of living and house prices have risen considerably in recent years, the town is still home to a very friendly and welcoming community with its bustling Saturday market and its live music being a popular draw.
Map of Cities in Idaho to Live and Visit