Gorgeous beaches, a delicious culinary scene, festive culture and ancient pyramids all make Mexico a popular tourist destination. Mexico is a land of color and contrasts. Crowded beaches lead into quiet colonial towns while resort cities open gateways to jungles ringing with parrots and howler monkeys. Majestic mountains descend to remote deserts. Traditional pueblo houses sit near Spanish haciendas. Ruins of Mayan cities lie excavated outside of modern metropolises.
The capital, Mexico City, is a huge metropolis boasting a historical center, top museums, and chic shopping opportunities. Then there's the enigmatic town of Oaxaca – home to colonial architecture and a fantastic Day of the Dead festival. Traces of it's Pre-Columbian past can be found in Teotihuacan, with its pyramid dating back to 200 CE; and the archaeological site of Chichen Itza in the Yucatán Peninsula. Here's a look a the best places to visit in Mexico:
flickr/RussBowling
Founded in 1531, Puebla, in central Mexico, is the fifth largest city in the country with over 2 million inhabitants. Its strategic location, halfway between the port of Veracruz and Mexico City, made it an important city.
Today this charming colonial city pairs perfectly with hungry travelers, since it's known as the gastronomic capital of Mexico. Be sure to try mole poblano, a traditional Mexican dish said to be invented here.
Standing in the shadow of the volcano Popocatepetl, Puebla visitors also won't want to miss the Catedral de Puebla, with its onyx statues and domed ceiling patterned after St. Peter's in Rome. The nearby town of Cholula boast one of the largest pyramids ever built, though the structure has been badly neglected over the centuries.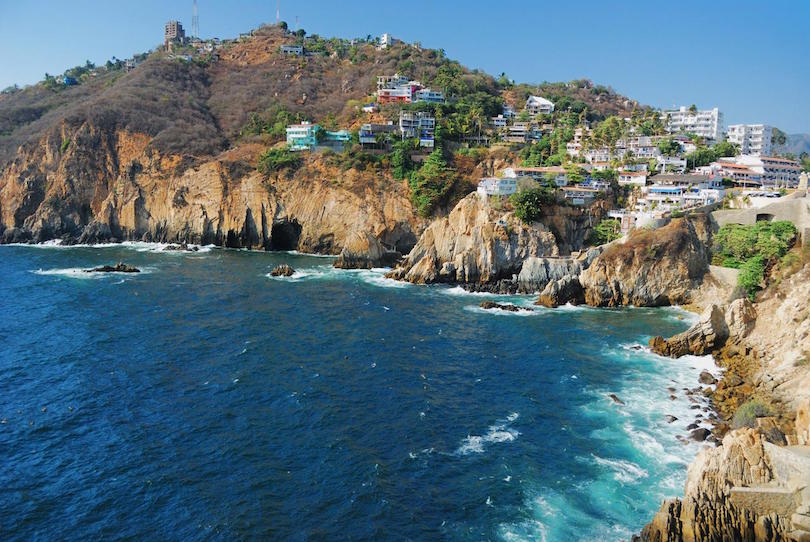 flickr/martintoy
Once a popular destination among spring breakers, Acapulco is the largest city in the state of Guerrero. This large beach resort city is situated on a semi-circular bay that is characterized by traditional architecture on one side and luxury high-rise hotels on the other side.
Beautiful beaches are Acapulco's primary crowd-puller. Most of the popular beaches like Hornos, Icacos, Papagayo and Tamarindos are found along the bay area known as Las Costera. Favored for their cleanliness and direct location on the ocean, the beaches of Langosta and Caleta are good choices as well.
Those who desire more than just the beaches may find the Fort of San Diego an interesting visit for its historic buildings and on-site museum that details the history of the area. Another good museum is the House of Masks, which showcases a collection of masks from all over the world. Shaded by palm trees, the city's main square is where tourists can visit a stunning cathedral, watch street performers, dine in cafes, shop and experience the local culture.
A must-do in Acapulco is watch the city's famous La Quebrada Cliff divers plunge 147 feet into a shallow inlet. A tradition since 1934, this spectacle can be viewed from a platform on the cliff tops or from nearby restaurants.
Commonly referred to as simply "Playa," Playa del Carmen is a lively resort town in the state of Quintana Roo on Mexico's Yucatan Peninsula. Formerly a quiet fishing village of distinct European influence, the town has expanded in recent years into a vibrant resort town of beautiful beaches and entertainment venues. However, Playa still retains its relaxed atmosphere and friendly locals.
As it is situated within the Riviera Maya region, Playa del Carmen is a frequent cruise stop and within easy reach of other popular tourist spots like the Xcaret Eco Park and Sian Ka'an Biosphere Reserve. With the Mesoamerican Barrier Reef just off the shore, there are also plenty of opportunities for scuba diving and snorkeling.
Quinta Avenida, or 5th Avenue, is the heart of Playa. Along this 20-block thoroughfare are shops, boutiques, restaurants, bars, clubs and hotels.
flickr/Aussie Assault
Nicknamed the "White City" because of its white stone buildings, Merida is the capital of Mexico's Yucatan state. Due to its geographical isolation near the northwestern tip of the Yucatan Peninsula, the city has its own unique dialect, cuisine and culture shaped by Mayan, Caribbean and colonial influences.
Founded by Spanish Conquistadors in 1542 upon an ancient Mayan city, Merida features numerous colonial buildings including the palace of a former Conquistador leader. The city's main plaza, "el Zocalo," is the location of many historic structures such as a 16th century cathedral, the Governor's Palace and Old City Hall.
The tree-lined street of El Pasea Montejo with its beautiful mansions reflects the city's former glory days as the rope-making capital of the world. This street is a nice place to enjoy an evening walk after the heat of the day. Most locals here work in the mornings and take a lunch and siesta when the tropical weather is at its peak.
Tourists will find a variety of things to see and do in Merida like relaxing in public parks, browsing colorful markets for souvenirs and visiting nearby Mayan archaeological sites.
flickr/FrenchHope
Travelers with a passion for silver jewelry will naturally gravitate to Taxco, a colonial town famous for silverworks, especially jewelry. Located in northern Guerrero state, Taxco was once the most important mining region in the New World.
Today, its streets paved with stones, huge colonial houses with balconies, small squares and silver workshops make Taxco one of the most popular places to visit in Mexico. Churches, such as Santa Prisca, offer great examples of baroque architecture. Holy Week is a good time to visit Taxco because of its All Souls processions where residents turn out to show their faith.
Regarded as the marlin sport fishing capital of the world, Los Cabos has rapidly gained popularity over the last few decades as a top tourist destination in Mexico due to its beautiful resort beaches, excellent scuba diving, whale watching experiences and lively party scene.
Located in the Mexican state of Baja California Sur, Los Cabos is composed of two towns, San Jose and San Lucas, that are divided by twenty miles of scenic highway known as "the Corridor."
While the former mission town of Cabo San Jose is a traditional Mexican town with colonial architecture and a relaxed, quiet ambiance, Cabo San Lucas is one of Mexico's fastest growing tourist destinations, featuring luxury resorts, upscale restaurants, championship golf courses and a glittering party scene. San Lucas is also a hot spot for water sports that include scuba diving, parasailing, snorkeling and glass-bottom boat tours.
Sporting a splendid coastline dotted with gated residential communities and high-end resorts, the Corridor is home to beautiful beaches like Chileno Beach, which is favored for its crystal clear waters and marine life.
Cabo San Lucas is also known for its natural attraction, Land's End, which features a cluster of rocks shaped by the sea and wind into distinctive formations. One particular rock, El Arco, is a good spot to view sea lions.
flickr/Grand Velas Riviera Maya
Located in the Caribbean Sea on the Yucatan Peninsula, the thirty-mile island of Cozumel is one of the top diving destinations in the Western Hemisphere. For this reason, dive shops abound all over the island.
Except for the calm beaches at Chankanaab National Park, the island's ocean current and wind conditions are not ideal for swimming, but Cozumel's beaches are ripe for surfing and parasailing. However, there are many beach hotels that offer swimming pools. Other water activities include deep-sea fishing and glass-bottom boat tours.
Cozumel is one of Mexico's most visited cruise port-of-calls, and tourists will find the cruise docks bustling with vendors selling a variety of souvenirs from t-shirts to tequila. The main town on the island, San Miguel, offers a myriad of shops, entertainment venues and restaurants.
In addition to beach fun, Cozumel offers other fascinating attractions such as the Mayan archaeological sites of San Gervasio and El Caracol. Chankanaab National Park is a great place to explore nature trails, stroll along beautiful botanical gardens and view numerous iguanas.
Cozumel has an airport and can also be reached by ferry from Playa del Carmen.
9.
Copper Canyon
Named after the copper-green color of the canyon walls, the Copper Canyon is a network of six canyons that combined measures larger than the Grand Canyon in the United States. Located in the Sierra Madre of the state of Chihuahua, this canyon system offers some of Mexico's most extraordinary scenery.
Copper Canyon is rich in biodiversity with many different species of trees, flowers and wildlife as well as waterfalls and intriguing rock shapes such as the San Ignacio formations that resemble the likes of humans and animals. A number of traditional Mexican towns are found throughout the area including Creel, Hidalgo de Parall, Batopilas and Urique.
There are many ways to explore Copper Canyon, but the most outstanding way is by the Chihuahua-Pacific Railway, commonly called "El Chepe." The track passes over 37 bridges and through 86 tunnels, rising as high as 2,400 meter (7,900 feet) above sea level featuring some of the Copper Canyon's most spectacular scenery. The train makes several vista stops such as the popular one at Divisadero where travelers can enjoy breathtaking views and purchase foods and handicrafts from the Tarahumaran people.
Guanajuato, capital of the state with the same name, doesn't lack for charm. Cobblestone lanes, sidewalk cafes and some of the most stunning baroque architecture in North America give it a European flavor and are among Guanajuato's drawing cards. The city also has a network of underground tunnels that serve as roads making this place really unique in the world.
Founded in 1559, Guanajuato quickly became famous for its gold and silver mines. Some of the mines can be visited today; this includes La Valencia, one of the richest silver mines in the world. Next to the mine is the Church of San Cayetano, lavishly adorned with silver and gold. The city is a good place to enjoy traditional mariachi music.
A world famous tourist destination on the Caribbean coast of Mexico's Yucatan Peninsula, Cancun presents a complete vacation package of fabulous beaches, a first-class hotel zone, Mayan ruins, modern attractions and an exuberant nightlife.
Cancun's year-round perfect weather and gorgeous beaches are the island's top tourist magnets. With fourteen miles of powdery white sand bordering turquoise waters, these beaches offer a wide range of water sports and locals selling souvenirs. The downtown area, known as El Centro, beats to a more authentic Mexican tune with its historic architecture, restaurants, markets, bars and clubs.
There are a few small Mayan archaeological sites in Cancun. While some remain covered in jungle, others are popular tourist attractions such as El Meco and El Ray, with the latter found within the hotel zone. Tourists will find a variety of recreational activities around Cancun like jeep safaris, snorkeling and scuba diving. Shoppers can browse La Isla mall, and sports fans can watch football at the downtown stadium or play golf among the island's many courses.
Cancun is known for its vivacious nightlife, and tourists will find no shortage of choices that range from bars and nightclubs to dance halls and dinner cruises.
The capital city of the state by the same name, Oaxaca is located in a valley below the Sierra Madre mountains. Colonial architecture, archaeological sites, a pleasant climate and tranquil atmosphere make it a popular tourist destination in Southern Mexico.
At the heart of Oaxaco is its charming town square, Zocalo, where tourists can admire beautiful colonial landmarks like the Santo Domingo church, tour museums, shop for souvenirs and relax at an outdoor cafe.
Several archaeological sites around the city can be explored such as Monte Alban. Perched on a mountain, Monte Alban was the site of the ancient capital city of the Zapotec inhabitants. A visit here presents impressive views of the valley. The site of Mitla is intriguing for its walls of geometric patterns.
Oaxaca is also known for its unique food dishes such as mole, which involves the likes of a sauce made with chocolate and chiles. The city's favorite drinks, Mezcal and hot chocolate, are easily found in every restaurant and bar.
Traditional Oaxacan handicrafts are regarded worldwide, and the city's markets are good places to purchase popular items like Zapotec wool rugs, wood carvings and black pottery.
One of the best Day of the Dead festivals in Mexico takes place in Oaxaca as well as the Guelaguetza, a festival exhibiting the traditional dances of local indigenous cultures.
The capital of Mexico, Mexico City is one of the world's largest cities comprised of many ethnic groups from all over the globe. Not only is this vast city the most important political and cultural center in Mexico, but it is also one of the most important financial centers in Latin America. Moreover, Mexico City boasts one of North America's oldest and largest universities.
While there are no beaches in Mexico City, tourists will discover a great number of exciting things to see and do. The Historic Center is teeming in prominent landmarks such as the Plaza de la Constitucion, the Metropolitan Cathedral, the National Palace and the ruins of an ancient Aztec temple. With hundreds of museums, art galleries and performing arts centers, Mexico City is one of the world's leading cities of arts and culture. In addition to public parks like the impressive Chapultepec Park, the city also boasts the must-see Xochimilco Floating Gardens.
Mexico City's public transportation includes Latin America's largest metro system. For safety reasons avoid hailing a cab in the street. Instead, ask the hotel to call a cab. A good way to see the city's main attractions is by taking the Turibus, a hop-on, hop-off sightseeing bus.
Read more: Mexico City Attractions
Situated on the Bay of Banderas along Mexico's Pacific Coast in the state of Jalisco is the popular vacation city of Puerto Vallarta. Landscapes of gorgeous beaches and lush jungle mountains envelope this picturesque town of colonial landmarks, first-class resorts, gourmet restaurants and dozens of nightclubs.
The city's main attraction, the golden sand beaches, offer relaxation and water sports such as sailing, kite surfing and deep sea fishing. As Puerto Vallarta is a popular diving destination, there are many dive shops located throughout the beaches. Giant manta rays and dolphins can be viewed here while humpback whales can be seen between December and March.
Lined with shops, restaurants and bars, the beautiful boardwalk, the Malecon, is a great place to shop, dine, socialize, watch street performers and view the ocean.
Outside of the city, tourists can tour mango and papaya plantations or visit quiet fishing villages and secluded coves. The lush hills and mountains offer hiking and horse riding trails in addition to canopy and ziplining adventures.
3.
Teotihuacan
flickr/ZeroOne
Egypt has its pyramids, and so does Teotihuacan, at one time the largest city not only in pre-Columbian Mexico but the entire world as well. The pyramids were built between 100 AD and 450 AD, a period when Teotihuacan was emerging as an important religious center in Mesoamerica. Indeed, its name means "birthplace of the gods", a term coined by the Aztecs who found Teotihuacan centuries after its downfall.
The most important monuments are the Pyramids of the Sun and Moon, and the Temple of Quetzalcoatl. Teotihuacan became famous for its urban planning, a concept that is followed in modern times today. Teotihuacan makes a good day trip from Mexico City, located just 50 km (30 miles) away.
Read more: Teotihuacan Attractions
The Tulum ruins are a walled Maya city perched on a rocky cliff overlooking the Caribbean in the Yucatán Peninsula, Mexico. The site is of modest scale and was built during the post Classic period when the Mayan culture was in decline and therefore lacks the elegance of some other famous Mayan ruins. The tropical beach backdrop however makes this a unique site which should not be missed.
The most imposing building in Tulum is the 25 feet (7.5 meter) tall El Castillo (the castle) set above the cliff. It was once covered in with stucco and painted. A small shrine appears to have been used as a beacon for incoming canoes. On the beach below, where the canoes came ashore, tourists combine a visit to the Mayan ruins with a dip in the Caribbean.
It is important to know that there are really three different areas all referred to as Tulum, located near each other, but not close enough to walk to and from.
The town center, sometimes referred to as Tulum Pueblo, lies across the highway south of the Coba junction. There are frequent buses to Cancun, Merida, Playa del Carmen and Valladolid from the town center. Tulum Playa or Zona Hotelera extends for more than 6 miles (10km) of great white sandy beaches along the Caribbean coastline while Tulum Ruinas is the archaeological site where the Tulum Mayan ruins stand.
1.
Chichen Itza
Situated in the Yucatán Peninsula, Chichen Itza is the most famous of all the great Mayan cities. This is somewhat ironic because its most famous structures do not have a typical Classic Mayan architecture but show strong influences from other civilizations from Central Mexico. It is also the most developed of the many Mayan ruins in Mexico and can get crowded. But the combination of grant scale monuments and the mysterious precise astronomical calculation in the buildings make Chichen Itza truly amazing.
Many tourists visit Chichen Itza as a day trip, especially from Cancún or Merida but it is also possible to stay a night or two here.
Read more: Chichen Itza Attractions
Map of Mexico
© OpenStreetMap contributors © Esri — National Geographic
Click to enlarge