Gorgeous beaches, a delicious culinary scene, festive culture and ancient pyramids all make Mexico a popular tourist destination. Mexico is a land of color and contrasts. Crowded beaches lead into quiet colonial towns while resort cities open gateways to jungles ringing with parrots and howler monkeys. Majestic mountains descend to remote deserts. Traditional pueblo houses sit near Spanish haciendas. Ruins of Mayan cities lie excavated outside of modern metropolises.
The capital, Mexico City, is a huge metropolis boasting a historical center, top museums, and chic shopping opportunities. Then there's the enigmatic town of Oaxaca – home to colonial architecture and a fantastic Day of the Dead festival. Traces of it's Pre-Columbian past can be found in Teotihuacan, with its pyramid dating back to 200 CE; and the archaeological site of Chichen Itza in the Yucatán Peninsula. Here's a look a the best places to visit in Mexico:
flickr/RussBowling
Founded in 1531, Puebla, in central Mexico, is the fifth largest city in the country with over 2 million inhabitants. Its strategic location, halfway between the port of Veracruz and Mexico City, made it an important city. Today this charming colonial city pairs perfectly with hungry travelers, since it's known as the gastronomic capital of Mexico. Be sure to try mole poblano, a traditional Mexican dish said to be invented here. Standing in the shadow of the volcano Popocatepetl, Puebla visitors also won't want to miss the Catedral de Puebla, with its onyx statues and domed ceiling patterned after St. Peter's in Rome. The nearby town of Cholula boast one of the largest pyramids ever built, though the structure has been badly neglected over the centuries.
flickr/Aussie Assault
Nicknamed the "White City" because of its white stone buildings, Merida is the capital of Mexico's Yucatan state. Due to its geographical isolation near the northwestern tip of the Yucatan Peninsula, the city has its own unique dialect, cuisine and culture shaped by Mayan, Caribbean and colonial influences.
Founded by Spanish Conquistadors in 1542 upon an ancient Mayan city, Merida features numerous colonial buildings including the palace of a former Conquistador leader. The city's main plaza, "el Zocalo," is the location of many historic structures such as a 16th century cathedral, the Governor's Palace and Old City Hall.
The tree-lined street of El Pasea Montejo with its beautiful mansions reflects the city's former glory days as the rope-making capital of the world. This street is a nice place to enjoy an evening walk after the heat of the day. Most locals here work in the mornings and take a lunch and siesta when the tropical weather is at its peak.
Tourists will find a variety of things to see and do in Merida like relaxing in public parks, browsing colorful markets for souvenirs and visiting nearby Mayan archaeological sites.
flickr/FrenchHope
Travelers with a passion for silver jewelry will naturally gravitate to Taxco, a colonial town famous for silverworks, especially jewelry. Located in northern Guerrero state, Taxco was once the most important mining region in the New World. Today, its streets paved with stones, huge colonial houses with balconies, small squares and silver workshops make Taxco one of the most popular places to visit in Mexico. Churches, such as Santa Prisca, offer great examples of baroque architecture. Holy Week is a good time to visit Taxco because of its All Souls processions where residents turn out to show their faith.
7.
Copper Canyon
Copper Canyon, found in Chihuahua state, is actually a series of canyons that are larger and deeper than the Grand Canyon in the United States. Located in the Tarahumara Mountains, the canyons get their name from their greenish copper color. The most popular way to explore the Copper Canyon is on the "Chihuahua al Pacifico" Railway. The track passes over 37 bridges and through 86 tunnels, rising as high as 2,400 meter (7,900 feet) above sea level featuring spectacular views of the canyons below. More adventuresome travelers will enjoy the suspension bridges, zip lines, rock climbing and hiking trails.
Named after the copper-green color of the canyon walls, the Copper Canyon is a network of six canyons that combined measures larger than the Grand Canyon in the United States. Located in the Sierra Madre of the state of Chihuahua, this canyon system offers some of Mexico's most extraordinary scenery.
Copper Canyon is rich in biodiversity with many different species of trees, flowers and wildlife as well as rivers, natural hot springs, waterfalls and intriguing rock shapes such as the San Ignacio formations that resemble the likes of humans, animals and plants. A number of traditional Mexican towns are found throughout the area including Creel, Hidalgo de Parall, Batopilas and Urique.
Copper Canyon has historically been home to the native Indian tribe known as Tarahumara, or Rar·muri. These quiet people often dwell in adobes and caves, earning income by selling various handicrafts such as hand-carved violins and woven pine needle baskets to travelers.
There are many ways to explore Copper Canyon, but the most outstanding way is by the Chihuahua-Pacific Railway, commonly called "El Chepe." The track passes over 37 bridges and through 86 tunnels, rising as high as 2,400 meter (7,900 feet) above sea level featuring some of the Copper Canyon's most spectacular scenery. The train makes several vista stops such as the popular one at Divisadero where travelers can enjoy breathtaking views and purchase foods and handicrafts from the Tarahumaran people.
Guanajuato, capital of the state with the same name, doesn't lack for charm. Cobblestone lanes, sidewalk cafes and some of the most stunning baroque architecture in North America give it a European flavor and are among Guanajuato's drawing cards. The city also has a network of underground tunnels that serve as roads making this place really unique in the world. Founded in 1559, Guanajuato quickly became famous for its gold and silver mines. Some of the mines can be visited today; this includes La Valencia, one of the richest silver mines in the world. Next to the mine is the Church of San Cayetano, lavishly adorned with silver and gold. The city is a good place to enjoy traditional mariachi music.
The capital city of the state by the same name, Oaxaca is located in a valley below the Sierra Madre mountains. Colonial architecture, archaeological sites, a pleasant climate and tranquil atmosphere make it a popular tourist destination in Southern Mexico.
At the heart of Oaxaco is its charming town square, Zocalo, where tourists can admire beautiful colonial landmarks like the Santo Domingo church, tour museums, shop for souvenirs and relax at an outdoor cafe.
Several archaeological sites around the city can be explored such as Monte Alban. Perched on a mountain, Monte Alban was the site of the ancient capital city of the Zapotec inhabitants. A visit here presents impressive views of the valley. The site of Mitla is intriguing for its walls of geometric patterns.
Oaxaca is also known for its unique food dishes such as mole, which involves the likes of a sauce made with chocolate and chiles. The city's favorite drinks, Mezcal and hot chocolate, are easily found in every restaurant and bar.
Traditional Oaxacan handicrafts are regarded worldwide, and the city's markets are good places to purchase popular items like Zapotec wool rugs, wood carvings and black pottery.
One of the best Day of the Dead festivals in Mexico takes place in Oaxaca as well as the Guelaguetza, a festival exhibiting the traditional dances of local indigenous cultures.
The capital of Mexico, Mexico City is one of the world's largest cities comprised of many ethnic groups from all over the globe. Not only is this vast city the most important political and cultural center in Mexico, but it is also one of the most important financial centers in Latin America. Moreover, Mexico City boasts one of North America's oldest and largest universities.
While there are no beaches in Mexico City, tourists will discover a great number of exciting things to see and do. The Historic Center is teeming in prominent landmarks such as the Plaza de la Constitucion, the Metropolitan Cathedral, the National Palace and the ruins of an ancient Aztec temple. With hundreds of museums, art galleries and performing arts centers, Mexico City is one of the world's leading cities of arts and culture. In addition to public parks like the impressive Chapultepec Park, the city also boasts the must-see Xochimilco Floating Gardens.
Mexico City's public transportation includes Latin America's largest metro system. For safety reasons avoid hailing a cab in the street. Instead, ask the hotel to call a cab. A good way to see the city's main attractions is by taking the Turibus, a hop-on, hop-off sightseeing bus.
Read more: Mexico City Attractions
3.
Teotihuacan
flickr/ZeroOne
Egypt has its pyramids, and so does Teotihuacan, at one time the largest city not only in pre-Columbian Mexico but the entire world as well. The pyramids were built between 100 AD and 450 AD, a period when Teotihuacan was emerging as an important religious center in Mesoamerica. Indeed, its name means "birthplace of the gods", a term coined by the Aztecs who found Teotihuacan centuries after its downfall. The most important monuments are the Pyramids of the Sun and Moon, and the Temple of Quetzalcoatl. Teotihuacan became famous for its urban planning, a concept that is followed in modern times today. Teotihuacan makes a good day trip from Mexico City, located just 50 km (30 miles) away.
Read more: Teotihuacan Attractions
2.
Mexico Beach Destinations
Mexico has no shortage of beautiful beaches on its extensive coastlines, which include the Gulf of Mexico and the Caribbean Sea to the east and the Pacific Ocean to the west. Some of Mexico's beach destinations were once towns that gradually gained popularity as tourist destinations (such as Puerto Escondido) while others were conceived as resort towns from the outset (such as Cancun). And then there is Tulum, which started out as a Mayan city centuries before it became popular for its beaches. But all these popular beach destinations offer powdery sand and crystalline water along with an abundance of tourist amenities and attractions.
Read more: Top Beach Destinations
1.
Chichen Itza
Situated in the Yucatán Peninsula, Chichen Itza is the most famous of all the great Mayan cities. This is somewhat ironic because its most famous structures do not have a typical Classic Mayan architecture but show strong influences from other civilizations from Central Mexico. It is also the most developed of the many Mayan ruins in Mexico and can get crowded. But the combination of grant scale monuments and the mysterious precise astronomical calculation in the buildings make Chichen Itza truly amazing. Many tourists visit Chichen Itza as a day trip, especially from Cancún or Merida but it is also possible to stay a night or two here.
Read more: Chichen Itza Attractions
Map of Mexico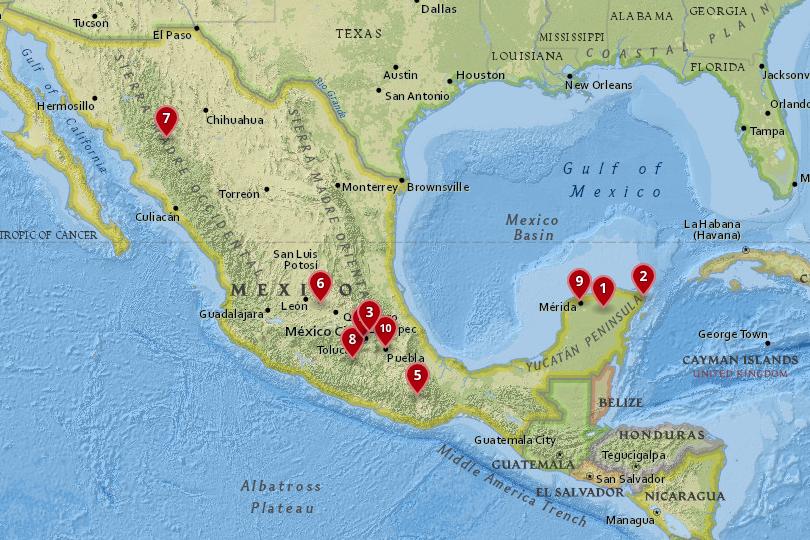 © OpenStreetMap contributors © Esri — National Geographic
Click to enlarge