One of the most popular things to do when visiting the Yucatan Peninsula is to swim, snorkel, or scuba dive about its countless incredible cenotes. Often set in breathtakingly beautiful spots, they are lots of fun to splash about in and explore with over 6,000 of the striking sinkholes reckoned to be dotted about the peninsula.
Formed over the millennia by erosion, the natural bodies of cool, clear water lie nestled amidst the limestone bedrock with remarkable rock formations and craggy cave walls often rising up all about them. As they were a valuable source of groundwater, many were used by the Maya, with age-old atmospheric ruins often lying nearby and dense jungle now threatening to engulf the peaceful pools.
Nowadays, the cenotes in Mexico's Yucatan are enjoyed by locals and tourists alike. Come to cool off and bask in the spellbinding scenery of these magical natural pools amidst the jungle.
In this post, we'll cover:
14. Cenote Cristalino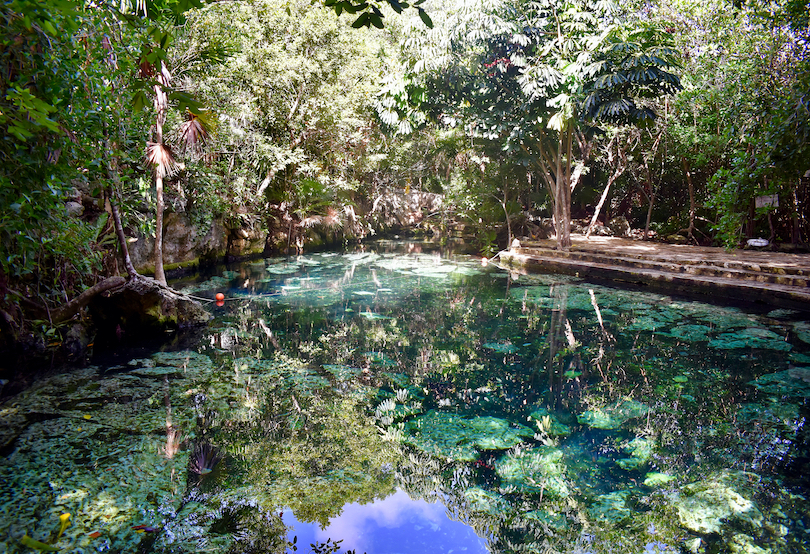 As Cenote Cristalino lies just a stone's throw from the center of Playa del Carmen, its crystal clear waters have long enticed visitors to the picturesque pool. While the rugged rocks and lush trees and shrubs that surround it make for a superb sight, the cenote also has all kinds of excellent amenities and activities for you to enjoy.
Located out in the open air, the largish waterhole has a low-lying cliff from which guests can plunge into its attractive aquamarine waters just a couple of metres below. Aside from swimming about and snorkeling, there are plenty of shady areas where you can relax and recline on sun loungers with toilets, showers, and a snack stand also all being on offer.
13. Cenote Jardin del Eden
Another absolutely amazing open-air cenote to stop by is the appropriately named Cenote Jardin del Eden just outside of Puerto Aventuras. Named for the biblical garden of God, it really does look like a small slice of paradise as some gorgeous rainforest and interesting rocky outcrops lie all around its beautiful blue waters.
As the enchanting oasis sprawls across a massive area, visitors can swim and snorkel about while its deeper parts are ideal for scuba diving as shimmering fish and underwater caves can be discovered down below. In addition to cooling off in its inviting waters or jumping in from the cliffs, trees, and decks that overlook the cenote, you can spot colorful snakes, birds, and lizards in the undergrowth with lots of fantastic facilities again being on-hand.
12. Cenote Yokdzonot
Although it is located in a remote spot in the center of the peninsula, Cenote Yokdzonot is definitely well worth checking out if you have the chance. Much calmer and quieter than other cenotes, it lies about an hour-and-a-half's drive from Chichen Itza with its cool waters offering up some welcome respite after a hot and sweaty morning spent traipsing around the astounding archaeological site.
Mostly only known to Mexicans, its deep, dark waters are surrounded by sheer cliff walls that tower about 45 meters (150 meters) in height. Coating its steep sides are a tangled mess of tree roots with rappelling and ziplining being just two of the fun and exciting ways you can see the cenote from above. On top of swimming and splashing about, you can camp, take a cooking workshop and sample delicious local dishes at the cooperative that runs the cenote's restaurant.
11. Cenote El Pit
Just up the road from all of Tulum's atmospheric old temples you can find the captivating Cenote El Pit which has long been a favorite with avid and adventurous scuba divers. Nestled within the Dos Ojos Natural Park, its cavernous cave remarkably reaches a depth of over 120 meters (400 feet), with stunning stalactites and epic otherworldly looking formations protruding from its ceiling and walls.
While entering the underground cenote is already an amazing experience, one of its main draws are the breathtaking light beams that seem to dance and dart about as they illuminate the pit's seemingly impenetrable waters from above. At a depth of about twelve metres, the visibility can become quite poor, however, with most dives only taking you down to its forty metre floor which is full of fallen rocks and eerie tree branches.
10. Cenote Azul
Right next to Cenote Jardin del Eden and Puerto Aventuras is yet another of the Yucatan Peninsula's wonderful waterholes for you to wallow about in: the irresistible Cenote Azul. Bordered by lots of small cliffs with a wooden boardwalk running across it, the brilliantly blue cenote is a very popular place to visit amongst both locals and tourists alike.
So named due to its twinkling turquoise waters, the cenote has two or three phenomenal pools for you to float about in while small fish nibble away at your feet. Asides from simply enjoying all the stupendous scenery and spotting some of its native wildlife, you can swim, snorkel, or jump off its cliffs, with picnic areas, benches, and showers also being dotted here and there amidst the lush vegetation.
9. Cenote Zaci
Although it lies right at the heart of the hot and humid Valladolid, Cenote Zací is very much a haven of peace and beauty and so feels a world away from the busy city above it. For centuries, it acted as the settlement's main source of water with fierce clans of local Mayans even having fought against the first conquistadors about the top of its partially collapsed cavern.
Sunk deep in the ground, the humongous open-air cenote is partially curved over by a craggy cave's ceiling with thirty meter-high cliffs rising up dramatically all around it. If you don't fancy jumping in from one of its lofty platforms, you can always follow winding stairs and steps down to its waters at the bottom. While some parts of the pool reach thirty meters in depth, others impressively plunge over a hundred with a restaurant and changing rooms to be found at the top of the colossal cenote.
8. Cenote Xkeken
If it is a spellbinding subterranean spectacle that you are after, then Cenote Xkeken is certainly one of the best ones to visit in Yucatan. Set just to the southwest of Valladolid, it boasts an absolutely incredible collection of stalactites and stalagmites with the shimmering natural light from its ceiling opening only adding to the show.
After making your way down its spiral stone staircase, you can snap photos of the striking cenote or slip into its cool waters and swim and snorkel about. While it is not particularly large and the water is not all that deep, the underground cave's unique atmosphere and otherworldly look make it a must when exploring the city, its surroundings, or the nearby Chichen Itza.
7. Cenote Samula
Only adding to the appeal of Cenote Xkeken is the fact that the equally impressive Cenote Samula is set right next to it and can be visited at the same time. Also somewhat confusingly known as Cenote Dznitup, it has gorgeous turquoise waters for visitors to swim about in with its enormous cavern being much larger than its nearby neighbor. Only adding to its appeal is the fact that the equally impressive Cenote Samula is set right next to it and can be visited at the same time.
Although it may not have as many stalactites and stalagmites, the cenote more than makes up for it with its staggering size and scale. Bathed in light from a tiny hole in the ceiling, its sparkling waters create a lovely light show on the rocks and vines that surround Samula. Besides bathing in its pool and snapping some photos, you can also grab a bite at one of the numerous vendors above ground.
6. Cenote Suytun
One of the most famous and photographed cenotes in not just the area, but the whole of the Yucatan, is the ever-popular Cenote Suytun to the east of Valladolid. Thanks to its vivid colors, astonishing rock formations, and fabulous photo opportunities, crowds of visitors flock to the picturesque pool each and every day.
While this does mean that the cave is usually pretty busy, it is certainly still well worth stopping by the Instagram sensation. This is because the circular stone platform at its heart is the perfect place to take a selfie or profile pic as the spectacular stalactites and bright blue waters of the cenote make for such a beautiful backdrop. After having taken a couple of photos, don't forget to take a quick dip in its crystal clear waters before heading on to the next cenote.
5. Cenote Calavera
Although its nickname the 'Temple of Doom' does make it sound a bit ominous, there is nothing to worry about when it comes to visiting the unique Cenote Calavera. So named due to its skull-like appearance from above, the small cenote with its three openings lies just outside of Tulum among verdant trees and vegetation.
From atop of its rocky roof you can either plunge straight in or clamber down a wooden ladder into the pit's pretty pool. As its waters go quite deep, the underground cenote is a very popular draw with adventurous divers coming to explore its murky subterranean world. Aside from swimming, splashing about and snorkeling, you can swing on its rope swing or sunbathe on the rocks around it.
4. Cenote Oxman
Also located on the outskirts of Valladolid is the oft-overlooked yet no less amazing Cenote Oxman. As it receives substantially fewer visitors, the colossal underground cenote in its collapsed cave is a great option if you're looking to enjoy some peace and quiet while floating about and looking up at the bright blue sky above.
While the steep, craggy walls surrounding it already make for a magnificent sight, the mess of vines and tree roots that cascade their way down to its dark pool only add to the cenote's beauty. Besides swimming about the enormous sinkhole, guests can swing on its rope swing, snap photos of it from above and below, and try out the complex's regular swimming pool and restaurant.
3. Cenote Dos Ojos
Widely regarded to be one of the best cenotes in the Yucatan Peninsula is the delightful Cenote Dos Ojos which lies in between Tulum and Puerto Aventuras. As it boasts one of the longest underwater cave systems in the world, lots of snorkelers and scuba divers visit each day to explore its extensive passages, chambers, and caverns.
Meaning 'two eyes' in Spanish, it is so named due to its two submerged sinkholes that are connected by a 400 meter-long underwater tunnel. With their twinkling turquoise waters, low-lying limestone ceilings, and abundance of arresting rock formations, they make for a scenic and serene spot to swim and float about in. In addition to reclining in hammocks by the water, there are also plenty of lockers, changing rooms, and showers for guests to make use of.
2. Gran Cenote
Even closer to the center of Tulum town is the gorgeous Gran Cenote which has long been a firm favorite with both locals and tourists alike. Hidden away amidst the jungle you can find a string of eye-catching cenotes with stupendous caves, stalactites, and rock formations all on show next to its sparkling pools and swimming areas.
Thanks to its half-moon shape and the vivid colours of its waters and the lush vegetation all around it, the large cenote makes for some fantastic photos. As well as snorkeling beneath its wide, rocky overhang and delving deeper into its darkish caves and tunnels, you can amble along its boardwalk, sun yourself on its decks, or visit the site's small turtle sanctuary.
1. Cenote Ik Kil
As it is located right next to the must-visit Mayan ruins of Chichen Itza, Cenote Ik Kil is the perfect place to relax and unwind after having spent some time sightseeing. While it is conveniently set just ten minutes' drive from the famous pyramids, Ik Kil is certainly one of the region's most spectacular cenotes as a mass of hanging vines tumble their way down its steep walls to the water below.
Once considered sacred by the Mayans who used to sacrifice people in its pool, the enormous and atmospheric cenote is now instead frequented by swimmers and snorkelers. Gazing up at the clear sky and the tangled plants, trees, and shrubs that crowd about the circular opening in its ceiling is an unforgettable experience as you float about some 30 meters (100 feet) below ground level. With changing rooms, a restaurant, and even cottages available for rent, Cenote Ik Kil is not to be missed out on when exploring the Yucatan Peninsula.
Map of Cenotes in Mexico's Yucatan