Viva los pequenos pueblos de Mexico! Yes, Mexico's small towns are certainly something to shout about. Whether they're located on the coast or inland, the country's villages are worth visiting. The coastal towns are scenic, with water activities galore, and are popular winter destinations for tourists from the colder climes.
You may be shocked though to find that the popular destinations are packed with tourists and covered in chain restaurants. Leave the crowds and experience authentic culture by escaping to the most beautiful small towns in Mexico.
What can be more fun than drinking margaritas in the town where tequila was invented, Tequila! The indigenous people had been making a drink from the blue agave cactus for centuries, but it was their Spanish conquerors who distilled it and the rest is history.
Located in Jalisco state about 65 km (40 miles) from Guadalajara, Tequila is a popular tourist destination, mainly to visit the distilleries, some of which are located in 18th century haciendas. The town does have several colonial churches worth a visit.
11. Barra de Potosi
[SEE MAP]
Jane Rawson / Flickr


Less than 400 people call Barra de Potosi home on a permanent basis. The town is made up of three main streets intersected by two, smaller, residential streets. The adventurous descend upon Barra de Potosi for the eco-system that surrounds the town. Locals are eager to share their fresh catch of the day at the many waterside restaurants before taking you out lagoon and kayak tours, fishing trips and humpback whale watching tours.
The Laguna de Potosí is the star in the small fishing village. At four miles long, the lagoon is home to spectacular wildlife including herons, kingfishers, cormorants and pelicans. There are no chain resorts here which make it the perfect way to experience a more authentic Mexico.
The crown jewel of the Riviera Nayarit, Sayulita was once a quiet fishing town. You'll still hear locals describe this surfer town that way, but a Sayulita has been overrun by tourists since the late-1990's.
The tourist infrastructure is strong with nice hotels and B&B's, restaurants and low-key bars, but you may find the beach a little cluttered. The town is still a pleasant visit and the rideable waves call to hipster-surfers from all over the world during peak season.
9. Huasca de Ocampo
[SEE MAP]
One of the first haciendas in Mexico was built in Huasca de Ocampo, a small town in central Mexico's Hidalgo state. You can view several of the old haciendas on a visit here. But visitors also come here to see the colonial stone buildings, streets and bridges.
Travelers also come here to see the unique basaltic rock formations with their fascinating waterfalls, go zip lining at the Pena del Aire, or have their wits scared out of them at the Museum of Goblins, where exhibits are based on real-life stories.
If it weren't for lush green trees and sandy beaches separating them, you'd be hard pressed to tell the blue bay waters from the blue sky. Yelapa is located on the Bahia de Banderas, one of the world's largest bays. If you think sunbathing on pretty sandy beaches is for couch potatoes, try your hand at deep sea fishing. Better yet, you can go snorkeling or paragliding. Or perhaps a horseback ride to the simple Yelapa Fall where you can wade in the pool will be more to your liking.
This small Mexican village has a road that connects the fishing community to Puerto Vallarta, but the town is most accessible by water taxi. Plenty of tours run to Yelapa, but the town empties in the afternoon after all the water taxis leave.


Visitors flock to Tepoztlan, a popular day trip site from Mexico City, for a couple of reasons. One is to see the ruins of an ancient pyramid that sites atop a steep hill. The other is to sample its ice cream, a treat Tepoztlan is famous for; around 200 flavors are served at any one time.
Described as fun and funky, Tepoztlan is a good place to pick up native arts and crafts at the artisanal market, or visit a colonial convent and national palace. The entire town is easily accessible by foot so don't be afraid to take a bus down from Mexico City. The adventurous can plan on a strenuous, 2.5-mile hike up the cliffs that envelope the town. The trailhead is known as Pirámide de Tepozteco.
Malinalco is a town that's always been associated with mystery and sorcery. Legend says it was the home of the goddess Malinalxóchil, but it's also where a Black Christ appeared in a cave near here. It's the second most visited shrine in Mexico.
Malinalco was once the home of the Aztecs, and you can see some of these ruins in the Cuauhtinchan Archeological Zone west of town. You may also enjoy a visit to a 16th century Augustine monastery dedicated to the Divino Salvador (Divine Savior).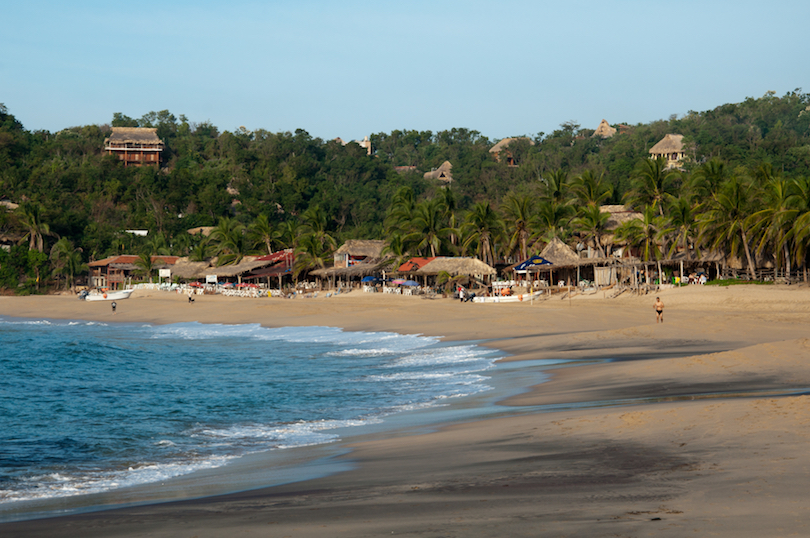 Sea turtles, not colonial relics, are what bring the tourists to Mazunte, a small town on the southwestern coast of Mexico. At one time, Mazunte was the center for hunting sea turtles, prized for their meat and eggs. Due to their decline, turtles were banned as food and soon became a tourist magnet.
You can learn more about sea turtles at the Mexican National Tourist Center here. Mazunte has some nice beaches; you should be prepared to share them with turtles who come to lay their eggs. Mazunte itself has a hippie feel. Somebody in town is always eager to give you yoga or meditation classes, massages or tattoos.
Todos Santos is affectionately called the town of "All Saints," and it's a fitting name. This small town is exploding in popularity due to its unique beauty and mix of residents. You'll find new-age spiritualists, surfers and ex-pats drinking with local fishermen in the laid back bars of Todos Santos.
Connected by highway an hour north of Los Cabos, this town has remained Baja Sur's best-kept secret for decades. You'll find higher prices than most tourist towns on the Baja Peninsula, but it is worth it for the eclectic mix of natural beauty and quirky culture. Word of advice — get here soon before the rest of the world does.


Situated right in the middle of the Gulf Coast's big bend, Tlacotalpan has pristine early 19th Century colonial architecture. The only thing that tells you that you're not wandering the port city's streets in the 1800's is the light smattering of traffic. To add to the grandeur of the remarkably intact architecture is the sun setting over the Río Papaloapan.
Refraction adds to the delightful pastel colors of the some of the homes. A once booming river port, Tlacotalpan remains unchanged from its 1820 heyday which makes this small town worth a visit. Look for a high water mark in town that commemorates a devastating early-2000's flood.


About 132 km (82 miles) south of Cancun towers the Mayan ruins of Tulum. You may be a bit confused upon arrival because the tourist town is inland from the ruins and the beach on the highway.
While most people come to enjoy the sandy beaches and jade green water, they end up taking more pictures of the old Mayan ruins that sit atop a hill overlooking the Caribbean Sea. There's nothing like swimming in the warm jade green waters in the shadow of such magnificent ruins. At night, you'll find extremely affordable food and lodging in Tulum town on the narrow jungle highway.


Accommodation: Where to Stay in Tulum
1. San Sebastian Bernal
[SEE MAP]
San Sebastián Bernal is one of Mexico's Pueblo Magico, or "magic town," that's known for its legends, history, colorful architecture and magical symbols. A 2-1/2-hour drive from Mexico City, San Sebastián Bernal is famous for the Pena de Bernal, a rock monolith that is the third highest on earth. This huge rock can be seen from the village. The village was founded in 1642 by the Spanish; El Castillo, part of this legacy, is a major landmark that boasts a German-made clock.