One of the most popular countries in the world for holidaymakers, the sheer array of incredible things to see and do makes Mexico a great place to visit. With delicious cuisine, amazing archaeological sites and bustling cities; there is something for everyone in this sun-soaked land and that's not even having mentioned the extensive coastline that is home to so many unbelievable beaches!
The country's diverse landscapes range from jungles and desert to snowy mountains and rocky canyons and as such visitors will never tire of exploring all of its awe-inspiring sights. With a plethora of national parks in Mexico just waiting to be explored; here are the most mesmerising places to help you on your way.
Map of National Parks in Mexico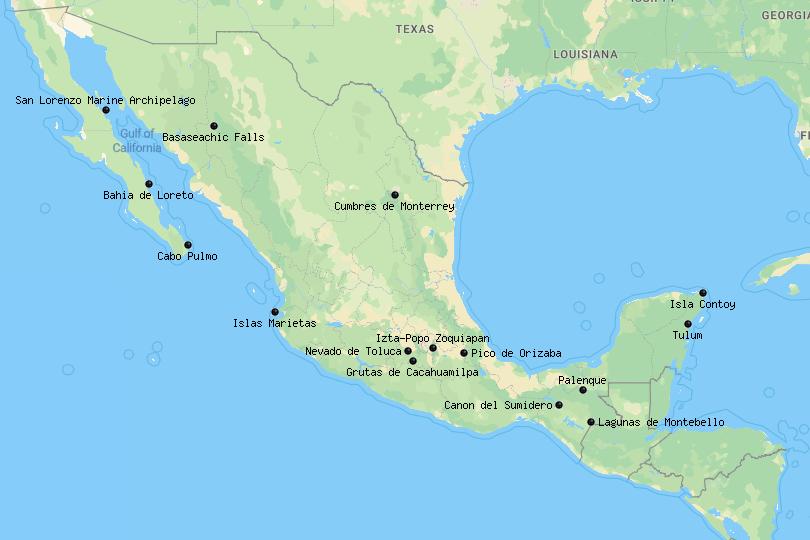 © OpenStreetMap © MapTiler © Touropia
15. Bahia de Loreto National Park
[SEE MAP]
© Ramos Lara / Dreamstime
This lovely national park entices you in with its warm waters and sun kissed shores that look so appealing. Although most of its territory consists of waters in the Gulf of California, the beaches, sea cliffs and diverse ecosystems that accompany them are beautiful to explore.
While the idyllic turquoise waters of its sandy beaches are the primary draw of Bahia de Loreto National Park, the five uninhabited islands contained within its boundaries are also very popular with tourists. With dolphins and sea lions on show, this paradise of a park is well worth a visit.
14. Cabo Pulmo National Park
[SEE MAP]
© Hoatzinexp / Dreamstime
Located on the south-eastern tip of the Baja California peninsula, Cabo Pulmo National Park protects the oldest coral reef in North America. The beautiful marine park is essential for the protection and preservation of a number of rare and endangered sea creatures that reside within its waters.
Scuba diving in the park is simply mesmerizing as below the surface you are greeted with stunning coral gardens and a whole host of fish and marine mammals peacefully swimming about. A dream to behold, this tranquil world will leave unforgettable memories that will last a lifetime.
13. Basaseachic Falls National Park
[SEE MAP]
The falls that give this national park its name are obviously the primary attraction and visitors will certainly not leave feeling disappointed. The waterfall plunges down from a height of 246 meters and framed by the craggy cliff faces on either side; it looks absolutely stunning.
The falls are not the only picturesque part of the park however as the forests, distinctive rock formations and the diverse fauna and flora make it a delight to trek through. From the tops of the domineering cliff faces, panoramic views of the beautiful surroundings only add to the charm of Basaseachic Falls National Park.
12. Isla Contoy National Park
[SEE MAP]
© Palino666 / Dreamstime
This secluded island which is lined by pristine palm-lined beaches and idyllic turquoise waters is a paradise just waiting to be explored. Picture-perfect, Isla Contoy National Park protects the island after which it is named and the tropical marine birds that reside within it. An important nesting area for four type of marine turtles, eco-tourism to the island is strictly managed to preserve its unique ecosystem.
Whether it is snorkeling in its clear waters, wandering along the perfect beaches or taking a boat trip to better gaze upon this astounding natural beauty, Isla Contoy needs to be seen to be believed.
11. Grutas de Cacahuamilpa National Park
[SEE MAP]
© Miguel Megevand / Dreamstime
Wow! The extensive cave systems in this national park will introduce you to an amazing subterranean world that will astound and awe you with its unbelievable beauty. Marvelously illuminated, the cave systems which are among the largest in the world have a number of attractions to entertain visitors.
Whether it is following the two underground rivers that run between its rocky ravines, rock climbing Limontitla Canyon or simply gazing in wonder at its unique geological features; Grutas de Cacahuamilpa National Park is like nothing you've ever seen before.
10. Nevado de Toluca National Park
[SEE MAP]
Named after the volcano that dominates the park, Nevado de Toluca has a wealth of trails and paths for hikers to explore and its crater is even accessible by car. The volcano is spectacular to behold and at over 4600 meters in height; it offers breathtaking panoramas of its surroundings.
Its barren slopes contrast beautifully with the forest-coated plains below it and there are also lakes and archaeological sites for visitors to explore. When it snows, the volcano is ever more spectacular as the snow-capped peaks tower over everything, dominating the skyline.
9. San Lorenzo Marine Archipelago National Park
[SEE MAP]
© Natalie11345 / Dreamstime
Comprising the San Lorenzo archipelago and the waters that surround them, this national park has a number of unique ecosystems that are home to a vast array of marine mammals, seabirds and fish.
Although the dry climate means that the islands themselves are quite barren, below the water it is a completely different story as the waters are rich in nutrients. Lucky visitors to the national park may catch a glimpse of dolphins swimming past or even some of the types of whales that reside in its waters.
8. Cumbres de Monterrey National Park
[SEE MAP]
Cvmontuy / Wikipedia
Spectacular peaks aren't the only thing that will greet you in this dazzlingly beautiful national park. With stunning canyons, roaring rivers and waterfalls and sprawling pine forests surrounding the mountains; Cumbres de Monterrey is an incredible place to visit with a wealth of things to see and do.
The scenery on offer is simply breathtaking and the magnificent mountains that dominate the park make for some fantastic trekking and mountaineering. With the huge cave system of Garcia Caves also located in the park, words cannot do justice to the wealth of natural wonders on show.
7. Canon del Sumidero National Park
[SEE MAP]
Sumidero Canyon is the main feature of this national park and its plunging cliff faces that so dramatically cut away into the Grijalva River below are impressive to say the least. Formed over the eons by the river cutting through the rock, there are a number of delightful rapids and waterfalls for visitors to revel in. The scenery looks stunning and the verdant rainforest contrasts beautifully with the barren canyon walls.
6. Pico de Orizaba National Park
[SEE MAP]
Eneas De Troya / Flickr
At a towering 5,636 meters, Pico do Orizaba is absolutely humongous and is the highest mountain in the whole of Mexico. Its snow-capped peak rises dramatically towards the heavens and has nine glaciers dotted around its higher realms. Beautiful to behold, the caldera of this stratovolcano is also well worth viewing and from up high, the panoramic views it offers of the plains below is mesmerising.
International climbers flock to the national park due to the impressive mountain and a number of trails and paths snake around its lower slopes for hikers to enjoy.
5. Lagunas de Montebello National Park
[SEE MAP]
The lakes which give the park its name are the main draw of this arrestingly beautiful national park. With 59 of them interspersed among a sprawling pine forest, the perfect blues of the lakes contrast stunningly with the endless greens around them and guests can swim and kayak in their waters.
There is also an interesting cave system to visit and among the most spectacular sites are the ancient Mayan ruins of Chinkultic where the highest pyramid offers up amazing views of the lakes below.
4. Tulum National Park
[SEE MAP]
© Peter Gorman / Dreamstime
Visiting this well-preserved Mayan site is like stepping back in time as the ruins of the civilization surround you on either side. The coastal site is mesmerising to wander around and the God of Winds temple which overlooks the ocean is particularly impressive.
The perfect beaches below only add to the beauty of the scene. The central pyramid of the complex dominates its surroundings and all of the wealth of sights on show makes this a popular tourist destination.
3. Izta-Popo Zoquiapan National Park
[SEE MAP]
© Martin Schneiter / Dreamstime
The two towering peaks which give this national park its name are impressive to behold as their snow-capped summits standout from their surroundings, looming over the barren slopes around them.
The second (Popocatépetl) and third (Iztaccihuatl) highest mountains in the country make for delightful hiking and the forests that cover the lower slopes of the volcanoes only add to the stunning scenery on show. From the higher realms of the mountains, incredible panoramas of the world below stretch before you. Simply spectacular.
2. Islas Marietas National Park
[SEE MAP]
© Bandit / Dreamstime
These uninhabited islands are a popular tourist haunt and with the wealth of things to see and do; it's easy to see why. The protected waters around them teem with marine life and boat trips and scuba diving are particularly great ways to delve into the riches of the water world below.
While there are a number of pristine beaches to choose from, the undoubted crown jewel of them is the spectacular and hidden 'love beach' that only emerges at low tide. With humpback whales, dolphins and manta rays all passing by make sure to visit Islas Marietas National Park for an unforgettable experience.
1. Palenque National Park
[SEE MAP]
© Madrugadaverde / Dreamstime
For a glimpse into the formidable history and heritage of Mexico, a visit to Palenque National Park is indispensable and simply a must in this incredible country. This huge complex of Mayan ruins is awe-inspiring and, emerging from amidst the jungle, they certainly make for spectacular viewing.
Well-preserved, the temples and palaces are mesmerising to wander around and no visitor to Palenque will leave without a sense of awe at the ingenuity of the Mayans. One could spend a lifetime taking in all the wonders of these Mesoamerican ruins; breathtaking and unforgettable, they will certainly leave memories that will last forever.