Besides boasting lots of beautiful beaches and awe-inspiring Mayan ruins, Mexico is also home to several majestic mountains and volcanic peaks. This is because the North American nation lies on the Trans-Mexican Volcanic Belt, which is known to many as the Sierra Nevada.
Consequently, much of the north and central regions of the country are dotted with mighty mounts, steaming calderas, and snow-capped stratovolcanoes. Home to some of the highest peaks in the Americas, Mexico's volcanoes are set among some spectacular scenery and make for some fabulous hiking and mountaineering.
Located on the Baja California Peninsula in the northwest of Mexico, the three volcanoes of Tres Virgenes loom above the cacti-dotted plains that surround them. Their hulking presence and barren slopes make for a stunning sight, particularly when contrasted with the low-lying landscapes around them.
The tallest of the three is El Virgen, which reaches 1,940 meters in height and lies to the southwest of El Azufre and El Viejo. The volcanoes make for some fantastic hiking; from their summit, the glittering waters of the Gulf of California can be spied off in the distance.
11. Cofre de Perote
[SEE MAP]
One of the highest peaks in Mexico, Cofre de Perote towers a colossal 4,282 meters above sea level. Lying within a national park of the same name, the long-extinct shield volcano sprawls over a vast area, with verdant forests coating its lower slopes. Its name in both Spanish and the local Nahuatl language refers to the distinctive four-sided rocky outcrop that makes up its prominent peak.
While the antennas on top of it slightly detract from the peak's rough and rugged features, Cofre de Perote is still a lovely place to go hiking, with lots of wonderful nature and beautiful views on offer.
Pacheco / Flickr
Straddling the Guatemala-Mexico border, Volcan Tacana is remarkably the second-highest peak in the whole of Central America. Soaring to 4,060 meters, the volcano towers above steamy rainforests and small sleepy villages, with ancient magma flows scarring its slopes.
Due to its remote mountainous setting, Tacana and its surroundings are noted for their biodiversity and pristine and untouched nature. As such, the mighty mount makes for some magnificent trekking, and awe-inspiring views of the nearby mountains can be enjoyed from its lofty peak.
9. Michoacan–Guanajuato volcanic field
[SEE MAP]
Covering an enormous swathe of territory in the center of Mexico, the Michoacán–Guanajuato volcanic field is home to a staggering array of cinder cones, steaming vents, and shield volcanoes. Formed during the Pleistocene age, the desolate and destroyed landscape looks very otherworldly in appearance, with over 1,400 vents dotted here and there.
Traversing the volcanic field is a fantastic experience. One of its most memorable sights is the ruined remains of the San Juan Parangaricutiro Church, which lies half-buried in lava. In addition to this, there are also the majestic mounts of El Jorullo and El Paricutin for visitors to gaze upon and explore.
Although it reaches a huge 4,461 meters above sea level at its highest point, La Malinche is quite easy to hike and climb. As such, lots of people from Puebla and Tlaxcala head here during the weekend, with mountain biking, horseback riding, and camping being popular pastimes.
Lying within the national park of the same name, La Malinche has lots of different paths and trails for visitors to explore, with loads of incredible scenery on show. Besides the grassy shrublands and forests that dot its lower regions, it also boasts some beautiful mountain faces with some unique rock formations to be found at its crater and summit.
Lying within the Chiapanecan Volcanic Arc in the south of Mexico, El Chichon became famed around the world after its explosive eruption in 1982. Besides cooling the Earth's climate for a number of years, the eruption also covered its surroundings in lava and ash, destroying forests and fields and killing thousands of people.
Now set at the center of a desolate environment, El Chicon sports a kilometer-wide crater, which is home to a glimmering green acidic lake and numerous bubbling hot springs. Visiting El Chichon today is an awe-inspiring experience as it highlights just how powerful and destructive volcanic eruptions can be.
6. Nevado de Toluca
[SEE MAP]
Now a national park, Nevado de Toluca and its snow-topped peaks lie some 80 kilometers or so to the west of the nation's capital, Mexico City. Standing at 4,680 meters, the spectacular stratovolcano boasts two lovely crater lakes which are delightfully named Sun Lake and Moon Lake.
These both make for incredible sights as they are tucked away in the volcano's cavernous caldera and crater. While the national park is home to lots of astounding scenery, it is also noted for a number of ancient archaeological sites that dot its dramatic landscapes. The main draw, however, is the fabulous trekking and mountain climbing on offer, with views from Nevado de Toluca's summit ridge being particularly breathtaking.
After starting life as a small fissure, Paricutin rapidly grew. Within a year it had shot up to 336 meters tall. Over the course of eight years, it continued erupting and coated the surrounding Michoacán–Guanajuato volcanic field in ash and lava, eventually reaching 424 meters in total.
Just as dramatically as it had begun, the volcano subsided; it finally stopped erupting in 1952, only after having destroyed two towns and heavily affecting three others. Now, Paricutin and the volcanic field make for a popular tourist destination. Many people come to climb up its crater and take in all the destruction it meted out on the surrounding environment.
4. Volcan de Colima
[SEE MAP]
One of the most violent and volatile volcanoes in Mexico, Volcan de Colima has erupted over 40 times since 1576, with the last event taking place in 2015. As such, it is fittingly known as the 'Fire Volcano' due to the frequent lava flows and columns of smoke and ash that can be seen gushing forth from its 3,820-metre summit.
Due to all of this, hiking or climbing the smoking volcano is prohibited. Visitors usually head instead to the top of the neighboring Nevado de Colima, itself a dormant volcano. From here, you are granted astonishing views out over the stratovolcano. Watching smoke dissipate above its barren slopes is an incredible experience.
Towering to a colossal 5,636 meters, Pico de Orizaba is the third-highest peak in North America after Denali in the States and Mount Logan in Canada. Dominating its surroundings, its snow-capped peak stands out against the sky; local languages either refer to it as 'White Mountain' or 'Star Mountain'.
Due to its soaring height, the volcano boasts a number of diverse ecosystems, with foothills and forests giving way to snowy tundra and glaciers the higher you go. As it is the tallest mountain in Mexico, Pico de Orizaba is very popular among mountaineers, although navigating its rough and rugged terrain is certainly a challenge.
Reaching the summit and peering into its craggy crater is an amazing feeling though, with endless panoramas wherever you look.
Meaning 'white woman' in Nahuatl, Iztaccíhuatl is so named because its four snow-capped peaks resemble a sleeping woman. Lying within Izta-Popo Zoquipan National Park, the hulking mountain is home to alpine prairies and forests, with lots of different fauna and flora on show. Reaching 5,230 meters in height, its upper regions give way to snow and glaciers, which can be seen all the way from Mexico City.
Very popular among hikers and mountaineers, the dormant volcano has lots of different paths and trails which are not all that difficult to hike, although its high altitude can sometimes pose a problem. To the south, Iztaccíhuatl is connected by the high altitude mountain pass of Paso de Cortes to Popocatépetl – another of Mexico's mighty mountain peaks.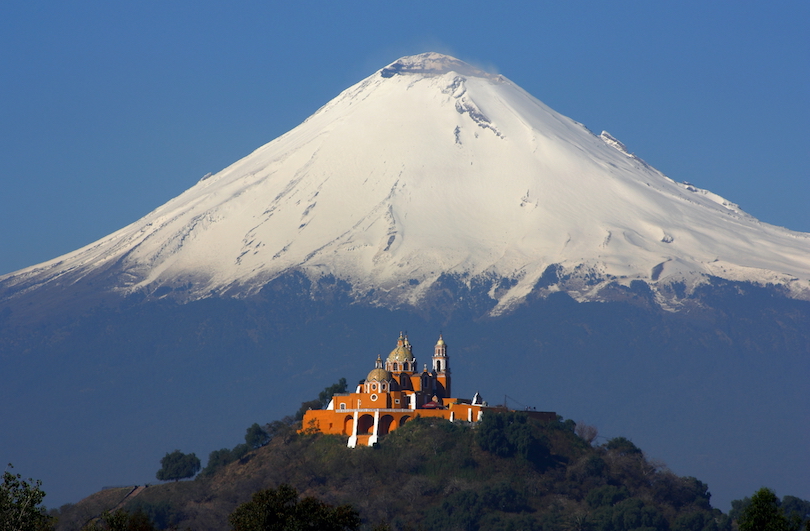 In Aztec mythology, both Popocatépetl (a fierce warrior) and Iztaccíhuatl (his lover) were turned into mountains and covered in snow following a tragic tale that is very reminiscent of Romeo and Juliet. While the 'white woman' lies peacefully at rest, however, Popocatépetl – or the 'Smoking Mountain' – raged at his loss, regularly erupting and shooting rocks and ash into the air.
In contrast to the nearby Iztaccíhuatl, Popocatépetl is conical in shape, with bright white snow coating its higher realms. Now a popular tourist attraction, the active volcano stands at 5,426 meters, making it Mexico's second-highest peak.
Due to its angry nature, Popocatépetl is not always possible to hike, although its breathtaking scenery means it always makes for an impressive sight.