The southernmost state in Mexico, Chiapas is a beautiful land of contrasts. Crumbling Mayan ruins lie next to charming colonial cities, and steamy, rainforest-coated mountains give way to epic natural sights such as the glimmering Laguna Miramar and the death-defying drops of Sumidero Canyon.
There is much to discover, and the region's rich indigenous heritage and culture shines forth wherever you go. Whether it's the incredible archaeological sites of Palenque and Yaxchilan or the astounding nature on show in Lagunas de Montebello National Park and at Cascadas de Agua Azul, Chiapas certainly won't disappoint. There's a lot to fit in, but here are the best places to visit in Chiapas.
Map of Chiapas, Mexico
© OpenStreetMap © MapTiler © Touropia
Darij & Ana / Flickr
Tucked away deep in the confines of Montes Azules National Park, the sparkling blue waters of Laguna Miramar stand out delightfully against the vivid greens of the rainforest that hems it in on all sides.
A biodiversity hotspot, the lake and its surroundings are home to around 20 percent of the different species of fauna and flora to be found in the country, while lots of wildlife such as crocodiles and howler monkeys are also on show.
Due to its secluded nature, Laguna Miramar is a very peaceful place, and camping or staying the night in one of its eco-friendly shelters is a fantastic experience. In addition to horseback riding around the forest, swimming in the lake, and taking a boat trip around its waters, guests can also explore the unexcavated and unspoiled Mayan ruins that lie coated in the jungle alongside part of the lakeshore.
Boasting one of the largest pyramids in the country and a host of impressive stone-carved monuments, the archaeological site of Tonina is fascinating to explore, with lots of crumbling temples, ball courts, and palaces to discover.
Although the site dates back to much earlier, the ancient Mayan city flourished between 600 and 900 AD. It was during this epoch that many of its most eye-catching monuments and buildings were built.
These include the magnificent Temple of Cosmic War, the remarkable Mural of the Four Eras and the towering Temple of the Smoking Mirror. Despite the wealth of beautifully carved sculptures and stuccoes, surprisingly few tourists visit Tonina. As such, you'll be able to explore the spectacular archaeological site at your leisure with barely another soul in sight.
8. Lagunas de Montebello National Park
[SEE MAP]
Located just a stone's throw away from the border with Guatemala, Lagunas de Montebello National Park is a nature lover's dream, with its 59 glittering lakes shimmering among the endless pine forests.
As the mineral content of the lakes varies quite considerably, they each have a different color; some appear emerald and turquoise while others take on a darkish ruddy hue.
Outdoor enthusiasts will rejoice at what the national park has to offer up; you can go hiking or horseback riding through the forests or swimming, kayaking, and canoeing in the lakes. In addition, there are also hundreds of half-excavated Mayan ruins for you to check out; seeing them appear before you from amid the dense vegetation is a mesmerizing experience that will make you feel like Indiana Jones.
7. Canon del Sumidero
[SEE MAP]
One of the most popular tourist attractions in the state, Sumidero Canyon is simply spectacular to behold; in some places, its steep, almost vertical walls tower up to a kilometer in height. Taking an exhilarating boat trip along the Grijalva River that runs along the bottom of the canyon is a must as you shoot beneath the cliffs and alongside the rainforest-coated banks of the river.
Nestled away in the national park of the same name, Sumidero Canyon was formed millions of years ago. A number of waterfalls, rapids, and beaches can be found along the canyon, which stretches for 13 kilometers. While the scenery is stunning, the canyon also attracts many outdoor enthusiasts and extreme sports lovers, who go rock climbing, rappelling, and mountain biking within the park.
Lying just a short distance away from Tuxtla Gutierrez, Chiapa de Corzo is a very charming town that has a wonderful relaxed and laidback feel to it. With its lovely central plaza, beautiful riverside waterfront, and impressive colonial-era churches, Chiapa de Corzo has more than enough for you to see and do for a few days, with some excellent street art and lively markets also on offer.
As it is mostly overlooked by foreign tourists, it is a great place to head to if you want to see the authentic side of Mexico. In addition to this, some interesting pre-Columbian ruins of the same name are located not far from the town – as is the spectacular Canon del Sumidero.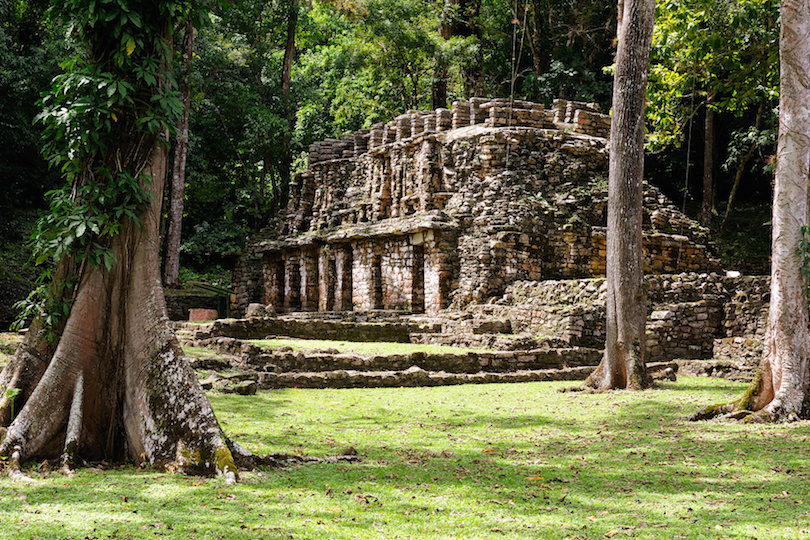 Once one of the most important and powerful Mayan cities in the region, Yaxchilan is now home to some of the most impressive ruins in the country, and just reaching the archaeological site is a memorable experience in itself.
Surrounded by dense jungle and perched atop a hill overlooking the Usumacinta River, Yaxchilan is only accessible by boat. Shooting along the river to see its ruined palaces and temples is an incredible feeling which is only magnified by the calls of the howler monkeys as you approach.
Exploring the secluded site is just as magical. Its well-preserved buildings with their intricately decorated facades and sculptures fully convey the power and prestige of the ancient Maya who once lived here. After wandering around Yaxchilan's many ruins, retreating to the riverfront and taking the boat back feels as if you are resurfacing from a dream as you leave the mysterious ruins in the steamy jungle behind you.
4. Cascadas de Agua Azul
[SEE MAP]
Twinkling in the sunlight, the Blue Water Cascades – as they are known in English – are a sight to behold; the vivid blues stand out starkly against the rocks and trees around them. Due to the high mineral content, gleaming white limestone is deposited in the stream's wake, and this only adds to the beauty of the scene.
Coursing down a series of cataracts and cascades, the waterfalls are a popular place to visit with both locals and tourists alike, as the fresh water is so reinvigorating to bathe in. A peaceful and relaxing place to spend an afternoon, Cascadas de Agua Azul is well worth checking out if you have the chance.
Due to its remote location amongst endless swathes of dense jungle, Bonampak was only rediscovered by the outside world in 1946 – and what a discovery it was. With its magnificent murals and frescoes that display epic and eerie scenes of war and human sacrifice, the ancient Mayan archaeological site is fascinating to explore, with lots of well-preserved buildings and temples.
While it takes quite a while to get to the site, visitors will be well-rewarded for their effort, as they'll likely have the incredible ruins of Bonampak almost to themselves.
2. San Cristobal de las Casas
[SEE MAP]
Full of incredible colonial architecture, cobbled streets, and lively street markets, the charming San Cristobal de las Casas is a lovely city to visit. Its beautiful setting in a valley surrounded by hills only adds to its picturesque look and feel.
While its many beautiful churches and plazas are certainly worth checking out, many people come to San Cristobal to learn more about the rich indigenous cultures and traditions that continue to shape the city's identity.
San Cristobal lies at the heart of many traditional villages that are scattered amongst the hills. For people interested in experiencing the authentic, traditional, and indigenous side of Mexico, taking a trip out to some of them is well worth the effort. Offering the perfect balance of history and culture, city and countryside, San Cristobal de las Casas really is a treat to explore.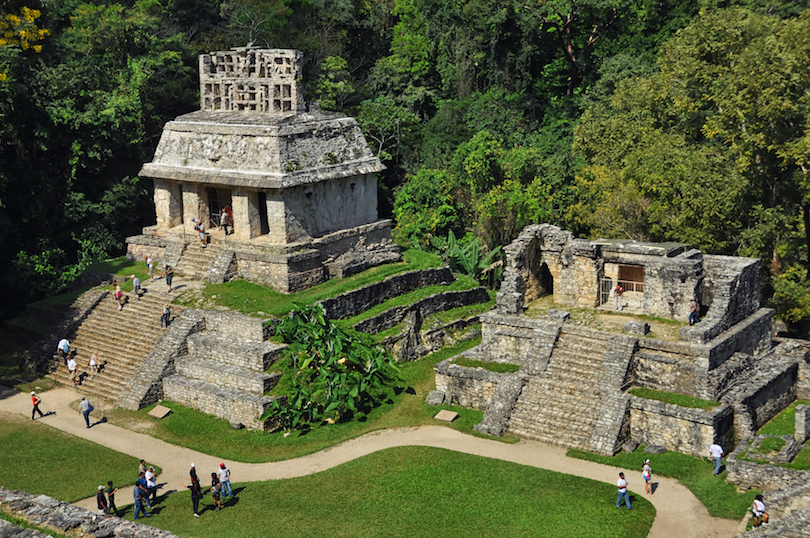 Home to some of the finest examples of Mayan carvings, sculptures, and architecture, the Palenque archaeological site is mesmerizing to explore, and it is not without reason that it is one of the most popular tourist attractions in the state.
Rising from the dense jungle, the crumbling temples and pyramids look absolutely stunning. Wandering among the huge buildings that tower over you really does make you feel like you have stepped back in time.
Thanks to the beautiful carvings that can still be seen etched in stone, much is known about the site, so it is well worth hiring a tour guide to take you around. With the cries of howler monkeys echoing in the rainforest and brightly colored parrots flying overhead, visiting Palenque and exploring the Mayan ruins promises to be a memory that will stick with you a lifetime.