Often lost among the many gorgeous beaches and the El Malecon is just how much more there is to Puerto Vallarta. It was only in the 1960s that the Mexican seaside town was a humble fishing village.
Facing the Pacific Ocean and within one of the biggest bays in the world, Puerto Vallarta is broken up into several unique districts. Downtown, the South Zone and Zona Romantica are just three of those and harbor some amazing things to do in Puerto Vallarta that will make your time here more than just another beach vacation.
You can spend your days indulging in the city's tourist side, but it's also just as easy to seek out authentic cuisine and history among the many cobblestone streets.
17. Isla Cuale
Between downtown and Zona Romantica, is the flowing Rio Cuale. Along the river is the leafy oasis of Isla Cuale. Just as it's not attached to Puerto Vallarta, Isla Cuale has a distinct personality.
You can cross the bridge to reach the unique island. From there, venture along the many paths that will take you by a happening marketplace. Discovery rows of artisans slinging art, trinkets, and ceramics.
Further along is a statue of John Houston, the director who helped start Puerto Vallarta's rise to fame, but no time on the island would be complete without visiting Museo de Cuale. Explore the art museum that celebrates Indigenous culture with a stunning archaeological and creative collection.
16. Mirador de La Cruz
For some of the best views in town, put on your most comfy shoes and walk to the top of Mirador de La Cruz. The landmark translates to the Cross on the Hill and comes with a brilliant lookout offering complete views of both the city and the bar.
Getting to the summit won't come without raising your heartbeat, but we promise it's worthwhile. Begin on Abasolo Street or Josefa Ortiz de Dominguez Street, both offering relatively direct routes to the top, with the latter being steeper. You can even take a funicular to finish the last section prior to the lookout.
Once you've made it, take your time exploring the various viewpoints that offer different views.
15. Join a Food Tour
Puerto Vallarta's culinary scene is as vibrant as the buildings within Zona Romantica. Wherever you are in town, from El Malecon to the Old Town, you'll have easy access to street food, with delightful aromas around every corner.
Exploring the food scene here is as adventurous as snorkeling in the Bay of Banderas, but to make the most of it, it's a trip worth embarking on with a local expert. There are several food tours to choose from. These include venturing through the downtown area stopping for unique tastings of delicious elotes and other authentic eats.
Another experience combines everyone's favorite, tacos, with tequila and cocktails as you explore the hidden gems of Zona Romantica.
14. Playa Las Gemelas
Five miles south of Puerto Vallarta, is Playa Las Gemelas, a duo of pristine, small beaches. Gemelas translates to twins and visitors will have a choice between the north and south beach. A 1000 feet of rock wall stands between the both of them, with the north section being the easiest to access.
The best time to visit is during the week, as both small beaches can quickly become crowded. If you arrive at a quieter time, Playa Las Gemelas is a lovely alternative to the waterfront beaches in Playa Vallarta. The blue-green waves make for fun swimming, and you can snorkel the outer reaches or take the sea kayak for a paddle.
There are several resorts in the area, but beachgoers should pack their own food and drink, as there are no restaurants in close proximity.
13. Mismaloya
If you could point to a singular thing that led to Puerto Vallarta's popularity blowing up, it would be Mismaloya. What was once a stunning but humble fishing village, rapidly transformed as its captivating beauty was broadcast to the world.
In 1964 the Night of the Iguana was released after director John Huston was inspired by Mismaloya. Fast forward to today and it's lost none of its natural charm. The beach is nine miles south of Puerto Vallarta and is a veritable paradise. As you enjoy the popular shore, you'll have easy access to small palapas slinging cold cervezas and fresh-caught fish.
Beyond the beach, Mismaloya is a small town with an endearing culture. The surrounding mountains harbor much of Puerto Vallarta's incredible biodiversity.
12. Yelapa
A fun day trip from Puerto Vallarta, Yelapa, is a lovely coastal town lined with golden sand. Yelapa is a mere 20 miles south of Puerto Vallarta, but the town has a distinctly slower pace of life.
While travelers are busy staying in the local area, you can easily get away from it all with a boat taxi ride to the remote fishing village. In Yelapa, there is little in terms of accommodation and it's a town that's friendly to budget travelers.
The main highlight is the local beach. Surrounded by mountains, it'll be just you, locals, the blue ocean, and some traditional palapa restaurants. If you're searching for a place to check out from the world, you can't top this nearby paradise.
11. The Marina
An upscale neighborhood in Puerto Vallarta, the Marina is the place to go for elevated dining and great shopping. Not to mention their opulent waterfront. For some, the Marina is the first port of call as they swing their yacht into town.
After arriving at the Marina, make a beeline for the resident boardwalk, where you can catch a glimpse of the luxury yachts big and small. On the other side will be a series of elegant boutiques and high-end brands. Eventually you'll reach the Tau Beach Club, which comes with craft cocktails, mouthwatering eats and seaside views.
Between October and May, the boardwalk is home to a night market on Thursdays. Peruse the art, jewelry and authentic textiles alongside delicious street food and live music.
10. Vallarta Botanical Garden
Time in Puerto Vallarta can be as serene or hectic as you like, but if you seek a chance to catch your breath, head to Vallarta Botanical Garden. It's a chance to enjoy a break without even leaving town. Walk among the orchids and wildflower gardens and feel at peace.
The miles of nature paths showcase the garden's gorgeous plant and tree collection. These include native species, a riveting desert garden, and delightful rows of vanilla orchids. To rest your legs, sit by the garden's river, which also makes for a refreshing dip.
Before leaving, check out the restaurant and artisan shop for homemade chocolate.
9. Church of Our Lady of Guadalupe
Zone Romantica and Centro Historico are two don't miss neighborhoods in Puerto Vallarta. But if there's one specific piece of the town's history that you must see, then it's the Church of Our Lady of Guadalupe. It towers above residents in the heart of town and is arguably the most striking piece of architecture in Puerto Vallarta. The church's bell tower rings before each service and can be heard wherever you are.
Morning and night, people gather to admire her intricate facade that has stunning details. Their eyes follow the gilded work all the way up to the crown that sits atop of the church spire. It gets better inside, with the walls adorned with frescoes and a beautiful altar.
8. Playa Las Animas
The local beaches around Puerto Vallarta are as soft and golden as you imagine, but along the coast, there are several resplendent beaches that are backed by mountains instead of bustling restaurants. Some can only be accessed via boat or with a hike.
One of those is Playa Las Animas. Here, you can enjoy a more remote but equally paradisaical experience where you share the turquoise water with few others. You can head here on a water taxi, but the beach is also connected to a memorable two-hour hike. Walk along the side of a coastal mountain, with amazing views and untouched coves that are serene settings for a welcome rest.
The beach is home to charming food shacks fringed with dense jungle, providing a different type of beach day.
7. Go Whale Watching
The warm, secluded, and protected waters of the Bay of Banderas attract migratory humpback whales every December. They arrive in significant numbers, with sightings growing by the day. They hang around until April, providing you with ample time for a whale watching experience.
If you have a set of binoculars, you can do it all without spending a dime by simply standing on El Malecon. But for a closeup, visceral experience, you'll want to sign up for a tour. Half-day and full-day tours run throughout the season, with a variety of options. Many include food and drinks adding up to a thrilling whale watching tour.
6. Bucerias
About 30 minutes north of Puerto Vallarta, Bucerias is a charming coastal town and a rewarding day trip. It's home to Playa y Pueblo, a five-mile stretch of powdery white sand backed by small bars happily lacking the touch of mass tourism. Along the beach, you'll find spots to ride horses and ATVs along with Wibit Adventures Water Park. The latter home to towers, pyramids and tunnels all floating offshore.
To explore on dry land and experience local culture, make your way to Bucerias' Golden Zone. Here, you'll discover local markets, galleries, and the town's bustling main square. From November to April, Bucerias Art Walk occurs every Thursday evening and the Art District and Golden Zone comes to life.
5. Los Arcos National Marine Park
Puerto Vallarta's Bay of Banderas is the second largest on earth. It's no shock that such an expansive harbor would offer many adventures for travelers. Within the bay is the Los Arcos National Marine Park. This protected area contains rare species and fish coated with every color under the sun.
On a tour of the national marine park, visitors will be able to visit several dive spots to either snorkel or scuba dive. This will unveil the unforgettable nature that roams beneath the surface. Common swim partners will include dolphins, hawksbill turtles and octopuses. At the right time of year, you'll also see migrating whales from the comfort of your boat.
To complement your dive, you'll explore the rest of the bay, which includes Islas Marietas and the memorable Mismaloya Arches.
4. Islas Marietas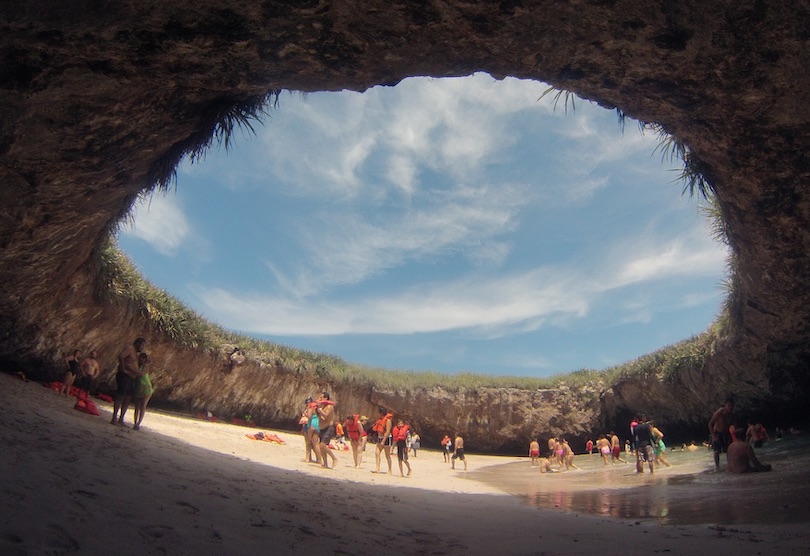 On one of your many beachfront strolls, you will have caught a glimpse of Islas Marietas, an archipelago in the middle of the Bay of Banderas. Islas Marietas is located within Los Arcos National Marine Park and provides visitors with a memorable experience. Some have even called it Mexico's Galapagos.
There are ample tours taking you from Puerto Vallarta to the famed islands. Each offers an opportunity to swim with rare species within a stunning underwater world.

A must visit part of Islas Marietas is Hidden Beach. In order to make your way to the beach, you'll need to arrive at low tide and swim through a narrow channel. On the other side, the beach becomes clear and is completely enveloped by land.
3. Playa de los Muertos
A brief stroll towards the coast from Zona Romantica will bring you to the beloved Playa de los Muertos. The soft golden sand will embrace you with open arms and makes for a relaxing back rest as you bathe under the warm Mexican sun.
At Playa los Muertos, the turquoise water comes in and out, tempting you to dive in for a swim. Throughout the day, the beach continues to add more patrons, creating a lively atmosphere. If you're up for more that sunbathing, check out the many activities, including jet ski rentals, kitesurfing, and parasailing. The latter providing exceptional views over town.
Stick around for sunset before making your way to one of the many beachfront bars within proximity.
2. Zona Romántica
At the end of the popular El Malecon is a spectacular neighborhood, otherwise known as Zona Romantica. The district is easy on the eyes. The streets harbor a prismatic display of vibrant architecture that showcases the historic flair of Puerto Vallarta.
The cobblestone streets tell secrets of the city before it fell onto the proverbial map. It's a glimpse into Puerto Vallarta as it was not long ago. The bright colors are aesthetically pleasing and will have you exploring long after your legs grow weary.
Many local homes are historic pueblos, fronted by ornate gardens, plant-laden balconies and warm-colored roofs. Travelers should be sure to have their cameras fully charged. The best time to come is on the weekend when you can mix your explorations with a visit to the Old Farmers Market.
1. El Malecón
Running for over a mile, the El Malecon is a lively beachfront walkway in Puerto Vallarta. Beginning in the downtown district, El Malecon takes you all the way to Zona Romantica along the edge of the Bay of Banderas.
Those walking the path will be met with splendid ocean views from start to finish, but the path is about more than just exercise and views. It's a popular meeting point for locals and travelers can experience a vibrant atmosphere day and night.
Along El Malecon are a series of street food carts slinging all sorts of cheap and delicious local eats in addition to the odd memento stand. Looking towards the endless golden sand, capture street art and the Church of Our Lady of Guadalupe in the distance. Arrive in time for sunset to also enjoy spontaneous live music.

Map of Things to do in Puerto Vallarta