Cancun is known throughout the world for Spring Break. This has given the coastal Mexican city a reputation for good times and partying. And accordingly you will find a lot of opportunities to let your hair and party late into the night in Cancun. But it's not all about that.
Having been on the map since the 18th century, with its Maya origin name, Cancun only sprang up into life in the 1970s. The Mexican government financed the first hotels of what would become this incredible resort town – and at the time, only three people lived in the area, who were caretakers of a coconut plantation. The land that now makes up Zona Hotelera, with its precarious shape, clearly looked like the perfect place for paradise.
In this post, we'll cover:
Map of Areas in Cancun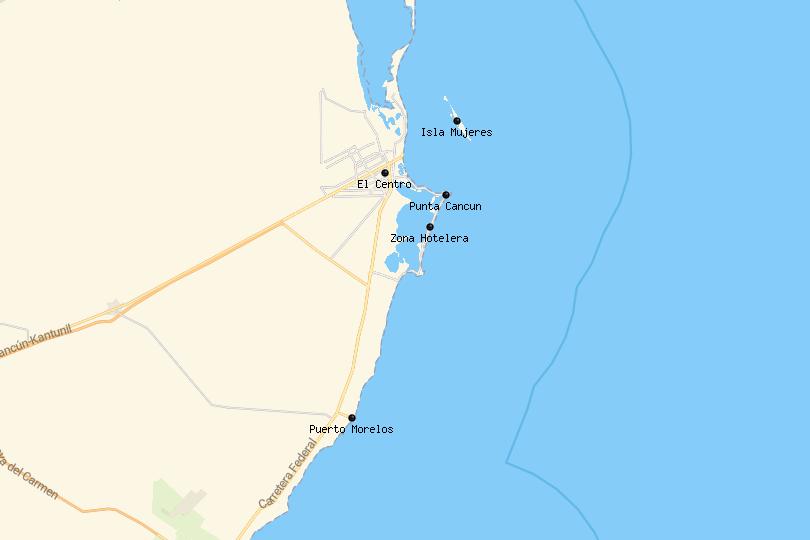 © OpenStreetMap © MapTiler © Touropia
So it may not have the colonial architecture that other Mexican towns boast, but Cancun has its own selling points. It's considered the entry point for the start of any journey to explore the Maya past of Mexico – with ruins like El Meco and Yamil Lu'um to whet your appetite for further discovery. Cancun is also famed for its diving and snorkeling, complete as it is with its very own underwater museum of sculptures.
Where exactly you base yourself when you decide to visit this city could mean the difference between an exciting, vibey trip and a chilled, tropical getaway. Do you want to be where all the action is? Or would you rather spend your holiday somewhere with a slow pace of life so you can unwind? Here is a rundown of what to expect in different areas of Cancun to help you make your mind up.
Zona Hotelera
As the name of this area in Cancun may suggest, this is where you will find a large portion of Cancun's exclusive resorts and all-inclusive hotels. All of these are set along a 14 mile stretch of beautiful white sandy beach jutting out into the glittering turquoise water of the Caribbean Sea. Here is where most tourists spend most of their time in Cancun – and who can blame them? It's a stunning stretch of coastline with all the amenities you could ask for on holiday.
As well as an array of international restaurants, nightclubs, and lively bars along Kulkukan Boulevard, there are plenty of opportunities for swimming, with calm waters perfect for a dip. You'll even find history, too; lose yourself in the 13th-century ruins of Yamil Lu'um complete with a small Mayan temple, or explore the El Rey Archaeological Zone further south.
Where to Stay in Zona Hotelera
El Centro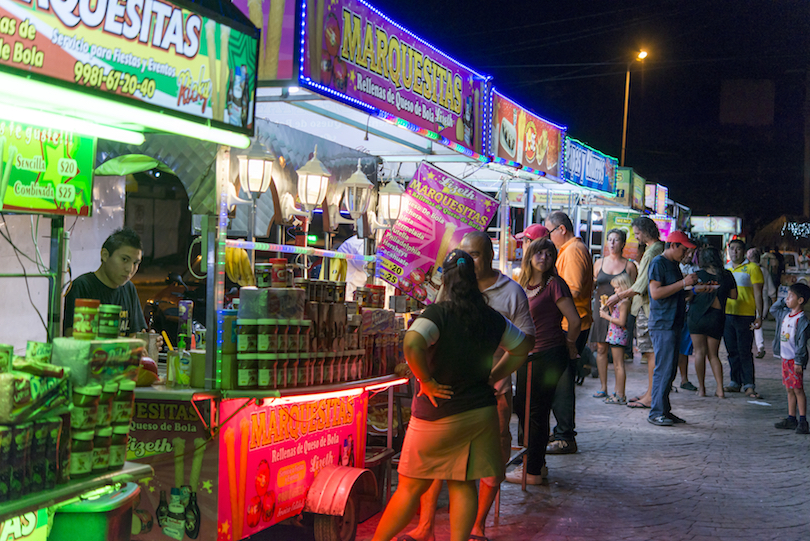 Across the water from the spit of land that is the Zona Hotelera, El Centro – while its name implies it's the center of the city – feels like more of a downtown area. This district is Cancun's residential hub and boasts excellent transport links, well priced and affordable accommodation, and plenty of local life. All of this just a bus ride from the beach.
In the vicinity, visitors will find the city's main park, Parque las Palapas, often busy with local families out for a stroll and enjoying the street food stalls. There is also Market 28, a lively and colorful market with an array of trinkets for sale. Worlds away from the international feel of the Zona Hotelera, El Centro is the place to go to feel a slice of real life in Cancun – something for the more adventurous traveler.
Where to Stay in El Centro
Punta Cancun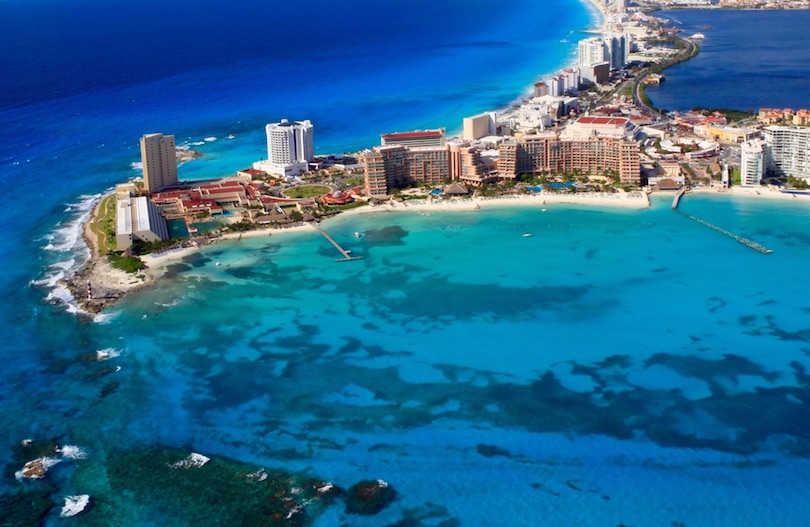 Punta Cancun refers to the northern end of the Zona Hotelera and is the place to be if you are a fan of nightlife. Heading out for dinner, dancing, and drinks here is great. But aside from the party vibe that gets underway after dark, the water here is particularly calm, something that is helped by the lagoon on the spit's western side. That means good kayaking and windsurfing are on offer.
There is also a grand total of 15 reefs in Punta Cancun, so if you're a keen snorkeller – or even if you've never donned a mask before – it's a great place to see some submarine tropical life. Even scuba diving isn't out of the question. Accommodation here is much the same as in the Zona Hotelera, if slightly cheaper, edging into the affordable, mid-range bracket. And if you like golf, there's a large golf course here, too.
Where to Stay in Punta Cancun
Isla Mujeres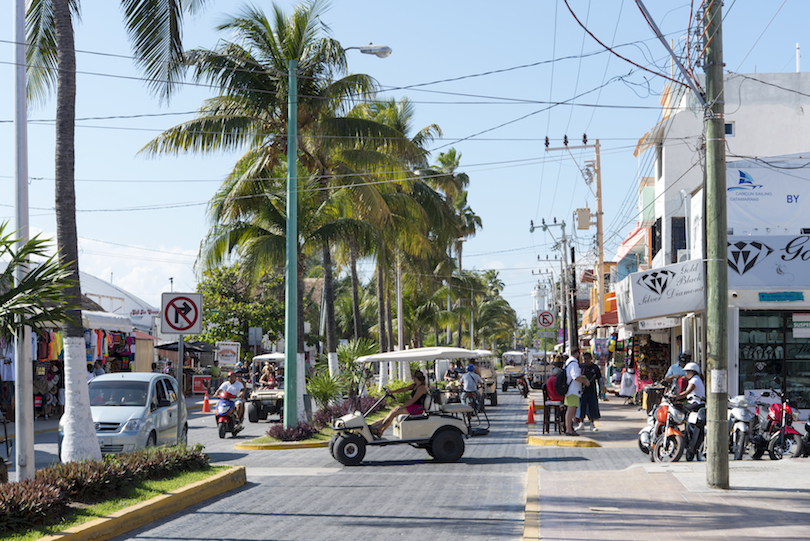 A stunning sandy island about eight miles off the northern coast of Cancun, Isla Mujeres is a surprising place. Even though it's so near such a major and popular destination, there is a still a strong sense of island life and a laid-back atmosphere; don't expect late night clubbing, Isla Mujeres is more about its beach bars and sea views.
On the island – which is only four miles long and less than half a mile wide, there are still plenty of things to keep you entertained. See turtles and other marine life at the Tortugranja, a turtle reserve where you can help release baby turtles into the sea! Or you can head to the Dolphin Discovery Isla Mujeres to learn about dolphins, manatees, and other sea mammals.
When it comes to accommodation, there are high-end resorts as well as local lodgings lining the beaches; and don't worry about getting around, that's all done via golf buggy!
Where to Stay in Isla Mujeres
Puerto Morelos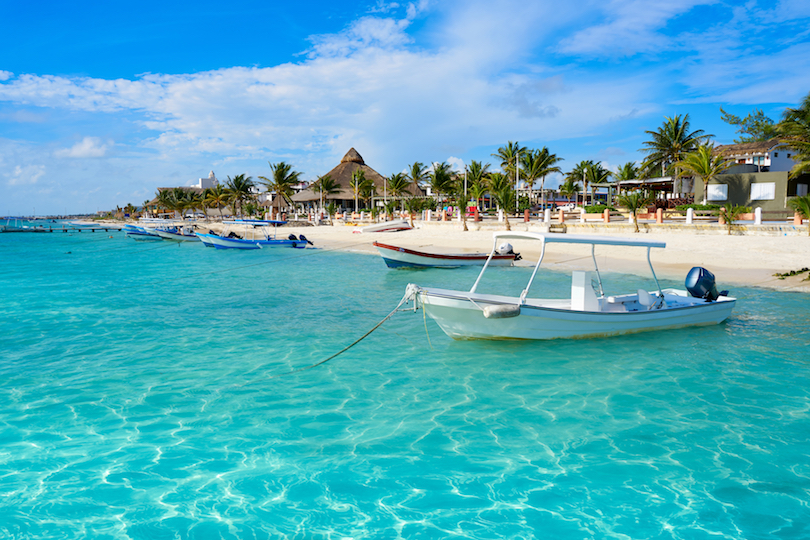 Puerto Morelos is situated around 11 miles south of Cancun itself, and approximately a 25-minute drive from the airport. This sleepy fishing town couldn't be more different from the lively resorts and late-night lifestyle of its northern neighbor. It's got a charm of its own, but the main attraction here is Puerto Morelos' white sandy beach, which comes with a scattering of beach clubs. There's even an offshore reef.
Even though it is a relatively small town, there is a surprisingly wide selection of food on offer. As well as locally-owned restaurants which use fresh produce, there are also Italian, Asian, and other international cuisines on offer in this town. Staying here, you can choose from small bed-and-breakfasts and family-run guesthouses, or catch a bus from the town square to large resorts further out.
Where to Stay in Puerto Morelos