Cancun, Mexico is known for its pretty beaches, great nightlife, fun bars and fancy resorts. But many travelers are unaware that Cancun also boasts some stunning islands, including its best known, Cozumel.
Some of these islands are mostly deserted and boast beautiful azure blue waters and sugar white sands, making them idyllic escapes from Cancun's more festive atmosphere. Other of the islands near Cancun are inhabited and offer travelers interesting options for fun in the sun, including ziplining and kayaking.
See also: Where to Stay in Cancun
sdf / Flickr
Isla Perez is one of five atolls that make up the Alacranes Reef National Park. The beautiful, clear waters around these atolls have a reputation for being dangerous to ships, so a lighthouse was erected on Isla Perez to help guide vessels to in the area to safety.
A lighthouse keeper and a few marines are, in fact, the only inhabitants on this island, and Isla Perez is the only atoll of the five that actually has any inhabitants. This is a quiet island popular with snorkelers and divers who can swim through and around the various sunken boats and the reefs in the area.
Isla Perez is also popular with fishermen seeking hard-to-catch bonefish. You will need to get a permit to visit this island, and there are no conveniences on or even near the island. Because of this, visitors must bring in in their own supplies, including water.
This tiny island is a national park and a nature lover's delight. It is, for example, an important migratory and nesting site for more than 150 bird species. It is also a key nesting site for sea turtles. Isla Contoy also boasts beautiful white-sand beaches and remarkably clear water.
The number of visitors allowed to travel to the island is capped at 200. If you want to see Isla Contoy, you'll either have to sign up for a visit through one of the few approved tour operator or you could use your own boat. But if you want to do the latter, you'll have to obtain permission first from the Park offices, which can be found in either Isla Mujeres or in Cancun.
If you love to snorkel, you'll want to stop at the Ixlache Reef on your way to pretty Isla Contoy.
dronepicr / Flickr
If you're searching for a tranquil island escape, consider heading to Isla Holbox. But you should do it quickly. Why? Because this idyllic little island is finally catching the attention of travelers. Fortunately, for now, though, Isla Holbox is still flying relatively under the radar. Accommodations consist mostly of boutique hotels and campsites — no big resorts yet.
So what's there to see on this island? Beautiful, empty beaches, of course. But Isla Holbox is also an excellent choice for eco-tourists. Its lagoon attracts thousands of flamingos, pelicans and other birds. And between June through September, its waters attract the largest aggregation of whale sharks in the world, as well as snorkelers who want to swim with these amazing creatures.
Brian Lauer / Flickr
Just a quick boat ride from Cancun, Isla Mujeres — which means Bay of Women –is a popular day trip for visitors staying in Cancun. This island boasts beautiful beaches and clear waters that are great for snorkeling. One of its most unusual attractions is an amazing underwater sculpture museum that can be visited by scuba divers.
For snorkelers and kayakers, there is the Garrafon Natural Reef Park, which is teeming with fish. This park also offers zip-lining for the more adventurous. Prefer to stay on Isla Mujeres? No problem. Accommodations are available on this island for those who would prefer to stay here instead of in Cancun, itself.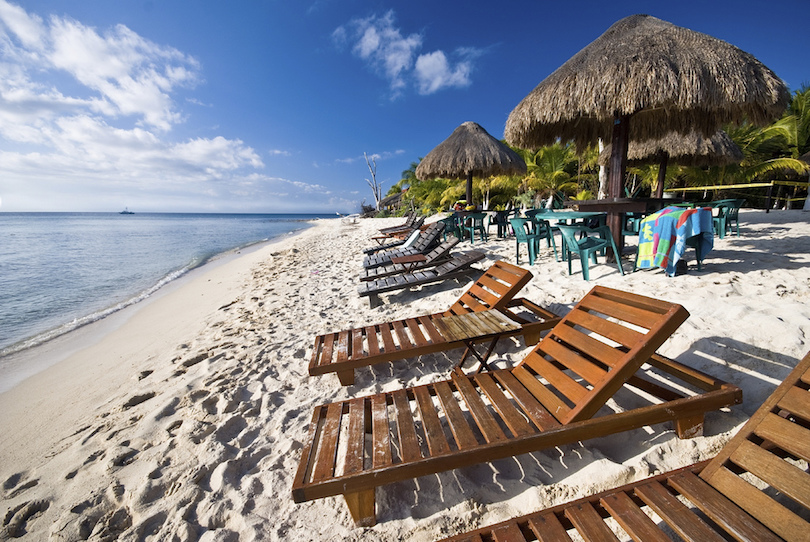 Grand Velas Riviera Maya / Flickr
With its proximity to the Mesoamerican Reef, the second largest barrier reef in the world, Cozumel is a popular destination for divers and snorkelers. Cozumel is also a very popular stop for cruise ships, so you'll find plenty of restaurants and shops selling all kinds of souvenirs near the port area.
One of the most popular destinations on this island is Chankanaab, which is located in Cozumel's National Marine Park. This park offers a slew of activities, including snorkeling and scuba diving, a dolphin discovery, exhibits, zip-lining and clear bottom kayak adventures. Cozumel, which is also the largest island in the Mexican Caribbean, is also home to several Mayan archaeological sites.