With stunning scenery greeting you almost everywhere you look, New Zealand's coastal cities are set amidst some astounding natural sights and really are amazing to behold. Mountains and volcanoes surround them and lakes, rivers and islands border them; the best cities in New Zealand have a plethora of incredible outdoor activities for you to take part in.
Away from the adrenaline-inducing zip-lines and river-rafting, some fantastic festivals and cultural events take place in New Zealand and there are some great museums and galleries to explore.
With some top-notch wineries on offer and a bustling craft brewery scene, paired with delicious cuisine and fantastic restaurants, your taste buds are in for an absolute treat. The intoxicating mix of Pacific Island and United Kingdom cultures makes its cities captivating and enlightening to explore.
In this post, we'll cover:
12. New Plymouth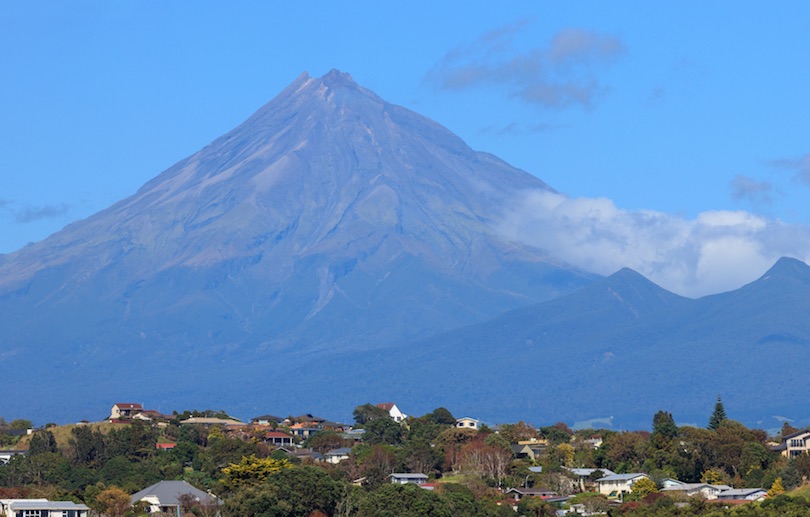 © Nmint / Dreamstime
With stunning Mount Taranaki dominating the horizon, New Plymouth is a picturesque port town that is surrounded by sprawling farmland. It has a lively, cosmopolitan feel to it, and there is a thriving arts and culture scene – you can attend some brilliant concerts and festivals here during the year.
There are many great cafes and restaurants to be found and some delightful surf spots and beaches nearby. Don't miss out on the nearby spectacular Mt Egmont National Park.
11. Tauranga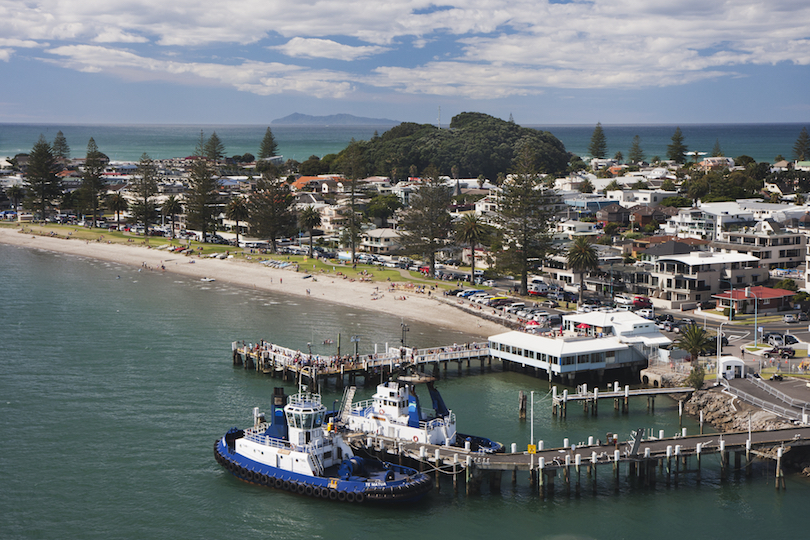 © vps / Dreamstime
Now the fifth-largest city in the country, Tauranga has steadily been growing over the years, as retirees and young families alike flock here in search of the cheaper housing options. While its busy port, petrol refineries and traffic-filled streets mean that it may not be the prettiest of cities, its lovely beaches and lively waterfront definitely make it a nice place to stop by.
With some fantastic restaurants and bars on offer, Tauranga's distinctive Mount Maunganui is a stunning spot with a world-class beach. Visitors can also take a trip to nearby White Island – an awesome live volcano to explore.
10. Whangarei
© Hardyuno / Dreamstime
Set in a beautiful location, Whangarei is the only city in the northernmost reaches of New Zealand; it is a gateway to the amazing natural wonders all around it. With a laidback vibe in the town, things are slowly changing; a new art museum, shopping center and restaurant complex have opened up and there are some great bars and cafes around town.
While there are lots of fabulous beaches around Whangarei to relax on, most people head to the Poor Knights Islands for their fantastic scuba diving, or to the delightfully scenic Bay of Islands.
9. Hamilton
© Rafael Ben Ari / Dreamstime
Straddling the beautiful Waikato River, Hamilton is an inland city on the North Island that is a pleasant place to visit, although it lacks the stunning setting of many of New Zealand's other cities. There are a few interesting attractions such as the excellent Waikato Museum and the tranquil Hamilton Gardens.
With a large university population, Hamilton has loads of great bars, restaurants and cafes for you to enjoy, and a number of fantastic festivals take place here throughout the year. Not far from Hamilton are many great sights that are worth visiting – Lord of the Rings lovers will want to head to Matamata, where they can visit the real-life Shire!
8. Napier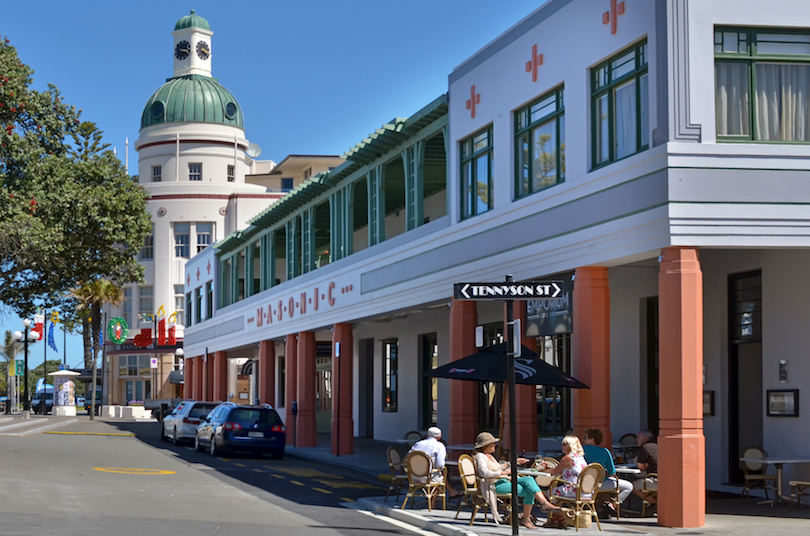 © Rafael Ben Ari / Dreamstime
Feeling somewhat like a wealthy seaside town in England, Napier is a charming place to kick back and relax, with a romantic air about it. With lovely 1930's facades and some delightful streets to explore, its fantastic collection of art-deco buildings is interspersed with some brilliant restaurants and atmospheric cafes.
Napier has several gorgeous beaches nearby, as well as a fantastic aquarium to check out. The marvelous wineries just outside of the city are also well worth exploring.
7. Nelson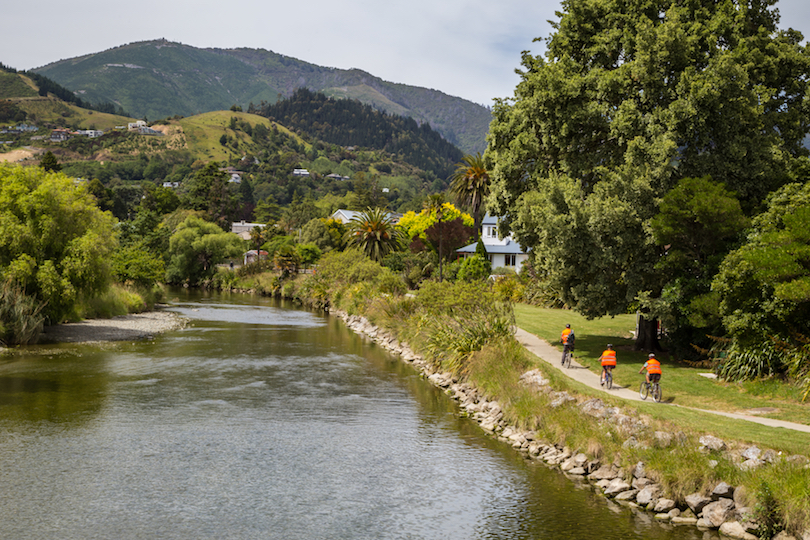 © Annaorl / Dreamstime
One of the best places to live in New Zealand, Nelson's stunning setting on the coast, snuggled between two mountain ranges, also makes it a fantastic city to visit. With a hip art scene, brilliant craft breweries and a range of delightful restaurants, it is a lovely place to spend some time – Nelson's delightful surroundings are enticingly nearby.
Explore the multitude of wineries on offer and the stunning natural wonders of Abel Tasman National Park. Beautiful beaches, glittering lakes and mountains lie tantalizingly within reach.
6. Dunedin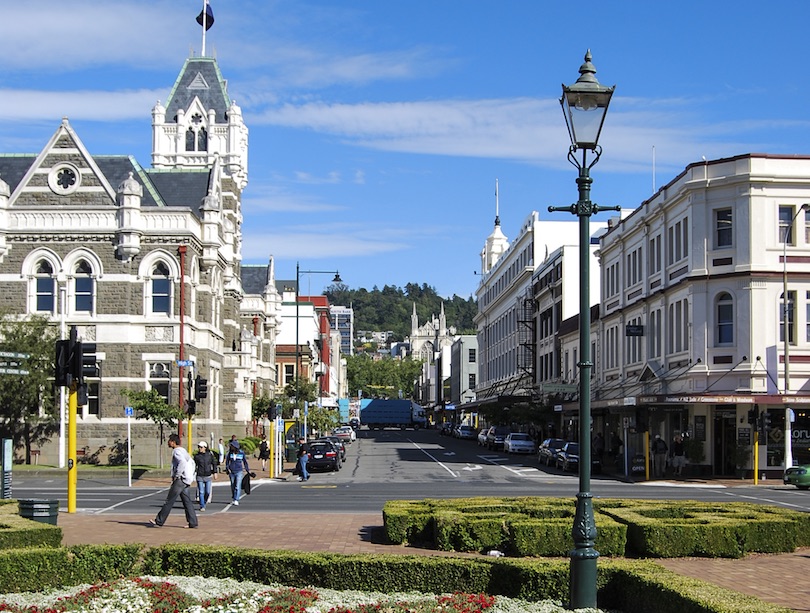 © Adrian Gilfillan / Dreamstime
Known as the 'Edinburgh of the South', Dunedin's Scottish heritage is immediately apparent; a Victorian railway greets you, alongside numerous statues and monuments to famous Scots. With the oldest university in New Zealand, Dunedin is a youthful place with an energetic feel, and there are lots of great bars and a pumping nightlife scene.
Lovely Victorian buildings dot the city, which is quite picturesque given its prime location around the port. From here, you can easily explore the wilds of the nearby Otago Peninsula.
5. Wellington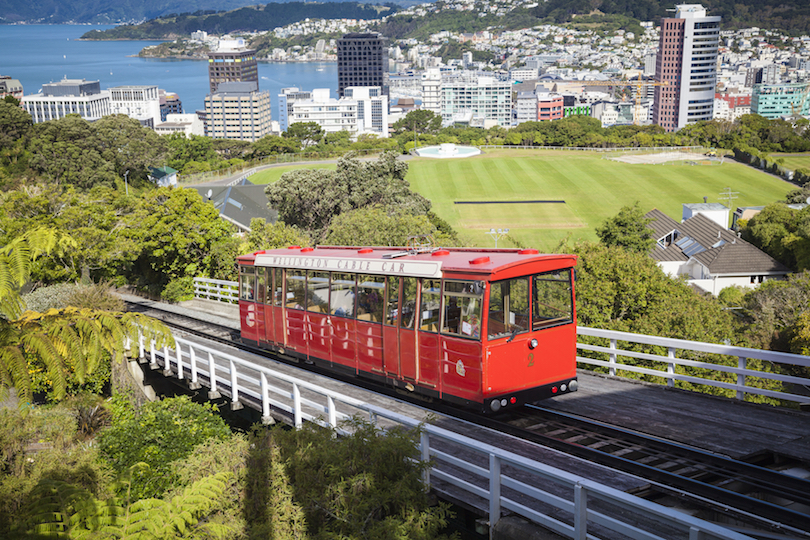 © Hardyuno / Dreamstime
Delightfully located on a harbor with mountains surrounding it, Wellington is the scenic capital of the country and certainly lives up to its nickname as the 'Windy City'. Lovely wooden buildings pour down the mountainsides to the waterfront, and there is a fantastic arts and culture scene for visitors to enjoy, with great museums, galleries and theaters on offer.
Set at the bottom of the North Island, there's a thriving café and craft brewery scene. The quality restaurants and pumping nightlife make Wellington a great place to visit or live.
4. Rotorua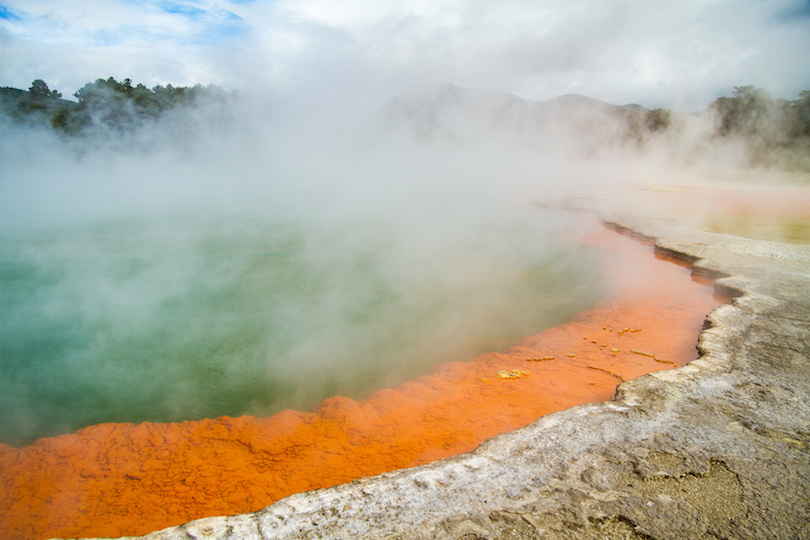 Lying on the shores of the lake after which it is named, Rotorua is renowned for its fabulous hot springs and geysers that are absolutely everywhere. Situated at the heart of the Taupo Volcanic Zone, the city is the North Island's most popular tourist destination – steam and spray constantly cloud its streets and the scent of sulfur hangs heavy in the air.
While its parks and nature reserves are home to vents, fissures and lakes, a sizeable Maori population invigorates the town with their art, culture and history. Although the restaurants and bars aren't anything to write home about, this volcanic landscape, with its fantastic natural wonders and plethora of outdoor activities, makes Rotorua a mesmerising city to visit.
3. Queenstown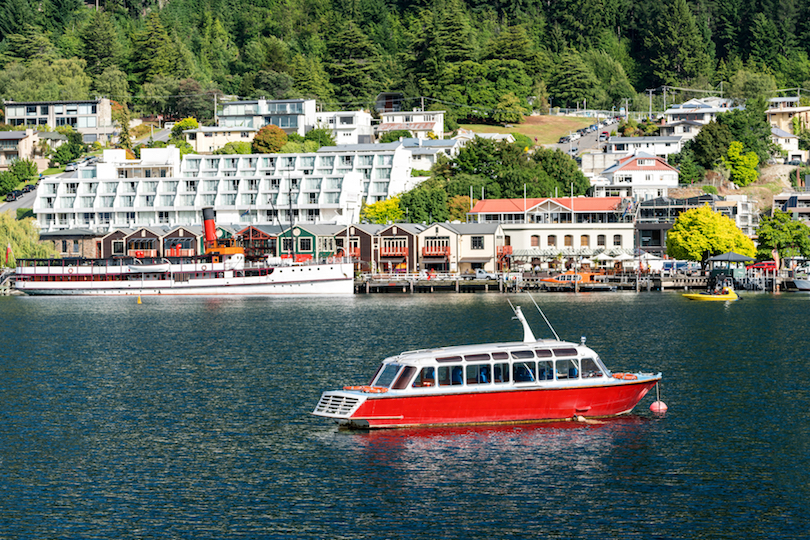 © BiancoBlue / Dreamstime
In addition to its stunning location on the shores of Lake Wakatipu, the spectacular mountains surrounding Queenstown make for one of the most beautiful scenes in the whole country. While it is certainly blessed in terms of scenic settings, the city also has a fantastic arts scene for visitors to enjoy, as well as some delicious dining, delightful bars and excellent vineyards.
Most people, however, visit Queensland because it is known as the 'adventure capital of the world' – there are over 220 hair-raising activities for you to try. Whether it's skiing, bungee jumping or zip-lining, paragliding or mountaineering, Queenstown has it all. Its marvelous natural wonders are the perfect place to experience that rush of adrenaline.
2. Christchurch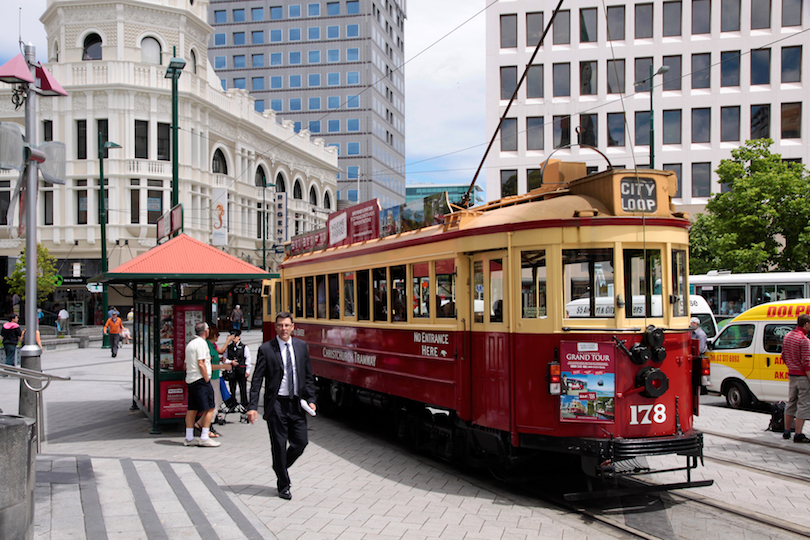 © Christian Mueringer / Dreamstime
A delightful city that is the largest in the South Island, Christchurch is currently being rebuilt after the 2010 and 2011 earthquakes that devastatingly struck, destroying so many of its buildings. New buildings and businesses are opening up all the time, and the buzz about the place makes it a vibrant city on the move.
Known as the 'Garden City', it is a pleasant, leafy place – there are lots of parks, museums and galleries for you to visit. With a very English feel about it, Christchurch's beaches on the Pacific Ocean and sizeable Pacific Islander population give a different flavor to it. From here you can go ballooning, river-rafting or trekking in the nearby countryside.
1. Auckland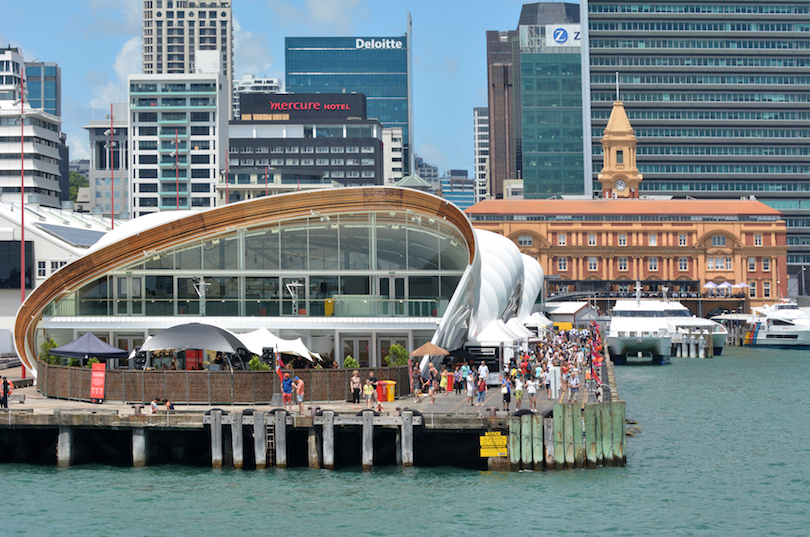 © Rafael Ben Ari / Dreamstime
One of the best places to live in the world in terms of quality of life, Auckland is the largest city in New Zealand and the first point of entry for most people. First impressions immediately 'wow' you, as its two lovely harbors glitter in the sun and numerous volcanic cones reach towards the heavens.
On the outskirts of the city, lush farmlands stretch towards the horizon. Known as the 'City of Sails' its surrounding waters are full of yachts and sailboats, while skyscrapers impressively rise up just beyond the waterfront and lots of little islands lie not far from the city. A laidback place with a provincial feel to it, Auckland is actually the biggest Polynesian city in the world.
See also: Where to Stay in Auckland
With trendy shops, fantastic beaches and a wealth of great restaurants and bars, the city has loads for you to do. There are breathtaking views to be had from any one of its volcanic summits. With hot springs, rainforest reserves and gorgeous wineries just outside the city, Auckland has it all.
Map of cities in New Zealand
© OpenStreetMap © MapTiler © Touropia