Renowned around the world for its exciting adventure activities, Queenstown is set in a very scenic spot on the shores of Lake Wakatipu with majestic mountains rising all around it. Long a popular resort town, it has everything you could ever want from a holiday destination and is one of the main places that international visitors head when in New Zealand.
Once a small, secluded, South Island town, it later became known in the eighties for its wonderful winter sports with Queenstown now attracting millions of tourists each year thanks to its enticing array of adventure activities. In total, there are over 220 things to do in Queenstown that will get your adrenaline pumping, from with zip-lining and bungee jumping to be enjoyed alongside white water rafting, paragliding and skydiving.
On top of all this, it also has a charming center packed full of bars and restaurants to explore while countless world-class wineries can be found nearby. With so many outdoor activities on offer and so much epic scenery to enjoy, Queenstown really is one of the best places to visit in New Zealand.
In this post, we'll cover:
15. Kiwi Birdlife Park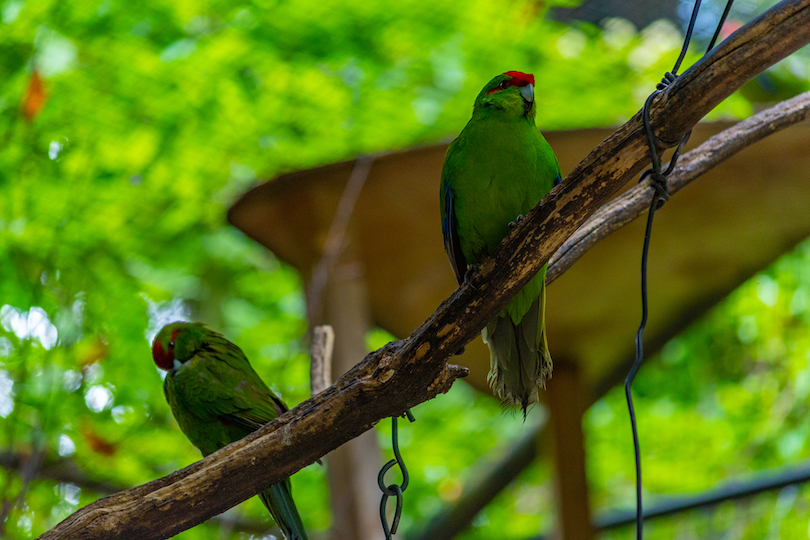 Home to a huge collection of pretty birds, plants and animals that are native to New Zealand, the fantastic Kiwi Birdlife Park can be found right in the center of town. An oasis of peace and serenity, its gorgeous grounds and gardens are a treat to explore with interesting conservation shows and cute Kiwi encounters both regularly taking place.
A firm favorite with families, the wildlife sanctuary was founded in 1986 to protect local birdlife and preserve their natural habitat. Nowadays, it is home to more than a hundred species with sleepy skinks and tuatara lizards spotted alongside chirpy kakas, keas and kiwis – all incredible birds that are endemic to the isle.
14. Kawarau Bridge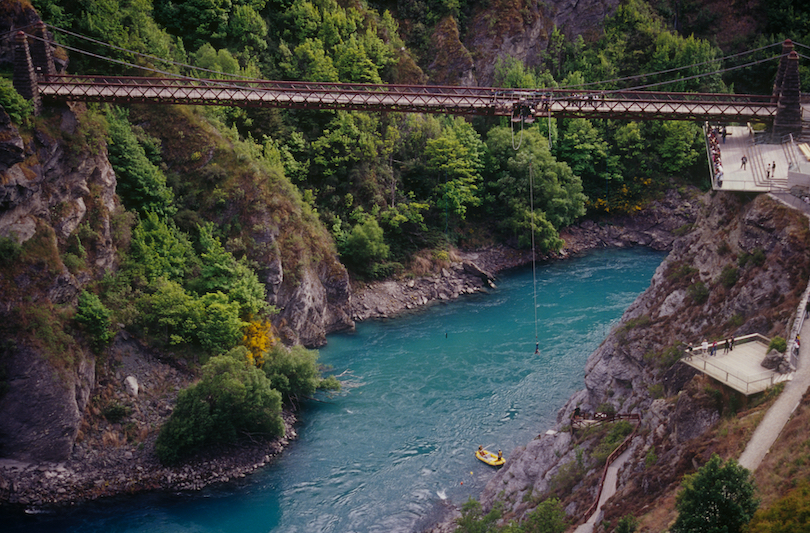 Just twenty-minutes' drive to the east of Queenstown you can find the historic Kawarau Bridge which is the site of the world's first commercial bungee jump. Built in 1880, it is set in a scenic spot spanning the width of the roaring Kawarau River and its gaping gorge below.
From the mid-point of the suspension bridge, you can hurl yourself off and plummet 43 hair-raising meters down to the rushing waters of the river below. Since 1988, the AJ Hackett Bungy company has been running the exhilarating experience with tandem jumps and zip-lines also now available.
13. Queenstown Mall
The heart and soul of life in town, the Queenstown Mall is one of the best places to shop, dine and go out in the city. Lined by umpteen shops and restaurants, the attractive outdoor area has a lively yet laid back feel and leads on to the picturesque waterfront of Lake Wakatipu.
Its pedestrian promenade has cozy cafes and enticing shops that seemingly sell everything under the sun and dozens of diverse restaurants. In total, almost 300 bustling businesses, bars and boutiques can be found both at the Queenstown Mall and in the surrounding streets that sprout off to either side of it.
12. Coronet Peak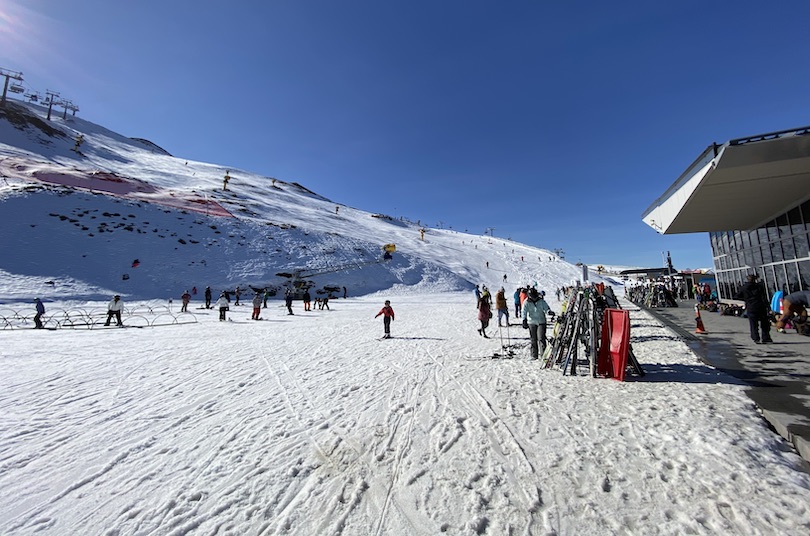 If it's superb skiing and snowboarding you are after, then you'll definitely want to check out Coronet Peak which is located only twenty-minutes' drive northeast of Queenstown. One of the country's most popular ski resorts, it has many snow-coated slopes for visitors to shoot down with breathtaking scenery and views wherever you look.
Renowned for its varied terrain, quality facilities and long snow season, the sprawling ski resort lies on the southern slopes of the 1,649 meter-high mount of the same name. The first commercial ski area in New Zealand, it was established in 1947. Brilliant night skiing and rolling bowls are now found alongside mountainside restaurants, bars and over forty kilometers of terrific trails.
11. Arrowtown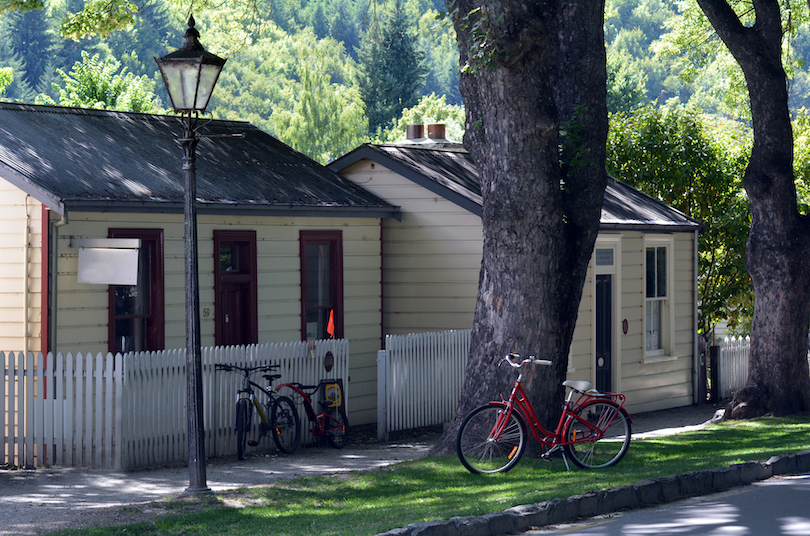 Just a stone's throw away from Coronet Peak you can find Arrowtown; one of the most popular and picturesque towns to visit in the area. Founded during the gold rush days of 1862, it has a charming and well-preserved center to explore that highlights its rich mining history and heritage.
Set in a scenic spot on the banks of the Arrow River, the small settlement has pretty historic buildings to amble past, with cozy cafes and local shops and restaurants. Aside from visiting interesting sites, such as the old Chinese gold mining huts and Lakes District Museum, it is well worth hiking in the surrounding mountains or exploring one of the nearby ghost towns.
10. Gibbston Valley Winery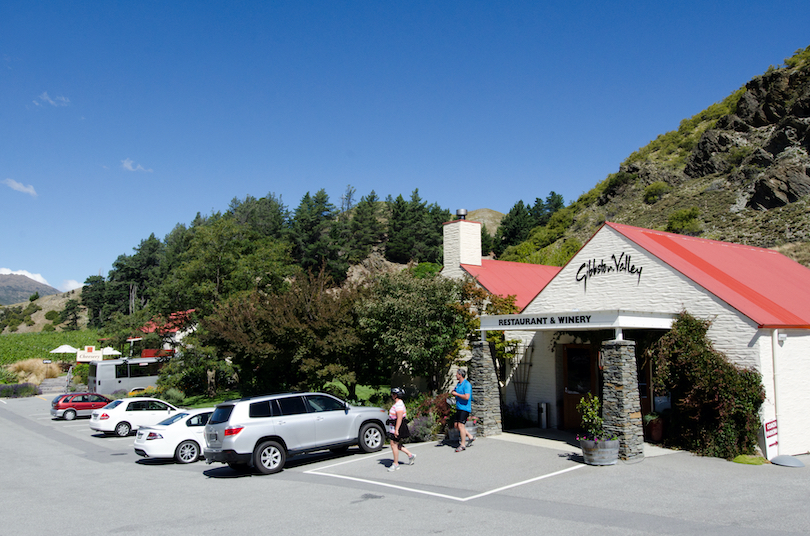 As countless world-class wineries lie right on its doorstep, no visit to Queenstown can be complete without sampling some of its incredible Pinot Noirs, Chardonnays and Sauvignon Blancs. The best place to head is undoubtedly Gibbston Valley Winery, which has wonderful tours and tastings to enjoy on its expansive estate just past the Kawarau Bridge.
It was the first commercial vineyard to be founded in the valley in 1983 with the winery since winning numerous awards for its fine wines. Besides being home to the largest wine cellar in the country, it also has a gourmet restaurant and luxury lodge and spa for guests to try out with tours around the vineyard teaching you all about its winemaking process.
9. Queenstown Gardens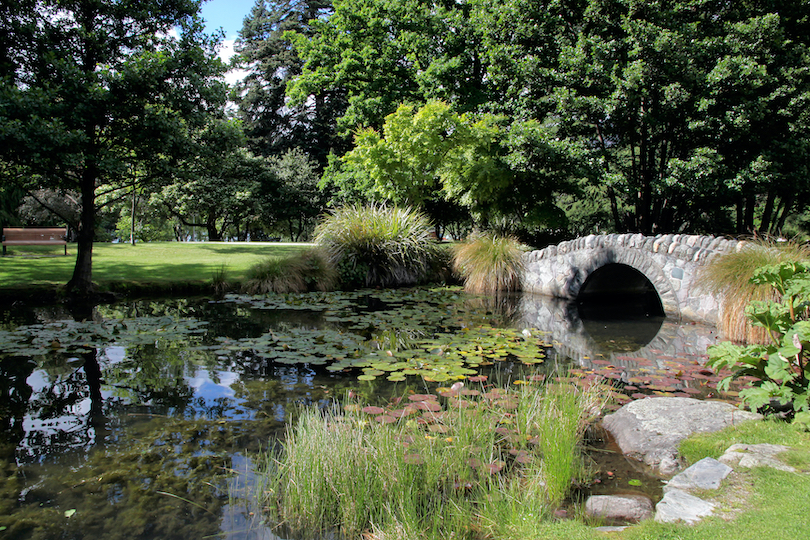 A peaceful and pretty place to visit, the gorgeous Queenstown Gardens are home to a colorful collection of plants and flowers, trees and shrubs. First opened to the public in 1867, its expansive grounds lie next to the center of town and jut out into the reflective waters of Lake Wakatipu.
While strolling around, you'll come across everything from picnic areas and playing fields to a skate park, tennis courts and frisbee golf course. You can also see monuments and memorials, while the trails along the waterfront boast beautiful views over the lake, town and its mountainous surroundings.
8. Ben Lomond Track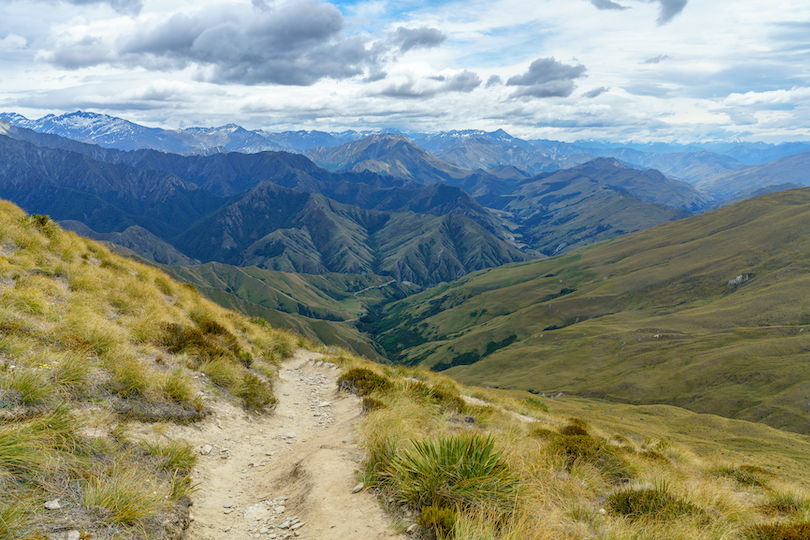 Although it is certainly a steep and challenging climb to the top, the Ben Lomond Track more than rewards hardy hikers with spectacular 360-degree panoramas from its soaring summit. From up high, you can gaze out over not only Queenstown and Lake Wakatipu, but Mount Aspiring, Coronet Peak and The Remarkables too.
Throughout the arduous full-day hike, the eleven kilometer-long trail gains an elevation of 1,438 meters with the views getting better and better the higher you go. From its start point at the Skyline Gondola Base, you clamber up through pristine forests and flower-filled meadows before emerging at its 1,748 meter-high summit where you can bask in epic panoramas.
7. Nevis Highwire Bungy Jump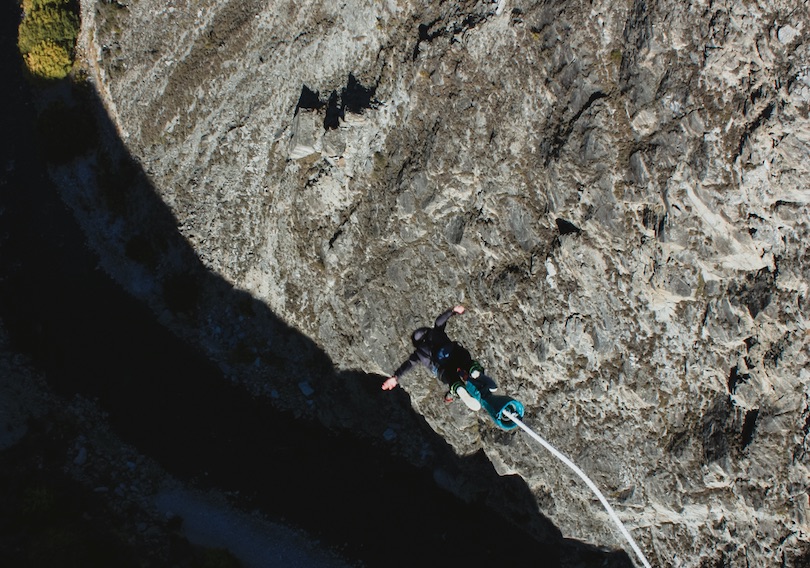 If you have a head for heights and are after an exciting experience, you definitely won't want to pass up the Nevis Highwire Bungy Jump. Towering 134 meters in height, it is remarkably the third highest bungee jumping platform in the world and the highest in New Zealand.
Suspended above the Nevis River, the lofty platform with its glass floor lies a forty-minute shuttle bus ride from Queenstown. In total, adrenaline seekers fall freely for 8.5 seconds before the tension in the cord arrests their 128 km/h descent and shoots them back up into the air again. At the same site, you can also try the Nevis Catapult and Nevis Swing; both equally exhilarating adventure activities.
6. Queenstown Hill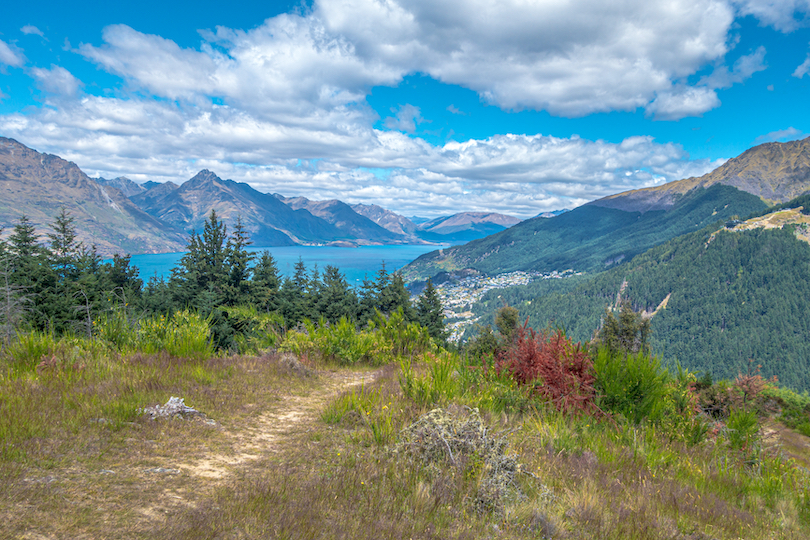 A very popular place to see startling sunrises and sunsets, Queenstown Hill can be found right in the center of town. Besides boasting divine views of Queenstown, Lake Wakatipu and The Remarkables, the 907 meter-high mount has some interesting history and gorgeous nature spots for you to enjoy.
Winding its way up the steep side of the hill is a 1.5 kilometer-long trail that takes you through picturesque pine forest and past informative plaques on the history of the town and its scenic surroundings. Once you arrive at its summit, you can sit and enjoy a picnic, drink in its magnificent vistas or check out its brilliant Basket of Dreams sculpture.
5. Shotover River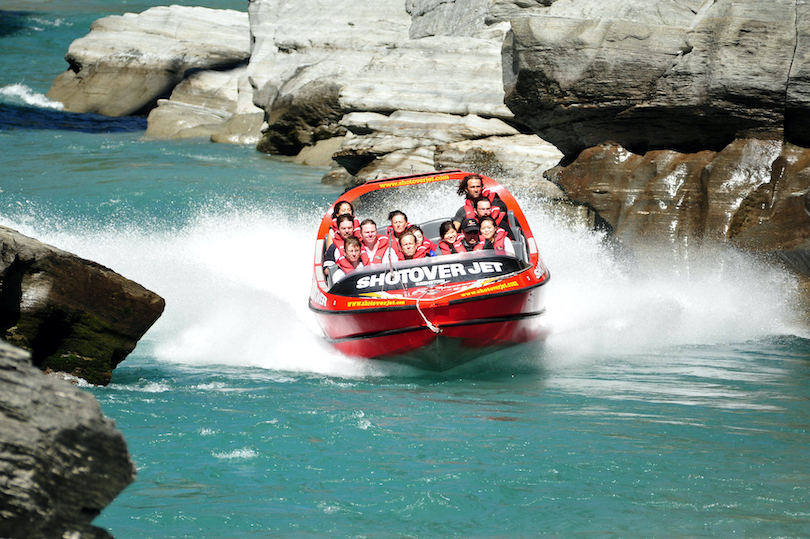 Stretching 75 kilometers in length, the fast-flowing Shotover River channels its way through narrow canyons and below craggy cliffs as it makes its way from the Southern Alps to the Kawarau River, just east of Queenstown. The best way to enjoy its spellbinding scenery and roaring rapids is to take an unforgettable ride on the Shotover Jet.
Billed as the 'ultimate jet boat experience', its bright red boats skip across the surface of the river at an incredible speed, dodging past dangerous rock formations on the way. As you hold on for dear life, you can gaze at the dramatic canyons, mountains and forests shooting by. One of Queenstown's top attractions since 1965, the start of the boat ride is just a five-minute drive north of the center.
4. The Remarkables Ski Resort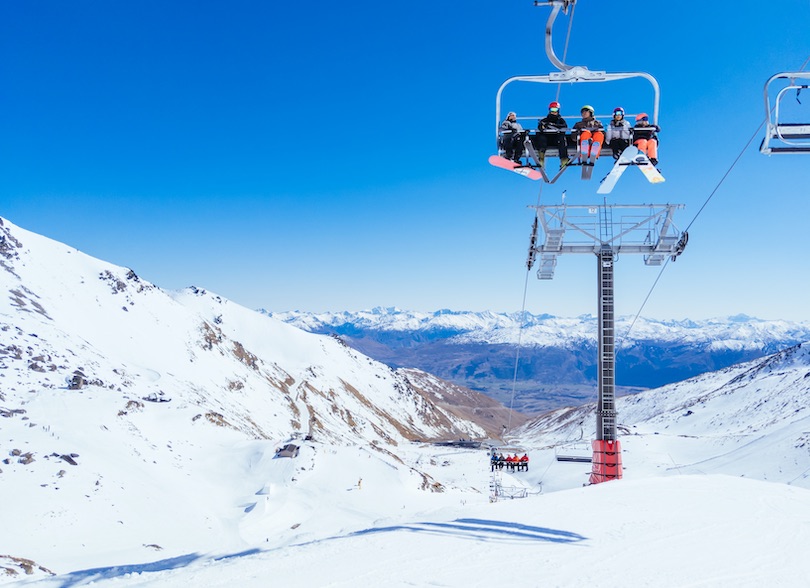 While Queenstown is renowned for its astounding array of adventure sports, the best place to head if you want to hit the slopes is undoubtedly The Remarkables Ski Resort. Perched on the northern slopes of the massive mountain range, its vast swathe of skiable terrain lies half an hour's drive to the east of town.
Founded in 1985, the popular resort now has ten kilometers of tantalizing trails for visitors to ski or snowboard down, with seven terrain parks, big bowls and a snow tubing zone also on offer. Dotted about the mountainside are cozy bars and restaurants while some great hiking can be had in the sunny summer months.
3. Skippers Canyon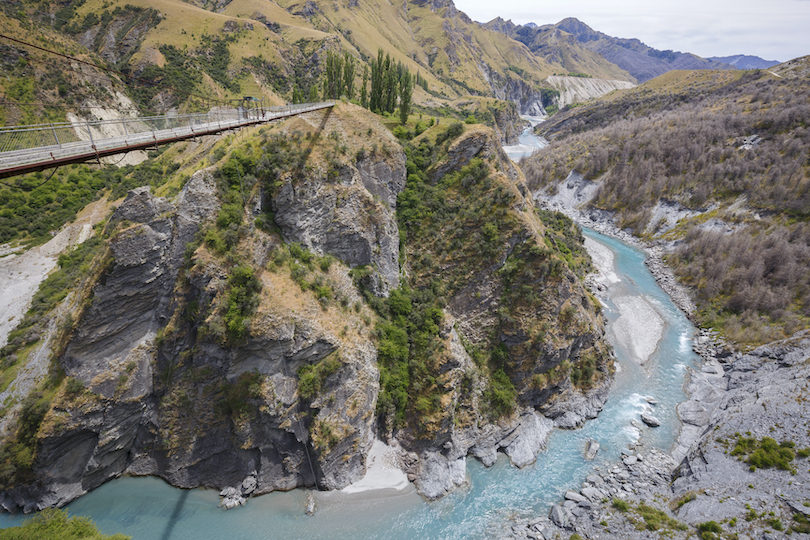 Boasting some of the most breathtaking scenery in New Zealand, Skippers Canyon is an absolute treat to drive through, with dramatic drops and sublime views wherever you look. Stretching twenty-two kilometers in length, its narrow gravel road and steep craggy cliffs wind their way alongside the roaring Shotover River.
Located about an hour's drive north of town, the scenic canyon was once home to thousands of gold prospectors. Its twisting, turning and treacherous road was actually carved out of the rock face by the miners. If you don't fancy driving along the challenging route yourself, numerous companies run amazing excursions through the canyon and across its scary suspension bridge.
2. Bob's Peak and Skyline Gondola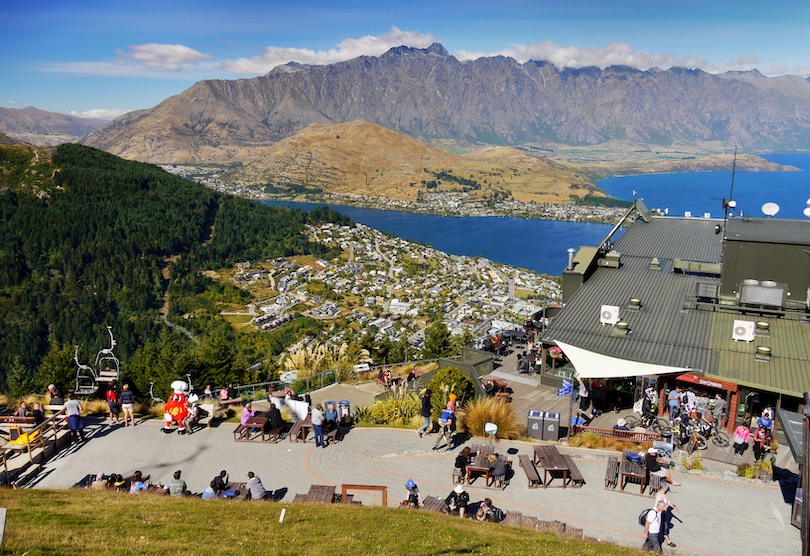 Another popular thing to do in Queenstown is to take the iconic and unmissable Skyline Gondola up to the top of the 446 meter-high Bob's Peak. From its terminal in the center of town, it only takes ten minutes to reach its summit and enjoy phenomenal panoramas of Lake Wakatipu, The Remarkables and, of course, Queenstown far below.
Besides enjoying a ride on the steepest cable car in the Southern Hemisphere, visitors can also go hiking and mountain biking amidst the pristine scenery and nature of Bob's Peak. In addition, there is a fun luge track while the Stratosfare Restaurant & Bar has delicious dishes to enjoy as you gaze at the divine views before you.
1. Lake Wakatipu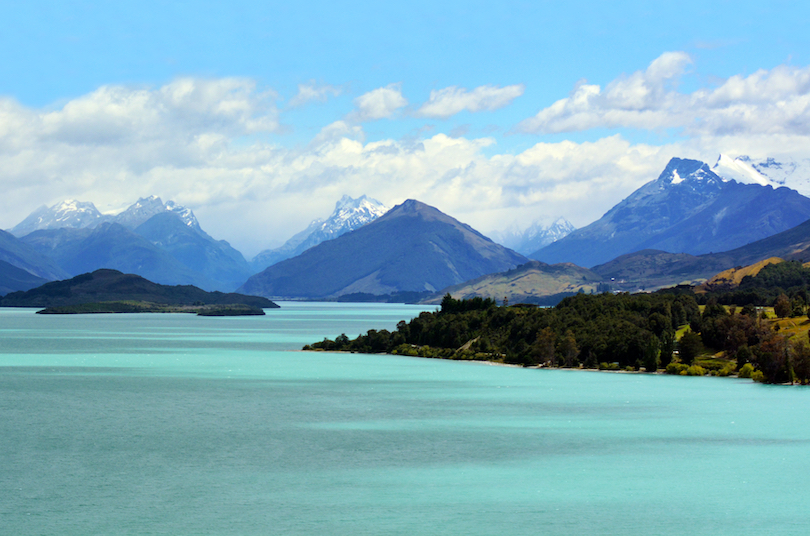 Nestled amidst soaring, snow-capped mountains, the reflective waters of Lake Wakatipu make for a stunning sight and offer all kinds of awesome outdoor activities. Aside from swimming, fishing and kayaking, you can also go jet-skiing and parasailing or take a scenic sightseeing cruise aboard the TSS Earnslaw; a historic old steamship.
The third-largest lake in New Zealand, its deep, cold waters create a distinctive lightning bolt shape that local Maori legends say is the burnt outline of an evil giant. Besides enjoying watersports, you can also stroll peacefully along the shores of the lake or snap photos of its beautiful blue waters from atop one of the numerous mountaintops that lie all around.
Best Time to Visit Queenstown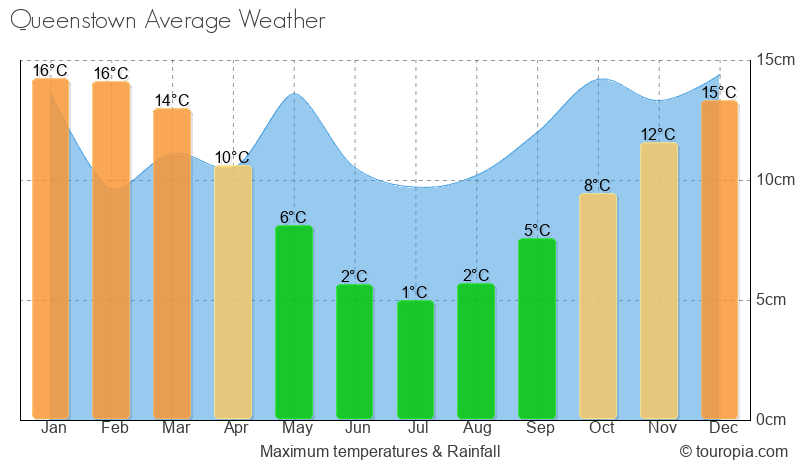 Renowned for its adventure sports, Queenstown is best to visit between November and April when the weather is warmest. With more sunshine and longer days, you can mountain bike and bungee jump or paraglide and zipline about its stunning landscapes.
As the weather starts to stabilize after the wet and unpredictable spring months, November sees a huge number of visitors pour in. Peak season continues until March when the crowds die down a bit. Prices are highest with all its hotels and restaurants busy.
With temperatures averaging between 16 and 20°C (61 to 68°F), conditions couldn't be better for sunbathing or enjoying watersports out on the lake. You can also whitewater raft and skydive or tour wineries and Lord of the Rings filming sites. Countless sporting events and the Summerdaze Festival are also held.
While April is still lovely due to the autumn colors, the cooler temperatures make outdoor activities less pleasant. Skydiving and bungee jumping can also sometimes be rained off.
After this, May to October is the low season as the days are much shorter and temperatures average 6 to 13°C (43 to 55°F). In July and August, winter sports enthusiasts come to ski and snowboard amidst the Remarkables or party at the Winter Festival.
Map of Things to do in Queenstown, NZ