New Zealand is an otherworldly, photogenic and friendly country offering visitors unbeatable changes for adventure and exploration. The rugged islands are home to dense native forests, mountains, beaches, glaciers, thermal regions and fiords that have been well-preserved by the environmentally-conscious government and culture. New Zealand is a place where traditional Maori culture mixes with modernity in cosmopolitan cities, charming villages and vast expanses of untouched wilderness. Pristine and heavenly, the island nation has something for everyone, including the following top tourist attractions in New Zealand.
10. Coromandel Peninsula
[SEE MAP]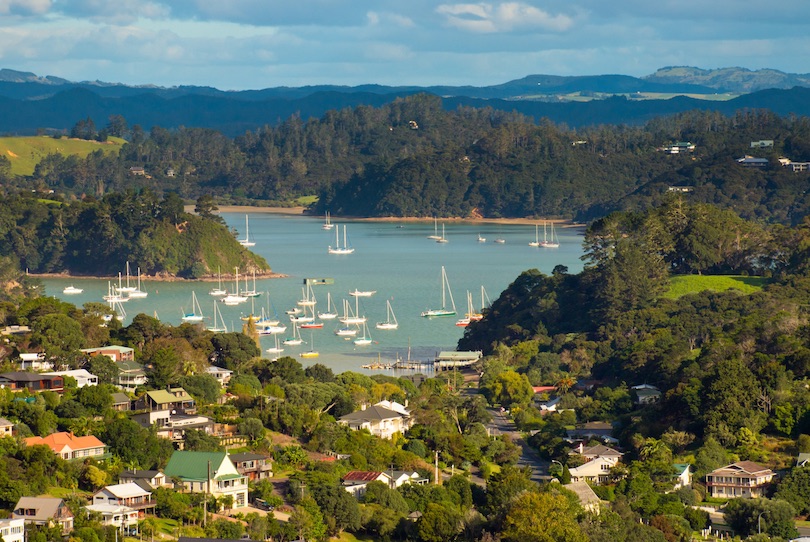 This north-eastern peninsula is famous for its white and golden sand beaches that frame magnificent coastal scenery, forests perfect for days of exploration and other natural wonders. Start your visit in Thames, a small but picturesque city with a rich history of gold mining. Don't miss a stop at Hot Water Beach, where visitors can dig their own hot pool from the springs under the sands.
9. Abel Tasman National Park
[SEE MAP]
Located on the northern tip of the country's South Island, this vast national park is a hiker's dream. Closed to vehicles, one must enter by boat, foot or small plane, but the trip is well worth it. While traversing the mountainous terrain, blue penguins, wekas, oyster catchers, wood pigeons and other rare birds can all be seen.
Abaconda / Flickr
The Sky Tower is an observation and telecommunications tower located in New Zealand's largest city. At a height of 328 meters (1,076 ft) it is the tallest free-standing structure in the Southern Hemisphere and the Sky Tower has become an iconic structure in Auckland's skyline. The tower offers views of up to 80 km away and fine dining in the Orbit revolving restaurant.
Napier, a small city in Hawke's Bay on the North Island's east coast, is famous for its eye-catching art deco architecture. Most of Napier was leveled by an earthquake in 1931. The rebuilding period coincided with the short-lived Art Deco era and as a result Napier's architecture is strikingly different from any other city in the world. Thousands of tourist visit Napier every February for the Art Deco Weekend, an event dedicated to the style, vintage cars, picnics and the soapbox derby.
electropod / Flickr
This small coastal town on the South Island is a haven for seafood lovers. You can spot fur seals, dolphins, sperm whales and albatrosses off the shore, then indulge in a feast of fresh crayfish, mussels, blue cod and more. Land lovers can take a wilderness walk through the untamed and dramatic Kaikoura forest.
5. Franz Josef Glacier
[SEE MAP]
This glacier, located within Westland National Park in the southwest, is one of the world's most accessible. Visitors can walk right up to the foot of the massive glacier or take a helicopter ride over the dazzling Ice Age remnant. Together with Fox Glacier it is one of South Westland's major drawcards for tourists.
Just outside of Rotorua, on the North Island, is the incredible destination of Wai-o-tapu. This park is filled with geothermal activity, and you can hike through volcanic landscapes that look more like outer space than the rest of New Zealand. At Wai-o-tapu, one of the highlights is the Lady Knox Geyser, which erupts daily with a show-stopping display straight up into the air. Nearby, geothermal spas give you the perfect place to unwind after a day of hiking along Wai-o-tapu's volcanic trekking paths.
3. Tongariro Alpine Crossing
[SEE MAP]
In the Tongariro National Park, located in the center of the North Island, is the Tongariro Alpine Crossing. This crossing is a day-long hike that covers Mount Tongariro itself and passes along the base of Mount Ngauruhoe. The crossing might be recognizable to film buffs, because scenes from the Lord of the Rings Trilogy were filmed there. The Blue and Emerald Lakes are major scenic attractions along the way, and both have historic significance to the local Maori people and should therefore be treated with the utmost respect.
Andrea Lai / Flickr
The Bay of Islands is one of the most popular holiday destinations in New Zealand. The picturesque area contains 144 islands, many secluded bays and some great sandy beaches. This beautiful bay has an abundance of marine life including whales, penguins, dolphins and the big marlin. Not surprisingly, it is a popular tourist spot for sailing yachts on world cruises and international sport fishermen.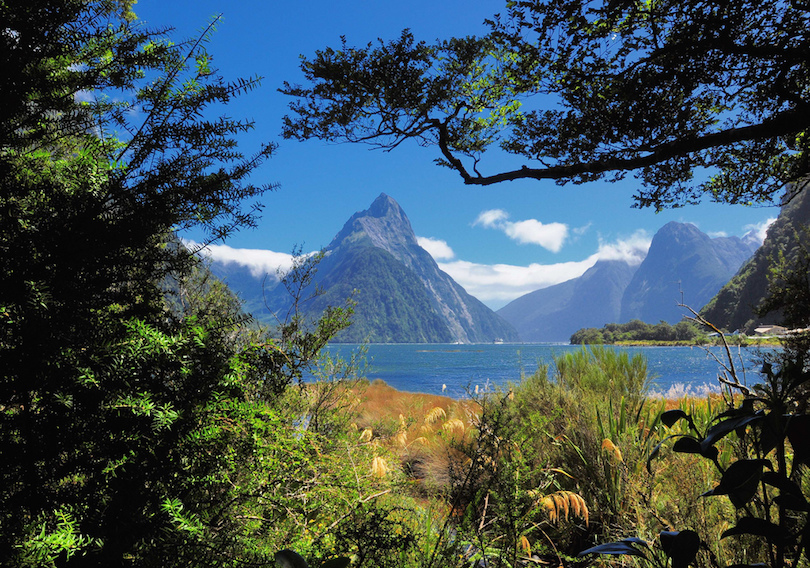 lwtt93 / Flickr
Milford Sound is among the most famous tourist attractions in New Zealand. Lying at the most northern and accessible end of Fiordland National Park, Milford Sound offers some of the world's most staggering coastal scenery with its dramatic peaks and dark blue waters. The area's frequent downpours only enhance this South Island beauty, sending numerous waterfalls cascading down the cliffs.