Located amidst the Pacific Ocean southeast of Australia, New Zealand is comprised of two main islands and is famous for its towering mountains and stunning natural scenery.
Much of the land on the islands is national park, and this is especially so on the South Island where nearly the entire western coast along the Tasman Sea is comprised of four national parks that border one another.
By most estimations, there are nearly 800 lakes in New Zealand, and most of them were created by glacial movement eons ago, and are now surrounded by massive mountains and a variety of diverse landscapes that are all incredibly scenic.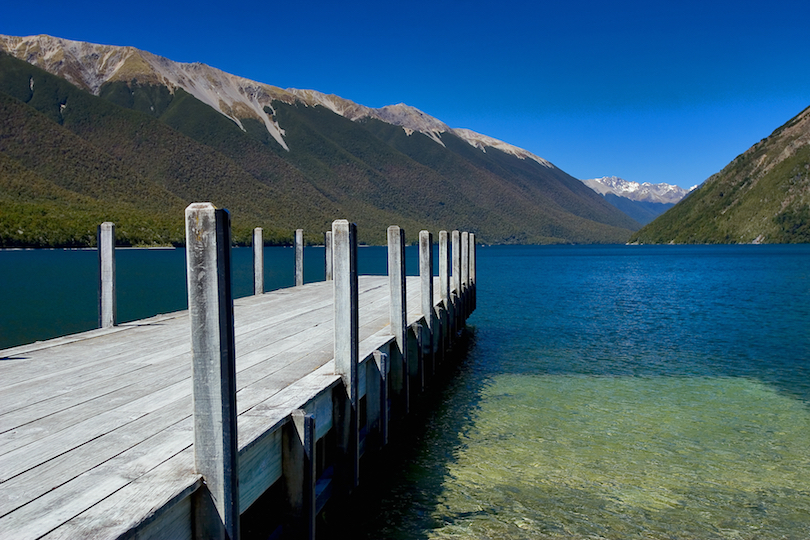 Known for much of its existence as Lake Arthur after the English Army captain who was among the first Europeans to lay eyes on it in 1843, Lake Rotoiti is in New Zealand's Tasman Region and is a popular recreation destination due to its location inside the Nelson Lakes National Park.
Lake Rotoiti lies high in the Saint Arnaud Mountain Range and is surrounded by its tallest peaks on its northern, eastern and western shores.
Due to their elevation, the peaks remain snow covered for much of the year, giving the lake and surrounding landscape a European alpine look that many visitors aren't expecting.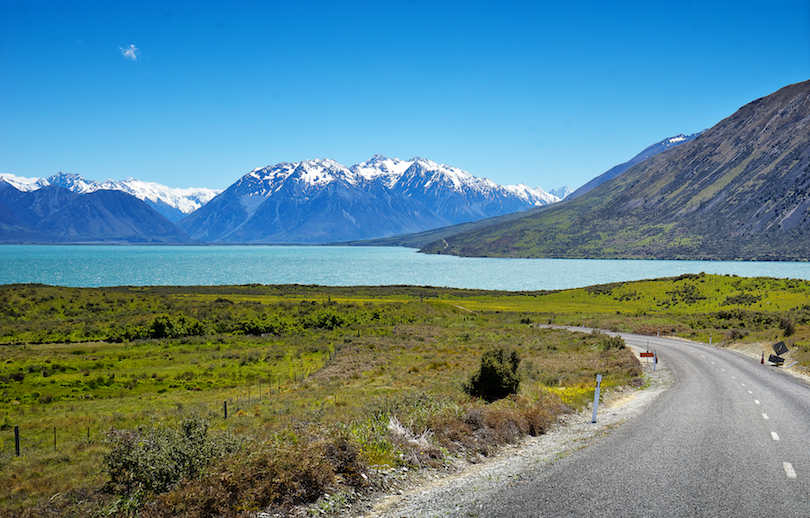 Formed by glacial movements in eons past, Lake Ohau is found in the Mackenzie Basin area on the country's South Island.
It's one of three similar lakes that run parallel to one another in a north-south direction, and they receive their flow of water from the Hopkins and Dobson Rivers which begin their journey in the Southern Alps.
The Lake Ohau Snow Fields are one of the country's winter recreation hotspots and have some pretty impressive statistics for height, annual snowfall and the number of trails open for those from beginner to expert.
The ski season typically lasts from early August to October but changes due to actual weather conditions. For those who choose to visit in the warmer months, fishing, hiking, and kayaking are popular activities.
Located near Fiordland National Park, Lake Manapouri is ringed with majestic mountains and is one of the deepest lakes in the country.
For those interested in exploring New Zealand's unique glacial area, the town of Manapouri near the lake is a great base of operations and the starting point for many guided tours of the glaciers.
There's a large damn and power generating station at the lake's western end, and tours are available for those who'd like to see the manmade structure's inner workings.
Also close by is the dramatic and picturesque Doubtful Sound, which many guests remember as the most alluring sight they saw on their trip to New Zealand.
Lake Te Anau and the nearby town of the same name are located in the South Island's far southwest corner and are easy to see in conjunction with the world-famous Fiordland National Park making them great places to stay while exploring all the region has to offer.
There are plenty of accommodation options from full-service lodges and resort-style hotels to campgrounds for the outdoorsy types and those traveling on budgets.
Due to its breathtaking scenery and proximity to other popular tourist areas, the lake can get busy during the peak months from January to March, but with so much to see and do you'll soon forget that you don't have the place to yourself.
There are seasonal glowworm caves and a bird sanctuary nearby that make great side excursions as well.
Just a few minutes away from Lake Wanaka, Lake Hawea is a summer vacation destination for those who want to stay active while enjoying the great outdoors and is a particular hotspot for kayakers, wind and kite surfers and fisherman.
More than most of New Zealand's lakes, the mountains that ring Lake Hawea are large and steep and descend straight into its depths making for rugged and scenic vistas.
The Lake is fed by the Timaru River along which visitors will find some of the area's most beautiful scenes in addition to great hiking trails, picnic areas, and campsites too.
Even during the warm summer months the lake remains cool and inviting.
Surrounded by ancient woodlands and known for its reflective tea-colored waters, Lake Matheson is also home to the Clearwater Suspension Bridge which provides visitors with amazing views that incorporate elements of the manmade and natural worlds that seem like they were made for one another.
The lake is also known for the large species of eels that reside in its less than clear water, and they're often seen feeding near the surface, especially when there's not much wind and in low light conditions like morning and afternoon.
Mount Cook and Mount Aoraki provide stunning backdrops to the lake, and there are many trails that lead to various vantage points from which unobstructed views of the lake and surrounding country are available.
Lake Taupo on the country's North Island was formed from the volcano of the same name and is technically a caldera.
By surface area, it's the largest lake in the country and not surprisingly considering its volcanic birth is home to year-round geysers, steam vents, and gurgling mud pools.
In many areas of the lake the water is warmed by geothermal forces below the surface, and there are designated beach areas that are great for swimmers, sunbathers, and paddle-boarders.
For an interesting cultural attraction, consider checking out the Mine Bay Maori carvings as well.
Lake Taupo is conveniently close to the thundering Huka Falls which is one of the country's most amazing and visited attractions.
Located in Tongariro National Park, The Emerald Lakes are also part of the Tongariro Alpine Crossing, which is a full-day hike that's among the most popular activities for outdoorsy types visiting New Zealand.
The lakes are rimmed by some of New Zealand's most stunning volcanic formations giving them a distinctly lunar feel.
During peak times the lakes draw crowds, so don' expect to have them to yourself, but the water's colorful contrast to the stark mountains nearby will more than makeup for it.
Many of the Emerald Lakes take on different hues like aquamarine, jade, and turquoise which make them each unique and equally stunning.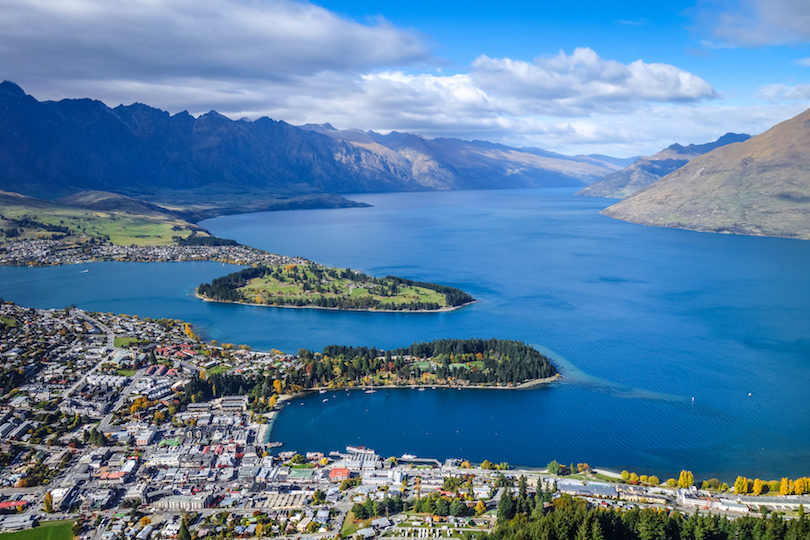 One of New Zealand's inland finger-lakes, Lake Wakatipu is found in the South Island's Otago Region, and at nearly 80 km (50 miles) from end to end, it's the longest of the country's lakes.
It's fed by the Dart River in the north and is surrounded by an alluring mix of high-altitude mountains which are often snow covered, and low rocky hills that look more like desert terrain.
Boat tours are one of the most popular ways to see the lake and offer views that won't be visible from shore, and there are designated swimming areas with white sandy beaches that are great places to catch some rays and do a bit of swimming.
Peter Nijenhuis / Flickr
Located in the central portion of the South Island, Lake Pukaki is equidistant from the Pacific and Tasman Sea coasts, and along with Lakes Tekapo and Ohau, Lake Pukaki is another of the large lakes that border the Mackenzie Basin.
The lakes were formed by glacial action millennia ago, and are surrounded by some of the country's most picturesque alpine landscapes.
Mount Cook is the most impressive peak in the vicinity and is covered with snow for much of the year, and the lake's waters often have a cloudy but vibrant aquamarine hue which makes for amazing photographs and looks like something that couldn't possibly occur naturally.
Located in New Zealand's South Island Otago Region, Lake Wanaka is nearly 1,000 feet above sea level in the aptly named Southern Alps.
It's an excellent choice for those visitors looking to appreciate the great outdoors away from the crowds and it's relatively close to Mount Aspiring National Park which makes it possible to see multiple areas rather quickly and efficiently.
The nearby town offers a pleasant contrast and is full of trendy restaurants, galleries, and shops that are great places to spend a few afternoon hours after a day in the sun.
The area around Lake Wanaka has four distinct seasons, and no matter when you visit finding things to do to fill your time won't be an issue.
Lake Tekapo is one of three parallel lakes the run from north to south in the Mackenzie Basin on the South Island. The lake is fed from the north by the Godley River which runs from the Southern Alps supplying the high-altitude lake with clear, cool water year-round.
It's one of the country's most popular tourist destinations and has a few resorts in nearby towns, and there's also a regional park that offers visitors a variety of recreation options. Located just more than 100 kilometers west of Christchurch, Lake Tekapo is also a popular day trip option for those on a tight schedule.
It's particularly well known for its rocky and rugged shoreline, the majestic snow-covered mountains looming on the horizon and the lavender wildflowers that bloom in the spring.