Queenstown is a small resort town in New Zealand that sits on the shores of Lake Wakatipu and boasts beautiful views of snow-covered mountains. Not too long ago, it was known mainly as a skiing getaway, but that has changed dramatically. Today, visitors flock to this self-proclaimed "Adventure Capital of the World" year round to enjoy all that the stunning region has to offer, including white water river rafting, hiking and jet boating.
And if those activities are too tame for you, Queenstown also has plenty of unusual adrenaline sports that you can try, including zorbing, canyon swinging and white water sledging. Although this town loves to brag about its wild side, you can also find plenty of peaceful escapes just a short day trip from Queenstown.
Map of day trips from Queenstown
© OpenStreetMap © MapTiler © Touropia
If you enjoy strolling through quaint little villages, you'll love Arrowtown. This former gold mining town, which is located approximately 20 minutes from Queenstown on the banks of the Arrow River, still maintains much of its historic charm.
Do you want to learn more about New Zealand's gold rush and the history of this area? Then make sure to check out the Lakes District Museum and take a jaunt over to the interesting Chinese miners' settlement. Feeling lucky? Then you'll want to try your hand at panning for gold. And because the area surrounding Arrowtown boasts many trails, including the Queenstown Trail, it is also a popular spot with cyclists and hikers. Although Arrowtown is a four-season town, it is known for being especially beautiful in the fall when the foliage is changing colors.
Getting to Arrowtown
To get to Arrowtown by bus, take the blue route Orbus service which costs $2. It takes about half-an-hour from Camp St, Village Green in the center of Queenstown.
Driving takes around 20 minutes, and you have two options available to you. You can either head north out of Queenstown on Gorge Road, which takes you past Arthurs Point, or you can take the southern route along State Highway 6 until you turn off just past Lake Hayes and follow signs to Arrowtown. You can't go wrong with either route, as the scenery is lovely. Once having explored the town, you could always head to the nearby Central Otago Wine Region which is just a short drive away.
Many visitors opt to take a guided tour to see as many of the region's fantastic sights as possible. As well as exploring Arrowtown's gold mining past, tours take you to Gibbston Valley's beautiful vineyards, before culminating with leisure time on the shores of Roys Bay at Wanaka.
6. Central Otago Wine Region
[SEE MAP]
The Central Otago Wine Region is known for being the most southerly commercial wine-growing region in the world. It is also New Zealand's highest and — arguably — it's most scenic. The Central Otago Wine Region's mountainous setting provides its vineyards with winters that are cold and summers that are hot and dry. Rain is minimal in this area. So weather-wise, the Central Otago Wine Region is perfect for producing Pinot Noir wines.
You can self-drive and experience this region's many vineyards on your own or you could participate in a guided tour and let someone else do the driving for you. And if you're interested in really getting to soak in the beauty of this region, you could always opt to take a cycling tour of the wineries instead.
Getting to Central Otago
The Central Otago Wine Region is made up of six sub-regions, and each has its own unique characteristics and feel – although the scenery is stunning wherever you go. By car, you can visit a number of them in a day; Gibbston, Bannockburn, and the Cromwell Basin are all very close to each other. Head east out of Queenstown on State Highway 6. After half-an-hour, you'll reach Gibbston, where you can try some wines before heading on to the other two, which are 20 minutes further along the same road.
If everyone in your party wants to sample the delicious wines, you may be better off taking a guided tour of the region. With stops at four or five wineries included in the itinerary, you'll get to try some of the region's best wines, as well as visit lots of stunning vineyards.
5. Mt. Aspiring National Park
[SEE MAP]
This is New Zealand's third largest national park and a paradise for photographers. In Mt. Aspiring National Park, you'll find glaciers, soaring mountains, beautiful valleys, unique rock formations and lovely waterfalls and lakes. This park also boasts a large number of hiking trails, ranging from short jaunts to long, arduous treks that will test your fitness. One of the most popular trails is the short, 30-minute walk to the absolutely stunning, crystal-clear Blue Pools.
Adrenaline junkies can get their fix in this park with jet boat rides or heli-skiing and heli-hiking. Are you a fan of the "Lord of the Rings" movies? Then you might recognize this park, which was used as the settings for Lothlorien and Isengard.
Getting to Mt. Aspiring National Park
A fun and exhilarating way to explore Mt. Aspiring National Park is to take a guided tour of its glorious waterways. Surrounded by incredible scenery, you'll paddle or jet boat your way under mountains, through forests, and along secluded streams. A magical day out, this tour will enable you to immerse yourself in the wonderful nature on show.
gmoorenator / Flickr
If you're searching for a day trip from Queenstown that will satisfy the animal and scenery lovers in your group, consider heading to Doubtful Sound, which is located in Fiordland National Park. Although it is three times longer than and ten times larger than Milford Sound, it is the lesser known of the two sounds and so gets fewer visitors.
The travelers who do venture to this remote area are rewarded with a pristine wilderness that is unbelievably peaceful and jaw-dropping-ly gorgeous. While in the sound, keep an eye out for dolphins and Southern fur seals. And if you're really lucky, you may even catch a glimpse of the very rare Fiordland crested penguin also known as Tawaki.
Getting to Doubtful Sound
The best way to visit the wild and beautiful Doubtful Sound is by taking a guided tour. Visitors invariably come away impressed at all they've seen. While driving through the spectacular scenery of Fiordland National Park is lovely, the highlight of the tour is the three-hour cruise; the views on offer are just astounding. With live commentary provided, you'll learn all about the fjord and may even spot dolphins, seals, and penguins.
The Wanaka region is located in the beautiful Southern Alps and is an adrenaline junkie's dream come true. It, in fact, it claims to be one of the world's best adventure towns. Wanaka is popular with skiers in the winter and with hikers and rock climbers during the summer.
Situated at the southern end of Lake Wanaka, you can also go jet boating, take a helicopter to a glacier, parasail, skydive, test your skills on a Via Ferrata tour or go four-wheel-driving.
Wanaka also has a large number of activities for non-adrenaline junkies, including stand-up paddle boarding and kayaking. Of course, all of these activities are sure to leave you hungry and thirsty. Fortunately, the town of Wanaka boasts more than 150 restaurants and bars, so refueling for your next adventure should not be a problem even for the pickiest diner.
Getting to Wanaka
Around an hour away by car, Wanaka is very easy to drive to. On the way, you'll pass through some lovely scenery, with mountains, valleys, and lakes wherever you look. Head east out of town on the 6A. At Arrow Junction, continue heading east on Crown Range Road and simply follow it all the way to Wanaka. This road is the highest sealed road in the country; as such, there are some fabulous views to be had along the way.
Another option is to take a guided tour. This includes stops at both Wanaka and Arrowtown, as well as a drive to many of the most scenic spots in the surrounding area. A very popular excursion, it offers the perfect blend of history, culture, and nature with something for everyone to enjoy.
Glenorchy is just a 45-minute drive from Queenstown, but in other ways, it seems a world apart. The landscapes around this small, rustic town are, in fact, so unique and magical that many scenes for The Lord of the Rings trilogy, X Men Origins: Wolverine, and Narnia were shot here. So it's probably not surprising that the town of Glenorchy, which sits on the shores of Lake Wakatipu, has been called the "Gateway to Paradise."
Glenorchy is also the starting point for the Routeburn Track, one of New Zealand's most popular and well-known hikes. In addition to hiking, other ways you can explore this region include horseback treks, kayaking and jet boat safaris.
Getting to Glenorchy
Driving from Queenstown to Glenorchy couldn't be simpler, and only takes around 45 minutes. Simply head west out of town and follow the road that borders the shores of Lake Wakatipu until you arrive at Glenorchy. There are loads of fantastic photo opportunities to along the way, and the scenery on offer is stunning.
Many people opt to take a tour to Glenorchy; this takes you to many of the stunning locations where scenes from Lord of the Rings and other movie franchises were filmed. Your guide will also tell you about the beautiful fauna and flora you come across.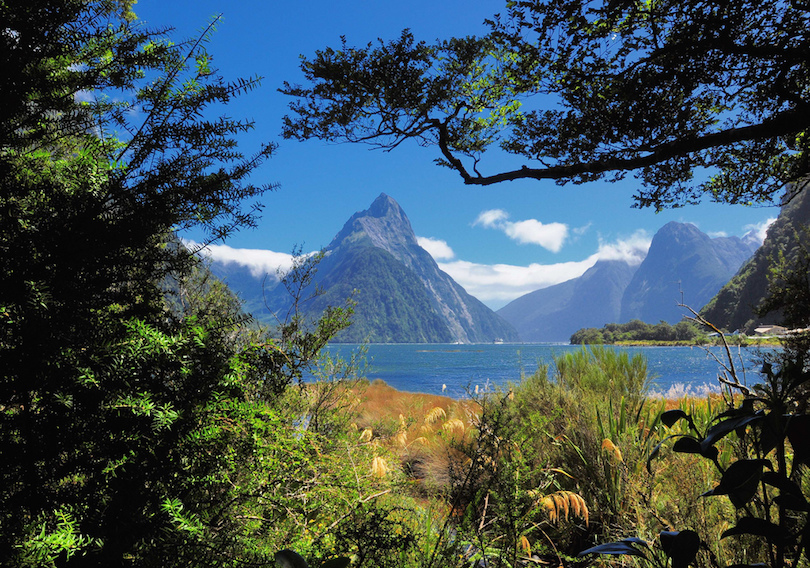 lwtt93 / Flickr
Milford Sound, which is located in Fiordland National Park, is known for its amazing scenery, including sheer cliffs that plunge into the waters of the fjord and beautiful waterfalls. In fact, this area is so magical that Rudyard Kipling once called Milford Sound the "eighth wonder of the world."
One of the best ways to enjoy Milford Sound is on a boat tour, where you might spot dolphins, seals and penguins. Other popular ways to explore Milford Sound include hiking, biking and kayaking. And if you're interested in checking out the creatures that live under the sea, you'll want to keep a spot open in your itinerary for a stop at the underwater observatory at Harrison Cove.
Getting to Milford Sound
As it is about a 600 kilometer round trip from Queenstown to Milford Sound, you will spend quite a lot of time on the bus getting there and back; this is inevitable unless you take a flight there. The bus takes around four hours one way, but is undoubtedly one of the most scenic bus journeys in the world, as you pass awe-inspiring mountains, glittering lakes, and lush rainforest. Early in the morning, hop on any one of the buses that depart from the center of Queenstown and simply sit back and enjoy the ride.
Another option is to take a guided tour. This is probably the most efficient way to visit Milford Sound and make the most of your time when you're there. With lots of sightseeing stops included along the way, visitors will get to see The Remarkables mountain range and Lake Te Anau, among other sights. The highlight is a scenic cruise along a fjord surrounded by all the majestic scenery.