Auckland, New Zealand's largest city, has many things going for it. It's home to the world's largest Polynesian population. It's built on an active basaltic volcanic field – the only such city in the world. It's got great museums, the southern hemisphere's largest marina, and a fabulous aquarium.
Still, there's a lot to appreciate outside the city limits. Great black sand beaches and rainforests are easily accessible on day trips from Auckland. You can also drift down an underground river illuminated by glow worms. Oh, the scenery outside of Auckland is pretty spectacular, too.
Map of day trips from Auckland
© OpenStreetMap © MapTiler © Touropia
Marks / Flickr
New Zealand produces some nice wines and what better place to sample them than the vineyard. Matakana is home to more than 30 wineries where you can taste the fruits of the vine. Matakana also is a good place to sample local produce, perhaps buying the fixings for a picnic on a nearby beach.
At the Saturday farmer's market you can buy foods, including local cheeses and fresh baked breads, direct from the farmers, as well as pick up locally made handicrafts. You'll also find quaint villages on your day exploring the Matakana coast.
Getting to Matakana
8. Coromandel Peninsula
[SEE MAP]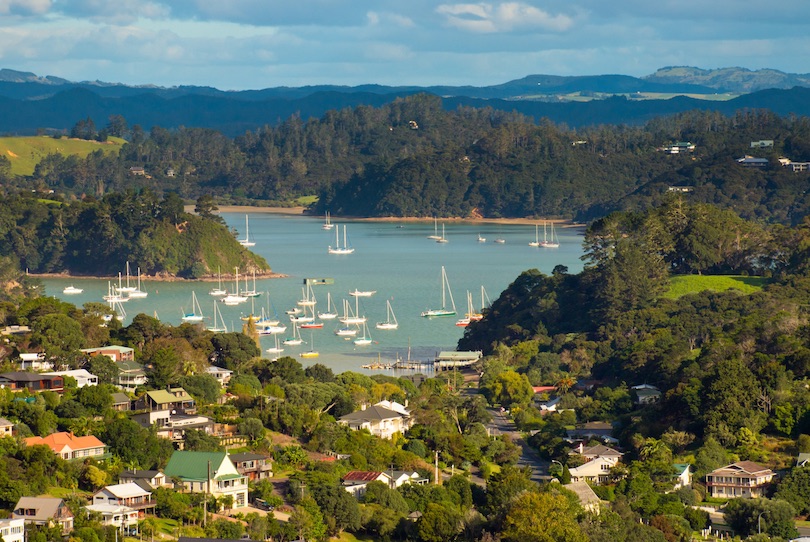 On a clear day, you can see the Coromandel Peninsula from Auckland 55 km (34 miles) away, but a day trip there will be a lot more fun. The picturesque peninsula is named after the British navy ship that stopped there in 1820 for supplies. Today, it's one of New Zealand's hottest travel destinations, especially if you're an ecotourist, yachter or scuba diver.
A popular destination is Cathedral Cove (an arch through a limestone cliff looks like a cathedral), but it's only accessible by foot or boat. You can also go offshore canoeing, walk through a rainforest or on white sand beaches.
Getting to the Coromandel Peninsula
Andrea Lai / Flickr
If you come to see spectacular scenery in New Zealand, the Bay of Islands won't disappoint you. With 141 islands, it's easy to see why Captain Cook, the bay's first European visitor, named the islands Bay of Islands in 1769. It's one of the most popular sailing and fishing destinations in New Zealand.
If you have time, take a boat ride out into the bay following the historical "cream" route that brought cream from the islands to town. Russell, a quick ferry ride from Pahia, is worth a side trip, if only to visit the cemetery with its quaint tombstones.
Getting to the Bay of Islands
© Mrcmos / Dreamstime
With its 50 km (30 miles) of unbroken beach, this black sand beach is one of the most popular beaches near Auckland, extending up to the Tasman Sea coast. Surfing is the most popular activity here, but you can also go hang gliding, fishing, "bush hiking" on a boardwalk or paragliding.
Because the sand is so firm, you can also drive on the beach. You'll also not want to miss the gannet colony on the steep cliffs at the southern end of the beach.
Getting to Muriwai
5. Waitakere Ranges
[SEE MAP]
Waitakere Ranges is a good place to savor the outdoors while breathing in some fresh Kiwi air. Administered by the Auckland Council, this regional park has much to tempt the recreationalist in you. There are plenty of rainforest walking and hiking trails, including the Hillary Trail for the more adventuresome.
Some walks, like Kitekite Track, are suitable for the whole family. You can also swim in a pond underneath one of the park's pretty waterfalls, go fishing, or tramp along the black sand beaches. The waves are good for surfing.
Getting to the Waitakere Ranges
© Yurix Sardinelly / Dreamstime
Waiheke Island, the second largest and most populated island in the Gulf of New Zealand, has been getting a lot of media attention in recent years. In 2016, Lonely Planet named it the world's fifth best travel destination while Conde Nast named it the world's fourth best island to visit.
Accessible by ferry from Auckland, Waiheke Island has several nice beaches, including Oneroa and Cactus. Should you tire of beach activities, you might want to visit Stony Batter, World War II fortifications or an outdoor sculpture display known as Heartland: Sculpture on the Gulf.
Getting to Waiheke Islamd
murdocke23 / Flickr
Drifting down an underground river through limestone caves is an adventure not to be missed, especially if it's the Waitomo Caves. This is how most tourists will visit the caves. Don't like black water rafting? You can also walk through parts of the cave system; extreme sports enthusiasts can cave crawl through more difficult caves.
What makes Waitomo Caves so special is the lighting system: gazillions of glow worms. You'll also see stalactites and stalagmites, but it's the glow worms that will grab your attention.
Getting to the Waitomo Caves
Drive three hours southeast of Auckland, and you'll approach Rotorua. Settled by Maoris in the 14th century, Rotorua is a major tourist draw in North Island. It's best known for its Maori culture and geothermal activity, including geysers and hot mud pools, since it's on a caldera. (Some of the hot springs smell pretty bad because of high sulfur content.)
It gets its name from nearby Lake Rotorua, one of 17 lakes in the region. Rotorua has been a tourist spa since the 1800s because of the curative powers of its natural hot springs. Government Gardens is also worth a visit.
Getting to Rotorua
1. Hobbiton Movie Set
[SEE MAP]
© Krug100 / Dreamstime
If you're a fan of J.R. Tolkien's Lord of the Rings and Hobbit, you'll definitely want to take a day trip from Auckland to the Home of Middle-earth at Hobbiton Movie Set. More than 150 locations in New Zealand were used to film the two movie series, but a significant number were filmed at Hobbiton Movie Set on a family farm near Hamilton.
Movie officials picked this site because it reminded them of ancient England. The set is available through guided tours, which must be booked in advance. You'll visit sets such as hobbit holes and Bagshot Row.
Getting to the Hobbiton Movie Set