Lying at the heart of the most active geothermal zone in the country, Rotorua, on New Zealand's North Island, is surrounded by bubbling hot springs and steaming geysers, with lots of glistening lakes also on display. Nicknamed 'Sulphur City' due to the smell that permeates the air, it is one of the nation's most popular tourist destinations and boasts lots of fantastic outdoor activities such as mountain biking and whitewater rafting.
Long revered by the Maori, Rotorua actually means 'second lake,' and the small city's name derives from the splendid lake upon which it lies. As around a third of the population is Maori, it also attracts visitors interested in learning more about their rich cultural heritage.
With lots of wonderful landscapes lying nearby and a wealth of great things to see and do in Rotorua itself, the town combines the best of nature and culture into one irresistible package.
12. Government Gardens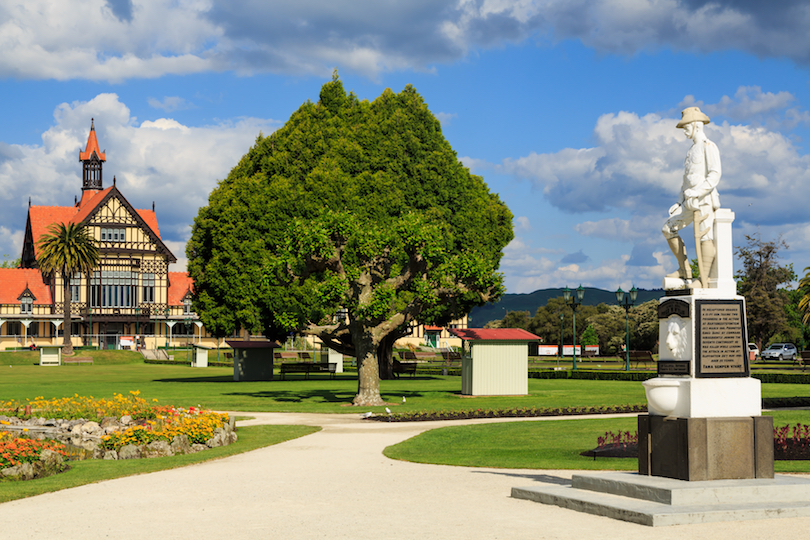 Located right on the banks of Rotorua Lake, the Government Gardens are one of the city's main tourist attractions. Its perfectly manicured lawns are home to lots of different heritage buildings and landmarks. At the center of the gardens, for instance, is the delightful Rotorua Museum, which exhibits some impressive Elizabethan Revival architecture. Inside, you'll find lots of galleries full of amazing artwork and historical artifacts.
Displaying both English and Maori features, the public park boasts an immaculate bowling green and elegant bandstand, which lie side-by-side next to magnificent Maori carvings on the Arawa War Memorial.
With a lovely view out over the lake for visitors to enjoy, the Government Gardens are very pleasant to stroll around, and the atmospheric steam from the hot springs that lie beside the lake only adds to the picture-perfect scene.
11. Eat Street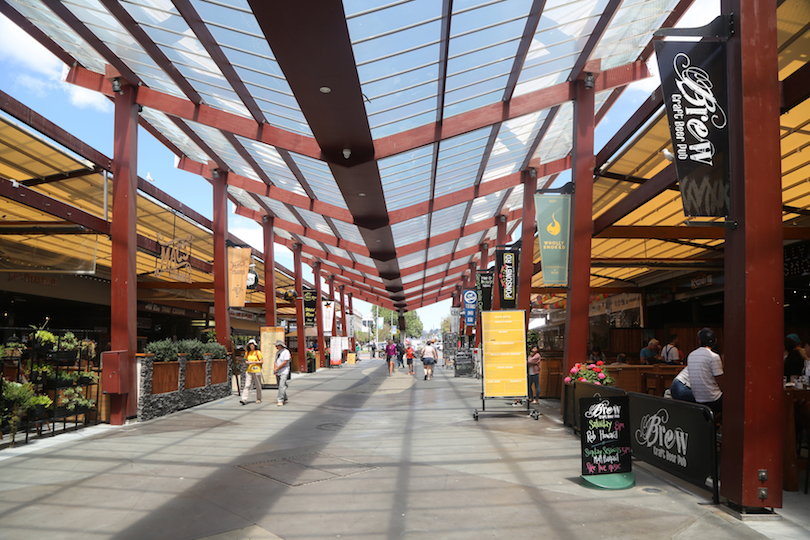 If you're looking to grab a bite to eat or drink in Rotorua, you can't beat the fittingly named Eat Street. Located at one end of Tutanekai Street, it has loads of cafes, bars, and restaurants for you to try out. The soft lights that tastefully illuminate the covered walkway and its outside dining areas make for a very cozy ambiance.
Very popular with locals and tourists alike, Eat Street's many eateries cater to every palate, with ice cream parlors and pizzerias found next to Thai restaurants, lounge bars, and craft beer pubs.
10. Volcanic Hills Winery
As it lies high up on the slopes of Mount Ngongotaha, right next to the final station of the city's Skyline gondola line, it should come as no surprise to learn that Volcanic Hills Winery is blessed with some of the finest views in Rotorua. With lots of fabulous wines for you to sample, the award-winning winery is also a great place to head to if you want to try some of New Zealand's local produce.
If sipping on a delicious Sauvignon Blanc or Pinot Noir wasn't enough, the view out of the bar's large windows is simply stunning with the lake and surrounding hills stretching into the distance.
9. Agrodome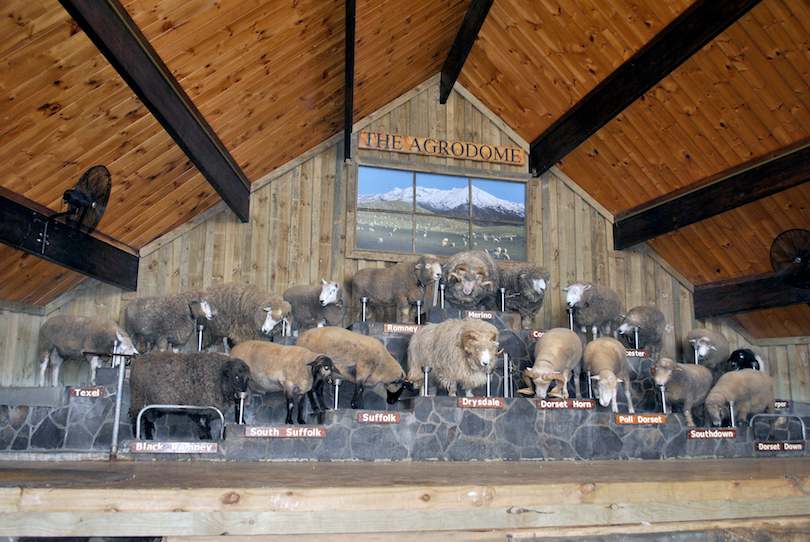 Lying on the outskirts of the city, this wonderful agricultural park offers up a quintessential New Zealand farming experience and makes for a great day out for all the family.
With lots of exhibitions, shows, and farm animals on display, a visit to the Agrodome is just as educational as it is entertaining; its spectacular sheep show is particularly impressive.
As well as teaching you about rural life in the country and the history of farming in New Zealand, you can enjoy demonstrations on how to milk a cow, feed a lamb, or shear a sheep. Besides its farm-related attractions, the Agrodome also has a bungee jump for daredevils to try out. You can also go zorbing or relax on a peaceful boat ride down the river.
8. Lake Rotorua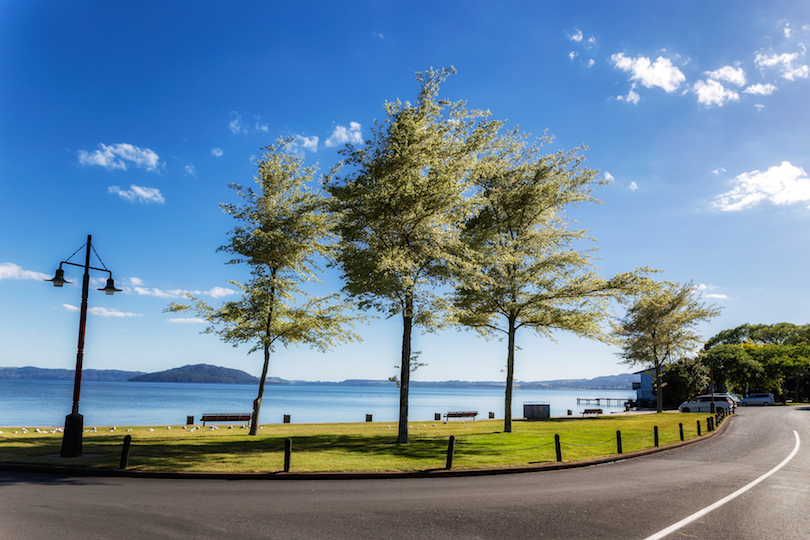 The second-largest lake on North Island, Lake Rotorua is located in the crater of a long-extinct volcano. It is upon its shores that the small city of the same name lies. Very picturesque to gaze upon, its shimmering waters are only ten meters deep in most places; this means that the lake often changes color.
The now flooded Rotorua Caldera offers a plethora of recreational possibilities, and lots of people go fishing, swimming, or kayaking in its waters. Near its center, you can spot the distinctive mound of Mokoia; the small island has long been associated with some of the most famous and well-known Maori legends.
Taking a boat trip on the lake is a great way to explore its waters, and besides basking in the beautiful scenery, you can also go hiking or birdwatching on Mokoia Island itself.
7. Waikite Valley Thermal Pools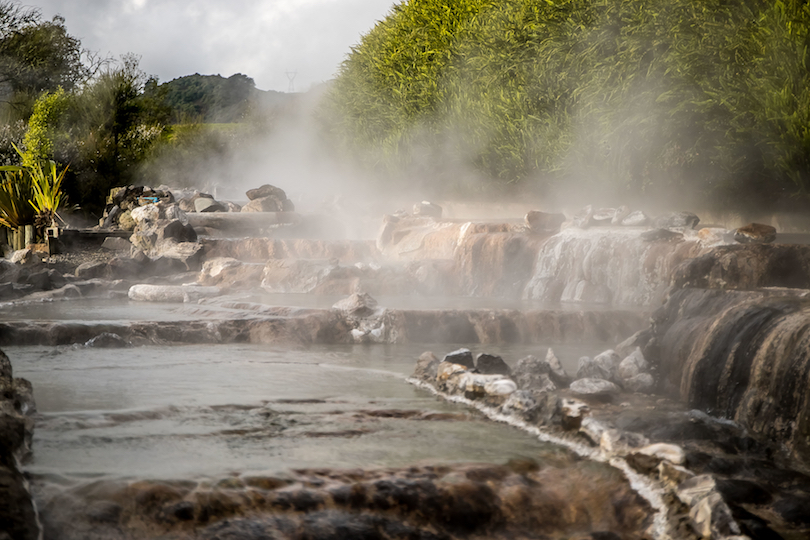 As the Waikite Valley Thermal Pools are located some 30 or so kilometers outside of Rotorua, they provide visitors with a much more tranquil and relaxing experience than the more popular hot springs in town.
Set in a gorgeous valley with lots of plants and nature around them, its numerous pools and thermal baths are the perfect places to unwind. They are usually coated in an atmospheric mist, as steam from the hot springs wafts into the air.
From the thermal pools, a number of delightful trails snake their way through the surrounding countryside. If you want to spend a little more time in Waikite Valley, there is a charming campground where you can spend the night.
6. Rainbow Springs Nature Park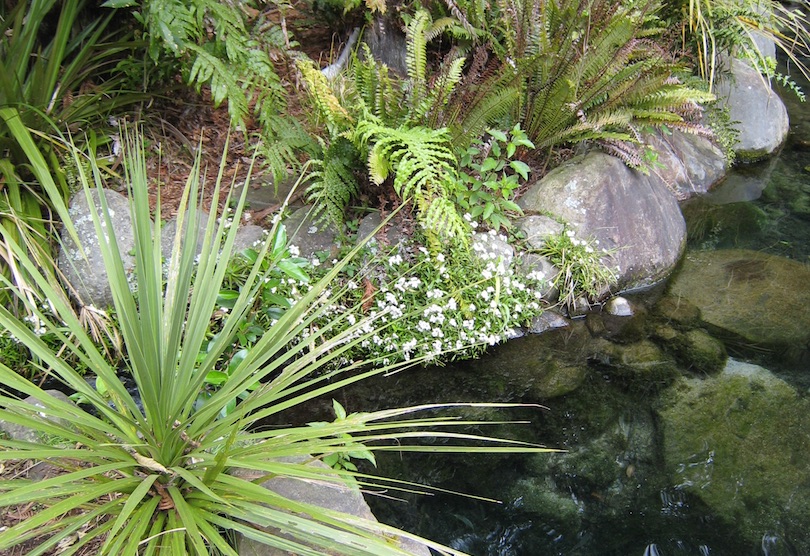 Home to lots of stunning nature, with sparkling waterways hidden away amongst dense rainforest, Rainbow Springs Nature Park is absolutely beautiful to explore and is a fantastic day out for all of the family. You'll find plenty of New Zealand's unique flora and fauna, and the park is one of the leading conservation centers in the world when it comes to the iconic Kiwi bird. Seeing these cute little critters up close is a fantastic experience.
Other highlights include seeing hundreds of trout and eels through its underwater viewer, and going for a wild ride on the 'Big Splash.' With lots of exotic birds and endangered reptiles also on display, Rainbow Springs Nature Park is well worth checking out if you have the chance.
5. Kuirau Park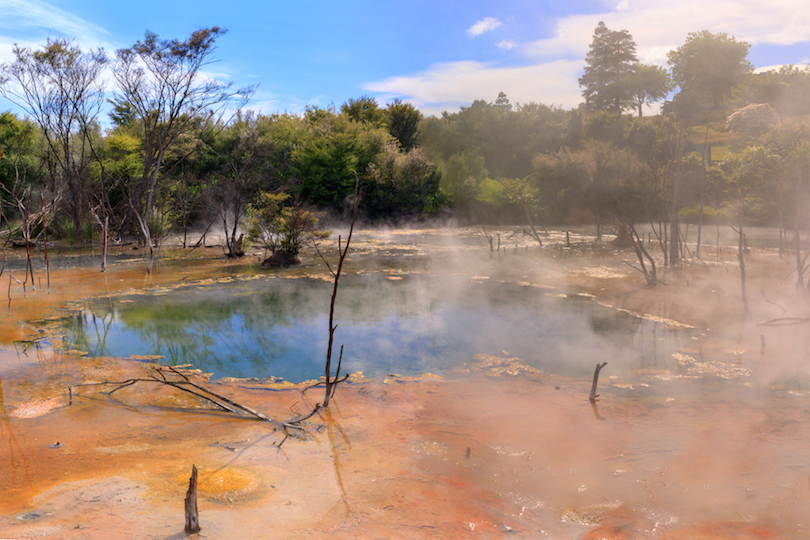 Located just a stone's throw away from the city center, Kuirau Park is a great place to head to if you don't want to pay admission to see spectacular hot springs. While large parts of the public park are made up of landscaped gardens, playgrounds, and playing fields, others are home to bubbling hot springs and gloopy mud pools.
Walking along the wooden walkways that take you right through the center of them is a marvelous thing to do; there are loads of great photos to be had with the steam rising up all around you. In addition to this, there is also an area where you can soak your feet in the hot springs; the warm waters feel divine after a busy couple of days spent exploring Rotorua.
4. Te Puia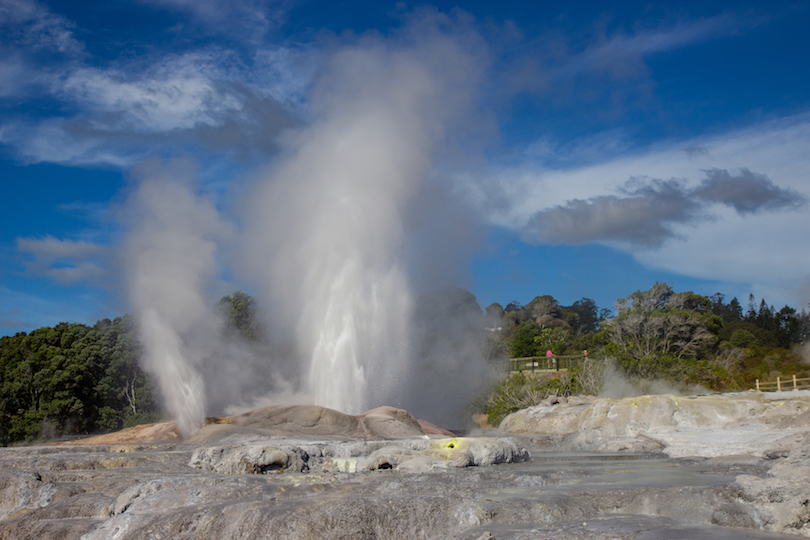 As it is home to both the Maori Arts and Crafts Institute and the majestic Pohutu Geyser, which erupts spectacularly about 20 times a day, Te Puia certainly offers up the perfect combination of nature and culture. While the wild and rugged scenery makes for splendid viewing with its spurting geysers and boiling mud pool, the center's traditional Maori song and dance performances are no less impressive to behold.
With a beautiful recreated village for you to explore, complete with a beautifully carved meeting house, you'll come away with a deeper understanding of the Maori culture and heritage. On top of all this, an enthralling cultural show will introduce you to just some of the Maori's many myths and legends. Before heading off, you can always pick up some local arts and crafts as souvenirs of a memorable day out.
3. Redwoods Whakarewarewa Forest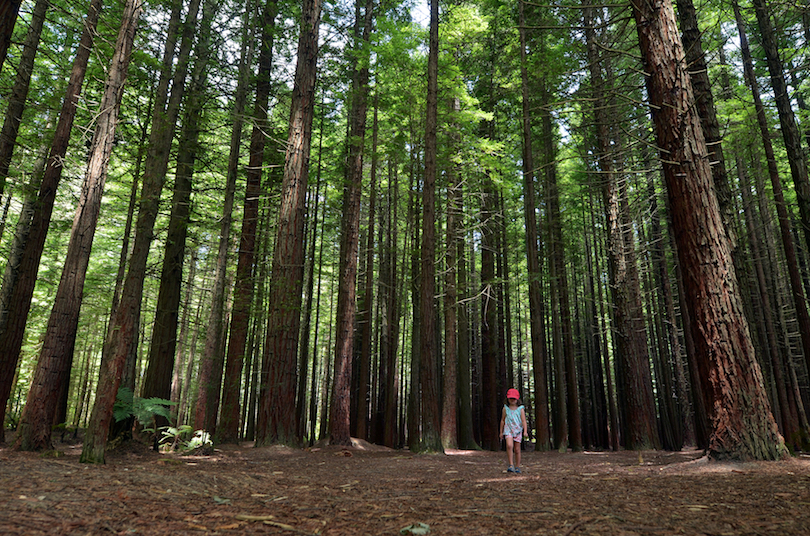 With some of its majestic Californian redwoods towering over 70 meters in height, Whakarewarewa Forest will delight nature lovers and outdoors aficionados alike with all that it has to offer.
Planted at the beginning of the 20th century to see what exotic tree species would take to the New Zealand soil and climate, the redwoods have since flourished, and remarkably grow even faster than back in the States.
Wandering along the forest's many paths is a lovely experience, and it is particularly renowned for its extensive network of mountain biking trails. A unique way to explore Whakarewarewa's many marvels is to take to the Redwoods Treewalk canopy walkway and see the forest floor from high up.
2. Tamaki Maori Village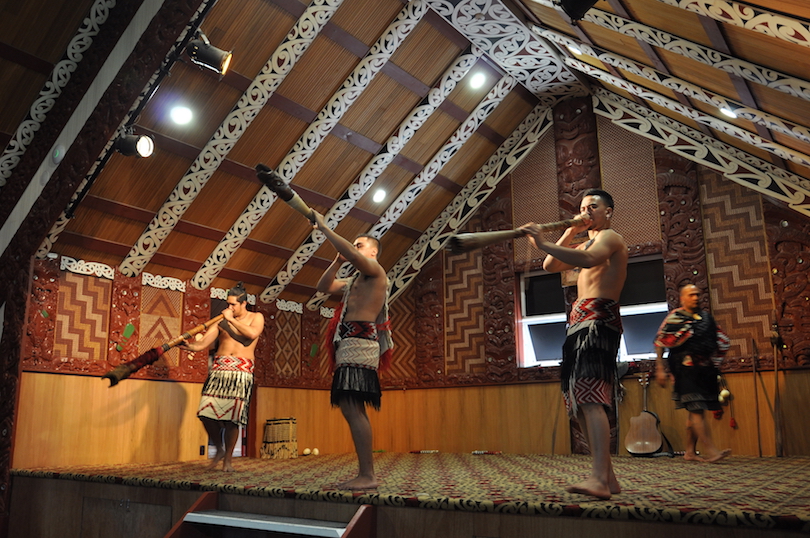 If you're looking to learn all there is to know about the Maori people, then the Tamaki Maori Village is one of the best places to visit. Widely acclaimed, the award-winning attraction takes you on an incredible journey through a recreated village, where different members of the Maori community explain their rich heritage and culture.
As well as learning about some of their myths and legends, you'll also get to watch demonstrations of how to make various arts and crafts, sing traditional songs, and perform age-old dances. Culminating in a cultural show that draws on all these different elements, the Tamaki Maori Village really does put on an unforgettable spectacle.
1. Wai-O-Tapu Thermal Wonderland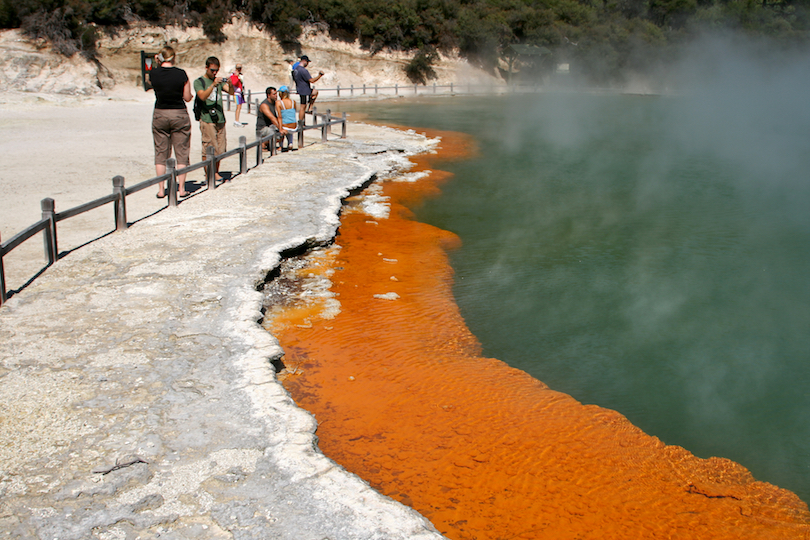 Full of bubbling mud pools, spurting jets of steam, and sulfurous lakes exhibiting some of the most vivid colors imaginable, Wai-O-Tapu Thermal Wonderland is sure to be unlike anywhere you've ever seen before.
Lying just under 30 kilometers to the south of Rotorua, the active geothermal area has long been a popular tourist attraction, and it is easy to see why.
Wandering around its wild, rugged, and wonderfully unique landscapes is simply a joy, and the wide variety of scenery on show is staggering. Besides being home to the largest mud pool in the country, the site also sports the Lady Knox Geyser, which erupts every day up to 20 meters high. Not to be missed out on, Wai-O-Tapu Thermal Wonderland certainly lives up to its name and boasts the most magnificent scenery in the region.