Despite its small size, Panguitch in the southwest of Utah is a popular place to visit due to the spectacular scenery and natural attractions nearby. Its main draw is the beautiful Bryce Canyon National Park, but the tiny town is also located a short drive from Cedar Breaks National Monument and the remarkable Red Canyon.
Initially settled in 1864, the former lumber and ranching community now caters to tourists with plenty of motels and shops found in its downtown district. Here you'll find attractive architecture and well-preserved buildings that showcase its rural roots and pioneer past.
As it lies within the Grand Circle, however – a loop of some of the southwest's most incredible national parks – most people use Panguitch in Utah as a base for exploring all the area's natural wonders.
7. Downtown Panguitch
The historic heart of Panguitch is its delightful downtown, packed with beautiful old brick buildings that highlight Panguitch's pioneer past. As well as exhibiting attractive architecture, these historic houses host local shops and cosy motels.
Centered around its wide Main Street are excellent eateries and restaurants, as well as some splendid small town stores. Here you'll find snacks and souvenirs, interesting antiques, cowboy collectibles, and Native American artworks.
Typically a quiet and quaint place for most of the year, in summer, Downtown Panguitch is often full of tourists using it as a base for the surrounding sights. With fun festivals, such as the Annual Quilt Walk and the Panguitch Valley Balloon Rally taking place, its charming center is well worth checking out if you have the chance.
6. Zion National Park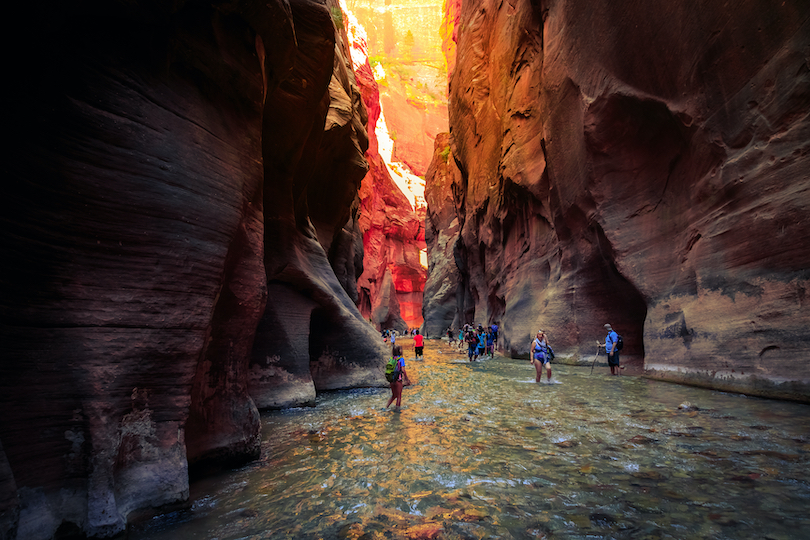 Located an hour and a half's drive to the southwest of Panguitch is one of the area's standout sights: Zion National Park.
Established in 1919 by President Woodrow Wilson, the picturesque park lies at the point where the Colorado Plateau, Great Basin and Mojave Desert regions meet. As such, it boasts delightfully different and dramatic landscapes, with the colorful canyons of both Zion and Kolob counting among its most staggering sights.
Nature lovers and outdoor enthusiasts alike will enjoy exploring here, with hiking, rock climbing, camping and canyoneering being a few of its most popular pastimes.
5. Panguitch Lake
Set just 20 minutes drive to the southwest of town is pretty Panguitch Lake, a very popular recreation and vacation destination. People camp here in the summer months and use it as a base for visiting nearby Bryce Canyon National Park and Cedar Breaks National Monument.
Surrounded by low-lying hills, the lake is lined by cosy campsites and guests can go fishing, boating and kayaking out on its twinkling, tranquil waters. Visitors can also go hiking or horseback riding along its scenic shores or wildlife watching among the Colorado Plateau's ponderosa pines.
4. Cedar Breaks National Monument
Near Panguitch Lake is the astonishing natural amphitheater of Cedar Breaks. Protected since 1933, its colorful, crumbling cliffs can be found near the west end of the Colorado Plateau, plunging 600 meters to the valley floor below.
From its rugged rim, visitors can take in the breathtaking views over its endless craggy confines. Punctuating the park are many sandstone spires and handsome hoodoos. These make for some fantastic photos, thanks to their spellbinding silhouettes.
As well as enjoying the sublime scenery, visitors can also go hiking or camp at one of the park's cosy campgrounds.
3. Dixie National Forest
Sprawled across the southwest of the state is the delightful Dixie National Forest, which straddles the Grand Basin and Colorado River regions. It boasts diverse and dramatic landscapes with colossal canyons and cliffs, vast valleys, plateaus and hundreds of little lakes.
Founded in 1905, its verdant forests cover rolling hills and rearing mountain ranges, cut through by gorges and roaring rivers. The picturesque park encompasses four wilderness areas which offer many outdoor recreation opportunities, including hiking, horseback riding, and camping.
Utah's only national forest also has a rich history to delve into, with petroglyphs, pictographs and pueblo dwellings dotted here and there. Many of its prettiest parts lie just a short drive from the center of Panguitch.
2. Red Canyon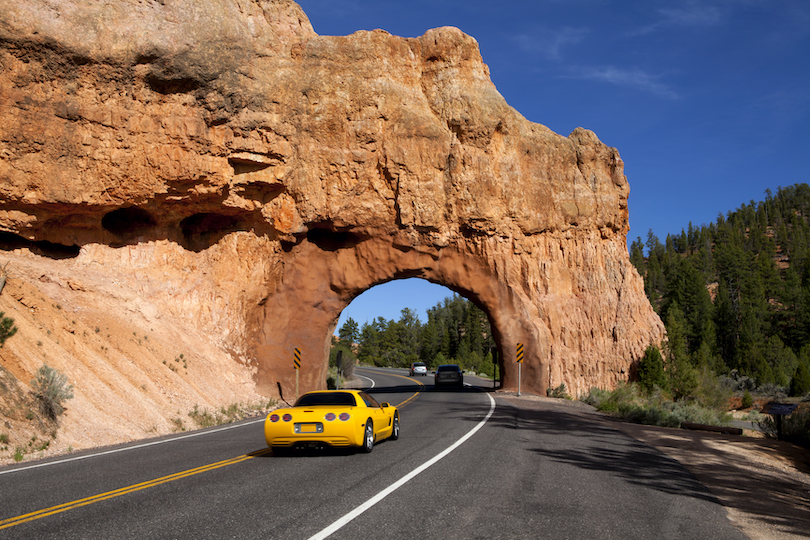 One of Dixie National Forest's most spectacular sights, the remarkable Red Canyon is just 10 minutes' drive to the southeast of Panguitch. So named due to its ruddy red rock formations, the colorful canyon has stunning scenery, as well as countless outdoor activities to enjoy.
As it winds its way along Scenic Byway 12, the canyon is very easy to access. Fantastic photos can be had even from your car window. Stop off to explore trails that take you past towering ponderosa pine, humongous hoodoos, striking sculptures, and soaring sandstone cliffs.
Besides basking in its beauty, visitors can also go mountain biking and horseback riding among its rugged reaches, or even camp overnight to make the most of their visit to the canyon.
1. Bryce Canyon National Park
Boasting some of the most beautiful scenery, not only in Utah but the whole of the States, Bryce Canyon National Park is a treat to visit. Situated half an hour to the southeast of Panguitch, it has incredible eroded amphitheaters to explore, and unbelievable views wherever you look.
President Warren G.Harding first moved to protect its phenomenal features in 1923. Since then, millions of people have come to gaze in awe at its unique sandstone peaks, pinnacles and spires that line the eastern edge of the Paunsaugunt Plateau.
Most visitors come to explore its otherworldly-looking landscapes through hiking and camping. Wildlife such as elk and black bears can also be spied in its more remote realms. If you prefer to explore by car, there's a scenic drive with viewpoints to check out. With so much to offer, Bryce Canyon National Park is certainly not to be missed when in Panguitch.
Map of Things to Do in Panguitch