With an extraordinary number of national parks and monuments dotted about the scenic southwest state, Utah is an outdoor lover's dream. As such, most of its main tourist attractions relate to its wealth of wonderful wilderness. This includes everything from ravishing red rock canyons and mighty mesas to dusty desert, roaring rivers, and stunning sandstone sculptures.
Due to all the diverse and delightful scenery, it has loads of outstanding outdoor activities for visitors to try out. While hiking, horseback riding, and rock climbing are all popular things to do in Utah, some superb skiing and snowboarding can be enjoyed in the winter months. With much, much more to see and explore than just the Mighty Five, Utah is an adventure playground like no other.
In this post, we'll cover:
21. Cedar Breaks National Monument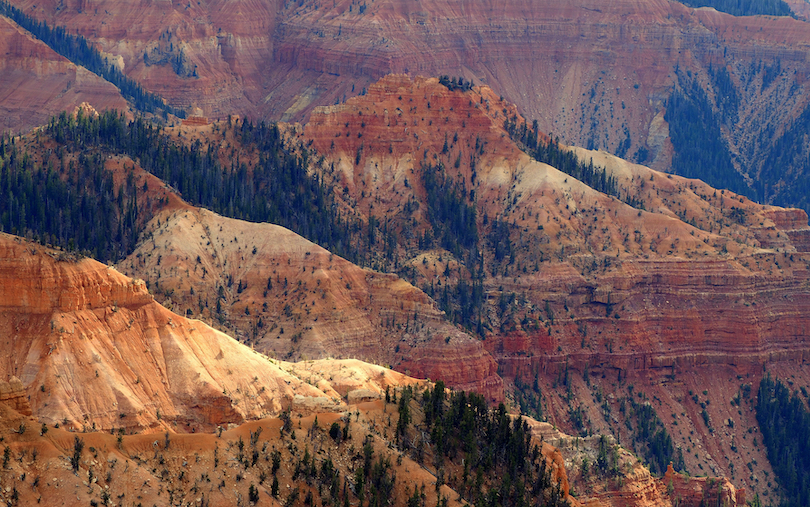 Home to lots of haunting hoodoos and spindly sandstone spires, Cedar Breaks National Monument certainly makes for a spectacular sight. An incredible natural amphitheater, it lies near the west end of the crumbling Colorado Plateau, just a 45-minute drive from Cedar City.
Founded way back in 1933 by President Franklin D. Roosevelt, the park protects lots of absolutely sensational scenery and landscapes. From atop of its rugged red rim, visitors can enjoy breathtaking views with lots of subtle shades and spellbinding sandstone sculptures. As well as hiking around its craggy confines, there are also a couple of cosy campsites for guests to stay at.
20. Dinosaur National Monument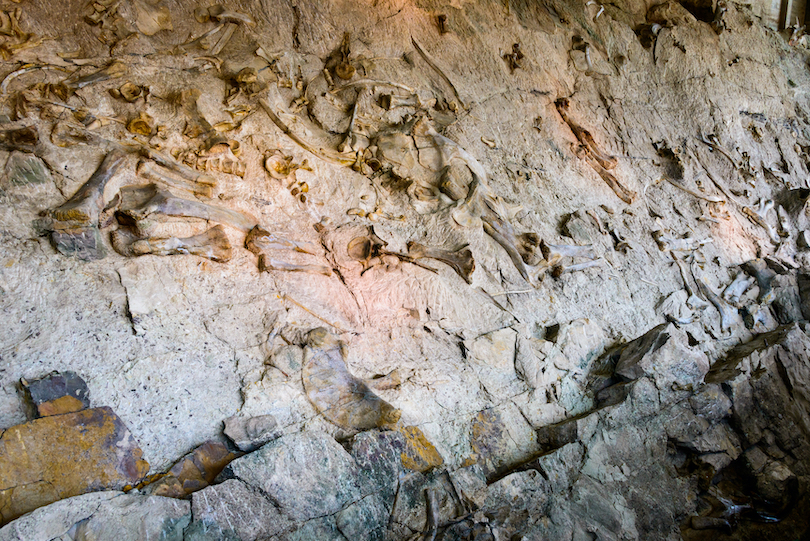 Set in a very scenic, secluded and sun-scorched spot, the delightful Dinosaur National Monument straddles both Utah and Colorado. Established in 1915 to preserve all of its fascinating fossils, it has lots of colorful canyons to explore with over 800 paleontological sites dotted here and there.
While visitors can go hiking, camping, and even rafting amidst its remote reaches, the undoubted highlight is its captivating Quarry Hall. Here you'll find lots of interesting and informative exhibits on the history, nature, and of course, dinosaurs of the region. The 'Wall of Bones' is a must-see sight due to its hundreds upon hundreds of fabulous fossils.
19. Snowbasin Ski Resort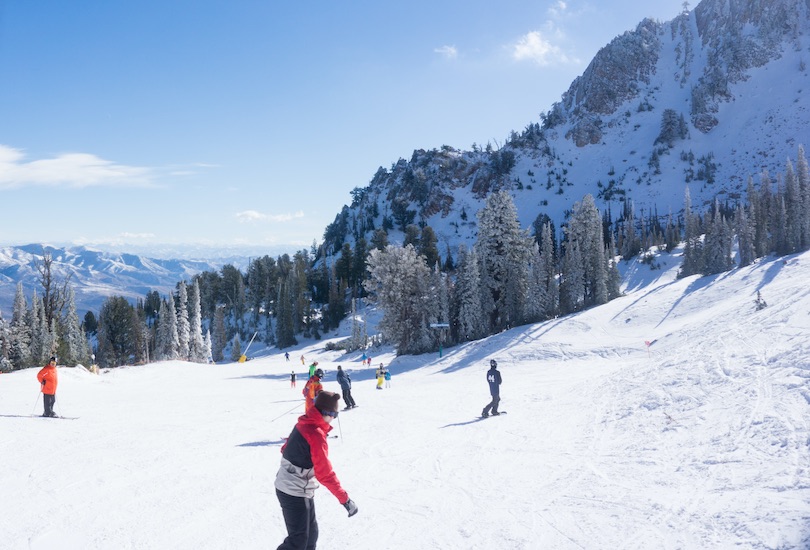 Nestled away to the northeast of Salt Lake City are the splendid snow-coated slopes of Snowbasin, one of the oldest ski resorts in the whole of the States. Since opening back in 1939, it has grown and grown with now over 100 runs and three terrain parks on offer.
The resort has a vertical drop of 902 meters for skiers and snowboarders to shoot down, with its prominent peaks being serviced by lots of chairlifts and gondolas. While most people visit during winter, there are also great hiking and mountain biking trails to enjoy in summer, with lovely lodges and cosy cabins to stay in at any time of year.
18. Coral Pink Sand Dunes State Park
A phenomenal place to visit, Coral Pink Sand Dunes State Park lies tucked away in the southwest of Utah and boasts lots of mesmerizing and magical sandscapes. Formed over the course of thousands of years out of radiant red sandstone cliffs, its sprawling sands have a pretty pink hue, and lots of fantastic photos can be had of the startling sight.
Established way back in 1963 to protect the dramatic dunes and desert scenery, it now also has lots of excellent outdoor activities on offer. Besides basking in its beauty and going hiking amidst the shifting sands, visitors can enjoy off-roading its picturesque paths in ATVs.
17. Capitol Reef National Park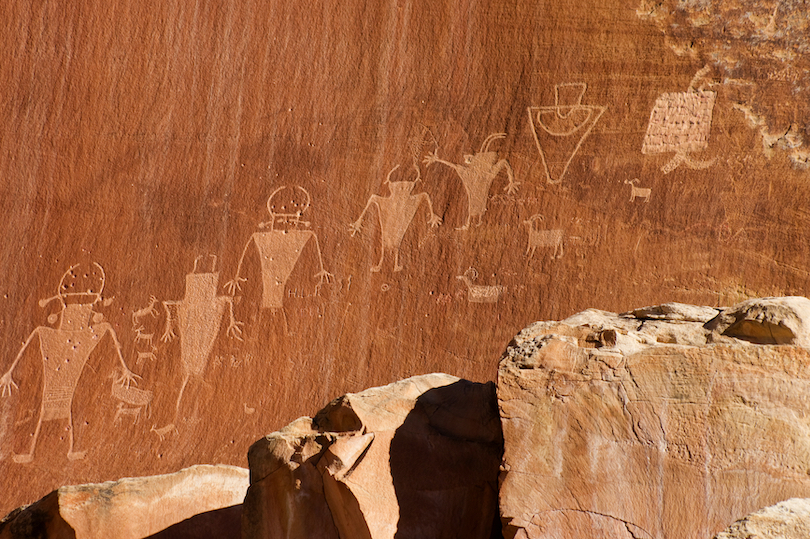 Situated in the south center of the state, in Utah's colorful and captivating Canyon Country, are the lovely landscapes of Capitol Reef National Park. Home to lots of beautiful buttes and remarkable rock formations, it is a treat to explore with stunning scenery and views wherever you look.
Dominating and defining the park is the rugged ridge of Waterpocket Fold. Lined by lots of cliffs and canyons with arches, domes and natural bridges are also spied here and there. While its wild reaches beg to be explored, Capitol Reef has a historic Mormon settlement where you can learn all about how they, and local Native Americans, managed to survive in the arid area.
16. Dead Horse Point State Park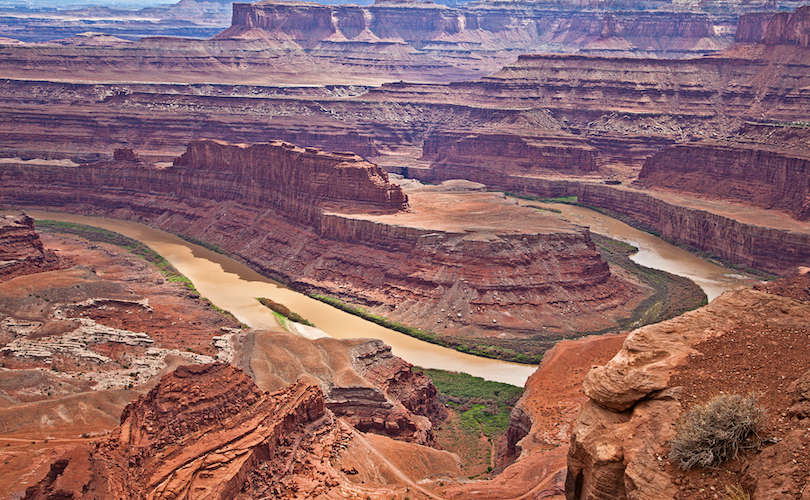 As it offers up such commanding views over Canyonlands National Park, Dead Horse Point State Park is a very popular place to visit. From its precipitous viewpoint, which towers more than 600 metres above the Colorado River below, visitors can gaze out over countless canyons stretching away endlessly over the horizon.
While most people come for its unparalleled panoramas, the small state park also has some terrific trails for you to hike and bike, with many taking you along its rugged rim. Located around 45-minutes' drive from Moab, Dead Horse Point is well worth visiting due to all of its scenic splendor.
15. Valley of the Gods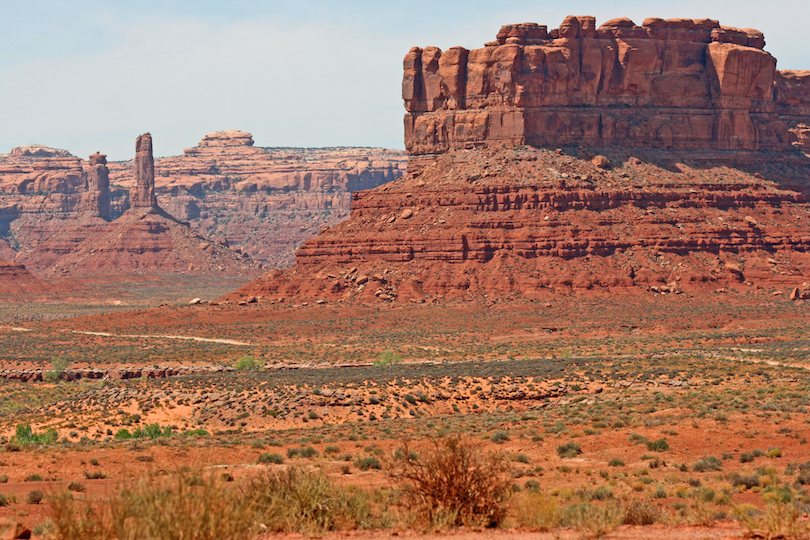 As the Valley of the Gods is home to lots of rearing rock formations and massive mesas, it should come as no surprise to learn that locals often call it 'mini-Monument Valley'. Its grand and gorgeous landscapes can be found in the southwest of the state, just outside the community of Mexican Hat.
Driving along the vast valley's 27 kilometer-long dusty trail is an awe-inspiring experience. Huge sandstone towers and mighty mushroom rocks loom above you. A wonderful way to enjoy the jaw-dropping scenery is to camp overnight and go hiking and mountain biking in its remote reaches.
14. Skiing in Park City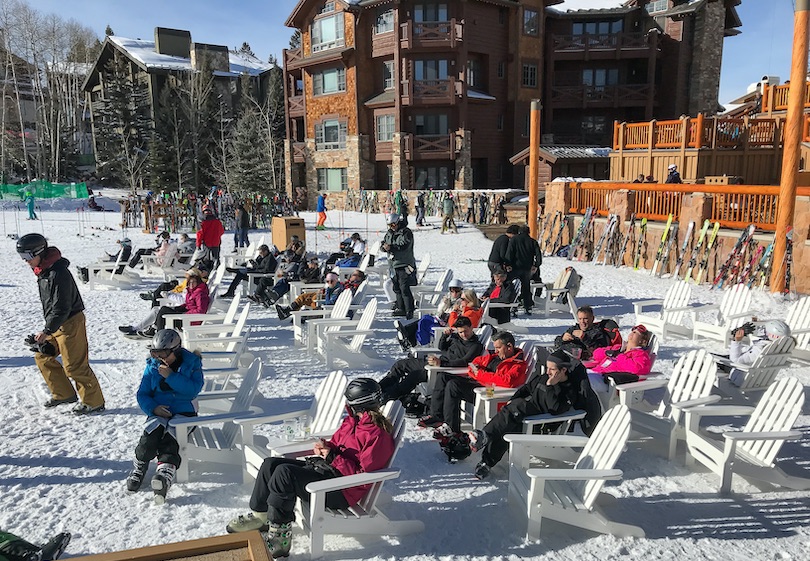 The biggest and best place to go skiing and snowboarding in the States, Park City boasts not one, not two but three world-class mountain resorts. Lying just to the east of Salt Lake City, it welcomes millions of visitors each year to its sparkling slopes.
Its magnificent mountains have a remarkable number of runs for guests to ski or snowboard down. Park City Mountain alone has over 330 tantalizing trails. Both the Deer Valley and Canyons resorts also have lots of fantastic facilities and extensive amenities with a wealth of other winter sports for visitors to try too. Having hosted the 2002 Winter Olympics, Park City is the place to go if you want to enjoy some snow.
13. Snow Canyon State Park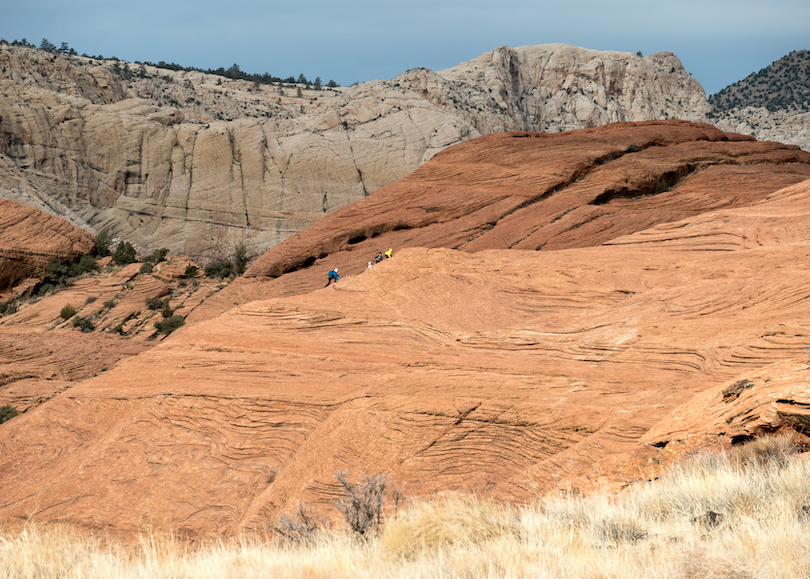 Set in the southwest of the state in a very scenic and secluded spot is the spectacular Snow Canyon State Park. Sure to delight nature lovers and outdoor enthusiasts alike, it has epic hiking, mountain biking and horseback riding to enjoy among its striking scenery.
Home to everything, from sand dunes and slot canyons to cinder cones and lava tubes, its diverse landscapes have been protected as part of a state park ever since 1958. Due to all of its picturesque nature, it has appeared in numerous films over the years such as Butch Cassidy and the Sundance Kid and Bullet for a Badman.
12. Antelope Island State Park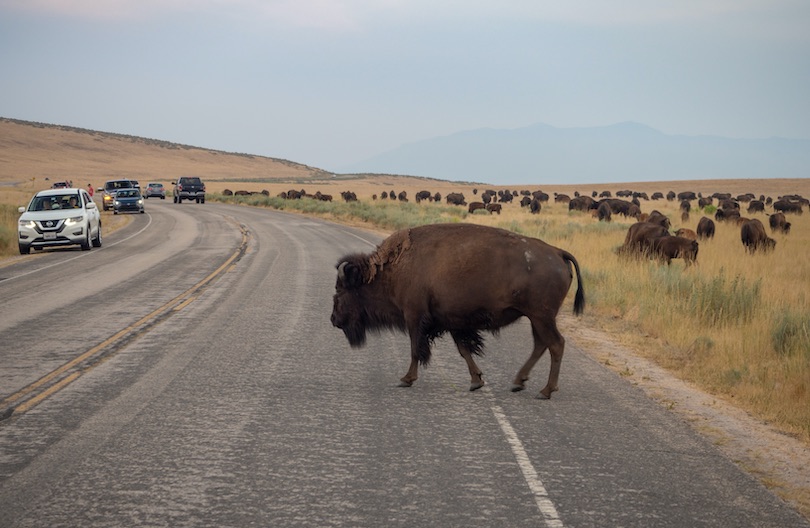 Protected and preserved as a state park since 1969, Antelope Island is the largest of the Great Salt Lake's 10 isles. Set in the south of its salty waters, it remarkably turns into a peninsula at low tide when its crusty causeway is connected to the mainland.
Despite its name, it is most known for its huge herd of American bison which graze around its gorgeous grasslands. As many brilliant birds and bighorn sheep also reside on the island, it is a great place to go wildlife watching. In addition to this, it also has wonderful white sandy beaches for visitors to enjoy which have fine views out over the lake.
11. Canyonlands National Park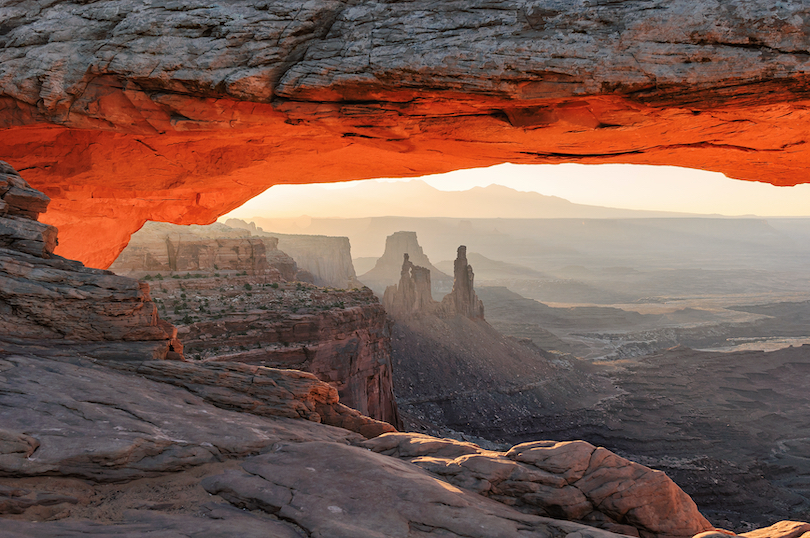 An incredible place, Canyonlands National Park covers a humongous area and has four stupendous sections for you to explore. Formed over the aeons by the wind and rain, its magnificent mesas and arresting array of arches are a must-see sight. Horseshoe Canyon is one of its most famous tourist attractions.
While both the Needles and Mazes parts of the park have lots of dramatic landscapes for you to hike and mountain bike through, Island in the Sky boasts some breathtaking views over the captivating canyons. With lots of phenomenal pictographs and petroglyphs also to be found here and there, it is no wonder at all that Canyonland's spellbinding scenery is included as one of Utah's Mighty Five.
10. Hovenweep National Monument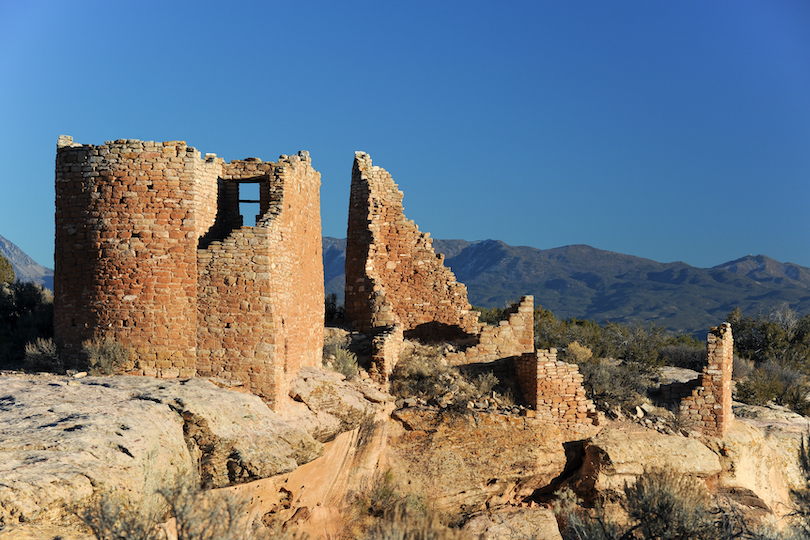 Straddling the border between Utah and Colorado is the Hovenweep National Monument which is home to the remarkable ruins of six astounding Ancestral Puebloan villages. Built in the thirteenth century, their beautiful old abandoned buildings make for a simply stunning sight amidst the arid and desolate confines of the Colorado Plateau.
While they take some getting to, the prehistoric villages are well worth visiting for their crumbling castles and tottering towers. The scenery itself is just as alluring and attractive, as deep canyons run through its rugged and remote reaches with massive mesas also dotted here and there.
9. Bonneville Salt Flats
Stretching seemingly endlessly into the distance are the bleak and barren, yet beautiful, Bonneville Salt Flats. Nestled away in the northwest of Utah, its delightful desert landscapes make for some fabulous photos due to the shimmering salt surface of its shallow waters which so magically reflect the brilliantly blue skies above.
Due to their sheer size, scale and splendor, lots of films have been shot at the salt flats while their never-ending nothingness makes them perfect for exhilarating land speed events. The largest such landscape in the state, visiting the remains of what once a prehistoric lake certainly makes for a unique and unforgettable experience.
8. Moab Jeep Safari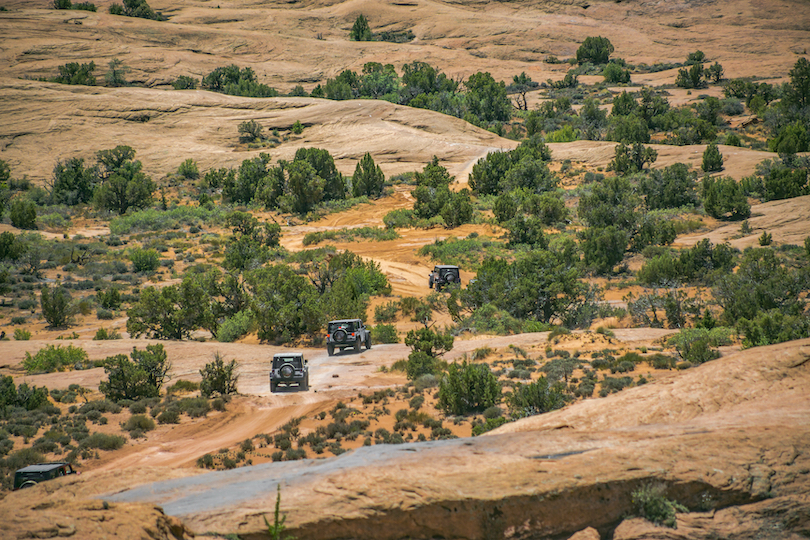 Since it was started in 1967, thousands upon thousands of daring drivers descend upon Moab every Easter for the Jeep Safari. Over nine days, hardy adventurers and adrenaline-seekers explore the area by navigating lots of tantalizing tough trails and terrain in jeeps or 4X4s.
As the routes often take you along rugged ridges, past dizzying drops and over loose rubble, they certainly make for a challenge with the toughest being Hell's Revenge and the Golden Spike. With 40 trails to choose from of varying difficulty levels, the Moab Jeep Safari is a wonderful way to enjoy and experience Utah's diverse, dramatic and delightful scenery.
7. Bryce Canyon National Park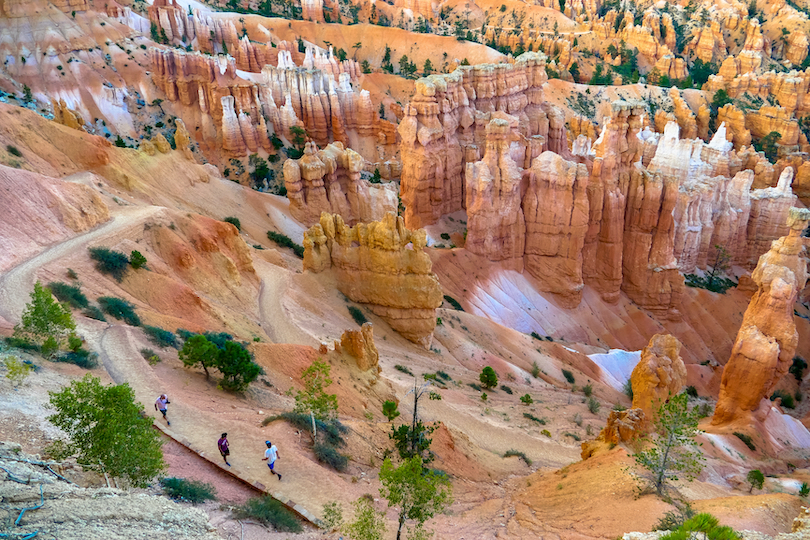 One of the most popular and picturesque places in Utah, the beautiful Bryce Canyon National Park can be found tucked away in the southwest of the state. Home to some of the most spectacular scenery imaginable, it boasts lots of epic eroded amphitheaters with countless crumbling canyons and sensational sandstone spires also on show.
Founded back in 1928 to protect and preserve the phenomenal peaks and pinnacles that line the precipitous Paunsaugunt Plateau, its lovely landscapes are a treat to explore. While the shapes and shades of its hoodoos are certainly its standout sight, the park is also home to lots of wildlife with elk and black bears to be spotted.
6. Houseboating on Lake Powell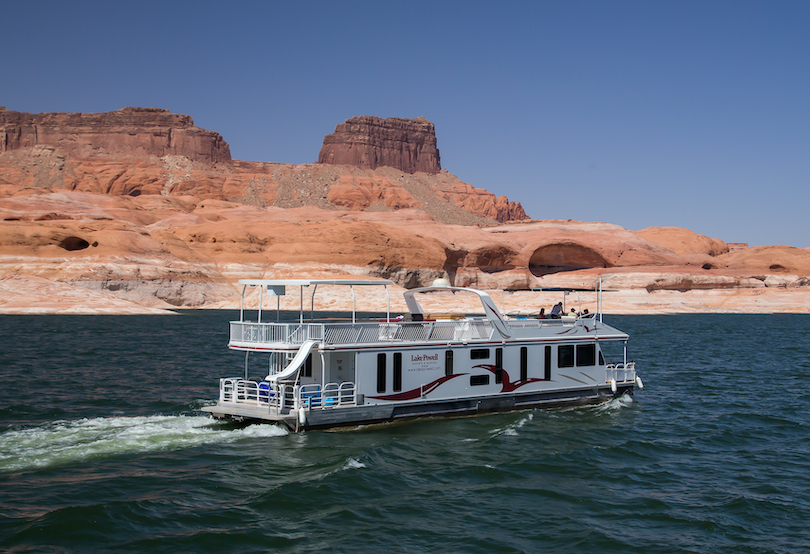 Straddling the border between Utah and Arizona is the massive man-made reservoir and major holiday destination that is Lake Powell. Standing out delightfully against the radiant red rocks and desolate desert around it, its bright blue waters lie at the heart of the glorious Glen Canyon National Recreation Area.
Due to its superb scenery, and over 3,000 kilometers of serene and sun-scorched shoreline, many people go houseboating around the large lake to see as much of it as possible. As well as powering around Powell in comfy and cosy houseboats, visitors can enjoy a wealth of watersports with kayaking, fishing and jet-skiing being particularly popular.
5. Goblin Valley State Park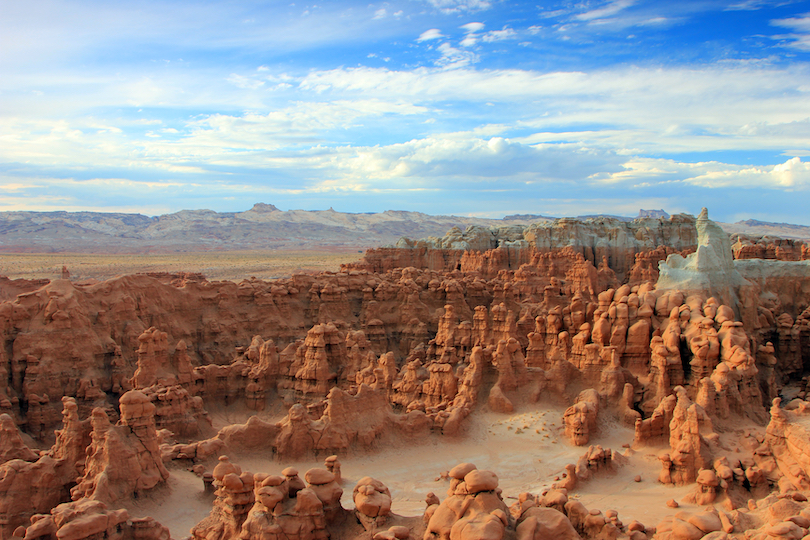 Formed over millions of years are the fantastical formations and surreal scenery of Goblin Valley State Park. Home to one of the highest concentrations of hoodoos on Earth, its fetching features makes for some fabulous photos with lots of epic canyoneering and camping to be enjoyed within its confines.
Referred to locally as 'goblins', its huge hoodoos tower up to three meters and are surrounded by the craggy and colorful cliffs of the vast valley. In addition to these spellbinding sandstone structures, there are also lots of prehistoric pictograph and petroglyph panels to discover which were created by various Native American cultures such as the Fremont, Paiute and Ute.
4. Temple Square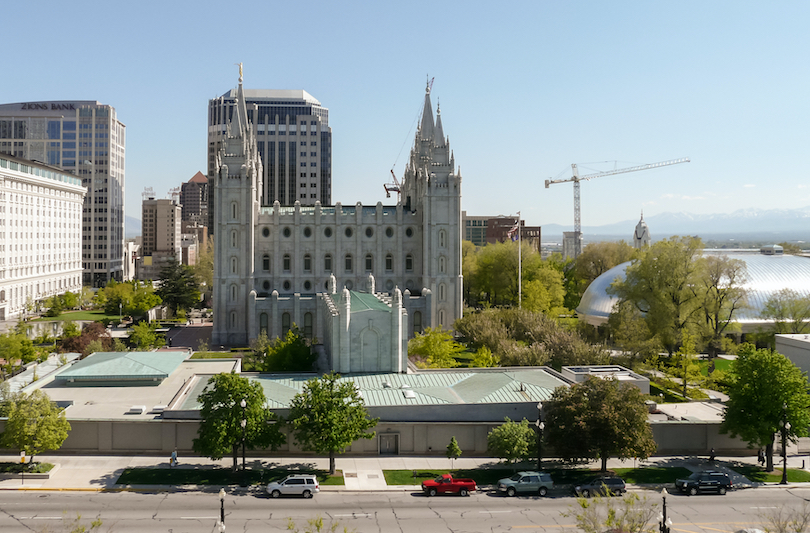 Sprawling over a huge section of the center of Salt Lake City is the terrific Temple Square which is the headquarters of the Church of Jesus Christ of Latter-day Saints. Since having been founded in 1853, the massive Mormon church complex has grown and grown and is now remarkably the most popular tourist destination in the whole of Utah.
Within its walls, visitors can find a tremendous temple and tabernacle as well as lots of marvelous monuments and a museum on the Mormons and their mission. On top of this, there are also a couple of historic buildings and libraries to check out with lots of attractive architecture being on display. At its two visitor centers guests will find interesting and informative exhibitions on the Mormon faith with free tours taking you around the complex.
3. Monument Valley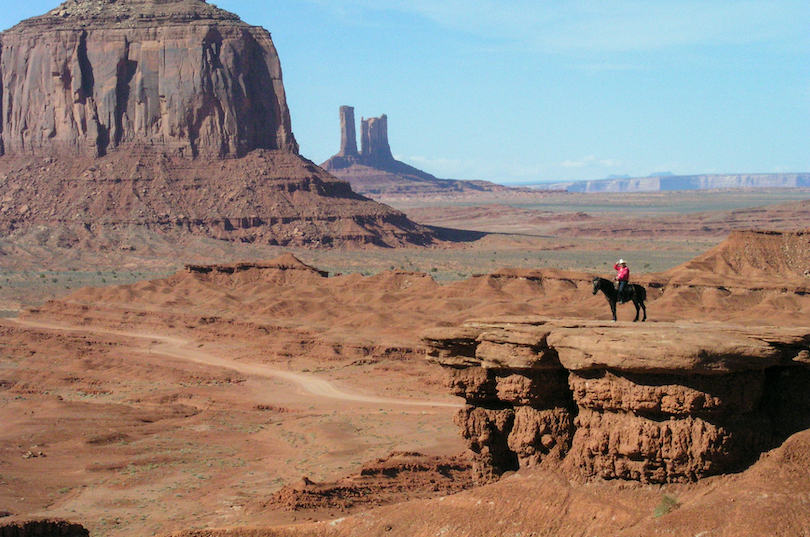 One of the States' most famous symbols and sights, the majestic Monument Valley is renowned and recognized all over the world. Located within the Navajo Nation Reservation, its massive must-see monoliths can be found in the southeast of the state, straddling the border with Arizona.
Rising dramatically above the dry and dusty desert, its stunning sandstone buttes are simply jaw-dropping to gaze upon with the tallest towering 300 meters above the flat and featureless Colorado Plateau. Driving through the 'Valley Between the Rocks' really is an awe-inspiring experience as the striking scenery and breathtaking buttes conjure up iconic images of the old American West.
2. Arches National Park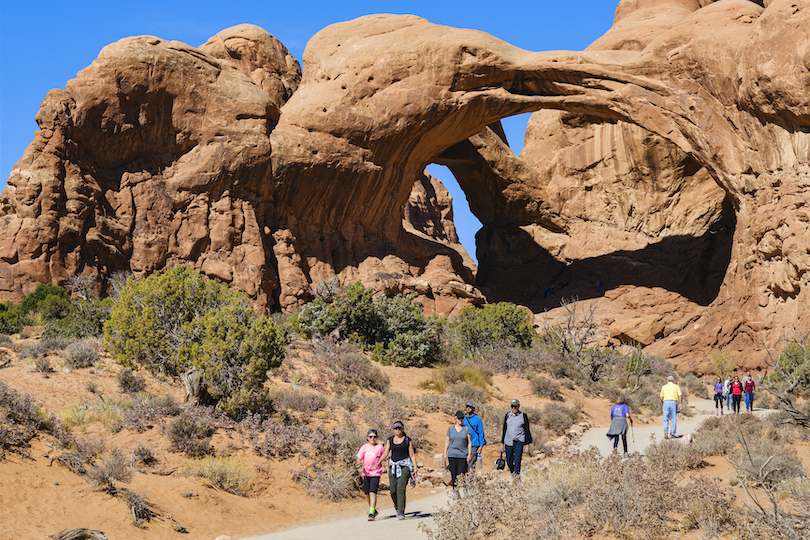 Set just on the outskirts of Moab is the astounding and utterly unforgettable Arches National Park which is home to some of Utah and the States' most spectacular scenery. Encompassed within its captivating confines are the most natural arches on the planet, with more than 2,000 of the fantastic formations for visitors to hike, mountain bike or rock climb around.
Formed over endless eons by erosion and the elements, its arresting array of arches have been protected and preserved as part of a park since 1929. Among the most famous of them are the large Landscape Arch and delightful Double Arch, with the dainty Delicate Arch being the symbol of the state. In addition to all this, the park also has some slender sandstone canyons and pretty and picturesque petrified dunes to explore.
1. Zion National Park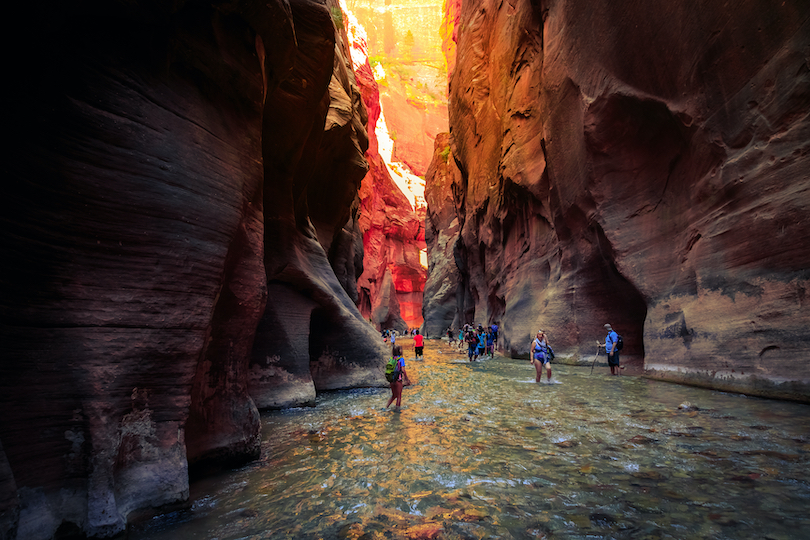 Home to everything, from prominent peaks and precipitous plateaus to wondrous waterfalls and colossal cliffs and canyons, Zion National Park is a place like no other. Set in the southwest of the state, it boasts some simply staggering scenery with incredible landscapes, nature and views wherever you look.
Due to all of its natural wonders such as the colorful and cavernous Zion and Kolob canyons, hiking or horseback riding along its terrific trails is a treat. With desolate desert to be found alongside flower-filled meadows and the wild Virgin River, it has an almost endless array of diverse and delightful sights. With epic canyoneering, camping and rock climbing also to be enjoyed within its confines, Zion National Park is without a doubt the crown jewel of Utah's Mighty Five.
Map of Things to do in Utah