Set almost slap bang in the center of the state, Ohio's capital Columbus has a wealth of awesome tourist attractions. As well as a thriving arts and culture scene, it boasts interesting museums and historic sites, while its state-of-the-art stadiums host incredible sporting spectacles.
Named after Italian explorer Christopher Columbus, the cosmopolitan city lies at the spot where the Scioto and Olentangy rivers meet, with parks, trails and green spaces all along their banks. An important center of business and technology, it also contains one of the largest university campuses in the States with a sizeable student population lending the city a very dynamic feel.
With a delightfully diverse range of things to do in Columbus from art and architecture to animal exhibits and outdoor activities, Ohio's largest city certainly has something for everyone to enjoy.
15. Short North Arts District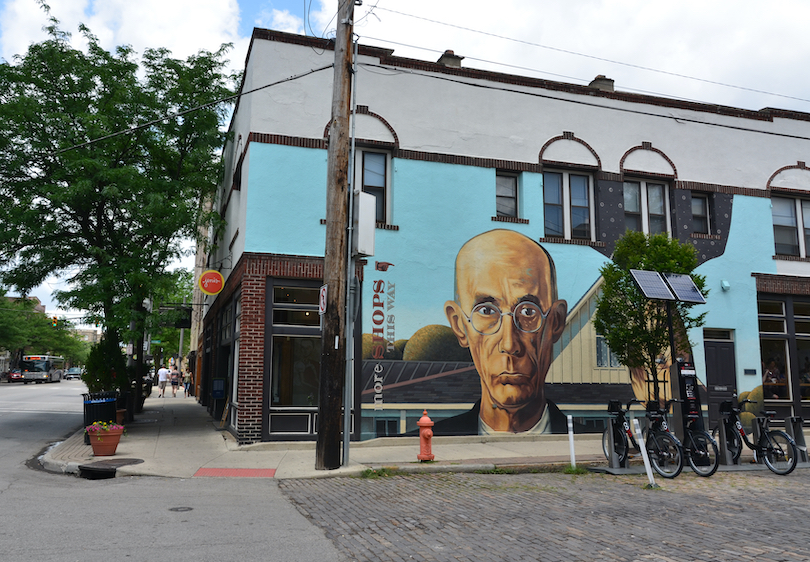 Often described as 'colorful', 'offbeat' and 'trendy', the vibrant Short North Arts District is packed with amazing art galleries, quirky specialty shops and hip nightlife spots. In total, over 300 bustling businesses line its happening High Street, which has a lively, youthful vibe thanks to the university campus next door.
Just a short stroll from downtown, it is certainly one of the most interesting neighborhoods to explore in the city. It has intriguing public artworks and attractive old buildings, along with plenty of pubs, cafes and nightclubs. Short North is great to visit at any time of day and is instantly recognizable due to the seventeen steel arches lit up above its streets.
14. Ohio Statehouse
One of the most important and impressive buildings in the city, Ohio Statehouse lies right in the center surrounded by gorgeous grounds and gardens. The seat of the state's government, it exhibits exquisite Greek Revival-style architecture with a charming cupola perched atop of its grand porch and colonnade.
A National Historical Landmark built between 1839 and 1861, it is one of the oldest working statehouses in the country. While its exterior looks a treat, the state capitol building's interior is just as arresting.
Thanks to informative and engaging tours, guests can see its elegant halls, chambers and rotunda as well as stop by its brilliant museum.
13. Huntington Park
If you're after a thrilling sporting spectacle, then why not go and watch the Columbus Clippers play a baseball game at Huntington Park? An atmospheric, intimate venue, the small ballpark is located in the Arena District of downtown within easy access of many of Columbus's other main attractions.
Built in 2009, it has hosted the Triple-A affiliates of the Cleveland Indians with their games being action-packed and exciting affairs. While its seats and suites offer up perfect views over the immaculately manicured field, visitors can also check out the stadium's wonderful rooftop bar and the Clipper's hall of fame.
12. Nationwide Arena
Next door to Huntington Park is another of the city's many sporting venues: the state-of-the-art Nationwide Arena. Besides being home to the National Hockey League's Columbus Blue Jackets, the multi-purpose arena hosts countless other sports events, concerts and conferences during the year.
Built out of brick with sweeping concourses set around it, the stadium has routinely been praised for its outstanding amenities, aesthetic and spectator experience since opening in 2000. Here you can watch the Blue Jackets shoot the puck at breakneck speeds, attend a WWE event or basketball game.
11. Otherworld
Joe Murphy / Flickr
Almost certain to be unlike anything you've ever experienced before, the Otherworld immersive art installation is on the eastern outskirts of Columbus. Made up of amazing mixed reality playgrounds and surreal large-scale scenes, its striking sets are sure to excite and delight visitors of all ages.
Opened in 2019, the innovative and ever-changing exhibit fuses together numerous art forms that encompass not only animation and digital fabrication but sculpting, metalworking and special effects too. Wander around the massive indoor installation at your leisure, interacting and engaging with all its fantastical features and interesting artworks as you go.
10. Ohio Theater
Offering a slightly more standard artistic experience than Otherworld is the Ohio Theater in the center of town. Located along one side of Capitol Square, the former movie palace now instead acts as a performing arts center, putting on all kinds of Broadway shows, ballets and symphony orchestra performances.
One of the nation's finest surviving grand theaters, it was completed in 1928 and showcases sublime Spanish Baroque architecture. Lovingly restored to its former glory in the seventies, its elegant entrance hall and auditorium now make for a memorable venue at which to watch a live concert, classical musical recital or opera.
9. Columbus Museum of Art
A few blocks east of the theater and square you can find yet another of the city's many artistic institutions: the Columbus Museum of Art. Very highly regarded, it contains a large collection of paintings, photos and sculptures. Highlights include masterpieces by Cezanne and Picasso among others.
Impressively established in 1878, it occupies a splendid Second Renaissance Revival-style building with a marvelous modern wing having been added in 2015. Inside its airy galleries are fabulous pieces by both American and European artists with Impressionist and Expressionist works displayed alongside Modernist paintings and sculptures.
8. Ohio Stadium
If you only have time to take in one sporting event while in town, make sure to see the Ohio State Buckeyes football team play in Ohio Stadium. Nicknamed 'the Horseshoe' due to its distinctive design, it is one of the most renowned stadiums in the world with its raucous fanbase making every match an unforgettable and exhilarating event.
First opened in 1922, the humongous arena has been expanded and renovated numerous times over the decades, and boasts the highest capacity in the state. While tickets to see the Buckeyes play are always hard to get, reveling in the atmosphere and taking part in the pre- and post-game parties is just as fun.
In addition, the stadium is also a popular concert venue with big name acts like Pink Floyd, Beyonce and Taylor Swift all attracting huge crowds to the university campus.
7. Scioto Mile
Offering welcome respite from the bustling city, is the Scioto Mile; an extensive network of parks, trails and gorgeous green spaces. Lining both banks of the Scioto River, which twists its way through downtown, the lush nature spots and recreation sites make for the perfect place to relax, unwind and play in Columbus.
Very much an urban oasis, the riverfront parks have plenty of paths and greenways to walk, run or cycle, along with epic views over the river and skyline, and an interactive fountain. On top of rock climbing, kayaking and birdwatching, community events and festivals are held along the river each year.
6. Columbus Zoo and Aquarium
A fun, family-friendly place to visit, the excellent Columbus Zoo and Aquarium is home to a staggering array of animals, reptiles, birds and sea life from all over the world. Located on the northern outskirts of town, its spacious enclosures, animal exhibits and aquariums are a treat to explore. Exciting rides and a water park are also on offer.
Often ranked among the biggest and best zoos in the States, it now contains 7,000 animals which represent more than 800 different species. While wandering around its eight themed areas, guests can expect to see elephants, gorillas, komodo dragons, orangutans and tigers, along with manatees and polar bears.
5. North Market Farmers Market
GPA / Flickr
Packed with endless stands and stalls, the historic North Market Farmers Market is a colorful, chaotic place to explore right in the city center. Since 1876, farmers and vendors have sold fresh fruit and vegetables, baked goods and artisanal products here.
While the North Market food hall and all its shops are open throughout the year, the popular farmers market only takes place on Saturday mornings between June and October. As well as buying locally produced cheeses and home-made pastries, visitors can stop off for a hot coffee or bite to eat.
4. Franklin Park Conservatory and Botanical Gardens
Sprawled across a vast swathe of eastern Columbus are the fantastic flower beds, greenhouses and grounds of Franklin Park Conservatory and Botanical Gardens. A delightful spot to spend some time, it is home to over 400 species of plants, flowers, trees and shrubs from all around the globe.
First opened to the public in 1895, its grand conservatory now contains both native and exotic flora with desert, tropical and island biomes all represented.
While its lush lawns and picturesque paths are pleasant to stroll around, its elegant Palm House with Victorian-style architecture and its large collection of Dale Chihuly glassworks, count among the garden's main highlights.
3. German Village
Eric Fredericks / Flickr
Another of the city's delightfully distinct neighborhoods that is well worth exploring is the German Village just south of the center. Named after the massive population of immigrants who moved to Columbus in the early-to-mid nineteenth century, the vibrant area still retains its Germanic roots with architectural, cultural and culinary influences all on show.
As you stroll around, you'll come across historic churches and old red brick buildings with much of life centered around the busy S. Third Street. Lined by German restaurants and shops selling sausages, schnitzel and confectionery, the neighborhood has a charming European look and feel and its raucous Oktoberfest draws thousands of visitors each year.
2. Center of Science and Industry (COSI)
Although it is geared primarily towards children, adults too are sure to enjoy the hundreds of interactive exhibits in the Center of Science and Industry. Set across the Scioto River, the center has instilled and inspired an interest in science and technology in countless generations since opening in 1964.
You'll discover fascinating exhibits on everything from dinosaurs and space exploration to energy and inventions, it has exciting hands-on experiments and activities for young ones to try out.
In addition to watching thrilling live science shows and demonstrations, visitors can stop by its 3D theater and planetarium that both put on educational films and documentaries.
1. Easton Town Center
Dr Bob Hall / Flickr
More than just a mall, the phenomenally popular Easton Town Center is designed to look like an American town or city from the early-to-mid twentieth century. Lining its streets are more than 300 shops and restaurants with the enormous outdoor shopping complex attracting over thirty million visitors each year.
Located just fifteen minutes' drive northeast of the center, the expansive site has all kinds of stores to peruse with Nordstrum and Macy's anchoring it. Aside from shopping for fashion items, beauty products and accessories, you can stop for a drink or meal at any of its cozy coffee shops and chain restaurants, while its massive movie theater shows all the latest big releases.
Map of Things to Do in Columbus, Ohio