A fascinating place to visit that is often overlooked, Cincinnati has several different sides to it with a wide range of cultural influences, architectural styles, and historic tourist attractions. Ohio's third-largest city is home to a wealth of excellent museums and parks with countless sporting events and entertainment options, also on offer.
Renowned for its glittering and iconic skyline, Cincinnati lies on the north bank of the Ohio River and is tucked away in the southwest corner of the state. Due to its outstanding beauty and the rolling green hills that surround it, the city is fittingly known as both the 'Queen City' and the 'Pearl of the West'.
With so many things to do in Cincinnati and so many diverse neighborhoods to discover, this city certainly lives up to Ohio's billing of being at 'The Heart of It All'.
In this post, we'll cover:
12. Cincinnati Museum Center
Located just five minutes drive to the northwest of downtown is the excellent Cincinnati Museum Center, which boasts an astounding array of attractions and exhibits. A firm favorite with locals and tourists, it has three amazing museums to visit with a theater, library, and research center also on offer.
While the Cincinnati History Museum delves into the city's past, the Children's Museum has hands-on educational exhibits for young ones to engage with. In addition, there is also the Museum of Natural History and Science, which exhibits fossils, dinosaur skeletons, and much more.
Since 1995, the collection of museums has been housed within the 1933 Union Terminal; a former train station that itself makes for an impressive sight due to its incredible Art Deco architecture.
11. Findlay Market
Anthony G. Reyes / Flickr
One of the best places in the city to grab a bite to eat, shop for fresh produce or buy some souvenirs is the vibrant Findlay Market. The oldest continuously operated public market in Ohio, its stalls and stands can be found in the historic Over-the-Rhine neighborhood.
Since 1855 people have flocked to the market to buy everything, from fresh fruit and vegetables to baked goods, cheeses, meats, and more. While some vendors hawk their wares in its wrought-iron building, others line its exterior with street performers also regularly making an appearance.
Open Tuesday through to Sunday, the market is lots of fun to peruse with many people also selling arts and crafts, jewellery, and flowers. There are countless cafes and shops to be found nearby, too.
10. Eden Park
A popular place to explore is the enormous Eden Park which lies northeast of the center on the banks of the Ohio River. Besides its gorgeous green spaces and extensive array of outdoor activities, the hilltop park also offers outstanding views over Cincinnati.
Once the estate of the wealthy landowner Nicholas Longworth who called it his 'Garden of Eden', the land was bought by the city and turned into a park in 1869. Nowadays you can find pretty paths and picnic areas alongside playgrounds, public artworks, and the lovely Twin Lakes.
Besides its stunning scenery, Eden Park contains important landmarks such as the Elsinore Arch and Spring House Gazebo, with the Cincinnati Art Museum and Krohn Conservatory also located within its confines.
9. Fountain Square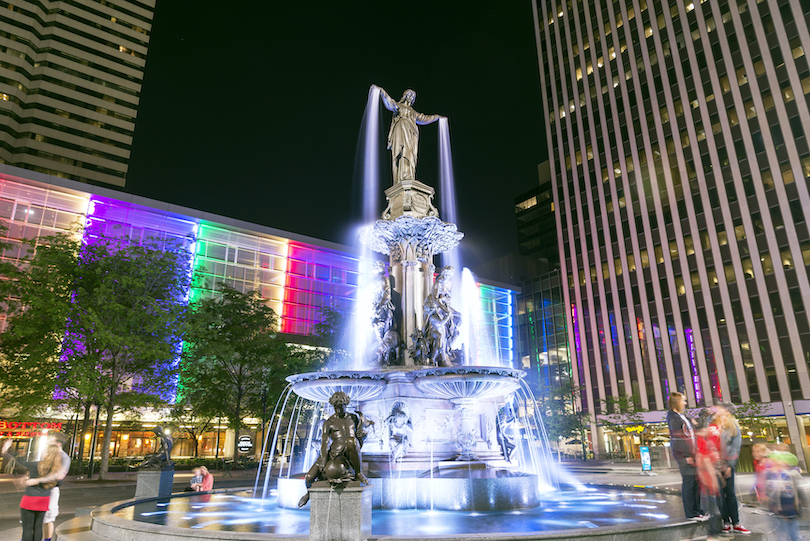 Since 1871 Fountain Square has not only been at the heart of the city's civic, commercial and social life but also acted as its symbolic center too. Now lined by countless shops, restaurants and hotels, it is a lively place to stop by with excellent dining and entertainment to be had nearby.
The centerpiece of the square is undoubtedly the majestic Tyler Davidson Fountain that makes for a striking sight with its superb sculptures and sparkling jets of water. Around it are tables and chairs where you can enjoy a drink or meal. The fountain also looks impressive when lit up at night.
A popular gathering space, Fountain Square often hosts concerts and cultural events with a huge ice rink occupying the plaza during the cold winter months.
8. Cincinnati Zoo & Botanical Garden
Home to everything from alligators and elephants to penguins, pandas, and polar bears, the fantastic Cincinnati Zoo can be found just ten minutes drive to the north of downtown. Besides its incredible animals, it also has beautiful botanical gardens to explore.
Founded in 1875, it is now regularly ranked among the best zoos in the country and is routinely praised for its successful breeding programs. In total, the zoo houses almost 2,000 birds, reptiles, and mammals with its expansive enclosures replicating their natural habitats.
After having seen the kangaroos, komodo dragons, and gorillas, it is well worth strolling around the botanical garden's peaceful paths. Lining the routes are over 3,000 kinds of flowers, plants and trees.
7. Spring Grove Cemetery & Arboretum
Another of the city's outdoor areas that's not to be missed out on is the atmospheric Spring Grove Cemetery and its attractive Arboretum. Located fifteen minutes drive north of downtown, it has many amazing old tombstones and memorials amidst leafy grounds and lush gardens.
Since being established in 1845, the cemetery has expanded considerably and is now remarkably the second largest in the States. Designated a National Historic Landmark, Spring Grove is the final resting place of countless important and influential figures from throughout the country's history.
Sometimes described as a 'garden cemetery' due to its scenic and serene landscapes, the cemetery sprawls over several hills with lakes and ponds, flowerbeds, woods, and statues.
6. Roebling Suspension Bridge
One of Cincinnati's standout symbols and sights is the elegant Roebling Suspension Bridge that spans the Ohio River and connects the city to Covington in Kentucky. Due to its design, it's popular to visit and photograph since the iconic bridge is an integral part of the city's skyline.
The longest suspension bridge in the world when it was built in 1866, it stretches an impressive 322 meters in length. As well as wonderful Romanesque arches, it exhibits draped cables, diagonal stays and vertical suspenders; all of which are painted a lovely shade of blue.
For the best view and photos of the bridge head to the Smale Riverfront Park with fine views of the Cincinnati skyline also to be enjoyed from upon the bridge itself.
5. National Underground Railroad Freedom Center
Offering an important look at a dark part of America's past is the fantastic National Underground Railroad Freedom Center which lies a short stroll from the suspension bridge. A moving place, the 'museum of conscience' shines a light on the history of slavery in the States through artifacts, photos, and film.
Opened in 2004, its displays mainly focus on the Underground Railroad—a network of secret routes and safe houses that escaping slaves used as they made their bid for freedom. Aside from hearing harrowing stories, you'll also see a slave pen and learn about modern movements for civil rights.
Besides its poignant exhibits, even the museum's location is significant as many slaves crossed over the Ohio River as they attempted to escape the Southern slave states.
4. American Sign Museum
Mobilus / Flickr
In stark contrast to the Freedom Center, the American Sign Museum contains a colorful and cheery collection that is literally much lighter to look at. Since opening in 2005, its visually arresting array of brightly-lit signs has made it a popular attraction.
Lying just ten minutes drive northwest of the center, the museum looks at the history and evolution of signage in the States. Impressively enough, almost every surface is plastered with neon signs, old movie posters, as well as unique and unusual adverts, with over 500 signs and artifacts on show.
After your fill of signs, posters and showcards, you can head to its workshop to see how signs are made.
3. Smale Riverfront Park
Just south of the center you can find the scenic Smale Riverfront Park, which hugs the banks of the Ohio River and lies between the Paul Brown Stadium and Great American Ball Park. In addition to its pretty green spaces, the park offers all kinds of recreational opportunities, as well as fine views over the river.
Only opened in 2015, its playgrounds, paths, and riverside promenade occupy what was once the site of the Riverfront Stadium. Dotted about are gorgeous gardens, lawns and groves of trees with wonderful water features.
Besides its fabulous facilities and scenery, the park also hosts numerous concerts and cultural events during the year, and lies not far from many of the city's main sights.
2. Cincinnati Art Museum
Mike Steele / Flickr
Lying on the edge of the enormous Eden Park is one of Cincinnati's top attractions and must-see sights: the Cincinnati Art Museum. Boasting one of the biggest and best collections in the Midwest, it has over 67,000 artworks on display which remarkably span 6,000 years of human history.
Founded in 1881, its endless array of paintings, photos, and sculptures occupy a lovely Romanesque Revival-style building. In its grand galleries, you can find everything, from portraits by European masters and Native American carvings to African, Asian, and Islamic artworks and antiquities.
In addition to a huge section dedicated to decorative arts and design, you can also enjoy incredible artworks by big names such as Botticelli, Monet, and Picasso alongside many others.
1. Great American Ball Park
If you're looking for an exciting and unforgettable event to attend when in town then you can't beat watching a baseball game at the Great American Ball Park. Set just south of the center, the state-of-the-art stadium lies on the banks of the Ohio River within easy walking distance of many of the city's main tourist attractions.
Opened in 2003, the large ballpark is home to the Cincinnati Reds—the first professional baseball franchise to be founded in the States in 1881. Games are fun, fast-paced, and family-friendly affairs with fireworks going off for every Reds home run and win.
Besides enjoying the intoxicating atmosphere and great games, guests can check out its hallowed Hall of Fame and Museum that highlights the history of the team and the incredible achievements of its players.
Map of Things to Do in Cincinnati