As it is set at the center of one of the most populated parts of the United States, Ohio is aptly and affectionately nicknamed 'the Heart of it All.' While much of the scenic state is made up of pretty and peaceful farmland, lush woods and picturesque foothills can be found dotted about, and the lovely Lake Erie makes up much of its northern border.
Although it is known for its significant Amish community, the Midwest state is also home to the cosmopolitan cities of Cincinnati, Cleveland, and Columbus, with all their excellent museums and entertaining tourist attractions. This striking contrast between bustling cities and quiet rural life is in part why there are so many different things to do in Ohio and what makes it so alluring to travel around.
In this post, we'll cover:
15. Kings Island (Mason)
The largest amusement park in the Midwest, Kings Island makes for a fun and family-friendly day out. Located 40 kilometers to the northeast of Cincinnati, its astounding array of more than a hundred attractions can be found just outside the small city of Mason.
Besides boasting exhilarating rides and roller-coasters, it has some lovely themed areas to explore, such as Planet Snoopy and Rivertown. Scattered throughout the popular park are excellent eateries and shops as well as Soak City – a water park that has lots of pools and slides. With regular events and entertainment taking place, Kings Island guarantees guests a thrill a minute.
14. Toledo Museum of Art
Eugene Kim / Flickr
Renowned around the world for its colossal collection, the terrific Toledo Museum of Art is home to over 30,000 fabulous paintings, photos and sculptures. Set just outside Toledo's center in a grand Greek Revival style building, it has 45 gorgeous galleries to explore, with lovely artworks wherever you look.
Opened in 1901, it showcases wondrous works by such famed artists as Rubens, Rembrandt, and Van Gogh, with sublime sections on African and Japanese art forms. The marvelous museum also hosts temporary installations and exhibitions, with lectures, workshops, and cultural events regularly taking place in its classroom studios and concert hall.
13. Neil Armstrong Air and Space Museum
Kremerbi / Wikipedia
A fascinating place to visit, the incredible Neil Armstrong Air and Space Museum can be found on the outskirts of Wapakoneta – the small town where the famous astronaut grew up. Besides offering an interesting look at his life and achievements, the magnificent museum also documents Ohio's significant contributions to aeronautics and the exploration of space.
Founded in 1972, it is full of moon memorabilia and shiny spaceships; its futuristic building looks very much like it could be a moon-base. Named after the first man to set foot on the moon, the extensive exhibition halls have informative displays for visitors to check out, as well as artefacts from Apollo 11 and the gleaming Gemini 8 spacecraft.
12. Amish Country
Home to fertile farms, serene scenery and interesting historical sights, Ohio's Amish Country really is a treat to travel around. Centered around Millersburg in Holmes County, you can find the second-largest Amish community in the country after Lancaster County in Pennsylvania.
To gain a greater understanding and appreciation for their way of life, it's well worth heading to the Hershberger Farm & Bakery. Besides having lots of tasty treats for you to try, there is also a family-friendly petting zoo and an antique farm shop. The highlight, however, is taking a peaceful horse-drawn buggy ride around the picturesque countryside.
11. Cleveland Museum of Art
Set on the east side of the city is the world-famous Cleveland Museum of Art, which boasts beautiful artworks from around the world. While it is particularly known for its extensive collection of Asian and Egyptian art, its endless galleries include everything from paintings by Botticelli and Goya to Auguste Rodin's sensational sculpture The Thinker.
Since opening in 1913 on the edge of the beautiful Wade Park, its collection has grown and now includes more than 60,000 phenomenal paintings, photos and prints. With sections on Impressionism, Indian and Islamic art, among others, it's no wonder that this is one of the most visited art museums in the world.
10. Franklin Park Conservatory and Botanical Gardens
Jsjessee / Wikipedia
A very pretty and peaceful place to spend some time is the fantastic Franklin Park Conservatory and Botanical Gardens. Sprawling over a huge part of east Columbus, it has various flowerbeds, gorgeous grounds, and greenhouses for visitors to stroll around.
Built in 1895, its charming conservatory is now home to over 400 species of plants, including everything from desert and rainforest biomes to exotic flora from the Pacific Islands. One of its many highlights is the elegant Palm House; its glass and steel structure exhibits some exquisite Victorian-style architecture. On top of this, guests can explore its lush landscaped lawns and amble about its breathtaking botanical gardens.
9 Cuyahoga Valley National Park
Nestled away in the northeast of the state is the Cuyahoga Valley National Park, centered around the winding river of the same name. Set in a serene spot between Akron and Cleveland, it has dramatic landscapes, scenery and nature for visitors to enjoy, as well as countless outdoor activities.
Protected and preserved since 1974, the vast valley and its wonderful woods, waterfalls, and wildlife are a treat to hike and mountain bike around. In addition to its natural wonders, Ohio's only national park is home to some fascinating historic sites, including the Hale Farm and Village. You can also find traces of the various Native American peoples who once inhabited the region along the banks of the Cuyahoga River.
8. Lake Erie Islands
Strung out along the state's scenic shoreline is the archipelago that is the lovely Lake Erie Islands. While some of the idyllic isles are known for their picturesque nature and wealth of water sports, others are dotted with resorts and restaurants and have lots of entertainment options on offer.
One of the main tourist hubs is the village of Put-in-Bay on South Bass Island. It is packed with hotels and taverns, with some fine wineries to visit nearby. In contrast, both Kelleys Island and Pelee Island are serene and sparsely-populated and have plenty of stunning coastline and scenery to explore. Easily accessed by ferry, the islands are very popular to visit in the sunny summer months, with superb swimming, fishing and boating to be enjoyed.
7. Great American Ball Park (Cincinnati)
Set right in the center of the city on the banks of the Ohio River is the gigantic, gleaming Great American Ball Park, home to the Cincinnati Reds – the first professional baseball franchise in the States. When in town, it's well worth watching them play a game for the intoxicating and unforgettable atmosphere.
Since replacing the franchise's former pitch Cinergy Field in 2003, the state-of-the-art stadium has hosted countless games. Its two smokestacks shoot out fireworks after every Reds home run and win. In addition to watching a game, guests can stop by the Cincinnati Reds Hall of Fame and Museum, which boasts a variety of exhibits on the history and achievements of the team and its players.
6. National Museum of the US Air Force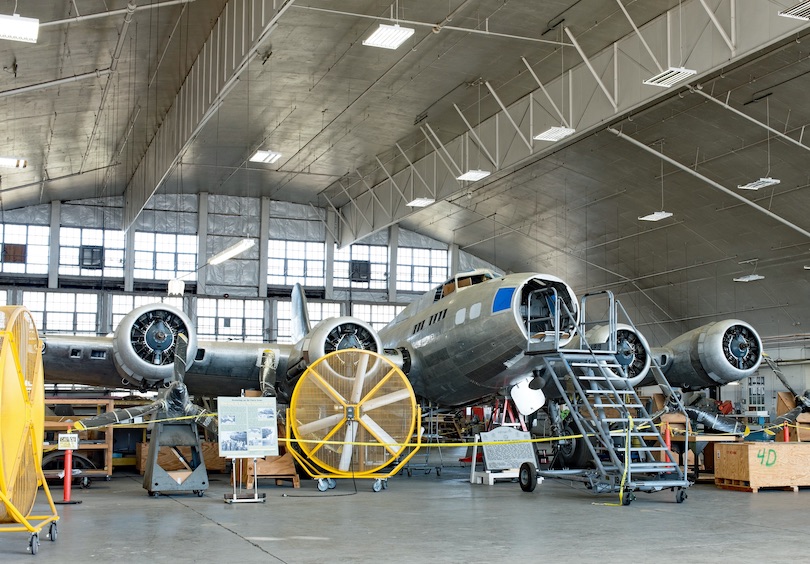 Lying on the outskirts of Dayton is the National Museum of the US Air Force, the oldest and largest military aviation museum in the world. A very popular place to visit, it has over 360 aircraft and missiles on display, as well as countless artifacts and memorabilia relating to the history and development of aviation.
Since opening in 1923, its colossal collection has continued to grow; its enormous hangars now house everything from a replica of the Wright Brothers' 1909 Military Flyer to presidential planes and shining spacecraft. One of the most popular tourist attractions in Ohio, the massive museum can be found on the Wright-Patterson Air Force Base.
5. Cedar Point
One of the biggest and best amusement parks in the world, Cedar Point sits on a peninsula that juts out into Lake Erie. Known as the 'Roller Coaster Capital of the World,' it boasts a lot of attractions, with a world-record 71 rides for guests to try out.
Remarkably, 17 rollercoasters are dotted about its sprawling confines; six of them tower to a hair-raising 60 meters or more. While they are designed to excite and thrill, other more child-friendly rides and carousels can be found in Planet Snoopy. If all its restaurants, resorts and rides weren't enough, Cedar Point also lies right next to a beautiful beach and a wild water park.
4. West Side Market (Cleveland)
Set just to the southwest of Cleveland's city center is the wonderful West Side Market, which has a lively yet laidback ambience. Its Byzantine-style brick building impressively holds over a hundred stands and stalls, with vendors selling fresh food, vegetables and fruit from all around the world.
Very European in terms of its look and feel, the market's many stands are dotted about its huge open-air interior and atmospheric outdoor arcade. As such, perusing its rows and rows of butchers, bakers and local businesses is lots of fun, with tasty treats to sample from places as far-flung as Italy, Ireland and Iran.
3. Cincinnati Zoo & Botanical Garden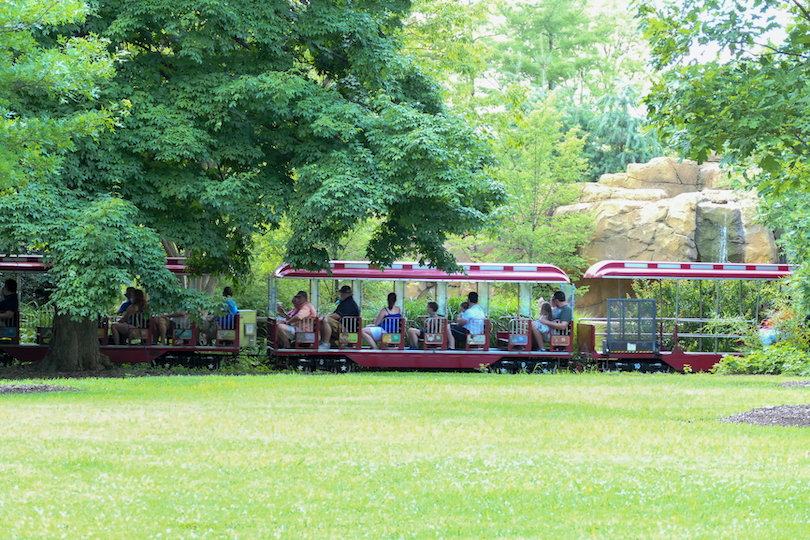 Regularly ranked among the best zoos in the whole of the States, Cincinnati Zoo & Botanical Garden is well worth visiting if you have the chance. Since opening in 1875, it has continued to grow and is now home to all kinds of amazing mammals, birds and reptiles.
A very popular place, it boasts everything from alligators and Asian elephants to hippos, komodo dragons and polar bears. Seeing these incredible creatures up close is an awe-inspiring experience, and educational exhibits teach you all about their natural habitats and behaviors. In addition to being very highly regarded for its breeding programmes, the zoo's gorgeous gardens are a delight to explore, with more than 3,000 types of flowers, plants and trees lining its pretty paths.
2. Hocking Hills State Park
Home to deep gorges, rugged rock formations and sparkling waterfalls, Hocking Hills State Park makes for a spectacular sight. Sure to delight nature lovers and outdoor enthusiasts alike, it offers a wealth of recreation activities, with hiking, camping and horseback riding being particularly popular.
Protected as part of a park since 1924, its incredible wilderness covers a vast area, with countless cliffs and caves found amidst its endless hills and forests. Among its standout attractions are the amphitheater-like Ash Cave and the fabulous falls at Old Man's Cave. Fishing, boating and swimming can also be enjoyed it its numerous lakes and rivers. Set in the south center of the state, Hocking Hills is Ohio's most popular park due to its stunning scenery and landscapes.
1. Rock & Roll Hall of Fame
Located in downtown Cleveland on the shores of Lake Erie is the remarkable Rock & Roll Hall of Fame, which an absolute must if you are at all into music. Through a mesmerizing mix of memorabilia and multimedia, the museum takes you on a whirlwind ride through the history and development of rock music.
Besides all of its interesting and informative exhibits on the roots of rock, its influences and impact, the museum also boasts an astounding array of artifacts from artists such as The Beatles, Michael Jackson and Jimi Hendrix. With so many amazing instruments, photos and outfits from some of the most iconic musicians ever, the entertaining Rock & Roll Hall of Fame is not to be missed out on.
Map of Things to Do in Ohio