Although often overlooked by visitors to both Ohio and the Great Lakes region, Toledo is a fantastic place to visit. The Great Depression and deindustrialization hit the city hard, but it now has thriving arts and culture scenes, along with picturesque parks and interesting historic tourist attractions.
Located at the western end of Lake Erie, Toledo straddles the banks of the Maumee River with old docks, warehouses and riverside parks lining its extensive system of canals and waterways. Thanks to its strategic setting and the wealth and trade that came with it, the city has lovely historic neighborhoods to explore with majestic mansions and attractive architecture wherever you look.
Other things to do in Toledo include visiting its excellent art museums and science centers, a great jazz scene to enjoy, and discovering iconic spots such as Tony Packo's Cafe. This hidden gem in northern Ohio has a lot to offer.
12. Wildwood Manor House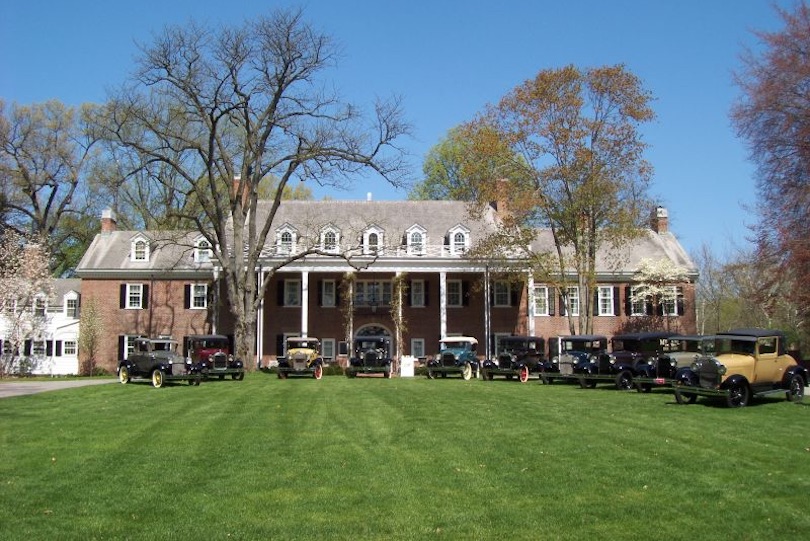 Vicki Timman / Flickr
Wildwood Manor House is fifteen minutes drive northwest of the center. Set at the heart of Wildwood Preserve Metropark, it showcases exquisite architecture and is surrounded by gorgeous grounds and gardens.
Built in 1938 for the wildly wealthy Stranahan family, the humongous house features lovely Georgian Colonial-style architecture with fine furnishings and period pieces decorating its elegant interior. On tours of the property, you can learn all about the history of the family, the building and Depression-era America.
After having taken in all its fine features, guests can stroll around the mansion's scenic surroundings. These were part of the Stranahan family estate until hard times hit, and its woods, rivers and prairies were sold off to become a public park.
11. Fort Meigs
Dakota Callaway / Flickr
Offering a fascinating look at the War of 1812 and its impact on the Great Lakes Region, Fort Meigs is fifteen minutes drive southwest of the city. Situated in a strategic spot on the banks of the Maumee River, it played a key role in stopping British advances and ultimately turned the tide in favor of the American forces.
The largest reconstructed, wooden-walled fort in the country, it was initially built in 1813 over the course of several months. Aside from exploring its earthwork defenses and artillery batteries, visitors can peruse interesting artifacts and exhibits and hear dramatic accounts about the two sieges it withstood.
On top of seeing old uniforms, weapons and equipment in its museum, you can also watch regular reenactments that take place. At these fun events, costumed characters highlight what life would have been like in the camp, fight mock battles and re-enact key events from the sieges of Fort Meigs.
10. Canal Experience at Providence Metropark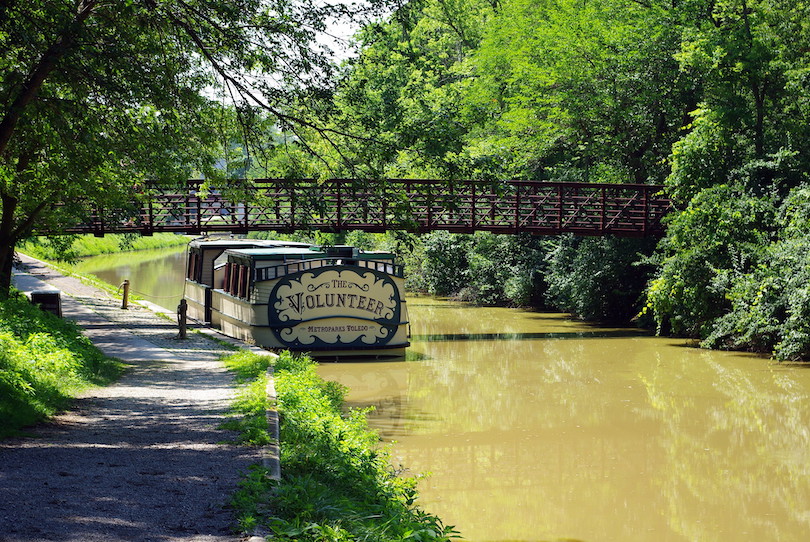 Stephen / Flickr
Another fifteen minutes drive further along the river you'll come across the picturesque Providence Metropark. Here you can step back in time with the fantastic Canal Experience that involves hopping aboard an old canal boat, navigating various locks and visiting a historic mill and heritage center.
Once essential for the transport of both goods and people, canal boats used to plough the waterways between Toledo and Cincinnati, connecting Lake Erie to the Ohio River. Nowadays, these peaceful canals instead attract tourists who want to learn about the history and heritage of America's waterways.
Visitors can also stroll along the Towpath Trail and explore the inside of the 1866 Isaac Ludwig Mill, which still works to this day.
9. Tony Packo's Cafe
Jimmy Emerson / Flickr
When in town, no trip to Toledo is complete without stopping off for a delicious hot dog at Tony Packo's Cafe. After being mentioned in several episodes of the hit TV show M.A.S.H in the 70s, the restaurant shot to fame and has been popular with locals and tourists ever since.
In 1932, Tony Packo started the cafe in east Toledo, just across the river from the center, serving authentic Hungarian food. An instant hit, it is now renowned, not only for its Hungarian hot dogs, but for its Sweet Hot Pickles and spicy chilis with pierogies, stuffed-cabbage and strudel.
While enjoying its sumptuous Hungarian-American cuisine, make sure to check out the signed hot dog buns that decorate the walls with celebrities and politicians, such as Burt Reynolds and Barack Obama among others having added their autographs.
8. Maumee Bay Brew Pub
David Wilson / Flickr
After having scoffed down one of Tony Packo's iconic hot dogs, the Maumee Bay Brew Pub is one of the best places to head if you fancy a drink. Set just a short walk to the south of downtown, it has a staggering array of craft ales and lagers, with pizzas and burgers also on offer.
Established in 1995, the popular microbrewery now occupies the historic Oliver House that was built over a century earlier. Besides exposed brick and antique-looking signs, trays and memorabilia from innumerable beer brands, its atmospheric interior also features the massive copper calandria in which they brew their beer.
While it is best known for brewing the brilliant Buckeye Beer, the pub has countless other kinds of ales and IPAs, ciders and stouts in its intimate setting.
7. Oak Openings Preserve
The largest, and arguably loveliest, of the twelve Toledo Metroparks, Oak Openings Preserve lies just half an hour's drive southwest of the center. Besides boasting stunning scenery, it also has a whole host of excellent outdoor activities for visitors to enjoy.
Named after the larger Oak Openings Region of Northwest Ohio, of which it is a part, the preserve has delightfully different areas for you to explore. While hiking, biking and horseback riding, you'll come across everything, from oak savanna and wetlands to forests and prairies. Its sand dunes also make for a particularly spectacular sight.
In total, the pristine park contains over 68 miles of scenic trails and also offers some epic camping and bird watching. On top of all this, interesting and interactive exhibits on local fauna and flora can also be found in the Buehner Centre.
6. Toledo Zoo
Widely considered to be one of the best zoos in the States, Toledo Zoo is home to an amazing array of animals and exhibits from all around the world. Located just ten minutes drive southwest of the center, it also has countless fun activities and unforgettable experiences and events for you to enjoy.
Since being established in 1900, the zoo has expanded enormously and its spacious enclosures and aquarium now house over 10,000 individual animals. While some sections focus on Africa and Asia, others take you to Primate Forest or Penguin Beach. Family favorites include elephants, giraffes, and tigers.
Aside from seeing all the incredible animals and watching exciting live demonstrations, there is also an aerial adventure course, petting zoo and safari railway to try out. With super seasonal events, such as 'The Lights Before Christmas' and the 'Summer Concert Series' to attend, Toledo Zoo is certainly not to be missed when in town.
5. Imagination Station
A fun, family-friendly place, the Imagination Station lies in the center of the city, along the banks of the Maumee River. Impressively enough, it contains over 300 interactive exhibits that look at everything from agriculture and engineering to solar energy, sound waves, and weather systems.
A firm favorite with locals and tourists alike, the science museum was first opened in 1997 and now occupies a state-of-the-art center along the city's waterfront. Full of exciting hands-on exhibits and activities, it has countless themed areas for young ones to explore that encourages them to create, experiment and engage with the world around them.
Besides trying out its vortex pool, wheel of fire and hurricane chamber, guests can also watch live experiments and educational films in its theater.
4. Toledo Botanical Garden
Set just to the south of Wildwood Preserve Metropark is yet another enticing outdoor space for you to explore: Toledo Botanical Garden. Sprawled across a huge area, the gorgeous garden has paths to stroll along with striking art installations and sculptures dotted here and there.
Founded in 1964, the beautiful botanical garden encompasses all kinds of colorful plants, trees and shrubs, with lush lawns and immaculately manicured flower beds also on display. Scenic sections are dedicated to herbs, perennials and roses with an artists' village, glass guild and garden club also located within the grounds.
In addition to all this, the Toledo Botanical Garden also regularly holds temporary exhibitions, talks and community events with something new going on all the time.
3. Fifth Third Field
If you're after an exhilarating event to attend when in Toledo, then you'll certainly want to watch an action-packed baseball game at the Fifth Third Field in downtown. One of the best minor league ballparks in the US, it is home to the Toledo Mud Hens with games being exciting and atmospheric affairs.
Located in the Warehouse District, just a couple of blocks inland from the Maumee River, the small stadium was first opened in 2002 and has attracted raucous crowds ever since. From all its stands and seats, fans can enjoy excellent views out over the field, its massive LED video display and the two ribbon scoreboards.
Thanks to its electric atmosphere, visiting the field is always fun with support for the team – a Triple-A affiliate of the Detroit Tigers – counted among the loudest in the league.
2. Toledo Museum of Art
One of the top attractions in town, the Toledo Museum of Art can be found just a couple of minutes drive from downtown, in the Old West End neighborhood of the city. It boasts an incredible array of artworks with ancient Egyptian artifacts, decorative arts, paintings, glassworks and sculptures.
Founded in 1901, its huge collection of over 30,000 objects occupies an elegant and enormous Greek Revival-style building. Besides perusing its galleries full of arresting artworks, visitors can also check out its lovely little Medieval Cloister and modern Glass Pavilion.
On top of seeing masterpieces by Rembrandt, Rubens and Picasso among others, you can also enjoy a show in its fetching Peristyle concert hall or stroll about its sculpture garden with talks, temporary exhibitions and cultural events all regularly taking place.
1. National Museum of the Great Lakes
As it offers a fascinating look at the history, culture and nature of the region, the National Museum of the Great Lakes is definitely not to be missed when in town. Home to innumerable exhibits on the area's past, it lies just across the river from downtown, right next to the Front Street Marina.
Opened in 2014, the magnificent museum tells the stories of the Great Lakes through artifacts, photos and displays, highlighting the importance of the region to the United States. Its interesting and hands-on exhibits shine a light on the industrial era, Underground Railroad, fur traders, rum runners and shipping captains; covering centuries of history in the process.
Besides seeing old maps, model ships and memorabilia, visitors can actually hop aboard the SS Col. James M. Schoonmaker and explore the large lake freighter that impressively dates to 1911.
Map of Things to Do in Toledo, Ohio