Smack dab in the heart of the Midwest is the state of Ohio. Created in part by natural borders, Ohio is shaped by both Lake Erie and the Ohio River. The state boasts an appealing combination of interesting cities, pristine natural scenery and charming farms.
Whether you're exploring Ohio for a weekend visit or a long vacation, there is lots to see. While major cities like Cleveland, Columbus and Cincinnati are among the best places to visit in Ohio, this guide also suggests some wonderful additions to your Buckeye State itinerary.
10. Lake Erie Islands
National Ocean Service / Flickr
Just as the name suggests, Lake Erie Islands are found within the Great Lake itself. Lake Erie Islands are accessible by ferry from several spots along the coast. There are several islands geared to tourists, and there are also a handful that are privately owned or require a membership.
Of the islands open to the public, Kelleys Island is a top pick. Once you arrive, you can head straight to Glacial Grooves State Park, which was created by glaciers moving through the limestone bedrock. Next to the ferry dock, look for signs pointing to Inscription Rock, which is marked by native petroglyphs.
9. Holmes County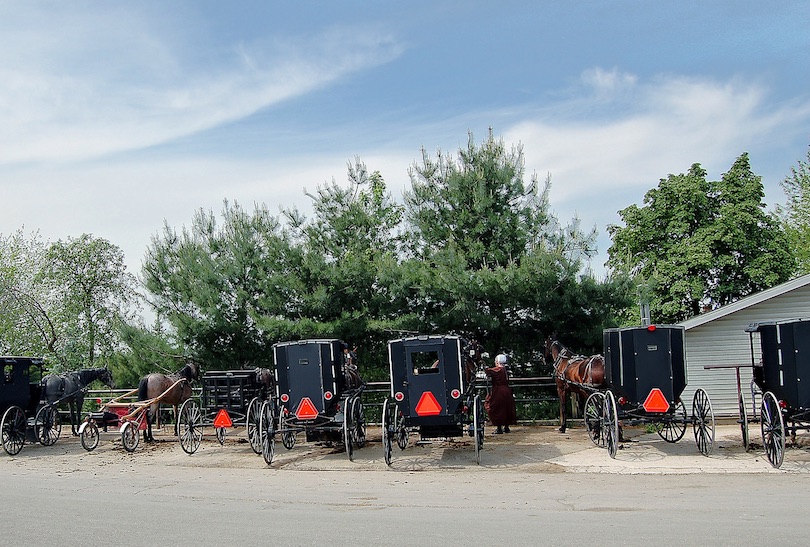 Joanna Poe / Flickr
In the eastern part of Ohio is Holmes County, a region filled with beautiful steep hills and narrow green valleys. In addition to being an agricultural hub with stunning scenery, Holmes County is the epicenter of Ohio's Amish Country.
Shopping is often a priority on a visit to Holmes County. However, the incredible handcrafted hardwood carpentry, the sweet homemade jams and the tasty local cheeses aren't the only way to experience Amish culture. Head to the city of Berlin to see the Sistine Chapel of the Amish and Mennonites, which offers a unique cyclorama and guided tours led by Mennonite guides.
8. Toledo
Don Johnson / Flickr
On the lakes of Lake Erie is Toledo, a medium-sized city that boasts an enormous port. The downtown area is a hodgepodge of architecture, and there are a number of historic buildings that have been rescued and repurposed into spaces like artist housing.
This gives the city a unique atmosphere, and it is a hub for arts and culture within the state. The Toledo Museum of Art is one of the biggest attractions in the city, and admission is always free. Walk right from the Museum of Art to the neighborhood known as the Old West End, where you'll find century-old trees and beautiful historic mansions.
7. Sandusky
Craig Lloyd / Flickr
Situated between Cleveland and Toledo on the shores of Lake Erie, Sandusky is a city with a lot to be proud of. The best-known attraction in the city is Cedar Point Amusement Park, where you can experience some of the most thrilling and extreme roller coasters and rides in all of the Midwest.
If you would rather enjoy something a little more relaxing, Sandusky is also home to the Cold Creek Trout Camp. From here, you can venture out to where the waters of the Sandusky Bay mingle with the waters of Lake Erie, and there are even incredible views of the rides at Cedar Point.
6. Dayton
National Museum USAF
If you head to Dayton, aviation is inescapable. This city is steeped in history, most notably because it is where the Wright brothers lived, worked and perfected their first practical airplane. In Downtown Dayton, look up to find the iconic Flyover, a piece of sculpture built right into the architecture that traces the path of that first flight perfected by the Wright brothers.
Whether or not you're an aviation buff, you'll appreciate the Wright Cycle Company Complex. This complex is where the Wright brothers operated their bicycle repair shop, all while air travel was just a concept.
5. Cuyahoga Valley National Park
The lone national park in the state is the Cuyahoga Valley National Park. Just a short drive outside of Cleveland, the park's main attraction is the beautiful Cuyahoga River. Rolling hills, shaded gorges, sandstone ledges and more than 70 waterfalls can be spotted along almost 200 miles of hiking trails.
If serious hiking isn't your idea of a good time, there's a great alternative that still allows you to see a lot of the landscape. The Cuyahoga Valley Scenic Railroad boasts several stations, and an afternoon aboard the train is a wonderful way to see a lot in a short amount of time.
4. Columbus
The state capital of Ohio is Columbus. This city is a unique destination that brings together a wide range of cultures. Columbus is the intersection of regional areas like the Rust Belt, the Bible Belt the Great Plains and Appalachia, creating a sort of melting pot for its residents. It is also home to Ohio State University, which brings in more young people from all corners of the globe.
A great way to explore the heritage and history of Columbus is by checking out German Village, located just outside the downtown area. In the German Village, you can walk along tree-lined, cobblestone streets, admire restored bungalows and stop in at a local cafe for coffee and fresh pastries.
3. Cleveland
Cleveland is yet another city built on the shore of Lake Erie, and it is a major metropolitan hub for the region. It's biggest attraction might be the Rock and Roll Hall of Fame, an incredible modern structure designed by famed architect I.M. Pei, who also designed the iconic glass pyramid in front of the Louvre Museum.
The Rock and Roll Hall of Fame is where you can see the most recent inductees, check out exhibits on Elvis, David Bowie and U2 or learn about the people behind some of the most famous instruments of all time. If you only visit one thing in Cleveland, make sure it is this incredible monument to music.
2. Cincinnati
On the Ohio River is Cincinnati, a place nicknamed the Queen City. Even Charles Dickens was enamored by Cincinnati, calling it cheerful, thriving and animated. Cincinnati is unique in that it straddles the Mason-Dixon Line. Some residents believe themselves to be firmly situated in the Southern United States, while others feel strongly that this is not the case.
Whatever your view of the city's location, there is no denying the appeal. The skyline is incredible, and you won't want to miss views of buildings like Carew Tower or the Cincinnati Observatory Center. Cincinnati also boasts an amazing parks system, so swing by Sawyer Point to check out live concerts and enjoy the green space that is so popular with locals and visitors alike.
1. Hocking Hills State Park
One of the most scenic places to visit in Ohio is Hocking Hills State Park. Within the enormous park, you'll find deep gorges, breathtaking waterfalls and stunning cliffs. There are also lots of caves, many of which have evidence showing that the Adena people lived in the area more than 7,000 years ago.
The most famous of these caves are Old Man's Cave and Ash Cave, both of which can be explored by visitors. Miles and miles of signposted hiking trails beckon, and extraordinarily tall hemlocks create shade for the hot summer afternoons.
Map of Ohio
© OpenStreetMap © MapTiler © Touropia