Bordered by the Mississippi River to the east and the Missouri River to the west, the Midwest state of Iowa is a very picturesque place to visit. Mostly made up of gently rolling hills and fertile fields and farmland, it is home to quaint rural towns and villages, some of which exhibit rich Dutch, German, and Scandinavian culture and heritage.
Punctuating its charming countryside are some sublime natural tourist attractions such as the glimmering Iowa Great Lakes and prominent Pikes Peak State Park.
Map of Places to Visit in Iowa
© OpenStreetMap © MapTiler © Touropia
In addition to these places to visit in Iowa, a couple of large cities, such as Des Moines and Cedar Falls, can be found here and there, while numerous cultural events and festivals showcase the state's agricultural identity and delicious local produce.
10. Iowa City
© Vikas Garg / Dreamstime
A lively, cool, and youthful place, Iowa City is located in the east of the state, straddling the banks of the river of the same name. Home to the prestigious University of Iowa, much of life in the city revolves around its bustling campus and sizeable student body.
Lying at the heart of the educational institute is the pretty and prominent Iowa Old Capitol Building, once the site of the state's government before it transferred to Des Moines. Near to the noteworthy National Historic Landmark are excellent art and natural history museums for visitors to check out, as well as some lovely riverside parks and walks.
Long noted for its superb writing programs, the city has a very artsy feel, with its Writer's Workshop alumni having won 17 Pulitzer Prizes to date. In addition to the regular shows and performances put on by its handful of theaters and music venues, the city hosts a number of outstanding cultural events and festivals during the year.
9. Pella
© Amdizdarevic / Dreamstime
As it is home to scenic canals, windmills, and tulips, visitors to Pella could be forgiven for thinking they are in Amsterdam or Utrecht rather than the United States. Founded in 1847 by a group of Dutch immigrants, the small town prides itself on its rich history and heritage, which now attracts tourists from far and wide.
Its Historical Village has over 20 traditional buildings to wander around, with a church and blacksmiths lying beside the fully functional Vermeer Windmill, one of its main sights. While its attractive architecture and townscapes look a treat, there are also some delicious Dutch pastry shops to try out and cheeses, clogs, and costumes to buy.
One of the best times to visit Pella is during the annual Tulip Time Festival. Festive parades and performances take place, with everyone kitted out in traditional attire. At this time of year, its gorgeous gardens and parks are full of thousands of beautiful blooming tulips for visitors.
8. Pikes Peak State Park
© Steven Prorak / Dreamstime
Located where the Mississippi and Wisconsin rivers meet, Pikes Peak State Park is set in the northeast of the state, on the border with Wisconsin. A popular place to visit in Iowa, it will delight nature lovers and outdoor enthusiasts with its stunning scenery and outstanding natural beauty.
Founded in 1936, it is named after the peak that dominates the state park with its hulking presence. From atop of its lofty peak, visitors can enjoy phenomenal views of the Mississippi River, with verdant forests and wild waters stretching as far as the eye can see.
Hidden away among the diverse landscapes and wilderness of the park are some splendid hiking trails and scenic, secluded campsites. While wandering along its paths, visitors will pass through lush woods and peaceful valleys, with the twinkling Bridal Veil Falls one of its most pleasant and photographed features.
7. Decorah
© Hannah Babiak / Dreamstime
Nestled in the northeast of Iowa is the small and charming town of Decorah. Most noted for its Scandinavian heritage, it lies amid lovely scenery, with various parks and the Upper Iowa River nearby.
After being founded around 1840, lots of Norwegian families settled in Decorah, establishing the extensive and illustrious Luther College, which plays a prominent role in the town's life to this day. To learn more about the settlement's fascinating past, visitors can peruse the extensive collection of artefacts and folk art at the Vesterheim Norwegian-American Museum. On top of this, the town also hosts Nordic Fest – an annual festival celebrating the customs and cultures of Scandinavia.
Besides delving into its rich history and culture, visitors to Deborah can go hiking and cycling in the surrounding nature or kayak along the rushing river. It also boasts one of the largest ice caves in the Midwest, with the delightful Dunning's Spring and Siewers Spring two of its standout sights.
6. Effigy Mounds National Monument
© Jaahnlieb / Dreamstime
Lying alongside the Mississippi River and Yellow River is one of Iowa's most enigmatic and enthralling sights – the Effigy Mounds National Monument. Here, visitors can find more than two hundred phenomenal prehistoric burial mounds, as well as wonderful woods and sweeping river valleys.
Built by the Native Americans, these astounding earthworks date back over a thousand years, with many of them mounded in the shape of birds, mammals or reptiles. Associated with numerous tribes and peoples, these early burial sites are considered to be sacred. The 42-metre-long Great Bear Mound is the most important and impressive of them all.
At the park's visitor center, guests can learn more about the significance and symbolism of the archaeological site, as well as the ecosystems of the forests, prairies, and rivers on show. A great way to explore the Effigy Mounds National Monument is to hike among the spectacular scenery and take in the breathtaking burial mounds at the same time.
5. Madison County
© Erin Cogswell / Dreamstime
Set about 30 miles (50 kilometers) to the southwest of Des Moines is the charming and attractive countryside of Madison County. Long a sleepy yet scenic backwater, it shot to fame following the fantastic 1995 film The Bridges of Madison County, based on the book of the same name.
Now, visitors flock to its fertile fields and farmland and cruise along its quaint country lanes before stopping off at picture-perfect towns and villages such as St. Charles and Winterset. The highlight is undoubtedly its delightful and distinctive covered bridges, of which six remain.
While driving through its historic and handsome wooden bridges is a treat, Madison County also boasts some great vineyards and breweries. Its gentle hills and lovely landscapes lend themselves perfectly to all kinds of outdoor activities, with hiking and cycling among the parks and farms particularly popular.
4. Cedar Rapids
© Chris Boswell / Dreamstime
The second-largest city in Iowa, Cedar Rapids straddles the banks of the Cedar River and lies some 20 miles (30 km) to the north of Iowa City. While floods devastated much of the city in 2008, 2016, and 2020, in recent years, it is much revitalized, with new businesses springing up all the time.
Once primarily known as an industrial city, a burgeoning arts and culture scene has since developed, with excellent museums and theaters on offer. One of its most popular attractions is the National Czech & Slovak Museum & Library, which looks at the unique history, heritage, and culture of many of the city's residents.
In addition to this, the African-American Historical Museum and the Cedar Rapids Museum of Art are well worth checking out: the latter boasts the world's largest collection of Grant Wood paintings. The NewBo City Market is not to be missed; it has plenty of shops and cafes and regularly hosts community events and cultural shows.
3. Okoboji
© Jesse Kunerth / Dreamstime
Often referred to as Okoboji, the Iowa Great Lakes are a group of lovely natural lakes lying in the northwest of the state. Due to the stunning scenery and shorelines, the resort region is very popular, with innumerable outdoor recreation activities on offer.
Sprawling over a vast area, the three main lakes of Big Spirit, West Okoboji, and East Okoboji are lined by beautiful beaches and scenic coves, with laidback settlements tucked here and there. The largest of these is Arnolds Park, where visitors can find lakesides restaurants and resorts as well as a fantastic amusement park featuring fun rides and games.
Besides basking in the beauty of the lakes, guests can enjoy swimming, fishing, or watersports on their tranquil waters. Superb hiking and golfing are also available along the lakeshore. On top of this, the Okoboji Summer Theater puts on some great live music shows and theater performances in the sunny summer months.
2. Amana Colonies
© Dustin88 / Dreamstime
Founded in 1855 by German settlers, the Amana Colonies are a collection of seven small, scenic and secluded villages found in the east of Iowa. As they are wonderfully well-preserved and their inhabitants still retain many of their rich cultural traditions, the villages are now a top-rated tourist attraction.
Set in a small loop, the seven settlements were established by persecuted Pietists who were looking to create self-sufficient societies. Consequently, they farmed the land themselves and made their own handicrafts, household items, and homes. It was only following the Great Depression that the remote and religious community decided to open itself up to the outside world in 1932.
Nowadays, visitors to the Amana Colonies can stay in cosy bed and breakfasts and old farms while exploring the charming and traditional villages. In addition, there are plenty of artisanal shops and workshops where tourists can buy local produce, handicrafts, and artworks.
1. Des Moines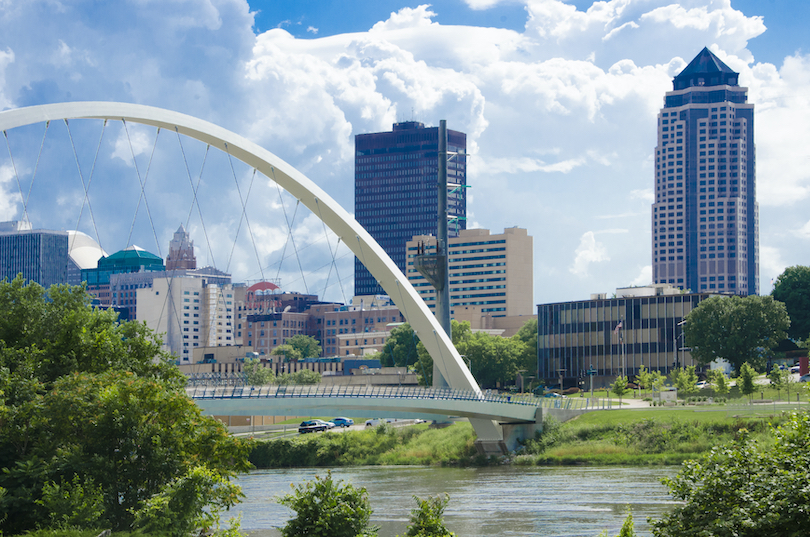 © Lisa Mckown / Dreamstime
Iowa's capital and most populous city, Des Moines lies in the center of the state on the banks of the river after which it is named. An intriguing mix of urban meets country, it is a lively yet laidback place that acts as an important center of commerce and culture in the Midwest.
Home to a number of excellent art and natural history museums, the city has some vibrant districts for visitors to explore, with East Village and Valley Junction boasting brilliant boutiques and historic buildings. Its standout sight is undoubtedly the breathtaking state capitol building, which showcases some astounding architecture and a gleaming gold leaf dome.
While its beautiful botanical garden and sensational Pappajohn Sculpture Park are both well worth visiting, the city also has some great cultural events and festivals for visitors to enjoy. In the summer months, the Des Moines' Farmer Market has lots of fresh produce, cheeses and wines to try while the annual Iowa State Fair sees lots of agricultural contests take place in the city.