Fittingly known as 'the Heart of it All', Ohio lies right in the middle of the Midwest with Lake Erie making up much of its northern border. A very diverse place, it is home to an enticing mix of small towns and bustling metropolises with other states, cities, and nature spots never lying far away.
Thanks in part to its central setting and proximity to many of the country's main population centers, the Buckeye State has also long been an important center of agriculture, industry, and business. As such, its towns often have diverse economies and employment opportunities with countless historic sites, cultural landmarks, and architectural marvels being dotted about.
While many visitors consider Cleveland, Columbus, and Cincinnati as the best cities in Ohio they are surrounded by plenty of interesting smaller settlements. These towns offer a high quality of life without being too far from world-class attractions and entertainment opportunities.
12. Mentor
Tim Evanson / Flickr
Lying along the scenic shores of Lake Erie you can find the lovely, laidback city of Mentor. While it has all kinds of fun outdoor activities for residents and visitors alike to enjoy, it is also conveniently located just half an hour's drive from all of Cleveland's shops, restaurants, and cultural attractions.
Due to its proximity to the busy metropolis, many people commute to work while benefiting from the community's excellent school system and calmer pace of life. Although its noisy neighbor has much more going for it, Mentor still has a huge number of strip malls and restaurants for you to try out with manufacturing and retail being two of its main employers.
Its main draw however is the idyllic Headlands Beach State Park which has some great swimming, boating, and biking with plenty of other pretty parks also being dotted about the city and lakeshore.
11. Mason
Josué Goge / Flickr
Another superb city-suburb in Ohio to both live in and visit is the small town of Mason on the northeastern outskirts of Cincinnati. Aside from its attractive income tax rate and highly-rated school system, it hosts not just the ever-popular Kings Island theme park, but the annual ATP World Tour Master's too.
While many families settle in Mason for the aforementioned reasons, the town also has a wealth of gorgeous green spaces to explore with its massive community center being one of the largest in the state. Here you can not only swim, gym, and rock climb, but attend classes and community events with its ever-expanding network of bike paths connecting it to all the main districts and downtown.
Besides being a great place to live, Mason also attracts its fair share of tourists who come to enjoy Kings Island's rides and rollercoasters or watch Federer and Nadal play at the famous tennis tournament.
10. Granville
Billing itself as 'One of Ohio's Best Hometowns', Granville lies nestled away amidst the rolling hills and verdant woods of Licking County. Despite its quiet and quaint nature, the New England-style community actually forms part of Greater Columbus with the capital lying just half an hour's drive to the southwest.
While the lovely landscapes surrounding it are undoubtedly one of its main draws, the rural village's charming downtown is packed with shops and restaurants with a diverse array of architectural styles being on display. Aside from strolling about its picturesque gardens and arboretums, there are also centuries-old historic houses, mansions, and churches to check out.
Lending the village a lively, youthful feel is the sizeable student population of Denison University; a private liberal arts college which provides many jobs and facilities to the small community.
9. Canton
Best known for being the birthplace of professional American football, Canton is a mid-sized city in northeast Ohio. Much rejuvenated in recent years, it has a thriving arts and culture scene for locals and visitors to enjoy with a couple of interesting historic sites and tourist attractions scattered about.
Once a major center of manufacturing, it fell into decline for decades before eventually diversifying into a service economy. While its upscale lofts and numerous art galleries attracted lots of residents, others came to work in the umpteen businesses, boutiques, and bars that sprung up in its downtown.
Although it is now quite an arty place, the city still lives and breathes football with the Pro Football Hall of Fame being its standout sight alongside the majestic McKinley Monument.
8. Powell
Chantilly99 / Wikipedia
Directly north of the cosmopolitan Columbus you can find the hugely wealthy bedroom community of Powell which has several luxury neighborhoods for people to live in. While the cost of living is certainly higher than almost everywhere else in Ohio, residents are guaranteed outstanding schools, parks, and services with all its streets looking sparkly clean and perfectly manicured.
As the small and exclusive town has no industries of its own, most people commute with the state capital's downtown lying just twenty minutes away. Thanks to this, residents enjoy a high quality of life in an idyllic area without sacrificing anything in terms of dining, shopping, and entertainment.
On top of all this, it encompasses both Columbus Zoo and Zoombezi Bay – a wet and wild water park – with the exquisite Emily Traphagen Park being yet another top attraction.
7. Akron
David Wilson / Flickr
Located almost equidistant between Cleveland and Canton is yet another attractive Ohioan city in which to live, work, and bring up a family. Known as the City of Invention, Akron is a diverse place of some 200,000 or so souls that has a rich history, culture, and heritage for you to delve into.
Over the last couple of centuries, the canal-side settlement has been an important pottery works, tire manufacturer, and oatmeal producer with it now being known as a high-tech haven. Due to its varied past, the soaring skyscrapers of Fortune 1000 companies can be found alongside impressive cultural landmarks, architectural marvels, and the fabulous Hale Farm & Village which both preserves and promotes its rural heritage.
Among Akron's other attractions are its amazing art museum and exotic zoo with the terrific Tudor-style Stan Hywet Hall and Gardens also being well worth a look.
6. Westerville
Another very popular city-suburb to live and visit is the wonderful Westerville just fifteen minutes' drive north of the center of Columbus. Much more affordable than nearby Powell, it is known for its extensive array of historic homes and excellent amenities with the highly-rated Otterbein University also lying within its confines.
While the area was formerly inhabited for millennia by Native Americans, Westerville initially had a distinctly Dutch look and feel before it grew into the sizeable town it is today. Dotted about its neighborhoods are numerous antebellum-era houses for you to stop by, many of which hosted and hid runaway slaves on the Underground Railroad.
Aside from exploring this fascinating part of its past and the prominent role it played in Prohibition, it also has a charming downtown and over 40 parks and 3,000 amenities for residents to enjoy.
5. Cleveland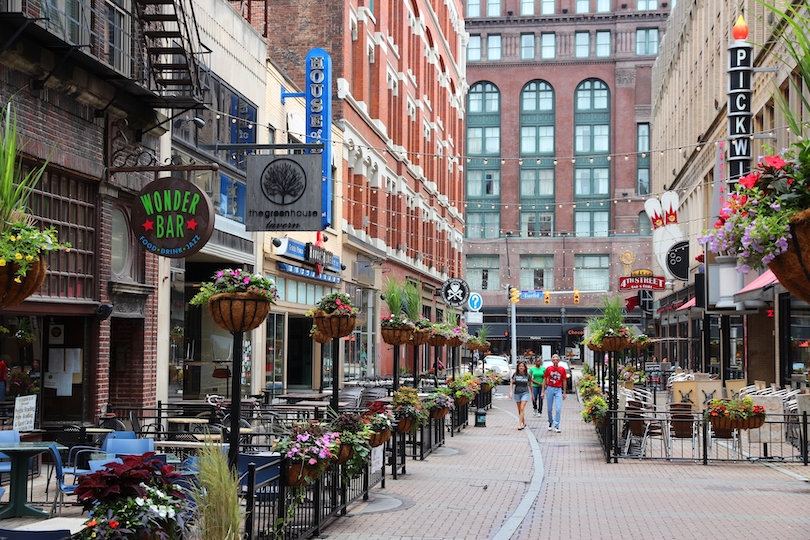 Once overlooked and avoided for being a rundown rust-belt city, Cleveland has bounced back in recent years. Nicknamed the 'Comeback City', it lies at the heart of one of the largest metropolitan areas in the States with everything from world-class museums and cultural events to gorgeous green spaces, theme parks, and professional sports on offer.
Thanks to this welcome rejuvenation and its endless list of recreational and entertainment options, Ohio's second-largest city is a great place to live. Due to its industrial past and bustling port along the stunning shores of Lake Erie, it is very culturally diverse with all kinds of shops and restaurants being dotted about its neighborhoods.
While its trendy waterfront district, plentiful parks, and wealth of employment opportunities entice new residents, tourists flock to the city to see the Rock & Roll Hall of Fame and Cleveland Museum of Art, or watch the Cavaliers or Browns play.
4. Youngstown
Located right in between the two massive metropolises of Cleveland and Pittsburgh in neighboring Pennsylvania, is the more manageable mid-sized city of Youngstown. While the collapse of its coal and steel industry in the seventies is still very visible, an ongoing economic and cultural renaissance makes it an increasingly attractive place to live and visit.
Whereas its downtown was almost empty and abandoned a couple of decades ago, it is now home to countless cafes and restaurants, shops, and art galleries. Only adding to its appeal are its friendly and welcoming residents and the ample local farms and Amish markets that lie just across the Mahoning River from the center.
With a brilliant performing arts center and all the scenic lakes, trails, and golf courses of Mill Creek MetroParks to enjoy, Youngstown is an oft-overlooked gem that has a lovely, laidback way of life.
3. Toledo
Another fantastic city to live in that doesn't often feature on visitors' itineraries is the terrific Toledo at the western end of Lake Erie. Now the fourth-largest city in the state, it has a happening arts and culture scene to check out with magnificent mansions and architecturally interesting houses lining the streets of its historic neighborhoods.
Known as the 'Glass City' due to its important former industry, it straddles the banks of the Maumee River with old docks and warehouses to be spied alongside its countless canals and waterways. Due to its past as an industrial powerhouse, it has a diverse population and lots of beautiful old buildings with plenty of riverside parks and restaurants dotted here and there.
A very affordable place with lots of renovated lofts to live in, Toledo also has some outstanding art museums, science centers, and outdoor activities for locals and tourists alike to enjoy.
2. Columbus
Awash with art and music, theaters, and nightlife, the cosmopolitan Columbus is both Ohio's largest city and state capital. While it boasts an almost endless array of museums, historic sites, and sporting spectacles, the city's diverse economy and high quality of life have enticed young professionals and families alike for decades now.
Set at the spot where the Scioto and Olentangy rivers meet, the sprawling metropolis has all kinds of different districts for you to explore with soaring skyscrapers and top-class museums lying next to picturesque parks and untouched green spaces. Although it is an important center of business and technology, it also has a very dynamic and youthful feel thanks to its sizeable student population.
Despite its extensive artistic, entertainment, and employment offerings and all its outdoor activities, Columbus has a relatively low cost of living in comparison with other massive metropolitan areas.
1. Cincinnati
Rivaling it in terms of quality of life is the 'Queen City' of Cincinnati in the southwest corner of the state. Although often perceived to be a sleepy Midwestern metropolis, this important economic and cultural hub has a myriad of attractions, amenities, and entertainment options for locals and visitors to benefit from.
Located on the north bank of the Ohio River, the fast-growing settlement is home to a diverse range of cultures and communities with the 'Athens of the West' being renowned for its iconic skyline. On top of this, it has numerous parks, museums, and attractive nineteenth-century architectural gems to check out with the Bengals and Reds also attracting hordes of fans with their action-packed games.
As well as an excellent school system and strong job market, Cincinnati has good connections to other nearby cities while the lush green hills that surround it are never far away.
Map of Cities in Ohio to Live and Visit