In the heart of Andalusia in Southern Spain is Seville, a remarkable city bursting with culture and beauty. You'll find historic landmarks like the Cathedral of Seville, where Christopher Columbus was laid to rest, and you can also experience the vibrant heritage through flamenco dancing.
After exploring the sights in Seville, make time to explore other nearby destinations. These day trips from Seville can be completed in a single day, and each makes for a wonderful experience you won't soon forget.
Map of day trips from Seville
© OpenStreetMap © MapTiler © Touropia
7. Jerez de la Frontera
[SEE MAP]
Dominic / Flickr
Situated south of Seville, Jerez de la Frontera is a city with a diverse and epic history. Jerez de la Frontera has been under Moorish rule as well as Christian rule, and its proximity to Africa has also influenced the development of the city.
The 10th century Monumental Compound of the Moorish Palace-Fortress and Dark Chamber is undeniably the city's most famous attraction, and it still boasts a camera obscura that can be used to admire a full 360-degree view over Jerez de la Frontera.
There are a dozen palaces and castles in the city, but the 18th century Viceroy Laserna Palace is one of the most grand, and it is also open to the public. Jerez is also the center of Spanish horse culture, and home of the invention of fortified sherry wine.
Getting to Jerez de la Frontera
To get to Jerez de la Frontera from Seville by public transport is very easy; direct trains run regularly from one to the other. From Estacion Prado De San Sebastian, the train journey generally takes an hour and 15 minutes. On the way, you'll pass through some beautiful countryside. Once you alight in Jerez de la Frontera, you'll find that all the main sights are within walking distance.
Driving from Seville takes between an hour to an hour and a half and is very easy – just one road connects the two. From the city center, head south on the A-4 and simply stick on it once it turns into the E-5 shortly after Dos Hermanas. After exploring Jerez de la Frontera to your heart's content, it is well worth driving to nearby Cadiz or Arcos de la Frontera to see all that they have to offer.
To get a taste for old-time Andalusia, it is well worth taking a guided tour to Jerez de la Frontera to learn about the region's history of sherry making and equestrianism. As well as watching an amazing dressage performance, you'll get to visit the beautiful medieval center of Cadiz which lies nearby. Highlights include its marvelous fishing district and towering cathedral. See trip reviews & prices.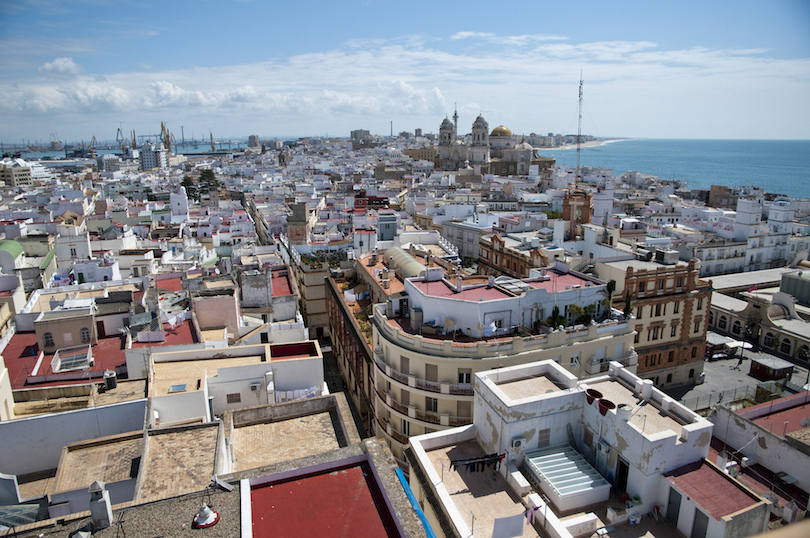 cudipeich / Flickr
The city of Cadiz is located on the water, overlooking the Bay of Cadiz, and it is the perfect day trip from Seville. Cadiz may be the oldest city in all of Western Europe, and it is believed to have been settled by Phoenician solders.
With a history of more than 3,000 years, Cadiz is packed with incredible landmarks. If you're a history or archeology buff, then you'll want to see the Archeological Museum as well as the Roman Theater ruins. The Mercado de Abastos, or central market, is the hub of Cadiz, and it is a great place to explore to learn more about the local residents, their cuisine and their day-to-day lives.
Getting to Cadiz
From Seville, Cadiz is around an hour and 40 minutes to two hours away by public transport; you can either take the bus or train there. Direct buses depart to Cadiz from Estacion Prado De San Sebastian, while regular trains leave from San Bernardo station. Once you arrive, you'll find that the lively heart of the city, Mercado de Abastos, is just a 15-minute walk away.
Driving to Cadiz is another great option if you want to visit the city. This means you can stop by some of the surrounding sights either there or on the way back to Seville. The journey down takes around an hour and 15 minutes to two hours, depending on traffic. Simply hop on the AP-4 that runs south from Seville and stay on it all the way there. On the way, you pass through some delightful scenery; it is well worth stopping by the impressive Jerez de la Fortuna or the neighboring Arcos de la Frontera, which offers up beautiful panoramas from its clifftop setting.
To really delve into the history and culture of this wonderful part of Spain, visitors may want to think about taking a guided tour. This not only takes you to both the cities of Cadiz and Jerez de la Fortuna, but also to see a spectacular 'How Andalusian Horses Dance' performance – something which the area is renowned for. In addition to this, you'll get to sample some of the region's fantastic wines and see all the main sights that the two cities have on offer. See trip reviews & prices.
5. Arcos de la Frontera
[SEE MAP]
The small town of Arcos de la Frontera can be found south of Seville and a mere five minutes from the nearby Jerez de la Frontera. Arcos de la Frontera was created atop a sandstone ridge for protection against attack, but today that location is known for its sweeping vistas.
Most of the buildings are painted white, giving the town a picturesque appearance. The heart of the town is Plaza del Cabildo, which is surrounded by significant buildings like the beautifully reconstructed 16th-century magistrate's house called Parador de Arcos de la Frontera.
Getting to Arcos de la Frontera
While there are direct buses from Seville to Arcos de la Frontera, they only run twice a day from Prado de San Sebastian station, so you will almost certainly have to take an alternative route either to get there or go back. Trains, for instance, run regularly to the nearby Jerez de la Frontera. Here, you can take a half hour bus trip to Arcos de la Frontera. As these only run five times a day, you will again have to judge it well or plan your journey in advance.
From Seville, it takes around an hour to an hour and a half to drive to Arcos de la Frontera. After seeing the small town and taking in its beautiful views, you can head on south to neighboring Jerez de la Frontera or the coastal city of Cadiz. The quickest route is to take AP-4 heading south from Seville and follow it until you take exit 44 at Las Cabezas de San Juan. Follow the SE-5209 towards Gibalbin; from here, you should see signs pointing you to Arcos de la Frontera.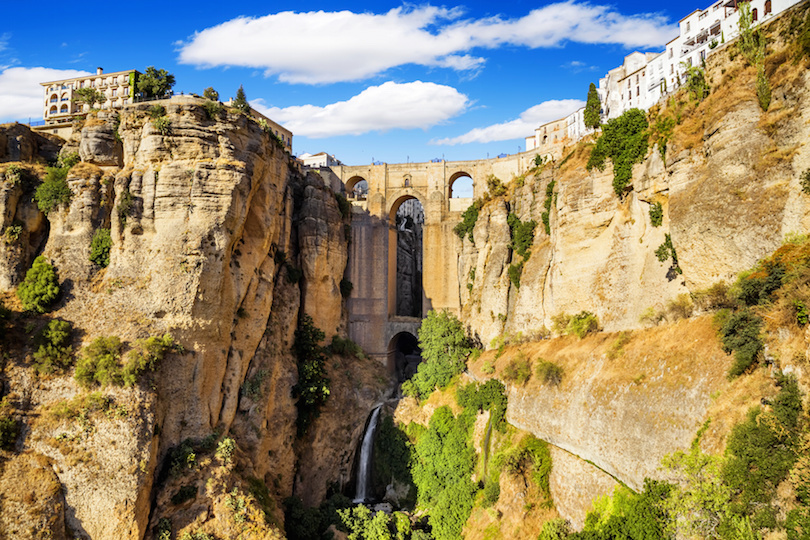 Constructed around a deep gorge, Ronda is a truly breathtaking destination. When you visit, you can see right in and around El Tajo Gorge, and you can admire the blue waters of the Guadalevín River cutting right through it.
South of the gorge is La Ciudad, the historic center and where the medieval walls are found. The bridges spanning the gorge and the river are a big part of the town. While there are three distinct bridges, the most interesting is the Puente Nuevo, or new bridge, which is made from stone and even features a small museum.
Getting to Ronda
The easiest and quickest way to get to Ronda from Seville is to take a direct bus from Estacion Prado De San Sebastian in the city center. While you can take the train, you'll have to change at least once. In any case, the travel time works out at longer than the two and a half hour bus journey, which takes you through some delightful countryside.
In comparison, driving should save you between 30 and 60 minutes, as it is much quicker than taking the bus. Just take the A-376 heading southeast from Seville and stay on it when it turns into the A-375 just past Utrera. Once you come to the A-384, merely follow it east around Sierra de Grazalema Nature Park until you come to Ronda. On the way back, make sure to stop off at the lovely town of Zahara de la Sierra or take a detour through the scenic nature park if you have the time.
To gain a deeper appreciation for the beauty of the Spanish countryside and its charming little villages and towns, you may want to consider taking a guided tour. This includes visits to Ronda, Zahara de la Sierra, and the fantastic castle of Las Aguzaderas – among other stops. With an expert guide on hand, you'll come across lots of little hidden gems, and this package offers the perfect combination of history, nature, and culture – all in one day. See trip reviews & prices.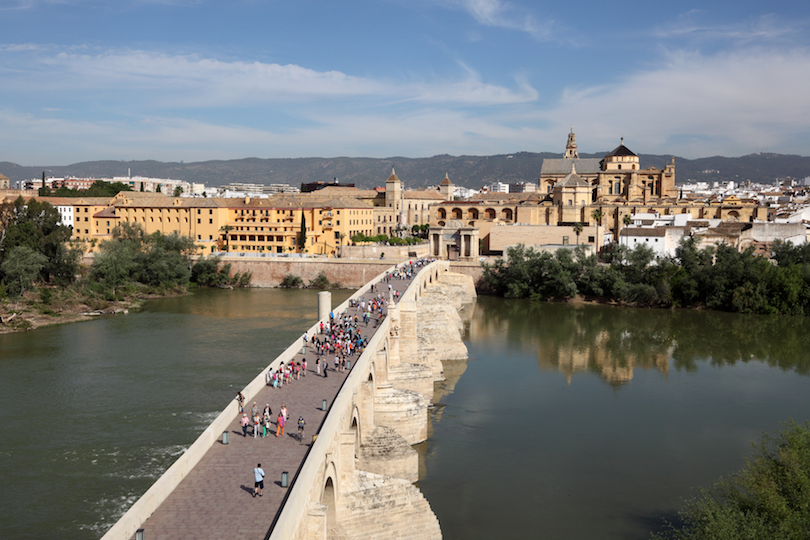 © Typhoonski / Dreamstime
Northeast of Sevilla is Cordoba, an ancient city with a blend of cultures, cuisines and architecture from around the world. Since Cordoba was established as a city, it has been a Caliphate, the capital of an Arab state and even the capital of a Roman province.
The most iconic attraction in Cordoba today is the Mezquita, a former mosque-cum-cathedral. The structure boasts incredible arches in the interior, an enormous 17th century bell tower and a beautiful outdoor patio called the Court of the Oranges. Also in Cordoba's Old City, you can find ancient Roman bridges, synagogues in the Jewish quarter and lavish Arab palaces.
Getting to Cordoba
Despite lying 140 kilometers to the northeast of Seville, Cordoba is only 45 minutes away by public transport. From Sevilla Santa Justa station, simply hop on a direct train; these depart very regularly.
It actually takes double the time if not more to drive there from Seville. This does, however, mean you are free to travel as you please and can even stop off at charming towns such as Carmona on the way there or back. From the city center of Seville, just head northeast on the A-4; this takes you directly to Cordoba.
Another popular option is to take a guided tour of Cordoba; this is the best way to see as many of its amazing landmarks as possible in one day. With a knowledgeable guide on hand, you'll learn a lot about the city's rich history and cultural heritage while delving into Cordoba's Christian, Muslim, and Jewish past through the amazing monuments you visit. See trip reviews & prices.
A short 30-minute drive out of Seville will bring you to Carmona, a town perched in a spot overlooking a lush valley. Carmona once served as a Roman settlement, and later it was ruled by Muslims as well as Christians. All of these influences are clearly visible in the local architecture.
The Roman Necropolis and the Archaeological Ensemble of Carmona date back a full millennia, and the Alcazar de Arriba, or Upper Fortress, is a clear hallmark of Moorish design. Perhaps the most fascinating attraction is the Alcazar de la Puerta de Sevilla, an extravagant royal palace.
Getting to Carmona
As it is located just 30 kilometers from Seville, it takes no time at all to reach Carmona, and visitors have a variety of transport options available to them. Buses frequently run between the two. From Plaza de Armas, it can take as little as 20 minutes to get to the center of Carmona if you take a direct bus, although most take half-an-hour to 45 minutes.
By car, it again takes around 20 minutes to half-an-hour to get to Carmona, although you will have to find a parking space once you arrive. The directions are very easy to follow; all you need to do is head northeast out of the city center and take the A-4 all the way to Carmona. While it is about an hour's drive from the picturesque town, many people decide to carry on and visit Cordoba in the same day after having explored the center of Carmona.
If you're a bit pressed for time, a great way to see both Carmona and Cordoba in one day is to take a guided tour to the two cities. On the journey there and back, your guide will tell you all about the fascinating history of Andalusia. Once you arrive, you'll get to visit the stunning Mezquita in Cordoba – among other sights – and you'll also have a wander around the charming center of Carmona. See trip reviews & prices.
About 240 km (150 miles) east of Seville is Granada, one of Spain's most popular tourism destinations. It is easy to see the appeal of Granada: It is located close to the Sierra Nevada Mountains, there is no end to the historic architecture and you can explore Moorish and Roma districts bursting with culture.
However most tourist go to Granada to see the amazing Alhambra. This complex is a palace, a fortress and a government building all rolled into one, not to mention stunning gardens. The oldest parts of the Alhambra are found in the Alcazaba, which also offers the best views over Granada.
Getting to Granada
Granada is very easy to get to from Seville, as direct buses run between the two cities. From Plaza de Armas, ten buses depart for Granada each day, and the journey takes precisely three hours. Once you arrive at the bus station, it is then a 15-minute bus ride on line 33 to reach the city center and sights such as the stunning Alhambra.
Driving from Seville is about half-an-hour quicker than taking the bus. This also means you don't have to worry about missing your ride back or getting to and from the bus station. As the A-92 runs between the two cities, it is almost impossible to get lost; you simply need to hop on it heading eastwards and continue until you reach Granada.
To avoid the hassle of driving or taking the bus to Granada, you may want to consider taking a day tour to the fabulous city. As well as enjoying a guided tour around the majestic Alhambra Palace and seeing all its spectacular sights, you'll get to luncheon in the center of beautiful Granada. If you feel like it, you can also opt to take a walking tour around Albaicin – the old Moorish quarter. See trip reviews & prices.