Bilbao resides about 16 km south of the Bay of Biscay in the northern region of Spain. It is the largest city in the province of Biscay and the de facto capital of the Basque Autonomous Community.
Historically an industrial hub, Bilbao has undergone a significant transformation in recent decades, becoming a modern, dynamic and cultural city. Subsequently, it has become a must-visit destination for travelers seeking an enriching Spanish experience.
The city is best known for housing one of the world's most iconic museums, its love of football (it is the home of Athletico Bilboa) and incredible gastronomy. Surrounded by the picturesque landscapes of the Basque Country, it is an excellent starting point for exploring the region's natural beauty via hiking trails through hillsides, mountains
The blend of history, art, gastronomy, and modern architecture offers a wide range of things to do in Bilbao that promise a unique and captivating experience. Ranking among the best they will get during their travels in Spain.
Map of Tourist Attractions in Bilbao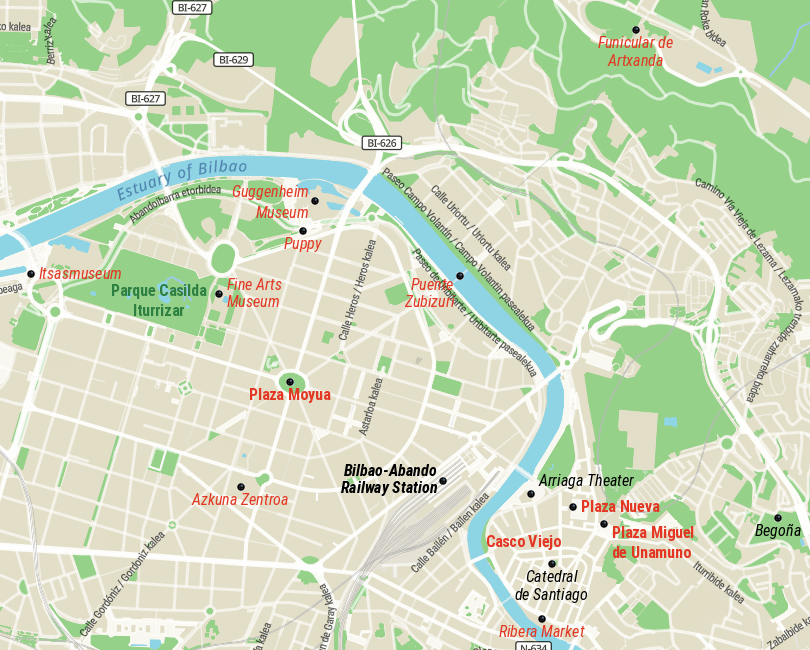 © OpenStreetMap © MapTiler © Touropia
In this post, we'll cover:
17. Plaza Miguel de Unamuno
At some point during your visit to Bilbao, you'll no doubt end up at the Plaza Miguel de Unamuno.
The square – named after Miguel de Unamuno – resides in the heart of Bilbao's Casco Viejo (Old Town). He was a renowned Spanish professor who significantly developed Bilbao's intellectual and cultural life during the early 20th century.
Surrounded by picturesque buildings, charming alleys, and traditional pintxos bars, the square is a delightful place to immerse yourself in the local Basque culture. One of the most notable landmarks in the plaza is the statue of Miguel de Unamuno himself, paying tribute to his contributions to Bilbao's intellectual heritage.
The square's lively ambiance makes it the perfect spot to people-watch, especially at night, when the plaza bustles with activity.
16. Arriaga Theater
The city has a rich history of performance art. One of the best places in Bilbao to observe this is at the Arriaga theater.
Built in the late 19th century, the venue was named after the renowned Basque composer Juan Crisóstomo Arriaga. It boasts an impressive neo-baroque façade adorned with intricate sculptures and ornate details. Its lavish interior, resplendent with frescoes and gilded decorations, exudes a sense of grandeur, which harks back to its golden era.
The theater's programme features diverse performances, including opera, ballet, concerts and theatrical productions throughout the year. We have attended a couple of shows at the Arriaga during our visits to Bilbao. It is an excellent way for us to immerse ourselves in the region's artistic heritage.
15. Itsasmuseum
Xabier / Wikipedia
Bilboa has a fascinating maritime history that dates back centuries, which you can learn more about at the Itsasmuseum.
This museum, housed in a beautifully restored historic building, was formerly known as the Maritime Museum of Bilbao.
It features an extensive collection of exhibits, including ship models, navigational instruments, and artifacts. Collectively, they provide visitors with an insightful journey through centuries of nautical heritage. The museum also offers interactive displays and immersive experiences, engaging visitors of all ages.
Beyond the exhibits, the museum's location along the banks of the Nervión River offers picturesque views and a pleasant waterfront setting. Overall, it is a terrific place to stroll or enjoy an al fresco lunch while appreciating the city's seafaring past and present.
14. Parque Casilda Iturrizar
Located in the central neighborhood of Indautxu, the Parque Casilda Iturrizar is a peaceful and charming urban green space. Visiting the park is one of the best things to do in Bilbao for those looking for a change of scene and to get a break from the frenetic pace of sightseeing.
The park boasts lush green lawns, stunning flowerbeds, and tall trees, creating a serene atmosphere perfect to relax and picnic. The well-maintained paths offer a peaceful opportunity to stretch your legs. At the same time, kids will enjoy its playgrounds and recreational areas, which are perfect for running around.
Parque Casilda Iturrizar is a lovely place to visit at any time of the day. However, it is fabulous at dusk, especially if you bring a picnic when you can enjoy the park's natural beauty against the backdrop of the setting sun.
13. Basilica of Begoña
The Basilica of Begoña is a significant religious and architectural landmark.
This impressive basilica is dedicated to the Virgin of Begoña, the city's patron saint, boasting a history from the 16th century when construction began. However, the current neo-gothic style that defines the building was only completed in the early 20th century.
The Basilica of Begoña features a stunning façade adorned with intricate stone carvings and sculptures, reflecting its religious significance's grandeur. Visitors can admire the elegant altar and beautiful stained glass windows that create a serene and spiritual ambiance.
Attending a religious ceremony is recommended for those wanting a more profound experience.
Aside from its religious importance, the basilica also offers panoramic views of Bilbao from its hilltop location, making it a popular spot for locals and tourists alike.
12. Ribera Market
If you love to shop whenever you travel, you should visit the Ribera Market (Mercado de la Ribera). It is one of the largest and most iconic covered markets in Europe.
Located along the banks of the Nervión River, the Ribera Market boasts an impressive selection of fresh produce, seafood, meats, cheeses, and local delicacies. It is a vibrant hub of culinary delights where visitors can savor the authentic flavors of Basque cuisine and interact with friendly local vendors.
The market's bustling atmosphere and lively energy create a unique and immersive visitor experience. Exploring the stalls, sampling pintxos, and engaging with the locals are highly recommended to appreciate the essence of Bilbao's gastronomic culture fully.
After you have made your purchases, consider heading off to the nearby Plaza Nueva to enjoy them against the backdrop of the charming architecture of the old town.
11. Plaza Moyua
The Plaza Moyua is another beautiful square to visit when in Bilbao.
This prominent urban space, named after Federico Moyua, a renowned Bilbao-born architect, is defined by its wide avenues and modern amenities.
Surrounded by stylish buildings, high-end boutiques, and trendy cafes, Plaza Moyua exudes an air of sophistication. Its central location makes it an ideal starting point for exploring the city, with easy access to major attractions and public transportation.
Plaza Moyua is considered the heart of the city. Its centerpiece features a striking sculpture, 'La Salve,' which pays homage to Bilbao's industrial heritage and relationship with the Nervión River. Whilst at the square, stroll along Gran Vía, the main avenue that intersects it. Doing this will allow you to qualitatively experience the city's modernity and cultural vibrancy.
10. Azkuna Zentroa
Housed within one of Bilbao's most iconic buildings, the Azkuna Zentroa is the city's epicenter for culture and art.
Designed by renowned architect Philippe Starck, it was inaugurated in 2010 and is named after Bilbao's former mayor, Iñaki Azkuna. He played a vital role in transforming the cityscape into modernity.
The building's unique architecture is characterized by its undulating glass façade and colorful columns, which create a striking visual impression. It offers diverse activities and spaces, including art exhibitions, film screenings, concerts, workshops, cafes, public media center and a well-equipped library.
Throughout the year, the center's diverse cultural program often includes cutting-edge contemporary art exhibitions and performances from local and international artists.
Aside from the art and culture, the center also features a fantastic rooftop terrace with a glass-bottom swimming pool. You can see exceptional panoramic views of Bilbao's skyline from its lofty position.
9. Puente Zubizuri
Puente Zubizuri, also known as the Zubizuri Bridge or White Bridge, is a notable modern footbridge in Bilbao.
The bridge's design features a striking white curved walkway supported by a single pylon, and a transparent glass floor, giving the illusion of walking on air. Spanning the Nervión River, it connects the Guggenheim Museum area with the Ensanche district, providing pedestrians with a convenient and scenic pathway between these two vibrant parts of the city.
Puente Zubizuri has received acclaim and criticism for its avant-garde design since it opened in 1997. But it has undoubtedly become a symbol of Bilbao's transformation into a modern and cosmopolitan city.
We recommend crossing the bridge during the evening when it is lit up beautifully. The sight it created against the stunning backdrop of Bilbao's skyline took our breath away.
8. Catedral de Santiago
The Catedral de Santiago is a significant religious landmark.
Located in the heart of the Casco Viejo (Old Town), the cathedral dates back to the 14th century, although it has undergone several renovations over the years.
The cathedral features an eclectic architectural style, combining Gothic, Renaissance, and Baroque elements. Its stunning façade is adorned with intricate stone carvings and sculptures, making it a sight to behold for visitors.
The cathedral houses a beautiful altarpiece and an impressive collection of religious artwork and artifacts. The cloister is particularly noteworthy, providing a tranquil and contemplative space within the bustling city.
Visiting during one of the cathedral's religious services or events is recommended. Doing so offers a unique opportunity to experience this historic place's spiritual and cultural significance.
7. Puppy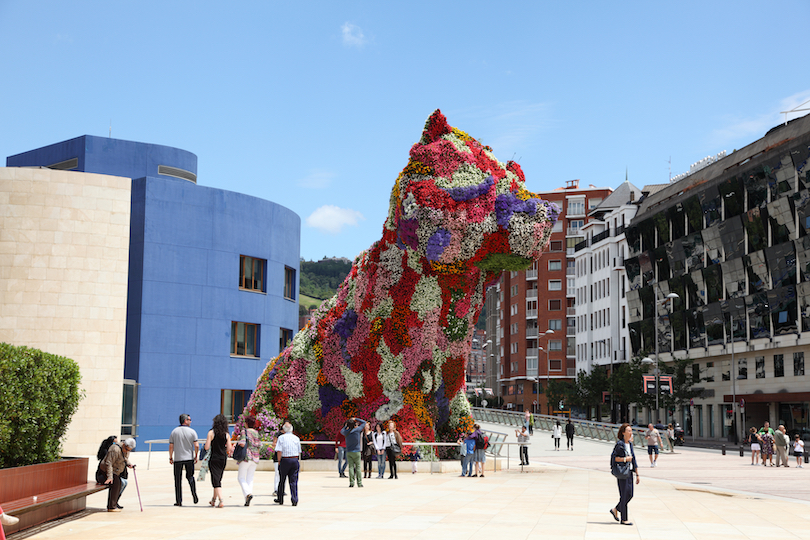 'Puppy' is a beloved and iconic sculpture created by American artist Jeff Koons.
The sculpture is created in the shape of a giant West Highland White Terrier puppy and features a colorful and vibrant array of flowers. It stands proudly at the entrance of the Guggenheim Museum Bilbao, welcoming visitors with its playful and whimsical presence.
First unveiled in 1997 as part of the museum's inauguration, it quickly symbolized the city's artistic revival and cultural transformation. Its floral design changes with the seasons, creating an ever-changing and dynamic artwork that captivates everyone who sees it.
The sculpture's joyful and inviting spirit perfectly encapsulates the city's artistic vitality. It also adds an extra 'wow' factor for anyone visiting the Guggenheim Museum.
6. Bilbao Fine Arts Museum
The Bilbao Fine Arts Museum is a cultural gem showcasing an impressive art collection from the 12th to the 20th century. Established in 1908, the museum has a rich history and has grown over the years to become one of the most important art institutions in the Basque Country.
The museum's collection boasts many artworks, including paintings, sculptures, and decorative arts. It focuses on Basque and Spanish artists, with notable works by Francisco de Goya, El Greco, and Eduardo Chillida. Additionally, the museum houses significant pieces by renowned European artists such as Anthony van Dyck, Peter Paul Rubens, and Paul Gauguin.
In 2001, the museum underwent a major expansion with the addition of a modern wing designed by architects Luis María Uriarte and Juan Pablo Lertxundi. This contemporary extension complements the historic building beautifully, providing a seamless and captivating space to house the diverse collection.
5. Plaza Nueva
Plaza Nueva, or New Square, is a lively and historic square situated in the heart of Bilbao's Casco Viejo (Old Town) in Spain.
The square's construction began in 1821 under the direction of architect Antonio de Goicoechea and was completed in 1851. Its neoclassical architecture and elegant arcades create a captivating setting that exudes the charm of that bygone era.
Surrounded by picturesque buildings with colorful balconies, Plaza Nueva has become a focal point for social and cultural gatherings. The square is a hub of activity, hosting regular markets, fairs, and events that showcase the region's vibrant traditions and folklore.
Plaza Nueva's vibrant atmosphere draws locals and tourists, with numerous cafes, pintxos bars, and restaurants lining its perimeter. It's an ideal spot to enjoy a leisurely meal or a refreshing drink while immersing oneself in the vibrant Basque culture.
4. Funicular de Artxanda
The Funicular de Artxanda is a charming and efficient cable railway that connects the city center to the top of Mount Artxanda. First inaugurated in 1915, it showcases breathtaking panoramic views of Bilbao and its surrounding landscapes along the way.
The journey on the Funicular de Artxanda is a short and pleasant ride, lasting around three minutes, but it offers an unforgettable experience. As the funicular ascends the mountain, passengers can witness the stunning vistas of Bilbao's iconic skyline, including the Guggenheim Museum and the Nervión River.
Upon reaching the summit of Mount Artxanda, you'll find yourself in a peaceful and scenic area, perfect for a leisurely stroll or a picnic. There are also several restaurants and cafes where you can savor traditional Basque cuisine while admiring the captivating views.
3. Discover the City's Pintxos Bars
Visiting Pintxos bars in Bilbao is essential to immerse yourself in the city's culinary and cultural identity.
Pintxos (pronounced 'pinchos') is a variation of tapas. It takes the form of small, delicious bites typically served on a slice of bread and secured with a toothpick. These delectable morsels are an art form in themselves, featuring a variety of ingredients, textures, and flavors, each a testament to Basque chefs' creativity and culinary prowess.
The tradition of pintxos dates back centuries, with the Basque Country being renowned for its gastronomic heritage. In the Casco Viejo (Old Town) and other neighborhoods, visitors will find many pintxos bars, each boasting specialties and unique creations.
Our favorites are tortilla de patatas (Spanish omelet) and gilda (anchovies, olives, and pickled peppers). We can't wait to go back to Bilbao and try them again!
2. Casco Viejo
Also known as the Old Town, Casco Viejo is Bilbao's historical and cultural heart. It is one of the city's most vibrant and charming neighborhoods, boasting narrow cobblestone streets, traditional architecture, and a rich history that dates back centuries.
The area's history can be traced back to the 14th century when defensive walls surrounded it. Over the years, Casco Viejo has become a bustling district filled with shops, bars, restaurants, and cultural attractions.
The neighborhood has several landmarks, including the Santiago Cathedral, Plaza Nueva, and the Arriaga Theater. It also houses numerous pintxos bars, offering visitors a delightful gastronomic journey through Basque cuisine.
Casco Viejo is a place where the old and the new coexist harmoniously. The best way to explore it is on foot. Amidst the traditional buildings, you'll find contemporary art installations and boutiques, adding a touch of modernity to the historical ambiance.
1. Guggenheim Museum
Undoubtedly, the most famous attraction in Bilbao is the Guggenheim Museum.
Designed by architect Frank Gehry, the museum was inaugurated in 1997 and quickly became a symbol of Bilbao's transformation into a modern and dynamic city.
Its distinctive design features undulating curves and titanium panels, creating a striking and futuristic appearance. Congruently, its location along the banks of the Nervión River adds to its visual appeal, making it a harmonious part of the city's landscape.
The Guggenheim Museum Bilbao houses an impressive contemporary and modern art collection, including works by renowned artists such as Jeff Koons, Anish Kapoor, and Mark Rothko. The museum's rotating exhibitions ensure that there's always something new and exciting to see.
If visiting the Guggenheim, we recommend devoting a whole day to it. Doing this enabled us to take a strategic approach to appreciating the works on display rather than just rushing around to see as much as possible.
Where to Stay in Bilbao
When visiting Bilbao, two highly recommended areas for accommodation are the Ensanche and Indautxu districts. We like them because they offer a pleasing mix of convenience, amenities and charm, which always makes our stay in the city enjoyable.
Vincci Consulado de Bilbao, located in the heart of the Ensanche district, is an ideal choice for travelers seeking luxury and comfort. Its elegant rooms, decorated with contemporary flair, provide a relaxing retreat after exploring the city. The hotel restaurant serves superb Basque cuisine, while the rooftop terrace offers stunning panoramic views of Bilbao's skyline.
Another great option is Hotel Conde Duque Bilbao, in the lively Indautxu neighborhood. This charming boutique hotel captures the essence of Bilbao's history and culture through its stylish decor and warm ambiance. The hotel's proximity to the the top attractions in Bilbao makes it an excellent base for sightseeing. It is also close to some fantastic bars serving top-notch traditional Basque pintxos.
How to get there
To get to Bilbao in Spain, travelers have several transportation options.
For international visitors, flying into Bilbao Airport (BIO) is the most convenient choice, with regular flights connecting the city to major European destinations and beyond. Taxis and public buses (Bizkaibus) provide efficient transportation to the city center from the airport.
Additionally, for those already in Spain or nearby regions, taking a train to Bilbao's main railway station, Abando Indalecio Prieto, offers a comfortable and scenic journey.
Road travel via car or bus is also a viable option, with well-maintained highways connecting Bilbao to other cities in Spain.
Once in Bilbao, the city's efficient public transportation system comprises the metro, trams, and buses. They make it easy for visitors to navigate and explore this vibrant city's captivating attractions and cultural treasures.
Approximate travel times
San Sebastian – 1 hour by car, 1 hour by train
Santander – 1.5 hours by car, 1 hour 30 minutes by train
Burgos – 2 hours by car, 2 hours by train
Zaragoza – 3 hours by car, 3 hours by train
Madrid – 4.5 hours by car, 5 hours by train
Barcelona – 6 hours by car, 5 hours by train
Bordeaux (France) – 3.5 hours by car, 4 hours by train
Lisbon (Portugal) – 8 hours by car, 10 hours by train and bus
Best Time to Visit Bilbao
Known for being home to the glittering, graceful Guggenheim Museum, Bilbao sees the most visitors in July and August. This is when temperatures average 24 to 25°C (75–77°F); perfect for strolling about the center and sunbathing and swimming at its nearby beaches.
Although summer is the busiest and most expensive time to visit, it is also when the popular Aste Nagusia celebrations take place. This sees Basque sports, concerts, cultural events and fireworks displays held all around the city.
If you want to avoid the crowds (and high prices), April to June and September and October are very pleasant weatherwise in Bilbao. Temperatures range from 16 to 24°C (61 to 75°F) and there are lots of hours of daylight with swimming being comfortable from June onwards.
Basque FEST in spring is yet another great reason to visit as is the traditional Santo Tomas market in December. As Bilbao remains relatively warm in wintertime, it can make for a nice getaway with Christmas markets and decorations also brightening up its center. You'll have to pack an umbrella though as November to January is by far the rainiest period of the year.