Founded as a Roman city, Barcelona was originally a small settlement known as Barcino. Several centuries later, it is now regarded as the largest city in Catalonia as well as its capital. A major destination in Europe, the city is characterized by its rich cultural heritage, the architectural masterpieces of Antoni Gaudi, and of course, FC Barcelona – one of the most famous football club in the world.
Locals and regular visitors claim that the city has something to offer on a day-to-day and street-by-street basis. So, if you only have 3 days in Barcelona, it's essential that you plan ahead to make sure that you get to see the best that Barcelona has to offer. Seeing it all is near impossible.
To get around the city, consider getting a transport card – the Barcelona Card, the Barcelona Pass, or the T 10-transport only card. The advantages and limitations of these cards vary between them so make sure to check for details on all three before you make a decision on which to purchase. It's also worth noting that Barcelona is a very walkable city and many of the central sights can be reached on foot.
Day 1: Exploring Ciutat Vella (Old Town)
If you look at any Barcelona city map you should notice that everything spreads out towards the surrounding mountains from a point of unorganised intertwined streets. This central area is the heart of the city – Ciutat Vella or the 'old town'. The most ideal way to start your Barcelona journey is from here, this is also where several iconic structures of Barcelona can be found.
Morning – Las Ramblas, Gothic Quarter & Barcelona Cathedral
Start your day with a stroll at Mercat de la Boquería, considered as the largest food market in Europe. This is the perfect place to shop for some local produce and a freshly-made fruit juice to kick-start the day. From here, walk a couple of minutes to get to Las Ramblas, one of the the best-known tree-lined avenues in the world. While the streets here are filled with locals and tourists alike, keep an eye out for Joan Miró mosaic work on the pavement you walk on.
Take a left from here to turn into the Gothic Quarter where sits Plaça Reial, a neoclassical gem dotted with the city's most famous restaurants, nightclubs, and a series of lanterns surrounding the fountain – the first works of Antoni Gaudi in the city.
Once again, veer left from here to find yourself at the much-photographed 13th century Cathedral – Barcelona Cathedral. Awe-inspiring from the inside as well as outside, the Cathedral is the most prominent Catalan Gothic structure in Barcelona.
You are in Gótico so it only seems appropriate that you make yourself comfortable at one of the many fancy restaurants here for lunch. For a more local experience, head across to Born district and try the tapas at Bubó.
Afternoon – Explore Born District
After enjoying a delightful lunch, start exploring Born district. Visit the church of Santa María del Mar, a different experience than the Cathedral but equally entrancing architecture.
© Valentin Armianu / Dreamstime
Once out of the church, look for Carrer Montcada Street which is lined with art galleries, museums, and fine examples of secular medieval architecture. Museu Picasso (or Picasso Museum) deserves a special mention just for the fact that it houses some of the earliest works of the artist. Also notable is the European Museum of Modern Art (MEAM), a living museum exhibiting paintings and sculptures from 20th and 21st centuries. Take your pick and let yourself get lost amidst one of these spectacular collections.
If you have a little more time on your side, walk over to Palau de la Música Catalana to find one of the best edifices in the city and an extraordinarily decadent concert hall. You could book a tour of the grandeur structure but if you lack time, it's also worth appreciating this shrine to Catalan culture from the outside.
Evening – Night Out at Barceloneta
After an eventful day exploring the gems of the city, you deserve yourself a night of fun and frolic. Take the L4 metro from Urquinaona to Barceloneta station or N8 bus from Via Laietana to Pas Sota Muralla to get to Barcelona's most stylish waterfront, Barceloneta.
Find a spot at one of the many beach bars that spread across the coastline or make your way to one of the many prominent nightclubs in the area. Try the Ice Club for something different.
Day 2: Walking in the Footsteps of Gaudí
Barcelona, perhaps more than any other city in the world, is known for its architecture. It is now time to step out of the Old Town and step into the world of Modernismé, a movement best associated with Barcelona's favorite son, Antoni Gaudí.
Morning – Hospital de la Santa Creu i Sant Pau, Sagrada Família, and Casa Milá
Once again, hop on to the L4 from Urquinaona but this time to head to Guinardó | Hospital de Sant Pau station. From here, the Hospital de la Santa Creu i Sant Pau is just a 1 minute walk. An operational hospital until 2009, the structure is now being transformed into a cultural center and a museum. You could take an English-speaking tour of this remarkable building but remember to book in advance.
A 10 minutes gentle stroll brings you to the one building in Barcelona that you absolutely can't miss – Sagrada Família Basilica, also known as Gaudí's Magnum Opus. Easily an hour of exploration, the closer you get to the construction, the more artistic detail you notice. Don't miss the Nativity Façade and the bronze door at the Passion Façade.
© Maksershov / Dreamstime
Up next is another masterwork of the artist, Casa Milá (20 minutes walk or 10 minutes via N7 bus/L5 metro), also known as La Pedrera. Casa Milá is a bizarrely astonishing structure commissioned in 1906 by an affluent Catalan couple. Gawk at the inexplicable chimneys and wrought-iron verandahs before heading to the rooftop for some photos and a chance to get up, close, and personal with the artist's life and work preserved at the Espai Gaudí Museum.
Before grabbing a bite to eat walk down Passeig de Gràcia and take a moment to appreciate the fascia of Manzana de la Discordia, where Gaudí, Cadafalch, and Montaner stand tall to grab your attention.
Afternoon – Parc Güell
If you thought that this is all Gaudí had to offer, you would be wrong. Take the No.24 bus from Pg. de Gràcia – Aragó and get off at Ctra del Carmel – Parc Güell and walk 5 minutes to find yourself at one of the best-loved creations of the artist, Parc Güell.
A psychedelic city park spread over an expanse of 15 hectares, the park was originally commissioned to be a miniature town for the riches. Though it was never completed, it is now one of the most frequented green spaces in the city, literally sprawling with Gaudí's art.
Salamander Fountain is one of the most iconic structures here – you may have to stand in a queue to even take a photo but it's worth it. Explore the nooks and crannies of the park or find a quiet spot to unwind for the rest of the afternoon.
Evening – The District of Gràcia
© Filimonov / Dreamstime
A 15 minute walk from the park brings you to the bohemian district of Grácia. Spend the rest of the evening walking through these streets that are lined with several shopping arcades, nice restaurants, and small bars. This is also a great opportunity to shop for some souvenirs before filling yourself with tapas and sangria.
Day 3: Catalan Culture & Sunset Views
Today being the last day of your 3-day trip to Barcelona, let's change the pace a bit and move away from the bustling streets of the Old Town and head towards the magical hills of Montjuïc that provides the city its wonderful backdrop.
Morning – Poble Espanyol
For your last day in the city, head to Poble Espanyol – a huge open-air museum four times the size of FC Barcelona's football pitch. The complex is famous for its various sections, each of whom represent a specific Spanish region. There is also a flourishing handicraft market which is perfect for souvenir shopping.
From Poble Espanyol walk 15 minutes to another equally enticing attraction, the Fundació de Joan Miró which exhibits the greatest artworks of Joan Miró.
A great idea for lunch would be to bring some packed food with you for a nice picnic on the grassy slopes of Montjuïc.
Afternoon – Museu Nacional d'Art de Catalunya (MNAC)
A pleasant 10 minutes' walk from the Joan Miró Foundation brings you to Museu Nacional d'Art de Catalunya (MNAC), a museum dedicated to 1000 years of Catalan visual art. You could easily spend the afternoon here taking in the many exhibitions but make sure you give yourself enough time to stop by and appreciate the 'Christ in his Majesty', the primary attraction in the museum.
Evening – The Castle and its Magic Fountain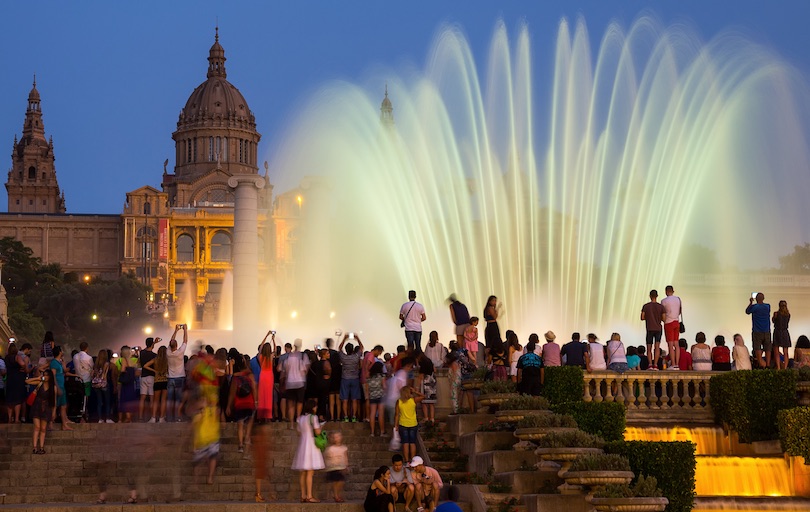 There is no better way to end your Barcelona tour than to make your way to the castle atop the Montjuïc slopes (take the Telefèric Cable Car from Avinguda de Miramar if walking uphill sounds too exhausting) and enjoy a mesmerizing view over the city of Barcelona as the sun sets and the twinkling lights turn on.
And for the grand finale of your short but amazing Barcelona itinerary, descent back to Plaça de Espanya in time for the evening show at the grandiose Magic Fountain (09:00 PM start).