Located on the western coast of the Iberian peninsula, Portugal is one of Europe's most visited countries due to its idyllic climate, affordable travel costs and exceptional attractions. The richness of Portugal's heyday – when it used to rule a huge empire from Brazil to Macau in China – is something you can definitely see in its architecture.
Elegant and drenched in opulence, the buildings of Lisbon and Porto – especially in their respective Old Towns – certainly reflect the wealth of Portugal's imperial days.
The Algarve in southern Portugal is a long stretch of towns and beaches from Lagos to Faro. Hotels and golf courses jostle for space in this famous region of the country. Hiking along the Algarve offers great coastal views, but taking a trip to one of Portugal's islands – like Madeira or the archipelago of the Azores – is a whole other world of beauty. Plan your trip to this terrific European travel destination with our list of the best places to visit in Portugal.
In this post, we'll cover:
17. Viana do Castelo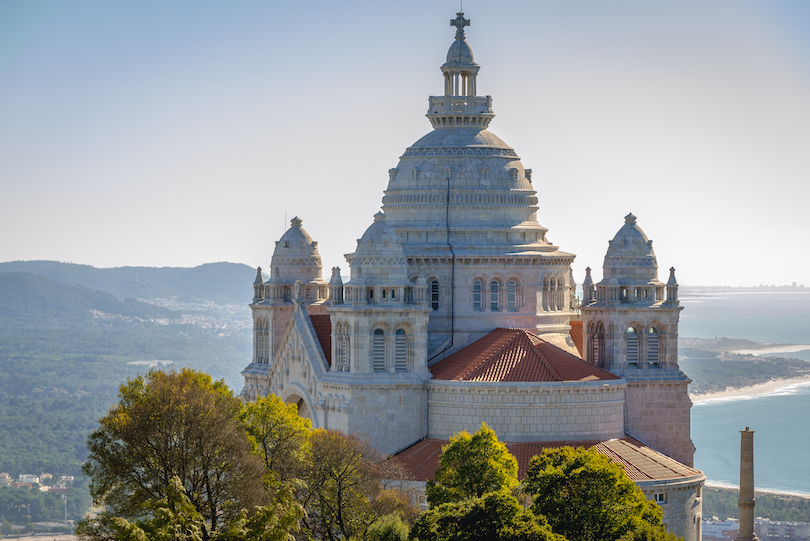 Set in a scenic spot at the mouth of the Lima River, Viana do Castelo lies in the north of Portugal, right next to the Atlantic Ocean. The small city boasts interesting and impressive historical and cultural landmarks and is a popular stop along the Portuguese Way.
As it has long been an important pilgrimage site, numerous centuries-old churches and a gorgeous Gothic-style cathedral can be found dotted around town. Its well-preserved medieval center is also home to fine palaces and manor houses, as well as a couple of small museums.
Overlooking everything from its prominent hilltop position is the beautiful Basilica of Santa Luzia, which was modeled on Sacre Coeur in Paris.
Besides all the divine architecture and magnificent monuments, Viana do Castelo offers astounding views over the surrounding area and is an excellent base for exploring the Lima Valley. Many people visit to hike in the foothills or lounge on its beautiful beaches.
16. Monsaraz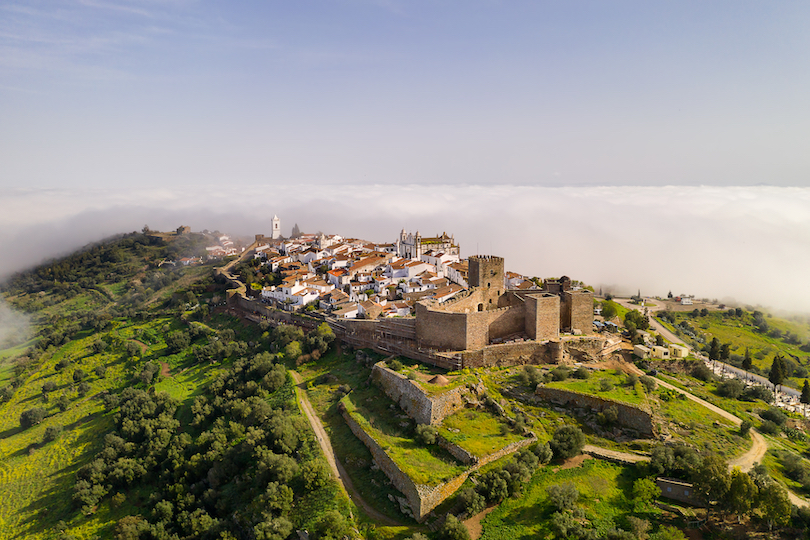 Fought over and ruled by everyone from the Romans and Visigoths to the Arabs and Knights Templar, Monsaraz boasts a long and illustrious history. The settlement was sought after as it occupies a scenic and strategic hilltop position overlooking the Guadiana River on the border with Spain.
Much of its fascinating past is still visible; within the walls of the medieval village, you can find age-old archaeological sites and awe-inspiring architecture. While its crumbling castle is the main attraction, lovely churches and chapels can found hidden away among its winding cobbled streets and beautiful white-washed buildings.
From the village's walls and watchtowers, you can enjoy breathtaking panoramas out over the waters of Alqueva Dam and the patchwork of green, brown and yellow fields surrounding it. A magical place to visit, Monsaraz is one of the oldest villages in the whole of Portugal.
15. Nazare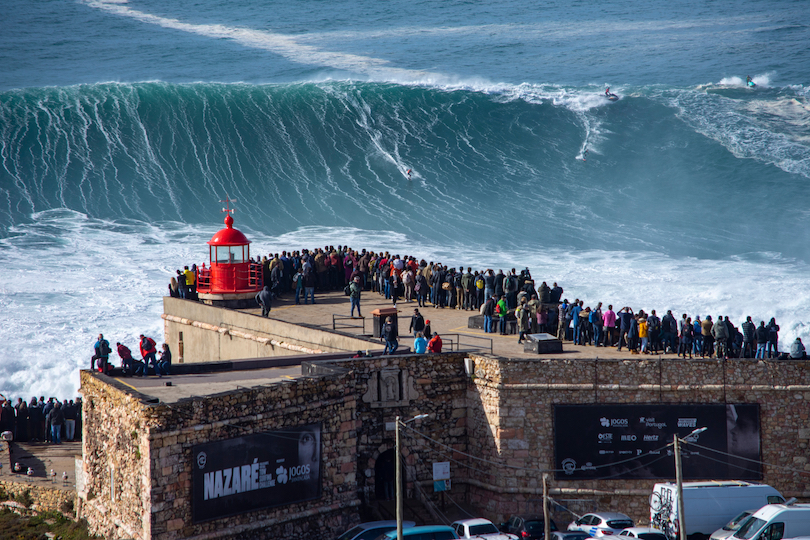 Located in the historical Estremadura Province, the small town of Nazare is set in a scenic spot, with rugged coastal cliffs and beautiful beaches lying all around. One of Portugal's most popular seaside resorts, it is famed for the enormous waves pounding its Atlantic coastline.
Due to the ferocious waves flung up by the undersea Nazare Canyon, the town has long attracted surfers to its shores. While riding record-breaking waves is a popular pastime, many people prefer to simply relax on its golden sands or bask in its panoramic coastal views.
Home to lots of charming cobbled lanes, the center of Nazare is full of fantastic seafood restaurants, small boutiques, and peaceful pensions. It also has a couple of chapels, churches, and museums for visitors to check out, as well as a lovely funicular that takes you to the nearby hilltop. While Nazare is packed during summer, it is also a popular place to celebrate both New Year's Eve and Carnaval.
14. Peneda-Geres National Park
Lying in the northwest of the country on the border with Spain, Peneda-Geres is a lovely place to visit and is Portugal's only national park. Established in 1971, it protects precious landscapes and ecosystems as well as countless villages set in scenic and secluded spots.
Sprawling over a vast area, the park encompasses everything from sweeping valleys and verdant forests to rolling foothills and fast-flowing rivers. Its mountainous confines are home to diverse fauna and flora species. A number of excellent hiking trails and camping sites can be found dotted around its peaks and plateaus.
Peneda-Geres is also home to more than a hundred granite villages that have a timeless look and feel and are set among the stunning scenery. The small settlements have been around for centuries, so the park not only preserves the peaceful and picturesque nature, but their ancient way of life too.
13. Braga
The third-largest city in the country, Braga lies in the north of Portugal surrounded by gently rolling hills, sweeping valleys, and fertile farms. Although it is known as the 'city of archbishops', it boasts much more than just churches, with a charming old town and lively nightlife for visitors to explore.
While its historical center is full of winding narrow lanes, elegant plazas, and beautiful old buildings, there is a youthful and lively feel about town thanks to its large student population. As such, cheap but excellent cafes, restaurants and bars abound, while magnificent monuments and museums can be found here and there.
As it is home to the Archdiocese of Braga, it is an important stop on the Portuguese Way pilgrimage path, and many people visit during the week-long Semana Santa. This is when religious processions parade around between the city's staggering number of gorgeous Baroque churches.
In addition, one of it's (and Portugal's) most famous tourist attractions is the serene hilltop sanctuary of Bom Jesus do Monte, which provides stunning views over the surroundings.
12. Tomar
One of Portugal's most pretty and picturesque towns, Tomar lies in the center of the country, surrounded by fertile farmland. As it was once the headquarters of the Knights Templar, its ancient streets are home to important historical, cultural and religious monuments.
In the center, you can find beautiful buildings that exhibit some exquisite architecture, with Gothic, Manueline, and Renaissance styles all displayed. While centuries-old churches, chapels, and palaces abound, its main attraction is the Castle and Convent of the Order of Christ.
Once a Templar stronghold, it was from this sprawling and spectacular citadel complex that Portugal's overseas expansion and Age of Discoveries began.
Remarkably, it was also in Tomar that the nation of Portugal was founded. For centuries, it was a massively influential city and settlement. This rich history, culture, and heritage is still evident wherever you go, and a number of important festivals and events still take place in the town every year.
11. Guimaraes
Boasting one of the most beautiful and well-preserved historic centers in Portugal, Guimaraes lies in the north of the country, not far from Braga. The city is often called the 'birthplace of Portugal,' as it was here that the nation's first king Afonso Henriques was born.
At the heart of Guimaraes lies its two main attractions – its majestic tenth-century castle and Grand Dukes of Braganza Palace. Fascinating to explore, they boast exquisite architecture and offer an invaluable look at the city's rich history and heritage.
Its magnificent medieval center is also wonderful to walk around and is home to pretty plazas, lovely old buildings, monuments, museums, and art galleries.
Despite all the history, the city has a vibrant and youthful feel due to its large student population. Many lively cafes and bars are dotted about its streets. When visiting Guimaraes, many people head to the top of the nearby Penha Mountain to enjoy fabulous views over the city.
10. Coimbra
A charming city situated by the Mondego River in Central Portugal, Coimbra is home to a treasure trove of historic sites, beautiful gardens, the country's second style of fado music, and a lively culture that is centered around one of Europe's oldest universities.
One of the best things to do in Coimbra is to simply get lost and discover the many historic attractions from the stunning Old Cathedral to the Gothic Monastery of Santa Clara-a-Velha, which contains the tomb of Queen Isabel.
No trip to Coimbra would be complete without a visit to the University of Coimbra to admire one of the world's most beautiful libraries, the Joanina Library.
Cobblestone squares throughout the city offer quaint shops and cafes to drink coffee and people watch, while lovely city parks and botanical gardens are perfect for leisurely strolls and picnics.
The vibrant culture scene in Coimbra is most noted for its fado music performances and academic festivals, which feature a Tin Can Parade welcoming students at the beginning of the school year and an eight-day "Burning of the Ribbons" party following the end of the second semester.
9. Azores
Lying in the middle of the Atlantic, the Azores archipelago is located around 1,500 kilometers off the west coast of continental Portugal. Volcanic in origin, its nine islands boast breathtaking landscapes that offer incredible outdoor recreation opportunities.
Hiking around the islands is a delight as verdant valleys and mountains overlook scenic shorelines riddled with rugged cliffs, secluded coves, and pristine beaches. Among its most impressive sights are the towering Mount Pico – the highest peak in the archipelago – and the idyllic crater lake of Lagoa do Fogo.
As the waters surrounding the Azores teem with life, dolphin and whale watching are popular pastimes, as are scuba diving and sailing. While most people visit the archipelago for its amazing nature parks and marine reserves, it also boasts some lovely seaside cities and towns, such as Ponta Delgada and Angra do Heroismo.
8. Aveiro
Hugging the country's Atlantic Coast in Central Portugal, Aveiro is a bustling city often called "the Venice of Portgual" due to its picturesque setting of scenic canals connected by charming bridges and dotted with colorful gondolas and speed boats. Historic sites, gorgeous beaches and tasty cuisine also make Aveiro an attractive travel destination.
The most enjoyable way to experience Aveiro is by walking, but tour boats and a free-use bicycle system are also available for getting around. Aveiro's many sightseeing gems include the Aveiro Cathedral, the São Gonçalinho Chapel and the Convento de Jesus. These all offer lovely architecture and art works.
The Forum Aveiro is a shopping mall featuring a wide selection of shops, restaurants and a cinema. Markets like the Fish Market and Central Market are great places to find fresh fish, meat, produce and handicrafts perfect for souvenirs.
Known as the Silver Coast, Aveiro's coastline is well-loved for its clean, beautiful beaches such as Costa Nova, São Jacinto and Barra, which offer swimming, sailing and kite surfing.
7. Evora
Jos Dielis / Flickr
Evora may be a small town in the Alentejo plains region of southern Portugal, but it packs huge tourist appeal. With a history dating back more than 2,000 years, Evora was once a flourishing city under Roman rule. Today, Evora is the capital of the Alentejo region, regarded for its well-preserved Old Town, which shelters more than 4,000 historic structures including the old Roman walls and temples.
All of Evora's main attractions lie within close distance of one another, making the city easy to explore by foot. A really enjoyable way to sightsee Evora is by a horse carriage ride, which can be found near the 13th century Cathedral of Evora, one of Portugal's most important Gothic structures.
Other must-see historic sites include the Giraldo Square with its Renaissance fountain, the University of Evora, an eccentric chapel decorated with actual human bones, and the ruins of an ancient Roman temple.
A stroll along the city's old aqueduct offers a myriad of shops, cafes and houses cleverly tucked between the arches. Not far outside the city is Europe's largest complex of prehistoric megaliths that are also worth a look.
6. Obidos
Located on a hilltop in the Centro Region of western Portugal, Obidos is encircled by an old fortified wall. In the 8th century the Moors established a fortification on top of the hill. It was taken from the Moors by the first King of Portugal, Afonso Henriques, in 1148 and modified in the 14th century.
Besides the wall, the magnificent medieval castle and historic center of Obidos make up the city's main attraction and can easily be walked. A labyrinth of narrow, cobbled streets leads visitors along busy squares, inviting cafes, quaint shops, markets selling local handicrafts, and whitewashed houses spruced with colorful flowers.
Elegant old churches like Santa Maria and St. Peter's, with their hand-painted tiles, ceilings and walls, please the eye. The castle with its commanding edifice, huge gates, towers and battlements, is now a luxurious hotel but a marvel to behold nevertheless.
Every July, Obidos steps back into time with its annual Medieval Festival, which features a costumed parade, jugglers, wandering minstrels, jousting knights, performance shows and a handicraft fair showcasing medieval wares and foods like spit-roasted meat and tasty sausages.
5. Porto
World famous for its production of fine port wine, the busy city of Porto sprawls along the hills overlooking the Douro River in northern Portugal, prized for both its natural and architectural beauty.
Well-connected to other major cities in Portugal, Porto provides a good public transport system of buses, metro and cable railway. At the heart of Porto is the charming pedestrian zone, the Ribeira, an atmospheric place on the river, buzzing in live music, cafes, restaurants and street vendors. Dominating this popular tourist setting is the Ponte Dom Luis, a metal, double-deck arch bridge that links Porto to Vila Nova de Gaia, well-known for its port wine cellars.
Among Porto's many architectural treasures are beautiful old churches with elaborate interiors, artistic works and gardens such as the Church of Saint Francis and Porto Cathedral. Other landmarks include the Cleric's Tower and palaces like the Stock Exchange Palace with its remarkable Arab room.
In addition to sightseeing, Porto offers plenty other exciting things to see and do. Distinguished museums and concert halls offer quality arts and culture. The traditional marketplace of Mercado do Bolhão presents choices of fresh fish, vegetables, fruits and handicrafts. Boat cruises on the river and walks along the garden-lined esplanade of the Foz bestow breathtaking views of the city's natural beauty.
4. Madeira
Sporting the nickname "Floating Garden of the Atlantic," Madeira Island is a fertile oasis in the Atlantic Ocean between Portugal and North Africa, popular for its lush green landscapes, flower gardens, wines and annual New Year celebrations, which feature one of the world's largest displays of fireworks.
One of Europe's most beautiful travel destinations, Madeira Island is the largest island of the Madeira archipelago, an autonomous region of Portugal. The island's natural beauty, year-round mild climate and virtually crime-free status attract tourists from all over the world. While Madeira can be reached by plane, cruise ship and ferry, tourists can easily get around the island by bus and rental cars.
Madeira's main attraction is its wealth of verdant landscapes that range from lush parks, colorful gardens, enchanting forests and nature reserves to lofty mountains and pebbled beaches lapped by blue ocean waves.
Must-see places include the Orchid Garden and the Laurissilva Forest, which harbors the world's largest concentration of laurel. Other places not to miss are the levadas, an impressive system of canals and aqueducts, which provide walking paths that wind through beautiful scenery.
The island's coastline offers pebbled beaches, crystal clear water, natural rock pools and activities like fishing, diving, sailing and whale watching.
The capital and largest city on Madeira is Funchal, home to historic churches, fortresses, tourist resorts, museums, restaurants and markets as well as the tree-lined Lido Promenade, which presents spectacular ocean views.
3. Sintra
Nestled in the foothills of the Sintra Mountains on the Lisbon Coast, just a day trip away from Portugal's capital city, Sintra presents a spectacular setting of verdant hills, sprinkled with pretty villas, royal retreats, palaces and castles dating as far back as the 8th century. Prized by the Romans, Moors and Portuguese royalty, Sintra's beauty even enchanted the famous poet, Lord Byron, to write of it in a personal letter, describing it as the most beautiful village in the world.
Sintra's hills make walking an effort, but the rewards are worth it. For those who don't wish to walk, there are buses that stop near all of the city's attractions such as Pena's Palace, a fantastical castle reminiscent of Germany's Neuschnwanstein.
Built in the mid-1800s and serving as a summer retreat for the Portuguese royal family, Pena's Palace is surrounded by forested parklands containing exotic trees, plants and flowers. Additionally, the Regaleira Palace and Gardens offers stunning architecture and intriguing Masonic symbols.
Also not to be missed are the impressive ancient ruins of the Castle of the Moors crowning the city's highest hill, and the romantic Monserrate Palace with its subtropical gardens. For an interesting diversion, the Toy Museum houses more than 20,000 toy items spanning history back to ancient Egypt.
2. Algarve
Sunny Mediterranean climate, gorgeous beaches, picturesque towns, flower-clad hills, historic sites, fabulous cuisine and affordable costs are just some of the reasons that make the Algarve one of Portugal's most popular tourist destinations. Located in the country's southernmost region, the Algarve offers a feast for the eyes, from tranquil landscapes of olive groves, traditional whitewashed villages and lovely villas to the wild, windswept coast with its dramatic cliffs dotted with summer resorts.
The Algarve is occupied by bustling cities and quaint towns alike, offering delights of cobbled streets, historic architecture and beautiful old churches. Faro is the region's capital, and Lagos is the area's hot spot for nightlife. Looped by orange groves, Silves is best known for its red sandstone castle, while Tavira is an elegant town packed with Renaissance monuments, bridges and castles.
Peppered with Roman ruins, the idyllic countryside also offers a wide range of golf courses, and the strawberry tree-covered Monchique mountain range is great place for hiking, biking and horse riding. The coast is home to beautiful beaches and secret coves, offering water activities like swimming, deep-sea fishing, cave exploring and yacht cruises.
The Algarve's production of fresh food like fruit, almonds, carob beans and seafood contribute to its delicious cuisine. Distilled from the local strawberry tree berries, Medronho is the traditional drink found throughout the Algarve.
1. Lisbon
Stretching along the banks of the Tagus River near the Atlantic Ocean, Portugal's capital and largest city winds upward among seven steep hills, forming an enchanting destination of warm weather, alluring alleys, quaint shops, Gothic cathedrals, impressive bridges and colorful neighborhoods, reverberating in traditional fado music.
One of the world's oldest cities, Lisbon's biggest appeal lies in its diverse neighborhoods, or bairros. Among the most popular of these districts is Belém, favored for its royal palaces, gardens and historic monuments and landmarks such as the Jeronimos Monastery, one of Portugal's most visited sites. The city's oldest district is Alfama, an old Moorish quarter, distinct for its maze of cobblestone streets, rustic architecture, St. George's Castle and fado restaurants and bars.
Chiado is the cultural hub with museums, theaters and concert halls. Featuring glass and steel buildings, commercial establishments and casinos, Parque das Nações is the most modern district, while Bairro Alto is the entertainment zone, buzzing with numerous bars, discos and nightclubs.
Dining in Lisbon is a delight all its own from pastelarias serving up divine pastries to outdoor cafes and bars featuring Portuguese tapas, beer and wine to fine restaurants serving international cuisines.
Lisbon offers a good network of public transportation with buses and metro, but the most exciting way to experience the city is by taking one of the vintage trams such as the well known Tram 28, which winds along historic quarters, gardens and main attractions.
Map of Places to visit in Portugal
© OpenStreetMap © MapTiler © Touropia