With its gorgeous beaches and warm, sunny weather, the Algarve is Portugal's most popular holiday destinations. From bustling seaside resorts teeming with activity to secluded stretches of sand perfect for relaxation, the southernmost region of Portugal is an ideal spot for anyone planning a beach vacation. With their whitewashed buildings and quaint old-town districts, Algarve's inland villages are captivating places to visit as well.
Map of Southern Portugal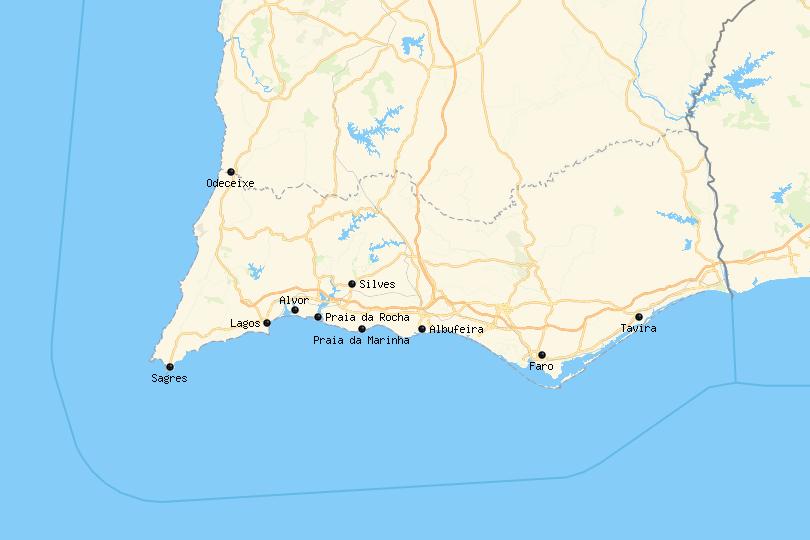 © OpenStreetMap © MapTiler © Touropia
Wherever your travels take you, Algarve is a food-lover's paradise. Fresh seafood is available daily, and thanks to its temperate climate, field-to-the-table dishes include everything from figs, olives and almonds to oranges, mangoes and pomegranates. Clean, safe and surprisingly affordable, Southern Portugal offers a sun-drenched holiday experience you'll remember fondly for years to come.
joaoa / Flickr
Located on the river that shares its name, Alvor offers everything travelers look for when vacationing in the Algarve, from historic sights and scenic beaches to friendly bars and seafood eateries. The Old Town quarter in this ancient fishing village boasts a 16th-century church with maritime elements carved into its doors and pillars.
A newly built boardwalk along the Alvor River wetlands is a birdwatcher's dream, providing intimate views of resident and migratory species. When it comes to fun in the sun, Alvor's something-for-everyone beaches range from sheltered coves with interesting rock formations to wide sweeping strands backed by windswept sand dunes.
The principal city in Algarve, Faro offers visitors the perfect combination of modern amenities and natural beauty. Shopping, dining and entertainment opportunities abound, and scenic gardens and open spaces provide pockets of relaxation throughout the city. There's a pretty Old Town section in Faro worth exploring as well.
Faro's star attraction, however, is the Nature Park of Ria Forma, a series of small barrier islands and peninsulas where most of the city's beaches are located. The natural preserve is a popular place for activities like birdwatching, hiking and kayaking too.
Situated where the broad Gilão River flows into the Atlantic Ocean, Tavira is one of the loveliest towns in eastern Algarve. The white 18th-century mansions and townhouses lining the river banks give Tavira an aura of faded elegance, creating the ideal backdrop for leisurely waterfront strolls and open-air dining.
An important port city until the 17th century, Tavira is home to dozens of historic churches, including Santa Maria do Castelo, which dates back to the 13th century. The city's premier beaches are located offshore on the Ilha da Tavira. Daily ferry rides provide easy access to the barrier island's flat, sandy beaches.
Nestled against a hillside at the remote northwest border of Algarve, Odeceixe is a small town best known for its breathtakingly beautiful beach. Set between low cliffs, the Praia de Odeceixe is a sheltered beach with a shallow river that crosses the sand and spills into the Atlantic Ocean.
The beach is a popular spot for surfing, and there's a local surfing school that offers lessons for children and adults. With restaurants serving traditional dishes like fresh seafood and roast lamb, dining on local cuisine is bound to be a memorable highlight of your visit to Odeceixe too.
Located at the southwestern tip of Portugal and continental Europe, Sagres is a small harbor town best known as the place where Prince Henry the Navigator lived while establishing his legendary nautical school in the 15th century.
Nowadays, it's the surf schools, impressive cliffs and beautiful beaches that most attract visitors to Sagres. Praia da Baleeria is arguably the most picturesque, although its pebbled shore is not the best spot for sunbathing. The longest stretch of sand is the Praia do Martinhal, a gorgeous beach that's considered one of the best kept secrets in the Algarve.
For its impressive size and undeniable beauty, Praia da Rocha is one of the most popular beaches in the Algarve. Situated in the southern section of the city of Portimão, the wide strand of white sand is backed by dramatic rocky cliffs topped with high-rise hotels, bars and restaurants.
Several eateries are located on the wooden boardwalk that stretches along Praia da Rocha too. Accessible by a staircase carved into the cliffside, the 17th-century Fortaleza de Santa Catarina at the eastern end of the beach offers sweeping views of the beach, the marina and the Atlantic Ocean.
The inland city of Silves located northeast of Portimão offers an intriguing glimpse at Portugal's cultural past. Built along the banks of then navigable Arade River, the city was the Moorish capital of Algarve until Christian forces conquered it in 1249.
Constructed with red sandstone, the Castelo dos Mouros is a hilltop castle where you can walk along crenelated battlements and imagine what life was like in Portugal a thousand years ago. It's also a great place to enjoy panoramic views of the whitewashed village and the surrounding countryside of Southern Portugal. A nearby museum displays ceramics and pottery excavated from local archaeological sites.
all4u+ / Flickr
One of the last Moorish towns in Southern Portugal to fall into the hands of Christians in the 13th century, Albufeira nearly faded away into history until it was rediscovered in the 1960s as a great place to spend a beach vacation. Today, Albufeira has two popular tourist attractions: its picturesque Old Town quarter and the Avenida Francisco Sá Carneiro area known as "The Strip."
Both districts feature numerous bars, clubs and restaurants, making Albufeira a paradise for party-goers. The town beach, or Praia dos Pescadores, still accommodates fishermen bringing in their catch of the day and serves as a departure point for scuba diving excursions as well.
Situated on Algarve's breezy southwestern coast, Lagos is an ancient maritime city that today is as famous for its picturesque beaches as it is for its storied past. Sandy coves framed by rock formations make Lagos an idyllic destination for sun-lovers seeking solitude. Large beaches like the crescent-shaped Meia Praia are perfect for swimming and windsurfing.
From the gilded interior of the 18th-century church of Igreja de Santo António to the watchtowers of the baroque Castelo dos Governadores, the city's historical sights are just as impressive. With its 15th-century walls and cobbled streets, the Old Town quarter is a must-see attraction too.
1. Praia da Marinha
[SEE MAP]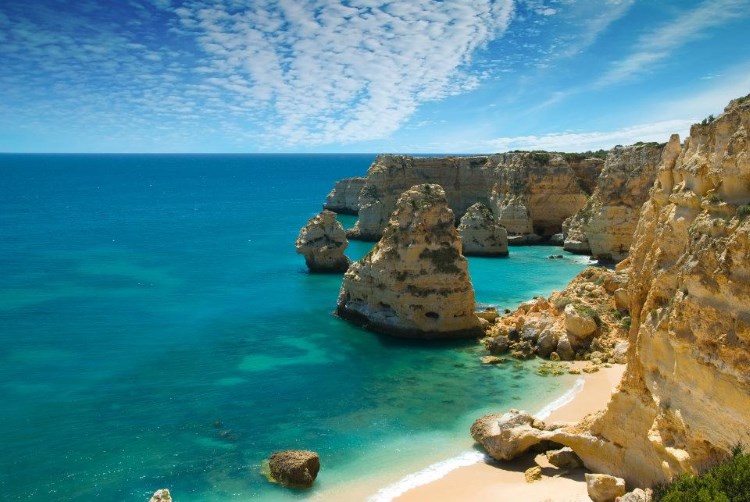 Ricard12 / Wikipedia
Situated between Portimão and Albufeira, Praia da Marinha is widely considered one of Algarve's most beautiful beaches. The fact that the beach can only be reached by a set of steps that climb steeply down a limestone cliff makes it less crowded than other beaches in the area as well.
The rock formations located on along shoreline are not only visually striking but provide the perfect marine environment for snorkeling adventures too. Exceptionally calm waters make the beach ideal for swimming. Other activities in Praia da Marinha include boat trips to the caves located nearby.