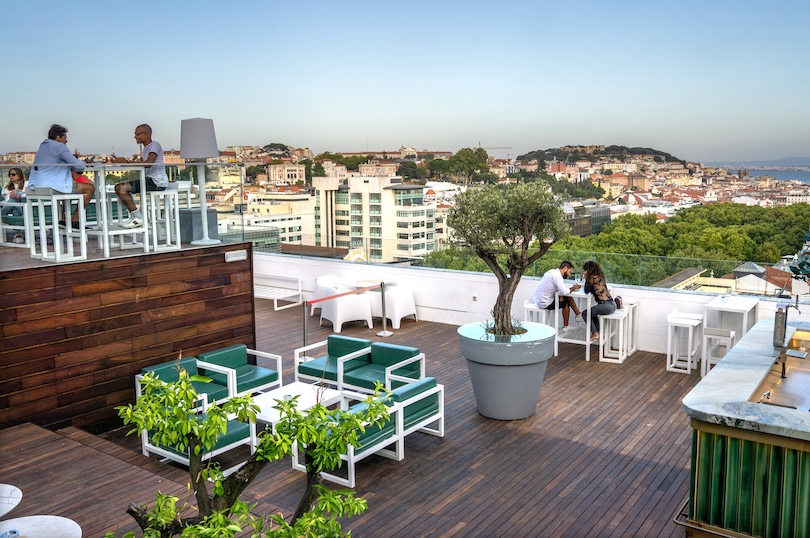 The coastal Portuguese capital of Lisbon is a bustling modern European city with a wealth of history, neoclassical architecture, great shopping opportunities and a buzzing nightlife. As one of the oldest cities in the world, Lisbon offers no end of historical wonders: the stunning Castelo de São Jorge looms elegantly over the city center, and numerous museums and galleries entice visitors to explore a Portugal of the past.
Modern day Lisbon is a thriving cultural hub; bars and restaurants offer both world class cuisine and authentic local eateries, whilst upscale shopping and independent boutiques means fantastic shopping opportunities.
In this post, we'll cover:
Lisbon's top neighborhoods
© OpenStreetMap © MapTiler © Touropia
Benefiting from warm winters, Lisbon's Mediterranean climate makes it an enticing destination for a European city break all year round. The transport system is modern and comprehensive with a fantastic metro, bus and train network connecting the city and the photogenic tram system that's efficient and reasonably priced.
There are no shortages of great places to stay in Lisbon, whether you are looking for upscale luxury, modern sleekness or budget convenience, there is something to suit everyone's needs. We've rounded up the best areas for you to stay while visiting this exciting cultural city. So what are you waiting for? It's time to plan your trip!
Baixa
© Phil Darby / Dreamstime
Right in the heart of the Portuguese capital, Baxia is the buzzing downtown district which stretches from the main avenue, the Avenida da Liberdade, right down to the grand picturesque riverfront, the Praça do Comércio.
After the 1755 earthquake the area had to be completely rebuilt and now stands as a stunning example of neoclassical architecture. Baixa's design is elegantly European with cosmopolitan cafes scattered out across sprawling squares.
Lisbon's main square, Rossio. is a main attraction in the area and beautifully tiled art-deco shop fronts line pedestrianised streets and quirky street performers bay for the attention of passersby, making it a fun area to stroll.
If your accommodation is in the center of the city, walking is a great alternative. Many of the attractions of the city are within easy walking distance of Baixa. Accomodation in the Baixa district has started to boom in the past few years and the central area now offers a range of accommodation. These range from old converted offices along the banks of the river Tagos that has been morphed into guest houses, to more upmarket options.
Many of the main sightseeing areas in the city such as the Castelo and the Alfama and Bairro Alto districts can be reached on foot from the Baixa area, but transport here is also excellent with easy access to Lisbon's metro, buses, and tram network.
Best Places to Stay in Baixa
midrange
Hotel Mundial – This is a big, modern hotel with a selection of rooms on offer. If you like drinks with a view, then you'll love the rooftop bar here with views out over Lisbon. Though it was newly renovated in 2016, the hotel actually opened in 1958 and is set on a backdrop of St George's Castle. Hotel Mundial is near Rossio Square and close to the host of restaurants and bars of Chiado. The Metro is a three-minute walk away, plus the famous number 28 tram stops right outside the hotel.
Vincci Baixa Hotel – A fresh and comfortable hotel with sweetly stylish rooms set inside a traditional building, Vincci Baixa Hotel boasts 66 boutique rooms. Those rooms may be small, but the location of this place is fantastic – right in the middle of the city. There's an onsite tapas restaurant, as well as a lounge bar. There's also a tour desk to help you explore the city.
Figueira – This 4-star hotel is tastefully decorated and comes with welcoming staff. It's all dark, warm colors with interesting furniture strewn about the place, tied up with touches of unique style. Blackout curtains and large, comfy beds make for a good night's sleep. You can walk to many top destinations from this hotel, plus it overlooks the daily hustle and bustle of the Placa da Figueira with its flea market and food stalls.
Chiado
© Crafity / Dreamstime
One of the most popular neighborhoods in Lisbon, the chic and artistic Chiado district is the fashionable place to be seen. A magnet for those who love design, shopping and delicious food, the elegant, Belle-Époque shop fronts along with the decadent Art Nouveau cafés and opulent theatres all add up to an Instagrammer's dream.
This quarter is also well known for its literary past; early 20th century writers would pen novels behind the facades of the colorfully tiled houses and from inside the age old cafes. Chiado is also home to some world class restaurants such as Belcanto, which has been awarded two Michelin-stars, and here is also where you will find the world's oldest bookshop, the Bertrand Bookstore, which has been open since 1732!
Chiado's hotel options are a little more upmarket compared to neighbouring Baixa, with 18th century buildings converted into elegant design-led hotels that offer rooms with views across the illustrious city skyline.
There are also a few more budget-friendly studio apartments available in the area – Chiado's public transport links are fantastic: the main metro station, Baixa-Chiado, is connected to two metro lines meaning easy access to sites across the city.
Best Places to Stay in Chiado
luxury
Corpo Santo Lisbon Historical Hotel – When it comes to elegant and historical, this luxurious hotel really wins in terms of views. You can look out over heritage 17th-century homes from here. The hotel is made up of parts of the 14th-century Muralha Fernandina. Needless to say, the hotel beautifully mixes its historic architecture with sophisticated modern design for an amazing place to stay in the city. It's within walking distance of the Museo do Chiado as well as the Ribeira Market – and a handy metro stop, too.
midrange
9Hotel Mercy – If the thought of rooftop dining sounds good to you, then the rooftop restaurant at 9Hotel Mercy will certainly wow you with its elegance. There are views from this 4-star hotel of the St George's Castle and the Tagus River. The rooms are beautifully designed and come complete with plush furnishings and luxury finishes. There's also a swanky bar, where guests can enjoy dinner and cocktails.
budget

Hotel Borges Chiado – Overlooking Chiado Square, Hotel Borges Chiado is set inside a gorgeously historic building. Think floor to ceiling windows, elegant furnishings, and high ceilings. The decor is light and bright, making for a nice, fresh feeling when you stay here. Some rooms even come with a balcony. As a bonus, the staff here are courteous and go above and beyond to help out guests.
Bairro Alto
© Bennymarty / Dreamstime
Well known as the district for nightlife, Bairro Alto is definitely the place to stay if you want to party. As night falls on this central area, its bars and restaurants open up and scatter their tables across the streets in anticipation of the night to come.
There is a fun, festival vibe in the air as people hang out in the streets, drinking beer, eating delicious food and chatting late into the night. In the daytime things are very different: Bairro Alto is much quieter and has less of the obvious character of other central areas, but there are some quirky shops and narrow cobbled lanes for you to explore and discover new experiences.
Away from the party there are some quiet streets to take solace in after you have danced the night away in the Lisbon's best clubs. Elegant boutique hotels packed with style and character can offer great value for money and a luxurious respite away from the cities lively nightlife.
Transport can be tricky in this area as it is uphill and the streets are old and narrow, but busses can be caught nearby at the Principe Real. Walking is always a great way to see a city, but make sure if you choose to stay in Bairro Alto you are fit enough to take on the slopes and steps!
Best Places to Stay in Bairro Alto
budget
Dear Lisbon B&B – With 19 rooms – all of which vary in theme – this is certainly a quirky place to stay in the Portuguese capital. Expect rooms based on travel, literature, memories, and discovery, each one with its own unique artworks. The atmosphere is good; so, all in all, it's a fun place to stay. There's a lounge with a roaring fireplace, a kitchen that serves up fresh cakes, and a small outdoor pool, too.
Bairro Alto Apartments by linc – This hotel features large, spacious apartments with real wood floors, big windows, and a lot of individual decor. There's a lot in terms of comfort and convenience, with kitchens, seating/dining areas, and washing machines, too. It's a good option if you're looking for a home away from home. It's very close to Restauradores Square, and for transport, there's the nearby Rossio train station.
Alfama
The oldest area of the Portuguese capital, Alfama – meaning 'hot fountains' – is home to the city's most iconic tourist attractions including the ancient St. George's Castle and the 12th century Sé Cathedral.
The distinctive and authentically Portuguese music genre Fado, which began in Lisbon as early as 1820, was born in this district and is best heard in its bars and restaurants. Along Alfama's old cobbled lanes, inside its crammed together houses and eateries, a local community spirit still thrives.
Despite the central location and the increase of tourists, the authentic everyday life of the Alfama neighborhood continues to offer visitors who dare to wander and get lost an opportunity to discover new things and new experiences.
Tram number 28 conveniently runs through the heart of Alfama and even though it is pretty hilly with a lot of steps to climb there are some convenient, and free, public elevators to take the edge off the hill. A great place to stay on a short break in Lisbon due to its central location, there are some fantastic luxury options just steps from the stunning castle with some of the best views the city has to offer will really make your stay memorable.
Best Places to Stay in Alfama
budget
Alfama Lisbon Lounge Suites – Another elegant Lisbon offering, this hotel is 10 minutes' walk from St George's Castle. Some of the apartments here have views over the Tagus River, but the whole building is surrounding by old, charming parts of the city. Set in an old building itself, there's a relaxing lounge in the lobby and a helpful front desk. The rooms vary in design, but in general, are all contemporary and comfortable. All rooms come equipped with a kitchen and living area for extra convenience.
Hotel Convento do Salvador – With its simple whitewashed rooms equipped with crisp linen, this 3-star hotel is set inside a former convent that has been converted to suit various guests' needs. Many of the rooms boast views of the Tagus River. The famous Tram 28 passes right outside the door of the hotel, making getting around the city easy. There are also a lot of sights on the doorstep, including the National Pantheon and the Se Cathedral – all in walking distance.
Belém
© Atgimages / Dreamstime
Four miles outside the centre of Lisbon on the sunny banks of the Tegus river estuary is the district of Belém, known for its cultural and historical attractions, like the The Mosteiro dos Jerónimos, and the delightful 16th-century Tower of Belém.
Belem attracts many tourists year-round to its impressive monuments that are important to Portugal's past. The area has long been linked with seafaring voyages – Belém is in fact where navigators set sail during the Portuguese Age of Discovery during the 15th and 16th centuries.
A stroll along the waterfront for a break at one of Belém's many cafes and restaurants is perfect after visiting the area's numerous museums, monuments and manicured gardens. No visit to Belém would be complete without tasting the traditional egg custard tart at Pastéis de Belem.
If you're interested in discovering more about Portuguese history, staying in Belém is a good idea. It's an easy train or tram ride into the city centre and accomodation options are reasonably priced but expect to pay a little more for views of the estuary.
Best Places to Stay in Belém
luxury
Palacio do Governador – Palacio do Governador is a classy hotel made up of a mix of traditional interiors and modern comforts. There are many spacious areas for guests to enjoy, including a beautiful a la carte restaurant, a garden terrace, and a wellness center, complete with an indoor pool. The rooms are luxurious and feature plush, patterned carpets and traditional artwork. This 5-star offering is close to the Belem Cultural Centre as well as Belem Tower.
Altis Belem Hotel – This high-end hotel comes with all the style and comfort you'd expect from a 5-star offering. The rooms at Altis Belem Hotel have been decorated with a warm color palette and feature marble bathrooms and incredible views across the Tagus waterfront. Foodies rejoice – this hotel boasts a Michelin starred restaurant, plus a cafe. You'll find a rooftop pool here too, complete with sun deck.
midrange
Hotel Jeronimos 8 – Set on the cobbled Lisbon streets inside an old heritage building, this hotel is next to the Jeronimos Monastery (hence the name). The rooms are decorated with subtle, contemporary style in mind, complete with some intriguing modern artwork throughout. There's a bar and a stylish lobby here. The bus and tram stops are just a few minutes away on foot, but you can also walk to the historic Belem Tower from here.
Avenida da Liberdade
Debarshi Ray / Flickr
The upscale leafy Avenida da Liberdade district is where you will find some of Portugal's most expensive property, located all along a mile-long strip. This is the area to stay if you are looking for 5 star luxury where historical hotels sit alongside embassies and designer boutiques.
Transport links are great with the metro right on your doorstep, and top attractions just a short walk away.


In the evening a few bars open up along the central boulevard which slopes downhill to the park (Parque Eduardo VII) and buskers strum their way into the night creating a fun atmosphere. Big banks are located in the area on busier main roads, but smaller, more residential streets run off of them where restaurants and cafes welcome visitors with delicious Portuguese culinary delights.
Best Places to Stay in Avenida da Liberdade
luxury
Altis Avenida Hotel – Elegant and modern, this medium-sized hotel is decorated with a monochrome color scheme. It also comes complete with a sweeping spiral staircase and glamorous touches – like golden taps in the bathrooms. The historical building features a bar and terrace, as well as a restaurant. Location-wise, this 5-star hotel is just a few minutes away from the Rossio train station and is also close to the Santa Justa Elevator. You'll be pleased to know that the staff are very friendly and helpful, making any stay here run smoothly.
Eurostars Das Letras Hotel – Decorated with a sophisticated, mainly brown color scheme accented with leather and marble bathrooms, Eurostars Das Letras is a luxury place to stay. For a start, there's a pillow menu on offer here. The rooms are calm, peaceful and pleasant; some even come with views of St George's Castle. Elsewhere, there's a terrace, restaurant, fitness center and sauna.
midrange
TURIM Av. Liberdade Hotel – Just a few steps from the Marquez de Pombal station as well as the Rato metro station, this hotel is positioned in a fantastic location for exploring the city. This large, modern hotel is situated right on the Avenida da Liberdade, with rooms decorated in plush furnishings and a natural color scheme. All of it has been designed with comfort in mind, of course. There's a restaurant and bar at this 4-star hotel.
Parque das Nacoes
© Gerasimovvv / Dreamstime
Built for Lisbon's Expo '98, the Parque das Nacoes – meaning 'Park of Nations' – is a futuristic centre with towering apartments and modern, family-friendly hotels all built around lush gardens and water features.
An extremely convenient location for those flying into Lisbon, Parque das Nacoes is near to the airport and just a short metro ride into the city centre.


Once a wasteland, Parque das Nacoes has been totally transformed to become home to a whole host of entertainment centres including a casino, an Oceanarium and a Science Museum. There is even a cable car which allows you can take in the view of the river estuary and The Vasco da Gama Tower; located on the waterfront, this is Lisbon's tallest building.
The ultra modern Gare do Oriente station serves as an excellent transport hub connecting the Parque das Nacoes to the rest of the city via the metro, busses and a major train station.
Best Places to Stay in Parque das Nacoes
luxury
MYRIAD by SANA Hotels – This truly is a huge, high-end, modern hotel situated right on the banks of the Tagus River. A landmark in its own right, staying here means staying in contemporary rooms with waterfront views. As to be expected, there's a plethora of amenities on offer for guests – including a selection of dining choices, pools and other facilities. The staff here are polite and courteous.
midrange
TRYP Lisboa Oriente Hotel – Another big, modern hotel, this 4-star offering features various rooms for different guests' comfort. They're all clean, bright and contemporary. Some even come with bunk beds for families with little ones. You'll find an a la carte restaurant here, but right outside the hotel is the Vasco de Gama shopping center, making this a great option if you like shopping. Oriente metro station is very close by. Interestingly, this hotel overlooks the former Expo '98 site with its many examples of modern architecture.
Olissippo Oriente – Fantastically located in easy reach of public transport, this 4-star hotel is a great choice for anyone looking to get into the nitty-gritty of Lisbon. There's plenty to see nearby, including the Vasco de Gama shopping center, Lisbon Oceanarium, and Lisbon Casino. This hotel boasts a restaurant that serves up a mix of dishes, as well as a coffee shop. As for the rooms, they're simple and designed for comfort, featuring views of the waterfront.
Principe Real
Gilmour / Flickr
Principe Real is the trendy place to hang out in the capital. With its liberal gay-friendly vibe and streets jammed full of fashionable hangouts, cute coffee shops, urban concept stores and funky bars, this is the perfect corner of Lisbon for those looking for have a mix of sightseeing and nightlife.
Located just a quick ten minute walk away from three different metro lines as well as great bus links, Principe Real is in walking distance to the more lively nightlife area of Bairro Alto. It offers a little more solace – with quieter streets and quirky hotels at reasonable prices – for you to relax in after days spent exploring the city, and evenings eating and drinking in the bars and restaurants.
There are a variety of hotel options in the area to suit different price ranges from luxury, design-based hotels, to bed-and-breakfast and self catering apartments, meaning there is something for every price range.
Best Places to Stay in Principe Real
budget
Casa Oliver Boutique B&B – This boutique offering features uniquely designed rooms that have been decorated in various styles, making for a decidedly different hotel experience. Each room is tastefully decorated, even down to the most delicate detail; if you're style conscious, you'll love it here. Set in a historic building, this hotel is within walking distance of the many bars and restaurants of the district.
Hotel Botanico – Sandwiched between the Avenida da Liberdade and Lisbon Botanic Garden, this hotel is a simple, low-key place to stay. That makes it a nice, calm place to return to after a busy day in the city. It's clean and the staff are welcoming and helpful. It's located close to a metro station and many sights – including Ribeira Market and Gloria Funicular.