The Portuguese capital of Lisbon is believed to be the oldest city in Western Europe, predating capitals like Rome, Paris and London by centuries. It is a panoply of modern and ancient architecture from many different cultures, religions, and times.
Best of all, it is full of warm, exuberant people, many of whom will go out of their way to help a tourist love their city and nation as much as they do. There is much to see in Lisbon, as well as in the surrounding area. Here is a look at some of the best day trips from Lisbon:
Map of day trips from Lisbon
© OpenStreetMap © MapTiler © Touropia
Once the seat of the famed Knights of Templar, Tomar is a lovely place to visit that still has lots of impressive historical monuments on show dating back to the time of the crusades. While its beautiful castle and stunning Convento de Cristo are undoubtedly the town's two major highlights, there are lots of other delightful little churches, chapels, and palaces to visit, and the scenic old town is as picturesque as they come.
Lying around two hours to the north of Lisbon, Tomar makes for a great day trip, and the historic town also hosts lots of different cultural and religious festivals if you want to experience an authentic, local celebration while visiting Portugal.
Getting to Tomar
By public transport, Tomar is just a two-hour train journey away from Lisbon. Once you arrive, you'll find the historic center lying conveniently right next to the train station. Trains depart once an hour from Santa Apolonia or Oriente Station in the capital, then all you need to do is sit back and enjoy the scenic countryside you pass by.
Driving to Tomar is a bit quicker, and the directions are straightforward; the A1 will take you most of the way there. All you need to do is head north out of the city center, pick up the A1, then turn off onto the A13 once you see signs for Tomar. All in all, the drive should take about an hour and a half, although this route does involve tolls. Because it is so close, it is well worth driving to Fatima once you have seen all the spectacular sights that Tomar has to offer.
If you're interested in learning more about the Knights Templar, it is a good idea to take a guided tour around Tomar. With an expert guide accompanying you, you'll visit such sights at the Convento de Cristo and Almourol Castle in Tomar, as well as the charming village of Constancia, all the while learning about the order's fascinating history and culture. See trip reviews & prices.
Lying around an hour and a half's drive to the north of Lisbon, Alcobaca is named after the two rivers – the Alcoa and the Baca – that run through the valley in which the city is located. While it is a laidback and pleasant place to visit, Alcobaca is primarily known for its stunning monastery, which is one of the most impressive monuments in the country.
Built in 1153 to commemorate an important military victory where the Portuguese captured the Moorish city of Santarem, the monastery showcases some wonderful Gothic architecture and has been very influential in shaping Portuguese culture over the centuries. Nowadays, it is a popular tourist attraction, and is famously home to the tomb of Pedro I, King of Portugal, and his murdered mistress Ines de Castro.
Getting to Alcobaca
To get to Alcobaca from Lisbon by car is very simple as the A8 runs directly between the two cities. After heading north out of the capital, just stay on the A8 and only turn off once you see signs pointing you to Alcobaca around an hour and a half later. Driving to Alcobaca yourself means you can visit any of the surrounding cities and towns at your leisure, with Obidos, Fatima, and Tomar all being worth a stop.
Named after a Muslim princess who converted to Catholicism, the once sleepy town of Fatima is now one of the most important Christian pilgrimage sites in the world, after three shepherds claimed to have seen the Virgin Mary appear there in 1917. There are loads of churches, chapels, and monuments for visitors to check out, and its enormous basilica hosts thousands upon thousands of pilgrims every year.
While the Chapel of Apparitions and Basilica of Our Lady of the Rosary are the two most popular and important religious sites for pilgrims to visit, there is lots to see and do in Fatima. Many religious festivities take place here over the year. Just an hour and a half away from Lisbon, Fatima is a very interesting city to visit. While it can get quite crowded during important religious holidays, it is well worth visiting.
Getting to Fatima
The best way to get to Fatima by public transport from Lisbon is to take a bus; the journey usually takes around an hour and a half. Buses depart regularly from Sete Rois station in the capital, and you'll be dropped off right in the center of Fatima. While there are lots of buses that go there, you may have to book in advance during major religious festivals and holidays.
By car, Fatima is just an hour and 15 minutes from Lisbon; the directions are almost impossible to get wrong as the A1 connects the two. Just head north out of the capital and stick on the A1 until you see the turning for Fatima. While parking isn't usually that hard to find, during major religious holidays, it might get a bit tricky as pilgrims pour into the city. Both nearby Alcobaca and Tomar are worth checking out if you have the time after exploring Fatima's incredible sights.
A delightful way to get to know the many sides of this part of Portugal is to take a guided tour that not only takes you around Fatima's religious sites, but also to the medieval town of Obidos and the charming fishing village of Nazare. With lovely countryside and breathtaking views wherever you go, this tour offers the perfect combination of nature, history, and culture, with something for everyone to enjoy. See trip reviews & prices.
This coastal town has some of the best of everything to offer. From a looming Moorish castle to white sand beaches and turquoise waters, from excellent diving to professional sport fishing to dinosaur dig sites, it is hard to disappoint anyone on a trip here.
Visitors can charter a boat and catch a swordfish in one of the best fishing locations in the nation here, or take a guided hike into the hills to walk where dinosaurs once did. It is a popular wreck diving site, with the top site being a Nigerian cargo ship that sunk in the late nineties. Guests can stay here, or head back to Lisbon after a busy day, as it's a mere 45 minutes by train or bus.
Getting to Sesimbra
By public transport, Sesimbra is an hour-long bus journey away from Lisbon. Both line 207 and 260 depart once per hour from Praca de Espanha in the capital. Once you arrive at Sesimbra bus stop, the beach and center of town are just a five-minute walk away.
Driving there yourself from Lisbon is another option, and means you can visit the delightful Arrabida Natural Park which lies right beside the seaside town. From the center of Lisbon, cross over the Tagus River on the 25th of April Bridge, then take the A33 heading south. After a while, turn off onto the N378; this will take you all the way to Sesimbra. All in all, the journey should take around 50 minutes.
Another option for visiting Sesimbra is to take a guided tour. This one is ideal for people interested in tasting some of Portugal's fantastic wines, as the trip includes two stops at local wineries. In addition to this, you'll get to explore Arrabida Natural Park, visit the impressive Pamela Castle, and enjoy spectacular views of the wild and wonderful Portuguese coastline – all with a professional guide on hand to explain the amazing sights you come across. See trip reviews & prices.
7. Queluz National Palace
[SEE MAP]
Considered to be the last great rococo buildings in Europe, this splendid building of red tiled swooping roof lines and whitewashed columns and spires has been referred to as the Portuguese Versailles. The Queluz National Palace was built in the late 1700's as a retreat for the future king consort, Dom Pedro de Braganza. It has been owned by the State since the early 20th century.
Today, it is both a tourist attraction as well as a guest house for visiting heads of state. A brief twenty minute ride from Lisbon, the palace can be reached by car or public transport.
Getting to Queluz National Palace
From Rossio Station in Lisbon, it only takes half-an-hour to get to Queluz National Palace. Simply hop on a train and alight at Queluz – Belas, from which you'll have to walk the final 15 minutes to the palace. The signs are very easy to follow, and once you've finished visiting the palace, you could always head on to Sintra, which lies just 20 minutes along on the same train line.
If you're interested in getting to know this beautiful part of Portugal better, a guided tour may just be the thing for you. With stops at both Queluz National Palace and Sintra included, alongside visits to Cabo Da Roca and Cascais, a tour is a fantastic way to see as much of the region as possible in just one day. See trip reviews & prices.
This suburb of Lisbon has been a favorite location to live and visit since the time of the ancient Phoenicians. Today, the coastal region has been likened to Portugal's Riviera with its glamorous hotels, rich and famous guests and ritzy casinos. It has inspired a song by Stevie Nicks, and the casino was the original inspiration for Ian Fleming's first James Bond novel, Casino Royale.
Today, it has become a quieter version of the more lively Cascais, but the history and beautiful atmosphere make it a great location for those who want to see landscaped, palm-fringed gardens, a spectacular boardwalk, and a coastal clime that has been loved for over a millennium.
Getting to Estoril
Located just to the west of Lisbon before you reach Cascais, Estoril only takes half-an-hour to get to from Cais do Sodre station in the capital. Trains run very frequently, and once you arrive, you'll find Estoril's glorious coastline lying right beside you. As it is located just a stone's throw away, it is well worth visiting nearby Cascais at the same time as you visit Estoril.
Many visitors wishing to see both Cascais and Estoril opt to take a guided tour that not only takes them to both lovely seaside towns, but also to stunning Sintra. With a cruise along the beautiful Portuguese coastline included, it is an amazing day out, with the spectacular Sintra National Palace, dramatic Cabo Da Roca, and charming Estoril just some of the highlights you can expect to see. See trip reviews & prices.
Jos Dielis / Flickr
This hilltop town on the Alentejo Plain was once a flourishing city under Roman rule. Today, Evora is home to a lively university and known as the second most livable cities in the nation. It is home to many great cultural activities, restaurants and clubs, as well as a number of historical locations. The Roman Temple, the 13th century Cathedral, aqueduct, and Almendres Cromlech megalith are all must-see attractions.
Getting to Evora
Lying to the east of Lisbon, Evora is around a two-hour journey away, whether you decide to go by bus or train. While buses run much more frequently, the train ride is more comfortable, although they only depart at rush hour, so there is no service between 9 AM and 5 PM. The buses to Evora depart almost every hour from Sete Rios bus station in the capital, while trains depart from Lisbon's Oriente Station. Once you arrive at the station in Evora, it is just a short walk to the center of town.
Driving to Evora is a little bit quicker at around an hour and a half journey's time; this also means that you can stop off at any place that takes your fancy along the way. The directions are straightforward; all you need to do is head south out of Lisbon and take up the A2 heading east, staying on it when it turns into the A6. The road will take you almost all the way there, and all you have to do is follow the signs when you see Evora appear.
This rocky promontory is both the westernmost part of mainland Portugal and the European continent. It is only about an hour west of Lisbon to get here, and well worth a drive to discover the splendors of the coast. Steep cliffs overhang the waves of the wild Atlantic, flanked by huge granite boulders that stand like sentinels along the edge.
These wild cliff faces provide cliff side homes for nesting sea birds, and are an excellent location for birdwatchers to visit. Lighthouses, expansive views and large plateaus of rock and low-lying vegetation make for an eerily beautiful trip.
Getting to Cabo Da Roca
To get to Cabo Da Roca from Lisbon by public transport is relatively easy, although it does involve a change at Cascais. First of all, you want to take a 45-minute train from Cais do Sodre to Cascais, where you then need to hop on bus 403 to go all the way to Cabo Da Roca. This last stretch of the journey takes about 20 minutes, and once you arrive, you'll find the magnificent and wild coastline before you.
If you decide to drive to Cabo Da Roca yourself, it is well worth planning your route in advance so you can visit both Sintra and Cascais which lie nearby. From Lisbon, head west out of the capital and take the A5 to Aldeia de Juzo. Here, you want to head north and get on the N247, which will bring you all the way to Cabo Da Roca. All in all, it should take you around 45 minutes, although this route does include tolls.
If you're pressed for time, a fantastic way to see Sintra, Cascais, and Cabo Da Roca in just one day is to take a guided tour that takes you around all three. With an expert guide accompanying you, you'll visit Sintra's amazing castles and palaces, the picturesque town of Cascais, and Cabo Da Roca's marvelous rocky coastline without having to worry about getting to and from Lisbon by car or public transport. See trip reviews & prices.
The citadel city of Obidos is surrounded by a crenelated wall, and boasts a medieval maze of whitewashed homes adorned with flower boxes, hanging vines and accents of cobalt blue and dandelion yellow paint. It serves as both a tourist's historical theme park inside the old city walls, as well as a small outer town that houses most of the inhabitants. One of the most popular times to visit is in July, when the town hosts the Medieval Festival. A mere hour from Lisbon, Obidos is an easy and worthwhile trip.
Getting to Obidos
While trains do run from Lisbon to Obidos, you are much better off getting the bus, as trains depart infrequently and take a lot longer to get there. Buses regularly depart from Campo Grande station, and these take around an hour to get to Obidos, where you'll find the lovely walled town rising impressively before you.
Driving is another option and affords you the luxury of stopping off at any of the delightful little towns you pass along the way or visiting the gorgeous Portuguese coastline that lies nearby. The journey only takes an hour, and the directions are very simple; all you need to do is head north out of the center of Lisbon and stay on the A8 all the way to Obidos. While this route does involve tolls, it takes you through some wonderful countryside, so the ride will pass by in no time at all.
A great way to experience this delightful part of Portugal is to take a guided tour that combines visits to Obidos, Fatima, and Nazare into one enticing day trip. With a knowledgeable guide on hand, you'll explore all three towns to your heart's delight, and enjoy gorgeous views of the spectacular countryside that lies between them. See trip reviews & prices.
This coastal town has long been a center for marine science, with labs dating back to 1896 and commissioned by the reigning king, Carlos I. During that time, it was the summer home for the Royal family, and today is a popular tourism destination for anyone who loves the beach and the water.
Cascais offers several beaches to explore, a great marina, ruins of the royal castle, art and sea museums, and the marine lab. Commuter trains run all day, though there are lots of great places to stay for those who want to spend a little longer here.
Getting to Cascais
Lying just 45 minutes to the west of Lisbon, Cascais is easily reached by train from Cais do Sodre, which is located just to the west of the capital's historic center. Trains depart regularly, and once you arrive in Cascais, it is just a short stroll to its beautiful waterfront.
As they don't lie too far from one another, lots of visitors decide to take a guided tour that visits both Cascais and Sintra in just one day. The day trip offers up a delightful combination of Cascais' beautiful beaches and bluffs and Sintra's amazing castles, palaces and stunning architecture. You'll return home tired but happy at all the amazing sights you've seen. See trip reviews & prices.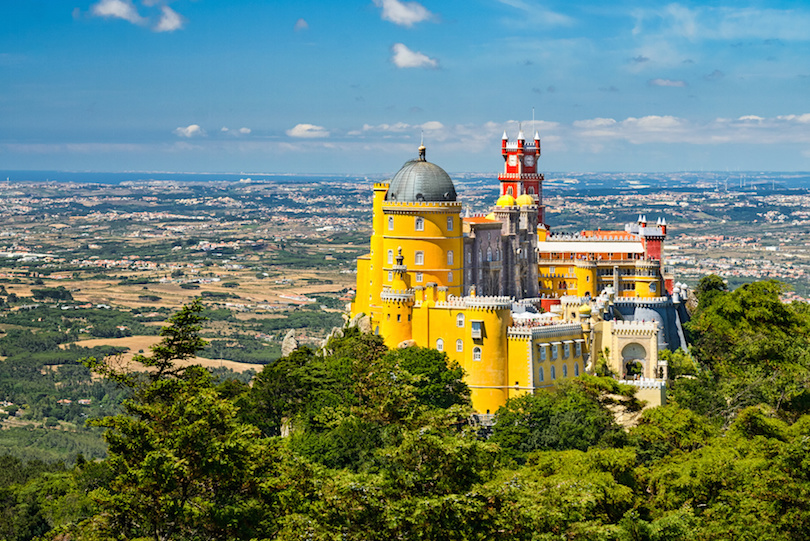 Whether visitors spend a day or a week here, they will discover that the magic of Sintra's mountaintop pastel-hued castles and verdant gardens is straight out of a storybook. Many consider this the most important day trip from Lisbon. It is an incredible blend of the ruins of clifftop Moorish castle, colorful ancient mansions, Celtic dedications to the moon god, impeccable gardens, and a millennium of history and romance.
Sintra's star attraction however is Pena's Palace, a fantastical castle reminiscent of Germany's Neuschnwanstein. History buffs will love the dozens of buildings and monuments that encompass many different cultures and architectural styles, and others will love the beautiful landscaping and extraordinary food and music opportunities that have blossomed in this fairy tale town.
Getting to Lisbon
Just 45 minutes away from Lisbon, Sintra is very easy to get to by public transport. All you need to do is hop on the Sintra train line from Rossio station in the historic center of Lisbon and sit back and enjoy the ride. Once you arrive, the center and main sights of Sintra are around a 15-minute walk away.
To make the most of your time in Sintra, you may want to consider taking a guided tour that leads you around all its spectacular sights. Pena National Palace and Sintra Natural Park are just some of the fascinating places you can expect to visit. With a visit to nearby Cascais also included, it is an excellent day out which will teach you a lot about the history, culture, and nature of this exciting part of Portugal. See trip reviews & prices.