Long one of southern Portugal's most popular holiday destinations, the lovely Lagos has absolutely loads to see and do. As well as its walled old town, the sunny seaside city is known for its incredible Atlantic beaches and the remarkable rock formations along its craggy coast.
Boasting over 2000 years of history, its port became an important center of shipping, commerce and conquest during the Portuguese Age of Discovery. While the spices and goods brought back fueled the construction of lavish churches and merchants' houses, many enslaved Africans were also sold here in what was Europe's first slave market. Later on, the small city also served as the capital of the Algarve from 1576 to 1755.
While its Old Town certainly is fascinating to explore, just as many people come for its sun, sea and sand. Its long coastline hides away lots of picture-perfect beaches amidst all its ginormous cliffs and gorgeous headlands. With sightseeing cruises and kayak trips to take around its stunning sea caves and grottoes there are plenty of things to do in Lagos for both relaxing and enjoying outdoor activities.
In this post, we'll cover:
18. Fort Bandeira
Certainly worth a quick stop, the photogenic Fort Bandeira is set right at the mouth of the Bensafrim River. Overlooking the Atlantic Ocean, harbor and adjacent lighthouse, the strategic stronghold was once part of a whole chain of batteries built all along the coast.
One of the best-preserved forts in the Algarve, its sturdy, square-shaped walls were erected back in the seventeenth century. This was to defend the city first from the Spanish and then both privateers and pirates following the end of the Restoration War.
Nowadays, visitors can admire its rather elegant entrance and the four small turrets that protrude out at each corner. There is also a tiny drawbridge over its moat and a cute chapel lined with traditional tiles to see inside. As the building is quite squat, the views from its ramparts are only a bit better than the ones from outside and the beach beside it.
17. Praia do Porto de Mos
One of the most popular beaches in the area, Praia do Porto de Mos is backed all the way along by stunning sea cliffs. As it is not sheltered from the Atlantic, its waves are great for body boarding, kite surfing and other watersports. Plenty of families also head here though for its spellbinding views and soft, expansive sands with lifeguards watching over its waters in summer.
Stretching well over a kilometer in length, the beach's golden sands are perfect for lounging on lazily. Dotted about are sunbeds and umbrellas for rent while a couple of sublime seafood restaurants are also found alongside it.
Asides from sunbathing and swimming in the sea, you can always snorkel about and see some cool marine life. For even better views over the whole coastline, hike along the enormous cliffs behind the beach that stretch from Praia da Luz all the way to Ponta da Piedade.
16. Mercado Municipal
Lying by the waterfront back in the center of town is the very lively Mercado Municipal. Full of stands and stalls laden with fresh fish, vegetables and speciality food products, its two large floors are loads of fun to wander around.
Located just a short walk north of the Old Town, its massive white building overlooking the harbor dates to 1924. While the entire ground floor is dedicated to all kinds of sumptuous-looking seafood, it has tons of stands to peruse upstairs selling olive oils and wines, spices, honey and souvenirs.
After taking a look at its traditional products and trying some tasty samples, we loved sitting outside at its rooftop restaurant. Very relaxing, it boasts divine views over the marina and city with the dishes and drinks being just as good.
15. Centro Cultural de Lagos
If after all the endless sightseeing and sunbathing you want to catch a show, then Centro Cultural de Lagos is one of the best places to go. Situated alongside Igreja de Santo António, it puts on a varied schedule of top-class concerts, dances and plays.
One of the city's main cultural institutions, the arts venue occupies a renovated seventeenth-century building right in the historic heart of town. While its three spacious galleries often host temporary art exhibitions, scintillating shows are held in its sizeable auditorium.
These include not just outstanding orchestras and classical music concerts but contemporary dance troupes, hard-hitting rock bands and thought-provoking plays. Only adding to the experience are the center's superb acoustics. With some interesting paintings and sculptures also to see, it is well worth checking out its calendar when in town.
14. Take a boat or kayak tour to Benagil Cave
One of the most iconic and unmissable spots along the Algarve is of course the breathtaking Benagil Cave. As it is only accessible by boat or kayak, taking a tour is one of the most popular things to do in Lagos and a great way to explore its dramatic rock formations.
Found just forty kilometers further down the coast from Lagos, the striking sea cave is most famous for the gaping 'eye' in its ceiling. Standing out delightfully against the bright blue sky, its rugged rocks and sparkling waters make for quite the sight. You can also hike along the top of its soaring cliffs and peer into the cavernous cave from above or relax on its beach down below (if there's any space!).
Tours often take you by other secluded caves and coves nearby with kayaking being more strenuous than the boat. Although it gets incredibly crowded, Benagil Cave was still one of the main highlights from our time in Lagos.
13. Hike from Praia da Luz to Ponta da Piedade
Another awesome outdoor activity you just have to do is hike all the way from Praia da Luz to Ponta da Piedade. Meandering its way along the top of the Algarve's colossal sea cliffs, the trail has some stupendous scenery, nature and views for you to enjoy.
Very well-marked, the precipitous coastal path takes roughly three hours to complete and stretches eleven kilometers in length. Part of the longer Fishermen's trail – one of the most scenic in the world – it starts off at the already attractive Praia da Luz.
After a steep 900-metre climb, it levels off with phenomenal panoramas provided at the Rocha Negra lookout. Once past Praia do Porto de Mos, you'll come across another couple of incredible beaches, coves and viewpoints.
The highlight though is finally arriving at Ponta de Piedade and seeing all its spectacular sandstone cliffs. One of the country's most famous natural sights, it also has an old lighthouse and atmospheric grottos to explore.
12. Lagos Zoo
After paddling about or hiking for hours under the scorching sun, a trip around Lagos Zoo makes for a pleasant change of pace. Located twenty minutes' drive northwest of town, its spacious enclosures have lots of adorable animals and birds to observe.
First opened to the public in 2000, the smallish zoo's countryside setting ensures each of its exhibits is quite large and looks like its residents' natural habitat. Although mostly home to hundreds of exotic birds, there are still cool kangaroos, chimpanzees and crocodiles to see. Some graceful big cats also feature alongside playful marmosets, tamarins, lemurs and spider monkeys.
In total, it contains over 140 species with its animals, amphibians, reptiles and birds hailing from five continents. There is also a small farmyard section where you can pet pigs, sheep and goats. Thanks to its playgrounds and restaurant, families with young ones can easily spend a whole afternoon here.
11. Governor's Castle
One of Lagos's main historic sites, the crumbling Governor's Castle lies between Fort Bandeira and the Church of Santa Maria. Surrounded by gorgeous green grounds and gently swaying palm trees, its weathered walls now make for some fantastic photos.
Originally built by the Romans, Lagos' fortifications were later strengthened by the Arabs followed by the Christians. In the fifteenth century, the current castle was constructed with it now most known for its militaristic look and fine Manueline-style window. It was from here that a series of governors ruled over the Algarve from 1576 to 1755. Expeditions also departed from the harbor alongside it during the Age of Discovery.
While not all that much remains due to the disastrous 1755 earthquake, it is still nice seeing its stone walls and towers. After taking some pics and wandering about the rest of the Jardim da Constitucao, head to the nearby church or slave museum for yet more insight into the city's history.
10. Igreja de Santo António
Lacobrigo / Wikipedia
An absolute must-visit, Igreja de Santo António boasts one of the most beautiful interiors of arguably any church in the Algarve. While its simple whitewashed facade doesn't look all that special, gilded wood carvings and colourful azulejos cover every surface inside.
Believed to be where Saint Anthony of Lisbon was born, the Baroque church and its two belltowers date to 1707. Ornately decorated and impeccably maintained, its resplendent nave is lined by lots of lovely gold-clad carvings while fabulous frescoes coat its ceiling.
Once you've admired its exquisite altar and elaborate sculptures, you can peruse artifacts, artworks and archaeological findings in its adjoining museum. Engaging exhibits also present various aspects of Santo Antonio and the city's centuries-old past. We really enjoyed the church and its museum and almost couldn't tear our eyes away from its extraordinary interior!
9. Ciència Viva Science Center
On the opposite side of the Old Town to Igreja de Santo António is the superb Ciência Viva Science Center. One of the most favorite things to do in Lagos with families, its hands-on exhibits and activities are sure to keep young and old alike entertained for hours.
Inaugurated in 2009, all its well-done displays occupy Casa Fogaca – a wonderful eighteenth-century manor house. These mainly focus on all the massively important discoveries and inventions brought about by Portugal's Age of Discovery. As such, its exciting games and puzzles deal with subjects like shipbuilding and seafaring, cartography, communications and astronomy.
Whether it is manning a fifteenth-century caravel, diving down in a submarine or experimenting with new drones, 3D printers and robots, the state-of-the-art center guarantees great fun for everyone. It also has some amazing old navigational instruments to examine and an outside garden to enjoy with water features, climbing frames and views over the marina.
8. Marina de Lagos
Right beside it is the massive Marina de Lagos and all its sleek yachts and sailing boats. Aside from strolling about taking in its lively yet laidback atmosphere, you can also arrange kayak tours, dolphin safaris and all kinds of other fun watersports along the coast here.
Surrounded by both palm trees and boardwalks, its shimmering waters lie just inland from the mouth of the Bensafrim River. Plenty of top-notch waterfront bars and restaurants also border the harbor, providing guests with magnificent views over the sea of masts before them. In the evening, some of the cafes also have live music performances to listen to.
From the bascule bridge at its entrance, you can gaze out over the hundreds of boats bobbing about the bay. Exciting sightseeing cruises and kayak trips regularly depart from the marina with countless tour companies operating kiosks along the quayside.
7. Meia Praia
Just a stone's throw from the chic marina are the seemingly endless sands of Meia Praia. Backed by rolling dunes, its gold expanse is the perfect place to relax, unwind or enjoy some outdoor activities.
Despite meaning 'Half Beach' in Portuguese, it actually stretches well over four kilometers in length alongside one of the largest open bays in Europe. Very wide and clean with coldish, shallow waters, it runs right the way from Lagos up to Ria de Alvor. Towards town, a number of restaurants and bars can be found while nudist areas lie at its more isolated eastern end.
Due to its sheer size, the beach never feels crowded though hordes of sun worshipers flock here in summer. As it is not surrounded by cliffs, it can get quite windy which means many go sailing, surfing and paragliding. Jet skiing and kayaking are yet another popular pastimes as is simply lounging on the beach and swimming in the sea.
6. Church of Santa Maria de Lagos
Back in the Old Town is one of its most attractive old buildings: the charming Church of Santa Maria de Lagos. Lying right by the Jardim da Constituição and Governor's Castle, it has some fine artworks and architecture to check out.
While a church has stood here since 1498, most of the current one dates to the nineteenth century. This is because it suffered significant damage during the Great Earthquake of 1755 and so had to be rebuilt. Its Renaissance-style portal still remains though while its whitewashed facade and belltowers overlook the large square before them.
Very understated in comparison with Santo Antonio and many other churches in the Algarve, Santa Maria's interior is again quite plain and simple. Its most striking feature is undoubtedly the illuminated figure of Jesus suspended above the altar.
Although we much preferred all of Santo Antonio's glittering gold carvings, we thought Santa Maria's setting and exterior were much prettier. Its quiet, cool nave also offered some welcome respite from the searing heat outside.
5. Slave Market Museum
Just across the square from the church is the very moving yet must-visit Slave Market Museum. Full of interesting artifacts and exhibits, it examines the huge role that Portugal and Lagos played in the slave trade.
Back in 1444, Europe's very first slave market opened right here in the center of town with Henry the Navigator himself having profited handsomely from the horrible trade. The museum's displays cover how poor Africans were captured and transported to the country before being sold around the rest of the continent.
On show are personal possessions confiscated from the slaves, shackles to contain them and ivory, furniture and jewellery from the colonies. The elegant archaic building in which the exhibits are held was built in 1691 and served as a customs house.
While we still learnt enough to justify a visit, the museum could be much bigger and delve into more depth, especially considering the historic events that took place here. It also felt that its exhibits were glorifying Portuguese explorers' achievements while completely overlooking their connections to the slave trade.
4. Praia do Camilo
One of the most picture-perfect beaches imaginable, Praia do Camilo's golden sands are hemmed in on all sides by enormous ochre-colored cliffs. Very dramatic-looking, its remarkable rock formations look even better with the dazzling blue waters beside them.
Located about a half an hour's walk south of the center, not too far from Ponta da Piedade, the beach is only accessed via a steep, winding wooden staircase through the cliffs. Peering down from above or at its clifftop restaurant, it's craggy headlands and sea stacks already make an incredible sight.
Down below is even more spectacular as the red and yellow rocks rise up about you, sparkling in the sun. As it is very small, the beach gets very crowded in the summer with the sun being blotted out by the cliffs in the afternoon time. When the tide retreats, you can explore more of its romantic shoreline and venture through a small tunnel to a neighboring beach.
3. Explore the Old Town
The most enchanting part of Lagos is of course its Old Town which has lots of enticing narrow alleys and scenic squares for you to amble around. Lining its pretty patterned streets are plenty of historical whitewashed buildings now containing cosy cafes, traditional restaurants and souvenir shops.
By the fifteenth century, the town had become the centre of Portuguese maritime exploration thanks to its strategic setting by the Bensafrim River. As such, untold riches, spices and goods from around the world poured into its port. Lagos also later acted as the capital of the Algarve from 1576 to 1755.
While much of the center was sadly destroyed during the Great Earthquake of that same year, many of its tightly packed houses still date to the seventeenth century. Other than its castle, churches and city walls, there are tons of terrific local restaurants and bars to try. When we weren't off exploring its breathtaking beaches and coastline, getting lost amongst its old streets was by far our favorite thing to do in Lagos.
2. Praia Dona Ana
Speaking of beaches, one of the best and most beautiful in the Algarve is definitely Praia Dona Ana. Conveniently located a bit closer to the center than that of Camilo, its calm waters, soaring cliffs and sweeping sands make it one of the most popular in the area.
After just a twenty-minute walk from the Old Town, you'll find yourself gazing out over all its glittering golden sands and gorgeous rock formations. Only adding to the spectacle are its twinkling turquoise waters and all the rearing rocky outcrops that dot its shores.
While we personally preferred Praia do Camilo for its cozier feel, Dona Ana undoubtedly looks pretty special too. It also has way more sand to go around though still gets quite crowded in summer. After lounging on the beach and marveling at its magnificent scenery, keep heading south for the region's standout sight: Ponta da Piedade.
1. Ponta da Piedade
Now one of the most famous tourist attractions in Portugal, the picturesque Ponta da Piedade is the highlight of most people's time in town. Fantastic to photograph, its rocky headlands are a delight to hike, kayak or boat about with astounding views and scenery guaranteed wherever you go.
Meaning 'Point of Mercy' in English, its immense cliffs and rock formations cluster about Lagos Bay's southwestern tip. Towering up to twenty meters in height, their rugged red and yellow arches and the transparent waters below shine magically in the sun.
At their foot are sublime caves and grottoes which you can actually kayak through or take sightseeing cruises out to. From atop its steep cliffs, there are phenomenal panoramas to enjoy while swimming in the sea and sunbathing on its beaches are equally memorable here. Not to be skipped, Ponta da Piedade's unique landscapes are absolutely amazing to see and explore.
Where to Stay in Lagos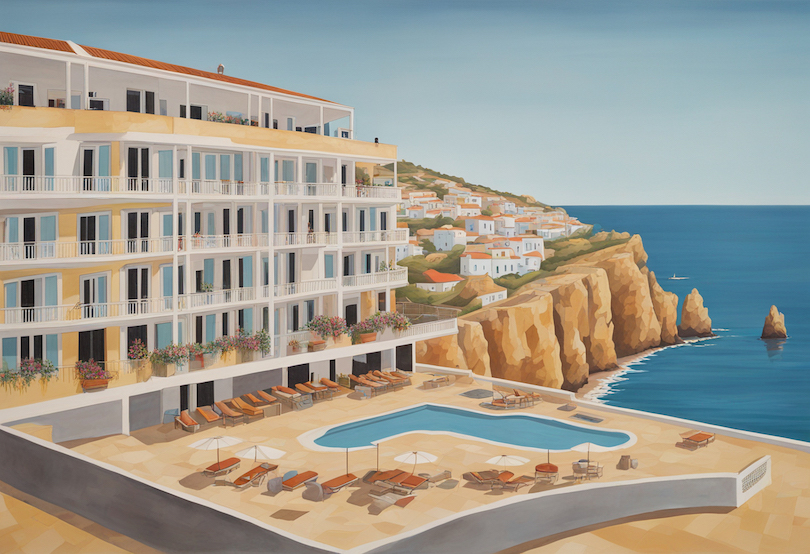 As Lagos is quite compact, staying in or around the Old Town means most of its main attractions and the marina are within walking distance. Some breathtaking beaches and the must-see Ponta da Piedade also lie only twenty to thirty minutes' walk away. If you're after more of a beach holiday, then staying nearer to the coast may be a better idea.
One such option is the outstanding Lagos Atlantic Hotel, just a short stroll from the picturesque Praia do Porto de Mos. Besides clean, comfy, spacious rooms, there is an outdoor pool and sun deck area for visitors to use. Very stylish and modern, the four-star hotel has a well-equipped games room and fitness center while tasty breakfasts are put on in its restaurant. Its staff are also exceedingly friendly and the center of town can be reached in just a five-minute drive.
If you want to be nearer to the action but still enjoy a relaxing stay, then the Lagos Uptown B&B may just be the perfect place for you. Located just outside of the Old Town, the intimate guest house has cozy, clean rooms, some with epic ocean views. The highlight though is its rooftop terrace where you can enjoy sumptuous breakfasts before heading off sightseeing or sunbathing.
How to get there
To get to Lagos, many people fly into Faro – the main transport hub for the region. Its well-connected international airport is roughly an hour's drive away to the east. A bus also connects you to its gates, though this generally takes double the time.
Although the distance looks considerable, numerous trains from the capital Lisbon depart for Lagos each day. The tranquil journey only takes four hours and enables you to see some pretty Portuguese countryside on the way.
A well-developed local bus network covers the whole of the Algarve with Sagres lying about an hour to the west.
Despite this, renting a car is a good idea if you want to visit idyllic little beaches and coves along the coast or venture further inland.
Once you arrive, most tourist attractions in Lagos and even some spectacular beaches and cliffs are all within walking distance.
Best Time to Visit Lagos
Each summer, Lagos sees vast numbers of visitors pour in to sunbathe, swim or enjoy its vibrant nightlife. Seasonal residents also return to its scenic shores in both July and August.
During these months, temperatures average 25°C (77°F); perfect for lounging on the beach or trying fun watersports. Although summer is the busiest and most expensive time to visit, countless exciting events like the Lagos Summer Fest and Festa do Banho do take place.
April to June and September and October are also great as temperatures remain 18 to 25°C (64 to 77°F). While the spring months are still a bit cold to swim, the water is otherwise warm enough up until October. The slightly cooler temperatures also make sightseeing and hiking more enjoyable while Lagos has a more authentic feel due to the lower crowds and prices.
As November to February is much rainier along the Algarve, most people stay away. The city can make for a nice winter getaway as temperatures never drop below 15°C (59°F) though you won't be able to enjoy its beaches and watersports.
Map of Things to do in Lagos, Portugal
© OpenStreetMap © MapTiler © Touropia