The largest region in Portugal, Alentejo covers a vast swathe of territory that encompasses everything from rugged, rocky mountains and wheat field-filled plains to beautiful beaches and desolate Atlantic Ocean coastline.
As it was conquered and ruled by everyone from the Visigoths and Romans to the Arabs and Knights Templar, there is a wealth of incredible historical and cultural sights for you to enjoy, with many amazing hilltop castles and fortifications to discover.
Alentejo's rich past is fascinating to delve into, and the laidback charm of its picturesque towns and villages – and the delicious local fare on offer – make it a region to savor and enjoy.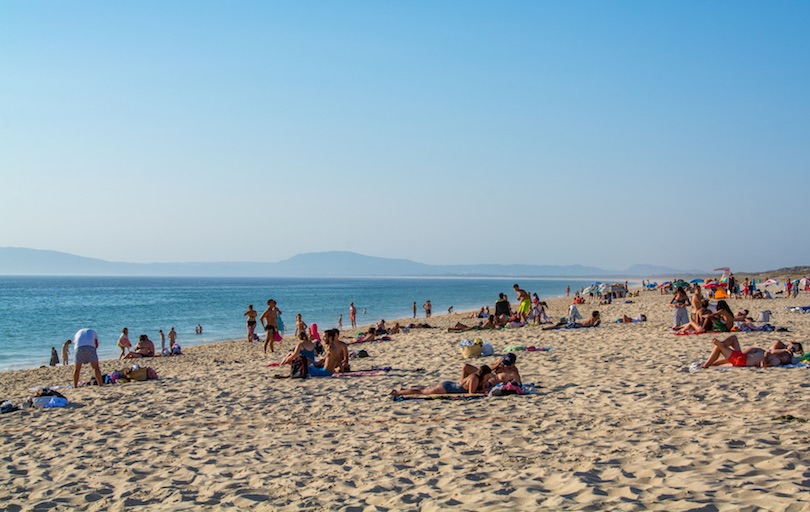 Located just a stone's throw away from Setubal, and within an easy drive of Lisbon, the small seaside village of Comporta is a great place to head to if you want a quiet getaway among glorious nature. Lying at one end of the Troia Peninsula, with the Sado Estuary to one side and the Atlantic Ocean on the other, Comporta is blessed with beautiful white sand beaches; its sparkling waters lend themselves perfectly to swimming, fishing, and watersports.
In addition to this, the Sado Estuary Nature Reserve has some scenic sand dunes, wetlands, woods, and marshes for you to explore, with hiking, mountain biking, and birdwatching all popular. Quite a sophisticated place to stay, Comporta has plenty of brilliant restaurants for you to try out, as well as upmarket boutiques and luxurious seaside cottages.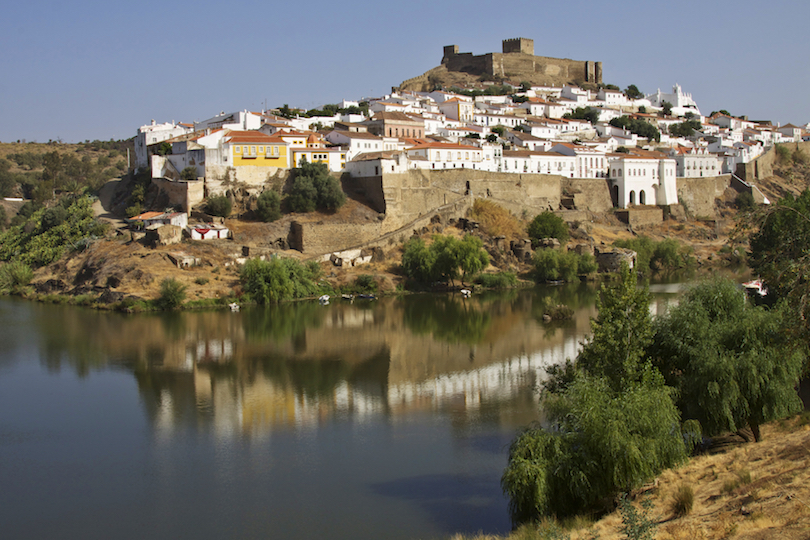 Perched atop a hill overlooking the Guadiana River, Mertola is a very picturesque place to visit in Portugal. As you approach, you can see its majestic old castle towering over the white-washed walls of the rest of the city. Due to its strategic location, everyone from the Phoenicians and Romans to the Moors has conquered and left their mark on the city. The majestic 12th-century church (once upon a time a mosque) is one of its main historic sights, alongside its castle.
For visitors interested in learning more about Mertola and the region's rich history, a visit to the Mertola Museum is a must. You'll find fascinating artifacts, archaeological findings, and Islamic art. Wandering around the town's cobbled streets is a delightful affair, and it is not without reason that many people consider it to be an open-air museum.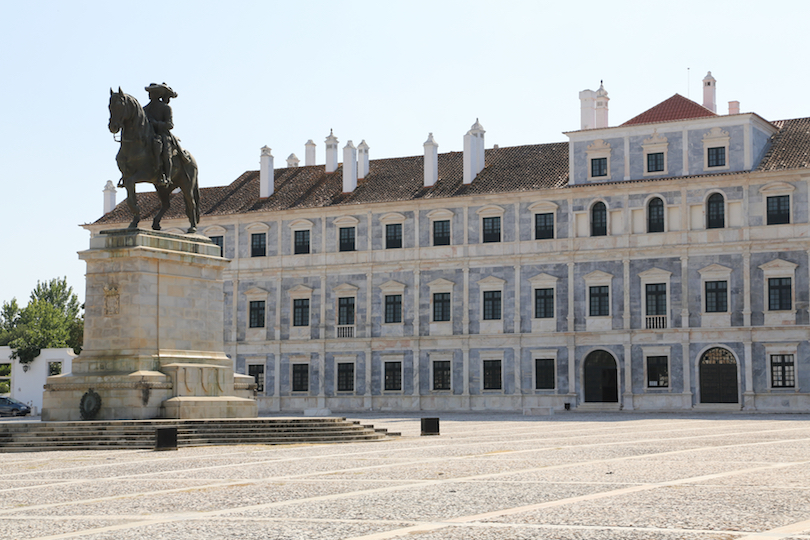 One of Alentejo's three 'marble towns,' Vila Viçosa sparkles in the sun; its gorgeous historic center is full of marble-clad buildings, statues, and monuments. As it dates all the way back to Roman times, there is a lot of history to dive into in the town.
One of its main attractions is the delightful Praca da Republica, which is bordered by a stunning palace, a charming castle, and leafy trees and gardens. With several fine churches, monasteries, and mansions sprinkled around town, as well as a fascinating Archaeology Museum, Vila Viçosa is definitely worth visiting if you have the time.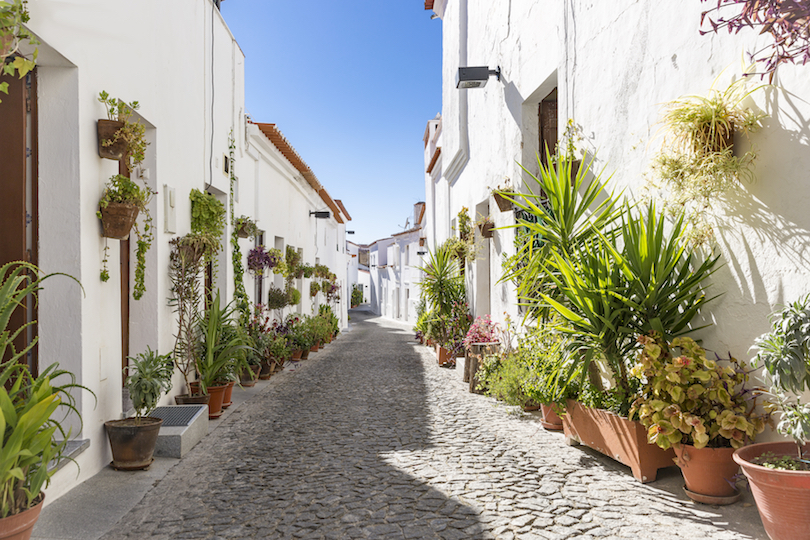 Lying at the heart of a farming area, the laidback, fortified town of Moura is home to many historical sights and cultural landmarks, with a crumbling castle for you to explore alongside beautiful old churches and buildings. With lots of cozy cafes, bars, and restaurants tucked away among its small streets, it is a charming place to spend some time, and its well-preserved Moorish quarter is particularly delightful to meander around aimlessly.
While in town, it is well worth taking a trip to see the nearby Alqueva Dam. It is very impressive to see the vast expanse of water that it keeps at bay; remarkably, it is one of the largest dams in western Europe.
Boasting an imposing castle, as well as wonderful views out over Alqueva Dam and the surrounding countryside, the hilltop village of Monsaraz is certainly very picturesque. While there is not all that much to see or do in town, its stunning setting and charming look and feel more than make up for it.
White-washed houses contrast delightfully against the greens and browns of the surrounding countryside. As it is located just across from the Spanish border, Monsaraz has long occupied a strategic position; as such, everyone from the Romans and Visigoths to the Arabs, Jews, and Knights Templar have ruled over the town at some stage.
With lots of interesting and impressive historic sights for you to enjoy, Beja, the main town in Baixo Alentejo, is a delight to explore. Its magnificent hilltop castle is the undoubted highlight of what's on show. Surrounded by a sea of shimmering wheat fields, the town has some fascinating museums for you to delve into, such as the Visigothic Museum and Museum of Eleanor.
There is also plenty of magnificent architecture and old buildings enclosed within its city walls. While wandering around Beja, you'll come across some charming plazas lined with great restaurants and shops. On Saturdays, its streets are a hive of activity as the weekly market brings both locals and tourists alike to the town.
6. Cromeleque dos Almendres
[SEE MAP]
Remarkable to behold, the megalithic complex of Cromeleque dos Almendres is magical to visit. The peace and quiet that surrounds the circle of menhirs gives it a timeless feel. The largest such site in the Iberian Peninsula, the Almendres Cromlech, as it is known in English, are believed to date to between 6000 – 4000 BC.
Rising from the parched earth with olive trees lying around the outskirts of the circle, the menhirs make for some fantastic photos. On some of the distinctive rocks, faint etchings and engravings can still be seen.
Along with Vila Vicosa and Borba, Estremoz is one of Alentejo's three 'marble towns.' Wherever you go in town, you will come across buildings and monuments made out of marble, with pavements, staircases, and plaza pavings also made out of the polished stone.
As it has been inhabited since Roman times, there is a wealth of fascinating historical sights for you to explore, with lots of beautiful churches, chapels, and convents on show. Normally a peaceful and laidback place to visit, Estemoz comes alive on Saturdays when the local market takes place. Here, you can buy some great souvenirs, local produce, and artisanal handicrafts.
In addition to this, Estemoz certainly paints a pretty picture as its 13th-century castle protrudes imperiously above the myriad of white-washed buildings below it.
4. Vila Nova de Milfontes
[SEE MAP]
Lying at the mouth of the Mira River, Vila Nova de Milfontes is set in an absolutely gorgeous location, with the spectacular Southwest Alentejo and Vicentine Coast Natural Park surrounding it. Due to the natural riches on show, many people go horseback riding and hiking along the many trails that snake their way along the coast.
The town's breathtakingly beautiful beaches attract hordes of sun worshippers and surfers during the summer months. The rest of the year, Vila Nova de Milfontes has a lovely laidback feel to it, with some great restaurants and bars found in its center, and a quaint harbor full of fishing boats also on show.
Set atop a craggy hilltop in the Serra de Sao Mamede mountain range, the tiny village of Marvão is blessed with beautiful views out over the surrounding countryside, and the settlement itself is equally bewitching. Its narrow alleys snake their way among the white-washed buildings of the village, and a fantastic castle takes pride of place at the highest point of the rocky outcrop.
An increasingly popular destination, Marvão's recent revival as a tourist town is just the latest development in its history. Over the centuries and millennia, it has been ruled and conquered by everyone from the Visigoths and Arabs to the Knights Templar and Knights Hospitaller.
Lying a short distance away from the border with Spain, Elvas is a fascinating place to visit. Much of the town's identity, history, and heritage has been influenced by its proximity to its neighbor. Due to fears of being attacked and conquered, a series of fortifications and walls were constructed around the frontier town, alongside a stout castle and two other fortresses.
What were once the first lines of defense now make for some fantastic sightseeing. The town's labyrinth of narrow streets are home to some wonderful old buildings and museums, with great shops, restaurants, and bars also on offer.
As well as visiting the fortresses and fortifications, it is also worth checking out Elvas' amazing 16th-century aqueduct and beautiful Manueline-style cathedral.
Full of impressive historical sights and cultural landmarks, Evora, the capital of the region, is one of the most popular places to visit in Alentejo. Boasting a remarkably well-preserved old town center surrounded by medieval walls, it is a beautiful city to get lost in. Its many narrow alleys and cobbled streets are lined with architectural wonders such as the Roman Temple, the Fountain of Portas de Moura, and a number of elegant palaces, each more impressive than the last.
One of the most spectacular sights in town is undoubtedly the gothic Cathedral of Evora, which was built all the way back in the 1200s. Despite dating back to pre-Roman times, Evora still has a very lively and youthful feel to it; this is in large part due to its prestigious university, which is the second oldest in the country.
Aside from its many attractions, Evora also makes a great base from which to explore the surrounding region. The Cromeleque dos Almendres lie nearby, with some brilliant wineries and vineyards also on offer.
Map of Alentejo, Portugal
© OpenStreetMap © MapTiler © Touropia