Home to lots of spectacular scenery, age-old historical tourist attractions, and charming cities and towns, Portugal is one of Europe's most rewarding destinations. Lying along the west coast of the Iberian Peninsula, it boasts a rich history, heritage, and culture, much of which has been shaped by its relationship with the wild waters of the Atlantic Ocean that border it.
While Portugal's romantic rural landscapes and scenic sun-kissed shores attract many people, just as many come for its incredible artistic and architectural treasures. Other things to do in Portugal are visiting centuries-old castles, churches, and convents that are scattered across the country.
Famous cities such as Lisbon and Porto are home to fascinating historic centers, thriving culinary scenes, and important cultural landmarks.
In this post, we'll cover:
19. Palacio Nacional de Mafra
Located just 30 kilometers to the northwest of Lisbon, Palacio Nacional de Mafra is a marvelous building that exudes power and prestige. Built in 1717 with the wealth derived from Dom Joao V's Brazilian territories, the sprawling Baroque and Neoclassical palace-monastery is an astounding artistic and architectural gem.
Boasting more than 1,200 rooms, it is home to charming cloisters, royal residences and a lovely library, as well as a beautiful basilica and bell towers. While exploring Palacio Nacional de Mafra, you'll come across finely decorated halls, fabulous furnishings, and astonishing artworks.
18. Benagil Cave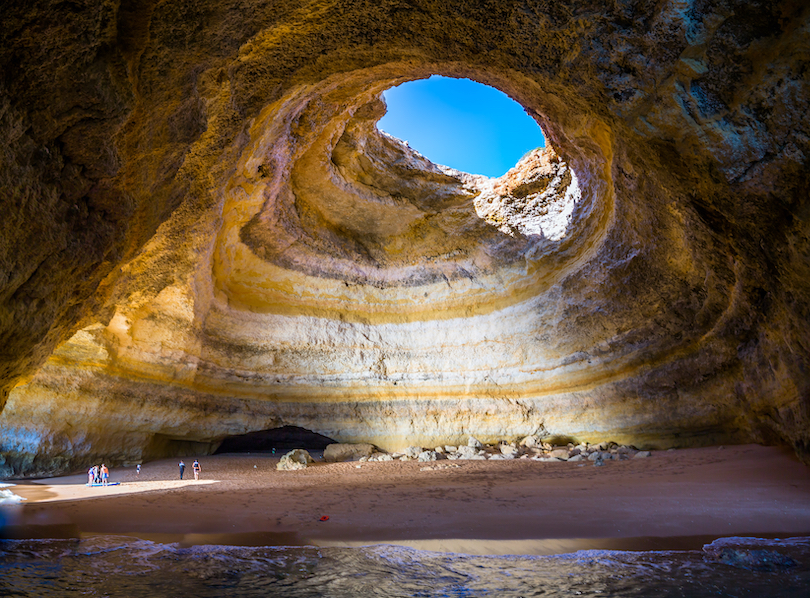 Set on the south coast of the Algarve, Benagil is a sleepy fishing village famous for its spectacular sea cave. Over the millennia, the lapping waves have hollowed out the cave, which now showcases some stunning natural rock formations.
Only accessible by sea, Benagil Cave can be visited by boat or kayak and has a glorious golden sand beach for visitors to relax on. While its sheer size and scale make for an awe-inspiring sight, the gaping 'eye' in its ceiling is its standout feature as the sky contrasts delightfully with the rock below.
17. Convent of Christ (Tomar)
Once the headquarters of the Knights Templar, Tomar is full of impressive historical and cultural sites, with the sprawling castle complex of the Convent of Christ the undoubted highlight. Founded in 1160, it exhibits some exquisite architecture, with centuries-old chapels, cloisters, a church, and castle enclosed within its imposing walls.
While its extraordinary 16-sided Charola church attracts the most attention, fantastic Gothic, Renaissance and Manueline features can be spied here and there. For centuries, enormous wealth and power was concentrated in the Convent of Christ. It was from here that Portugal's famed Age of Discoveries era began.
16. Batalha Monastery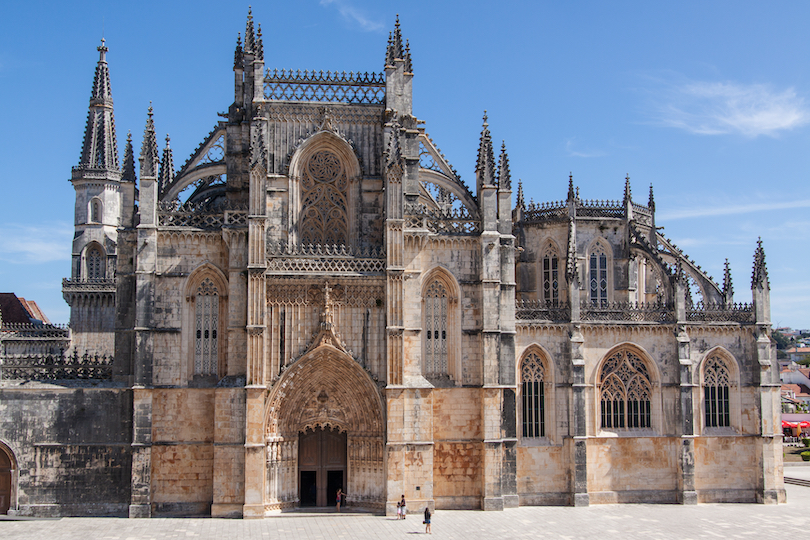 Lying in the Centro Region of the country, Batalha Monastery is one of the best and most beautiful examples of Late Flamboyant Gothic architecture in the whole of Portugal. Erected in 1385 to commemorate the nearby Battle of Aljubarrota, it proudly displays sumptuous architecture, with countless fine features and flourishes on show.
While its extravagant exterior is coated in pinnacles, parapets, facades, and fabulous buttresses, its interior is home to ostentatious ornamentation. The most popular tourist attraction in Batalha, the Dominican convent also has some monumental tombs, quiet cloisters, and unfinished chapels for visitors to check out.
15. Rota Vicentina
Meandering along the southwest coast of Portugal, Rota Vicentina is a wonderful network of trails and paths that take you through diverse landscapes and stunning scenery. Stretching almost 400 kilometers, the scenic hiking trails take you along craggy cliffs, through flower-filled meadows, and past verdant forests and sleepy, seaside towns.
The two most popular routes are the Historic Way and Fisherman's Trail, both of which take over a week to complete. Ambling peacefully along their picturesque paths or opting for a shorter single-day hike is a great way to explore some of the most scenic and secluded parts of Alentejo and the Algarve.
14. University of Coimbra
Established all the way back in 1290 in Lisbon before being transferred to its present-day setting in 1537, the University of Coimbra is one of the oldest seats of learning in the world. Perched atop a hill in the historic heart of the city, it boasts beautiful old buildings centered around an elegant and expansive courtyard.
Highlights include its superb ceremonial hall and breathtaking Baroque library of Biblioteca Joanina. Fine views of Coimbra can be enjoyed from its 16th-century bell tower. Despite all the history, the university is still one of the most prestigious in Portugal and welcomes new intakes of students every year.
13. Roman Temple of Evora
Lying in the historic center of the city, the Roman Temple of Evora is believed to have stood in the same spot since at least the first century AD. Despite its astonishing age, the archaeological site is very well preserved and features a fantastic colonnade of 14 Corinthian columns.
Now lined by churches, palaces, and historic buildings, the remains of the temple make for a very impressive sight. One of the most important Roman sites in the Iberian Peninsula, the Roman Temple of Evora is now one of the city's most popular tourist attractions.
12. Rio Douro Valley
Winding slowly through gently rolling hills, fertile vineyards, and lush farmland, the Rio Douro Valley is home to some of Portugal's most romantic landscapes. The third-longest river on the Iberian Peninsula, the Douro stretches almost 900 kilometers from the border with Spain to the Atlantic Ocean at Porto.
Along the way, there are lovely little towns and villages for visitors to check out, with crumbling castles and old stone farmhouses lining its verdant slopes. A very popular thing to do is to take a scenic cruise through the Rio Douro Valley and stop off to sample some delicious local produce and fine wines at its gorgeous wineries and vineyards.
11. Jeronimos Monastery
One of the most breathtakingly beautiful buildings in Portugal, Jeronimos Monastery lies on the banks of the Tagus River in Lisbon's Belem district. Built over more than a hundred years, the 16th-century church and monastery boast astounding architecture, with rich ornamentation and divine decorations wherever you look.
While its stunning south portal is coated in superb sculptures, it is the Manueline style cloisters that are the real showstopper with their elegant arches and finely carved pillars and motifs. Its church is equally impressive in terms of design and decoration: inside, you can find tombs of famous Portuguese figures, such as the explorer Vasco da Gama and the poet Luis de Camoes.
10. Marvao Castle
Perched atop a prominent peak in the Serra de Sao Mamede mountain range, Marvao Castle is blessed with phenomenal views over the surrounding area. Erected sometime in the eighth century – with countless repairs and renovations taking place later on – the castle is remarkably well-preserved. Its formidable fortifications are fascinating to explore.
Besides its weathered parapets and battlements, visitors can also find gates, towers, and an imposing keep, which now houses an interesting exhibition on the castle's long history. Fought over and ruled by everyone from the Arabs and Visigoths to French and Spanish forces, Marvao Castle and its accompanying hilltop settlement are well worth visiting and are an increasingly popular tourist destination.
9. Parque Nacional da Peneda-Geres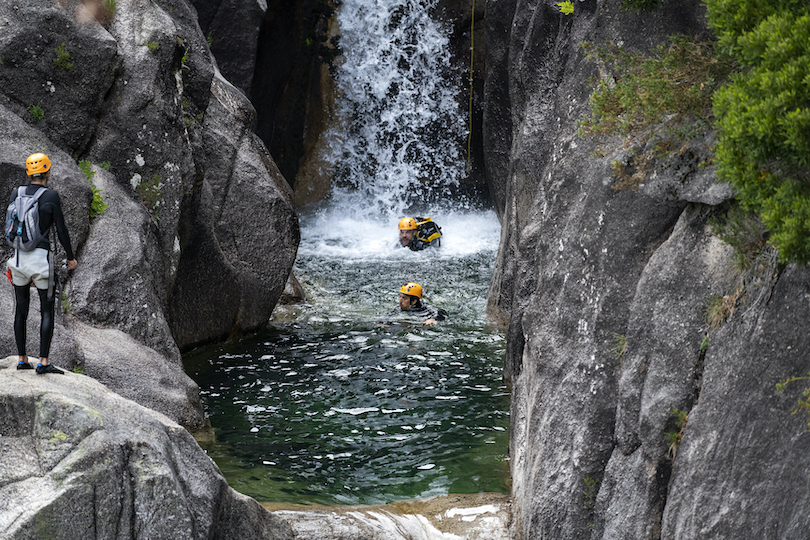 Sprawling over a huge area, Parque Nacional da Peneda-Gerês lies in the northwest of Portugal on the border with Spain. The only national park in the country, it encompasses a staggering array of different ecosystems and landscapes, with much of the park being mountainous.
Tucked away among its sweeping valleys and ululating hills are flower-filled meadows, lush forests, and pretty hiking trails. In addition to its sublime scenery, the park is also home to secluded settlements and centuries-old villages that retain their rich traditions and ways of life.
8. Alcobaca Monastery
Dominating and defining the small city of Alocoba, Alcobaca Monastery is one of the most important and impressive monasteries in the whole of Iberia. Founded in 1153 by Afonso Henriques, the first king of Portugal, the massive monastic complex showcases gorgeous Gothic architecture, with fabulous facades and spectacular sculptures on show.
While wandering around the medieval monastery, you'll come across a serene sacristy and refined refectory, as well as a colossal church and countless cloisters. An important artistic, cultural and historical site, Alcobaca Monastery attracts thousands of pilgrims and tourists every year.
7. Ponta da Piedade
Jutting into the Atlantic Ocean, Ponta da Piedade is a picturesque and prominent group of rock formations that lie just outside the town of Lagos, along the Algarve's craggy coastline. Made up of stupendous sea pillars, rearing rock arches, and glorious grottos, the barren and windswept headland is bordered by twinkling turquoise waters.
Appropriately meaning 'point of mercy' in Portuguese, the dangerous yet dramatic-looking cliffs make for fabulous viewing, and many people kayak or take boat trips to see them up close. Hiking along the top of the cliffs is also a delight for the exhilarating views that the path offers of the fierce waves pulverizing the Ponta de Piedade.
6. Almendres Cromlech
Believed to date back all the way to the sixth millennium BC, Almendres Cromlech is a magnificent megalithic complex located just outside of Evora. Set in a circular pattern are around 95 menhirs clustered together in small groups.
Despite having braved the elements for millennia, some of them still display faded carvings, while a couple bear small circular holes that were chiselled into them. Lying in a scenic and secluded hillside spot, Almendres Cromlech makes for a fantastic sight and is thought to have had a religious, ceremonial or astrological function.
5. Belem Tower
One of Lisbon's most iconic sights, Belem Tower lies at the mouth of the Tagus River, with the vast waters of the Atlantic Ocean in the distance. Built in 1519, the sparkling white limestone bastion and tower are often seen as a symbol of the Age of Discoveries; it was from here that Portuguese explorers set off on their voyages.
Despite having part of the city's defensive system, the tower exhibits some exquisite Manueline architecture, with many delicate decorations on show. Besides its fetching fenestrations and elegant turrets are brilliant brickwork and nautical motifs, while divine views of the river can be enjoyed from its watchtower.
4. Obidos Walled Town
Perched atop a hill in the Oeste Region of Portugal, the small town of Obidos is primarily known for its enchanting historic center, which is encircled by centuries-old city walls. Meandering around its medieval streets really is a treat as lots of wonderful whitewashed churches and buildings line its pretty, flower-strewn squares.
Hidden away among its cobbled streets are cosy cafes and traditional restaurants for visitors to try out, while the castle and its city walls are one of the main tourist attractions. A great time to visit Obidos is during July, when a fun and festive Medieval Market with jousting, jugglers and jesters takes place.
3. Porto's Ribeira
Looking out over the waters of the Douro River, Riberia is Porto's most popular district to visit. Lined by pastel-colored houses and buildings that tumble down the hillside, its waterfront promenade is one of the city's most scenic sights, with countless bars, restaurants and cafes found here.
Scattered around the historic district are charming cobbled streets for you to explore and historic sights and scenic streetscapes aplenty. Lively yet laidback at the same time, Ribeira is not to be missed out on and boasts the best dining and nightlife in Porto.
2. Pena Palace
Set atop a hill in the Sintra Mountains, Pena Palace is one of Portugal's most renowned, romantic and resplendent sights; it is visited by thousands of people every year. Completed in 1854, it showcases eclectic and exotic architecture, with colorful and creative features wherever you look.
Painted in bright yellows and reds are gorgeous gates, fetching facades, and crenelated clock towers, with unique and unusual designs found within its royal residences, too. Considered to be the pinnacle of 19th-century Romanticism in Portugal, Pena Palace is sure to be unlike anything you've ever seen before.
1. Alfama (Lisbon)
Full of steep and narrow cobbled streets that wind down the hillside, Alfama is the oldest and most enticing of Lisbon's delightfully different districts. From beneath the walls of the Castle of Sao Jorge to the shores of the Tagus River are a labyrinth of small streets and scenic squares for you to explore; these are home to charming cafes, traditional restaurants and lively bars.
See also: Where to Stay in Lisbon
Thankfully spared from too much damage during the famous earthquake of 1755 that leveled much of Lisbon, Alfama still retains many of its old buildings and timeless look and feel. The age-old district has a lovely laidback atmosphere, with the sound of melancholic Fado music never far away.
Map of Things to do in Portugal