When people think of Arizona, the first things that spring to mind are understandably the Grand Canyon and Monument Valley; while the scenery in these spots is certainly stunning, the state is home to much more than just old rocks. Its many cities are full of wonderful historic sites, pulsating nightlife, and fantastic restaurants, while its people are as welcoming and friendly as they come.
With the famous Route 66 passing through the state, you can stop off and explore some of its many landmarks, get a feel for the Old West in some of Arizona's atmospheric saloons, or learn more about the rich Native American culture at one of the many archaeological sites or reservations. Wherever you go, the places on this list are the perfect cities to visit in Arizona before delving into the majestic scenery all about you.
In this post, we'll cover:
10. Yuma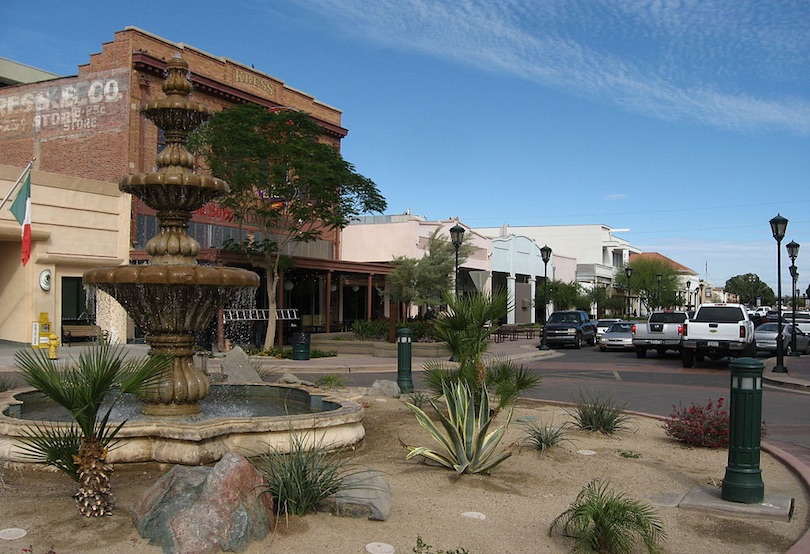 Ken Lund / Flickr
Lying at the point where the Gila and Colorado Rivers join, Yuma is just a stone's throw away from both Mexico and California.
Having undergone extensive renovations for its centenary celebration in 2014, Yuma is full of pretty little parks and there are a couple of great museums to boot. The Territorial Prison museum, for instance, serves up some interesting history related to the time it was known as 'the Hellhole of the West'.
Due to its proximity to Mexico, there is lots of great Mexican food on offer, and its year-round blue skies and sun make Yuma a pleasant place to stop by.
9. Lake Havasu City
Located in western Arizona, Lake Havasu City is a planned city that was built on the banks of the lake which gave it its name. Remarkably, it is home to the original London Bridge.
Put up for sale in 1967 because it was falling down, the city bought and reassembled it; it is now the main attraction alongside the touristy 'English Village' which can be found at one end of the structure.
Other than that, there is not all that much to see or do in Lake Havasu City, other than to enjoy the lake and go boating on its waters, try out some watersports, or simply watch the beautiful sunsets.
8. Prescott
© Twildlife / Dreamstime
Flanked by mountains, Prescott is a friendly place to visit. Its historic downtown is home to some lovely old Victorian buildings, which will make you feel as if you've stepped back in time.
The Old West town is charming to walk around with its leafy center, welcoming cafes, and the famous Whiskey Row's lively saloons. It is also home to the oldest rodeo in the world.
Located in a picturesque setting, Prescott's incredible landscapes are perfect for exploring by horseback, on foot or by bike. The fresh mountain air feels a million miles away from the searing desert heat of some of Arizona's other cities.
7. Mesa
© Legacyimagesinc / Dreamstime
The third largest city in Arizona, Mesa is part of Greater Phoenix and was founded by Mormons all the way back in the late 1800s.
The interesting museums make Mesa well worth checking out; its fabulous natural history museum and museum for youth are two of the best on offer, while the Mesa Arts Centre is home to a number of theatres and art galleries.
Away from arts and culture, Mesa has some wonderful outdoor activities for visitors to enjoy. You can go kayaking or swimming in one of its lakes or go hiking in the nearby Tonto National Forest – one of the largest forests in the States.
6. Tempe
© Derrick Neill / Dreamstime
Located in the Greater Phoenix Area, Tempe is a lively college-town that is home to the Arizona State University – the largest university in the United States.
As such, there is a very youthful feel about the place and a lot of life in Tempe revolves around the university. For instance, there are lots of restaurants and shops in town, as well as fantastic sporting facilities and loads of bars, giving Tempe a lively nightlife scene.
A fashionable place to live, lots of research-based industries are located in Tempe. Many people visit the city for one of the conferences, shows or events that are held here, while also stopping in to sample the flourishing culinary scene or vibrant nightlife.
5. Sedona
Famed for the stunning red sandstone formations that surround the city, such as Cathedral Rock, Sedona is a delight to visit, in large part due to the magnificent scenery. There are loads of outdoor activities on offer ranging from hiking and mountain biking to swimming and camping.
Considered by many to be a sacred place, there is a very New Age feel about Sedona – it is easy to see why once you take the breathtaking scenery into account. Indeed, lots of people come to attain spiritual enlightenment, relax at one of the numerous spas or stock up on alternative medicines.
While Sedona can get very busy during the summer, it is certainly worth checking out for all that it has to offer. Its fantastic art galleries and delicious restaurants mean that there is something for everyone to enjoy.
4. Flagstaff
Lying alongside Route 66 with the splendid San Francisco Peaks looking out over it, Flagstaff is a charming and laid-back place that has many different aspects.
While wandering around town, you'll find lots of old architecture that dates back to when the city was an important railroad station, as well as atmospheric coffee shops and bars catering to Flagstaff's large university population.
With beautiful nature surrounding it, there is some great skiing, mountain biking and hiking to be had. Mount Elden is the place to head if you want to enjoy the great outdoors. Combining nature, Route 66 landmarks and a delightful downtown into one enticing package, this college town is well worth stopping by when in Arizona or on your way to the Grand Canyon.
3. Tucson
The second-largest city in Arizona, Tucson is home to an intoxicating mix of cultures which is showcased in its fantastic restaurants, museums, and historic neighborhoods.
With a youthful feel, thanks in large part to the University of Arizona's sizeable student population, there are lots of eclectic shops, as well as a great bar and nightlife scene.
While Tucson's lively streets are fun to explore, the majestic natural sights that surround the city are yet another reason to visit, with Saguaro National Park and the Arizona-Sonora Desert Museum just two of its must-see attractions.
2. Scottsdale
Sometimes referred to as 'The Beverly Hills of the Desert', Scottsdale is part of the Phoenix Metropolitan Area and is a wealthy, upmarket place to visit with loads of resorts, high-end hotels, and swanky restaurants.
There are some lovely art galleries and museums scattered about, while its Old Town plays up to its cowboy and American West identity. There are lots of souvenir shops and themed restaurants to be found.
Home to one of the largest malls in the States, Scottsdale is a popular city among tourists. Its lively nightlife and trendy cocktail bars make it a great place to go out in.
1. Phoenix
The economic, cultural and political heart of Arizona, Phoenix is located in the Valley of the Sun. As such, the desert city is blessed with year-round warm weather and glorious sunshine.
Full of energy and life, Phoenix has a thriving cultural scene, as is evidenced by its numerous theaters and great museums such as the Phoenix Art Museum and the remarkable Musical Instruments Museum – which hosts the largest collection of instruments in the world.
Sports fans will also feel at home due to the city's professional sports teams. There are over 200 golf courses to try out, while outdoor aficionados can enjoy exploring the wealth of amazing desert scenery that surrounds the city. With loads of great Mexican food on offer in its fantastic restaurants and some lively nightlife to boot, the Southwest's largest city has loads for you to check out.
Map of cities in Arizona
© OpenStreetMap © MapTiler © Touropia