Home to many of America's most renowned and recognizable landscapes, Arizona boasts not only the majestic Monument Valley and cavernous Canyon de Chelly but the iconic Grand Canyon too. Set in the southwest of the States, its delightful desert scenery is a treat to explore, with beautiful buttes, rugged canyons, and breathtaking mountains wherever you go.
While Arizona's national parks and monuments protect a plethora of astounding scenery and nature, they also preserve lots of archaeological sites and settlements left behind by the Ancestral Puebloans. As a quarter of the state is made up of Indian reservations, their rich Native American history, culture, and heritage is still on show today. With so many interesting historical sights to check out, and a wealth of incredible outdoor activities to be enjoyed, Arizona really is one of the best and most breathtaking states to visit.
Map of National Parks in Arizona
© OpenStreetMap © MapTiler © Touropia
12. Chiricahua National Monument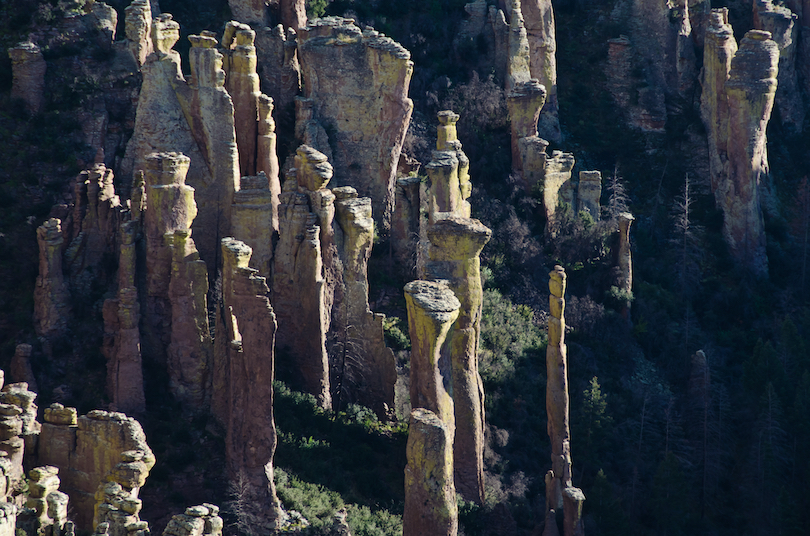 © Rck953 / Dreamstime
Set right in the southeast corner of the state is the captivating Chiricahua National Monument, home to some of Arizona's most arresting and awe-inspiring landscapes. Once called 'The Land of Standing-Up Rocks' by local Apaches, it boasts stunning stone spires and breathtaking balanced rocks.
Shaped and sculpted over the millennia by the wind and rain, its stunning hoodoos make for a spellbinding sight and seemingly stretch away forever. Among the sensational stone columns, visitors can find many fantastic features, with prominent pinnacles and natural bridges lying beside balancing boulders and rugged volcanic rocks.
Once used by the Chiricahua Apaches as a safe haven, the monument's mesmerising mountains and landscapes now attract hikers and photographers. With some wonderful wildlife also on show and some great camping and stargazing to be had, Chiricahua National Monument is well worth checking out if you have the chance.
11. Vermilion Cliffs National Monument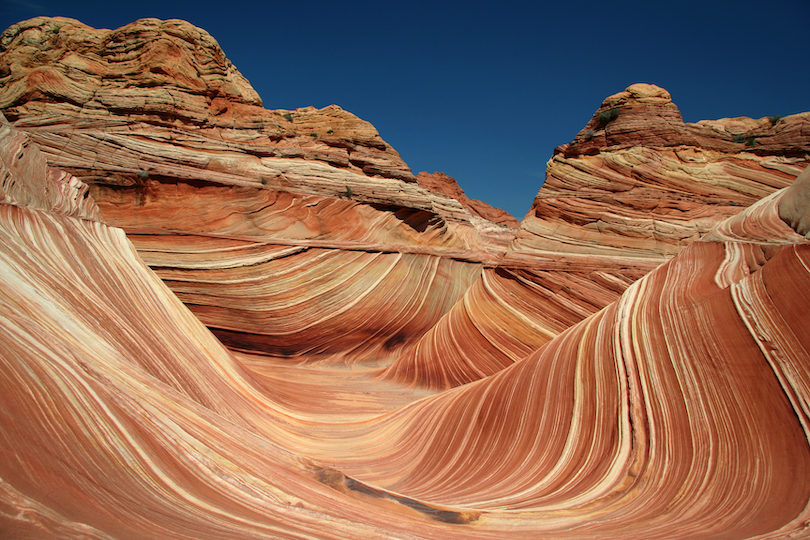 © Jimmy Lopes / Dreamstime
Located just to the south of the state line with Utah, Vermilion Cliffs National Monument lies in a very scenic, secluded setting. Home to spectacular scenery, it's sure to delight nature lovers and outdoor enthusiasts alike and can be found not far from the Grand Canyon.
Established in the year 2000 by President Bill Clinton, the national monument is dominated and defined by the colorful cliffs after which it is named. While the enormous escarpments certainly look impressive, the park's beautiful buttes and striking slot-canyons make for just as fine a sight.
In addition, there are many fascinating prehistoric petroglyphs to be spied among its swirling sandstone-colored scenery, as well as the remains of some age-old Native American pueblos.
10. Saguaro National Park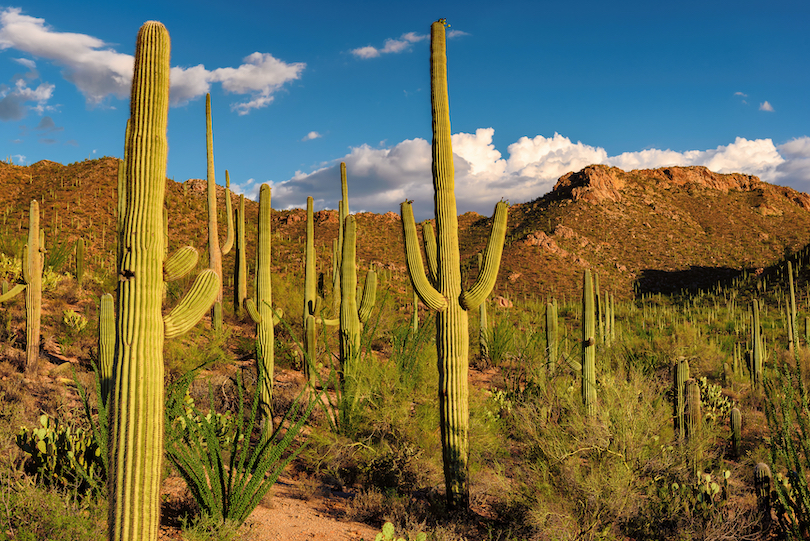 © Luckyphotographer / Dreamstime
Made up of two picturesque parts that lie either side of the city of Tucson, Saguaro is one of the most accessible and attractive national parks in Arizona. Named after the giant cacti that dot its delightful desert landscapes, the park offers an iconic image of the American Southwest.
Founded back in 1933 by President Herbert Hoover, it protects swathes of the Sonoran Desert, with the Tucson and Rincon mountain ranges also running through it. Coating its sweeping valleys are forests of spiny saguaro that tower up to 15 meters in height; they make for a distinctive sight with their prickly pears and blooming buds.
Meandering about its dazzling and dramatic landscapes are lots of terrific trails to hike, cycle, or horseback ride along, with some super scenic drives on offer among its cacti-dotted confines.
9. Sunset Crater Volcano National Monument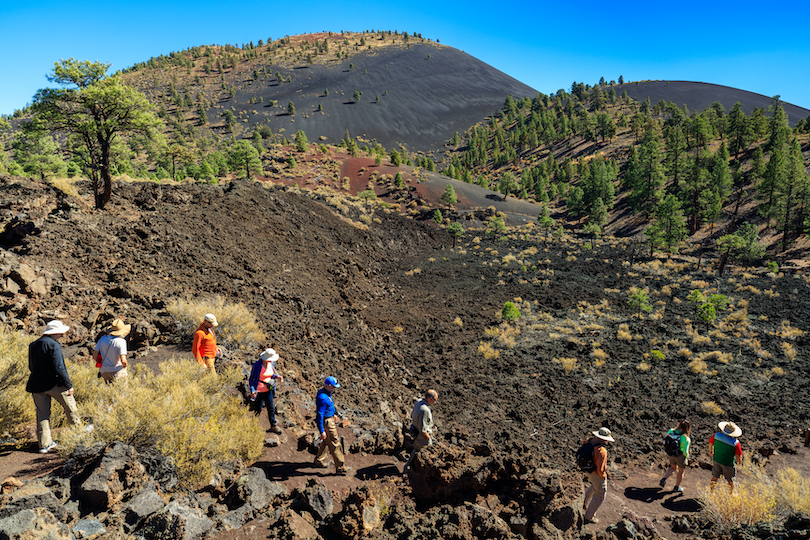 © Fotoluminate / Dreamstime
Centered around the crumbling cinder cone after which it is named, Sunset Crater Volcano National Monument lies in north-central Arizona, not far from Flagstaff. Formed around a thousand years ago during an explosive eruption, it is now a very peaceful and pleasant place to visit.
Rising above the foothills and lava fields that surround it, Sunset Crater is the youngest of a string of volcanoes that make up the San Francisco Peaks. Considered to be extinct, its barren and blackish slopes have been protected ever since 1930, when President Herbert Hoover deigned it a national monument.
Nowadays, visitors can hike around the lovely lava flows and forests lying at its foot. Access to its summit is banned due to the extensive erosion that was inadvertently caused by hikers.
8. Meteor Crater Natural Landmark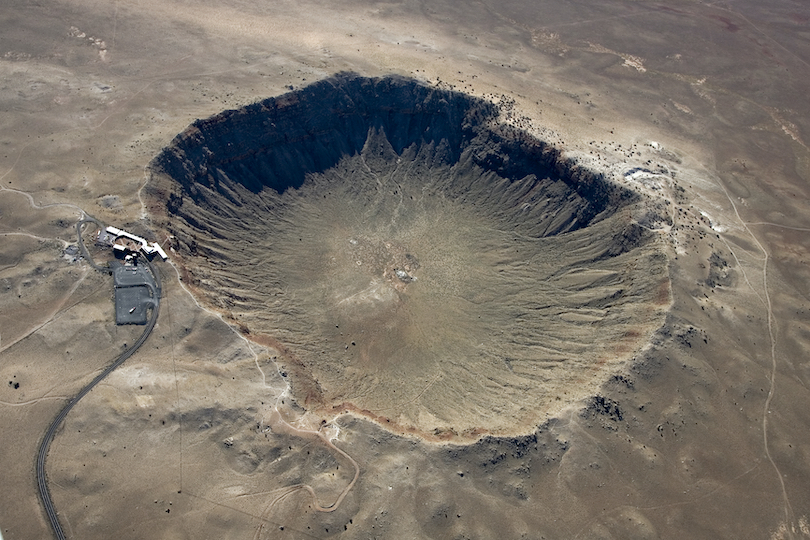 © Walter Arce / Dreamstime
Set just 60 kilometers to the east of Flagstaff is the massive and majestic Meteor Crater Natural Landmark. Billed as the 'best-preserved meteorite crater on Earth,' it's now a popular attraction, with sightseeing tours, a discovery centre, and 4D experience room all on offer.
Stretching over 1,200 meters in diameter and reaching a depth of 170 meters, the captivating crater certainly makes for an impressive sight. Formed around 50,000 years ago by a mighty meteorite, its rugged rim towers above the arid plains of the Arizona desert that lie around it.
Besides enjoying the fantastic panoramas of the crater while taking a tour along the top of it, visitors can learn about space and the Solar System through the discovery center's interactive exhibits. In addition, there is a fascinating film to watch on the meteorite impact, and an exciting immersion ride to experience.
7. Petrified Forest National Park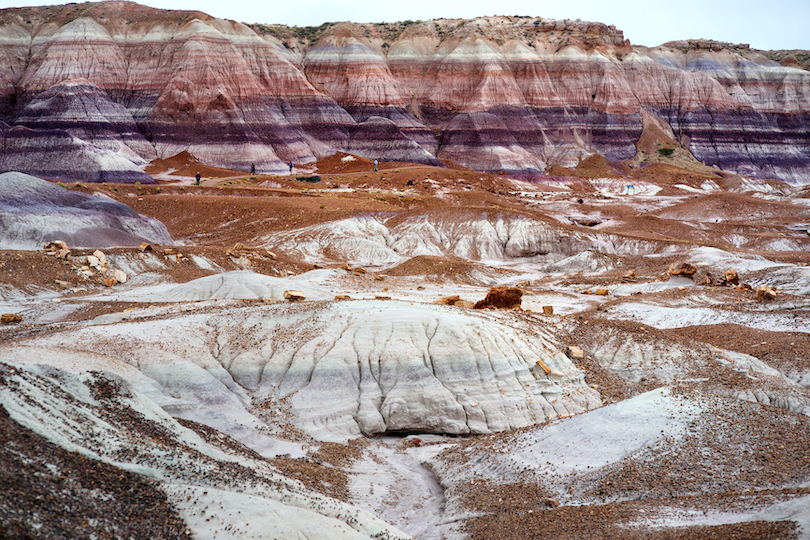 © MNStudio / Dreamstime
Home to an astounding array of scenery, landscapes and nature, Petrified Forest National Park can be found in eastern Arizona, not far from the New Mexico border. Famed for its fantastic fossils, it has excellent hiking for visitors to enjoy, as well as cycling, horseback riding, and camping.
Founded in 1906, the park preserves the remarkable remains of the ancient trees and logs after which it is named. Dating back a scarcely believable 225 million years, the kaleidoscopic colors of the petrified trees are bewitchingly beautiful, particularly when they shimmer in the sun.
While they are the park's standout sight, there are also the beguiling badlands, home to incredible archaeological sites and pretty petroglyphs. At the Painted Desert Visitor Center and Rainbow Forest Museum, visitors can learn about the area's interesting history, geology, and nature.
6. Montezuma Castle National Monument
© Kaye Oberstar / Dreamstime
Located just under an hour's drive to the south of Flagstaff, Montezuma Castle National Monument is home to one of the most impressive and important archaeological sites in the States. Mistakenly named after the famous Aztec emperor by early European explorers, the well-preserved pueblo is now a very popular tourist attraction.
Set in the side of a sheer cliff, the five-story structure has long been protected from the elements by its nature alcove setting that looks out over Beaver Creek. Made out of stone-and-mortar masonry, it showcases the Sinagua people's exquisite engineering skills and ingenuity.
While entry to the ruins is prohibited to protect its delicate features, visitors can learn all about the pre-Columbian site at its magnificent museum. On top of this, some fabulous photos can be snapped of the captivating castle nestled away in its cliffside.
5. Wupatki National Monument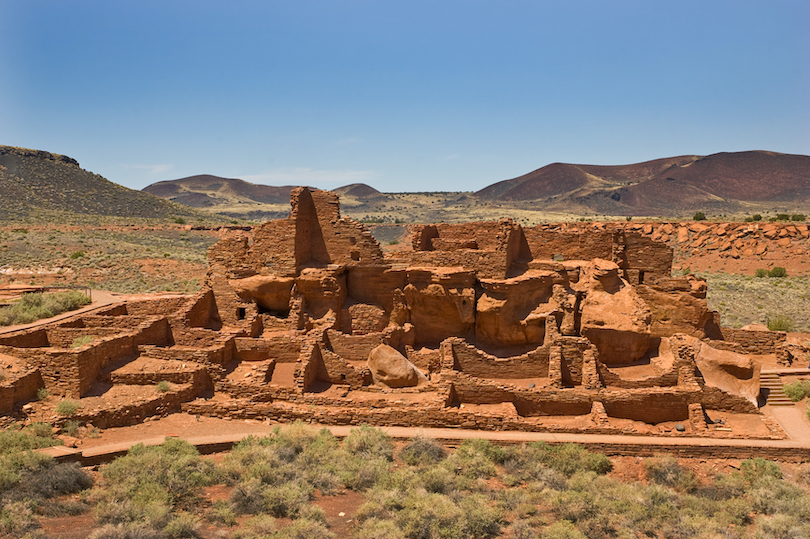 © Sally Scott / Dreamstime
Situated next to Sunset Crater, the wondrous Wupatki National Monument lies in north-central Arizona, not far from Flagstaff. A fascinating place, it boasts a staggering array of archaeological sites and centuries-old settlements built by the Ancient Pueblo People.
While Wupatki has been inhabited since around 500 AD, the eruption of Sunset Crater led to a population boom as its volcanic ash enriched the surrounding soils. By 1225, however, the site was abandoned, with almost 2,700 structures and the remains of radiant red rock dwellings left behind.
Of these, the multi-story Wupatki Pueblo is the most impressive, with over a hundred rooms and a ball court on show. Visitors can take a short and scenic self-guided tour around the site, stopping off at other settlements such as Citadel, Lomaki, and Nalakihu as they go.
4. Walnut Canyon National Monument
© Gillian Hardy / Dreamstime
Another of Arizona's astounding archaeological sites is Walnut Canyon National Monument, which can be found just to the east of Flagstaff. Set in the side of the steep canyon is a sensational Sinagua settlement, with 25 incredible cliff dwellings for visitors to check out.
Believed to have been built between 1100 and 1250 AD, the range of rooms lie under limestone ledges, nestled deep within the canyon. A lovely looping trail winds down the cliff face, passing the dwellings as it descends.
In the national monument's museum, visitors can learn more about pre-Columbian culture and the Sinagua people themselves. Besides all the history on show, there is also the canyon and its verdant forest to explore.
3. Canyon de Chelly National Monument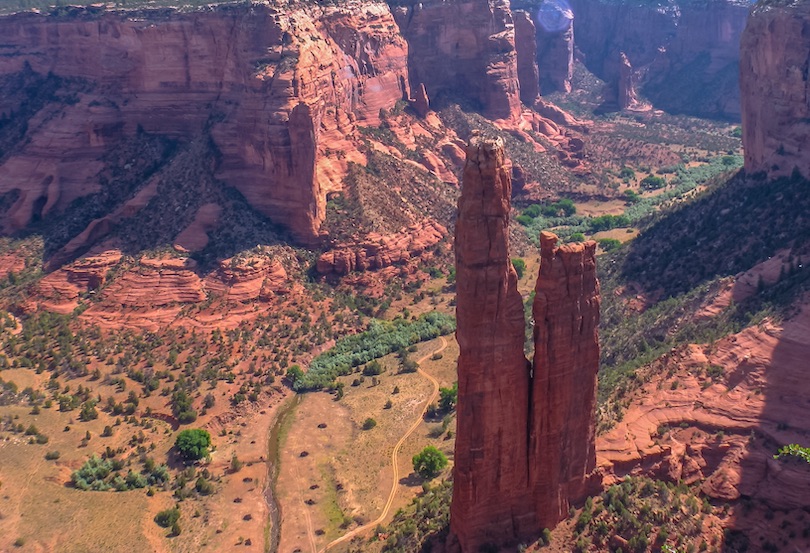 © Bennymarty / Dreamstime
Set entirely within the boundaries of the Navajo Nation, Canyon de Chelly National Monument lies in the northeast of Arizona, not far from the New Mexico border. Inhabited for over 5,000 years, the cavernous canyon is home to lots of prehistoric petroglyphs and age-old edifices built by the Ancestral Puebloans.
Hidden among the steep walls of the canyon are countless crumbling cliff dwellings, with the wonderful White House Ruin the most impressive. While there is a lot of ancient history on show, in the 1800s, the canyon was tragically the site of numerous massacres of Native Americans by the Spanish and US Armies, with the infamous Long Walk beginning here.
Besides taking a guided tour and learning all about the Navajo's history, culture, and heritage, guests can head up to its rim and bask in the beautiful views of the canyon below.
2. Monument Valley Navajo Tribal Park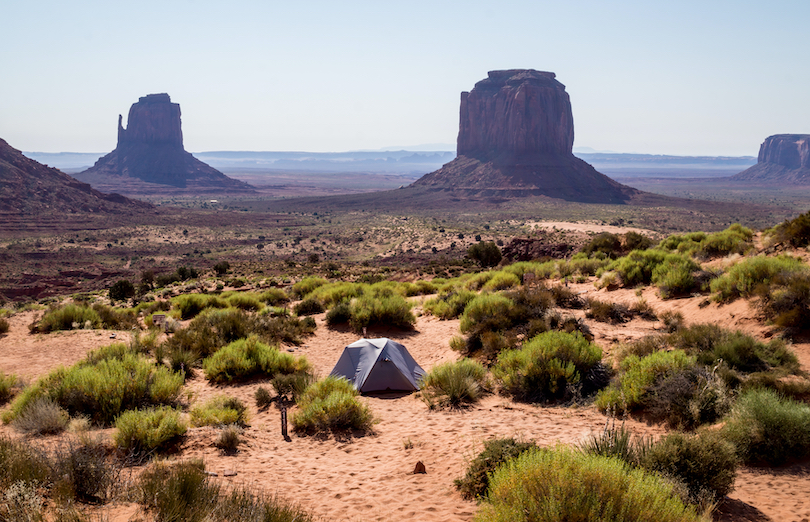 © Konoplytska / Dreamstime
One of America's most iconic images and attractions is the majestic Monument Valley, which is set entirely within the Navajo Nation Reservation. Straddling the Arizona-Utah state line, its dramatic desert landscapes are instantly recognizable; they have appeared in countless films and TV shows.
Known to the Navajo as the 'Valley Between the Rocks,' its breathtaking buttes and massive mesas rise above the desert of the Colorado Plateau. While their radiant red and fiery orange hues look a treat, their striking silhouettes are just as stunning when viewed against the brilliant blue skies around them.
One the States' must-see sights, Monument Valley's breathtaking sandstone buttes will take you back in time to the days of cowboys and Indians and the old American West.
1. Grand Canyon National Park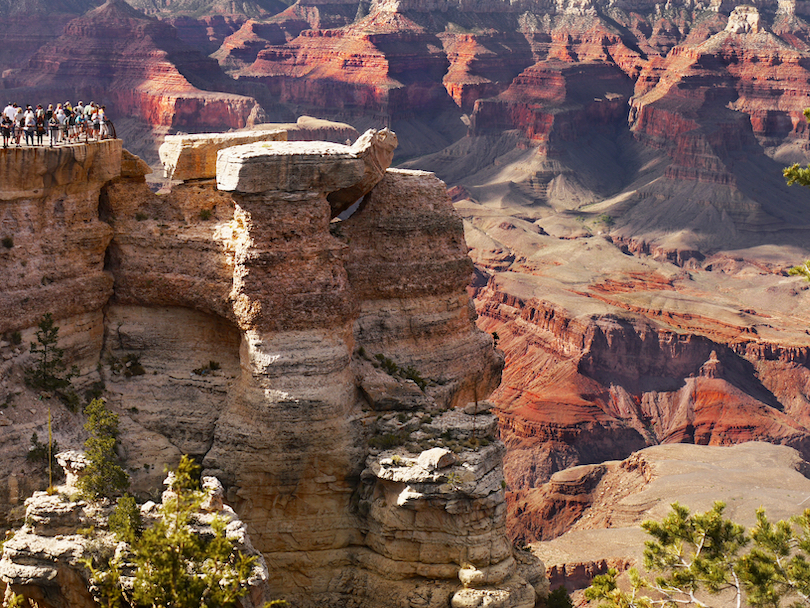 © Helena Bilkova / Dreamstime
Famed around the world for its size, scale, and splendor, the Grand Canyon boasts some of the most spectacular scenery on Earth. Protected and preserved as a national park, it sprawls over a huge swathe of northwestern Arizona, attracting millions of visitors every year.
Formed over billions of years, its dazzling dimensions almost defy description as you approach its rugged rim and see the cavernous canyon seemingly stretch away endlessly before you. Eroded over the aeons by the Colorado River, it reaches a depth of over 1,800 meters, with colorful cliffs, awe-inspiring landscapes, and phenomenal views wherever you look.
Besides basking in its beauty and exploring its extraordinary trails, the national park also has a great Geology Museum and terrific Trail of Time exhibition where you can learn all about the canyon's lovely layered landscapes. Widely considered to be one of the Wonders of the World, the Grand Canyon is the highlight of many people's visit to Arizona.