Famous for its enriching art galleries and stunning red rock formations, Sedona, Arizona, hosts terrific places to stay during your travels to elevate the experience of exploring these famous attractions.
A reputed filming location for nearly a hundred Western films, Sedona is the iconic backdrop boasting colorful buttes, deep canyons, and desert vistas for these classic films. These natural aspects of Sedona have inspired many people, seducing artists, spiritualists, and nature lovers from across the planet to experience the enrichment of the inspiring area.
From the lively tourist hotspot of Uptown Sedona to the outdoor paradise of West Sedona, there are many great options to consider that can appeal to different tastes. Whether you're a history buff, an adventurer, or a shopper, there is a place to stay in Sedona that personifies and caters to these diverse tastes!
So you can take your time strolling through historic districts teeming with quaint shops, spectacular restaurants, and intriguing art galleries. Or, hike the scenic canyons and red rock formations paired with camping and fishing in trout-filled streams. The choice is yours while staying in beautiful Sedona, Arizona!

1. Uptown Sedona
For a lively vacation in beautiful Sedona, stay in Uptown Sedona!
Extending from the Village of Oak Creek at the south to Oak Creek Canyon at the north, Uptown Sedona is a great place to stay! It joins rich tourist attractions and a festive atmosphere with its prominent historical heritage. Locals know the walkable downtown area of Uptown Sedona as the Main Street District, named after the street that hosts many of Sedona's festivals, Main Street in Uptown Sedona.
Many of the area's top restaurants serving Southwestern-style cuisine are found off Uptown Sedona's Main Street. One of the must-stops of these restaurants includes Cowboy Club Grille & Spirits, a casual steakhouse serving unique Southwestern menu items like cactus fries!
A stay in Uptown Sedona will grant numerous opportunities to bask in the outstanding and historical architecture, from sculptures and plaques to landmarks structures.
Spend the day exploring the Sedona Heritage Museum to learn about the pioneers that helped establish Sedona throughout the years through artifacts and displays that begin from 1876 to today. Or ponder over the most extensive collection of artwork in Sedona by local artists at the Sedona Arts Center, displaying stunning pieces of jewelry, rare art, and breathtaking photography.

2. West Sedona

Exuding a more hometown, local vibe, West Sedona is where you want to experience the great outdoors of Sedona, Arizona!
West Sedona is about a mile west of Uptown Sedona, on 89A, where rugged red rock formations are scattered across the landscape, intertwining with prosperous forests. Staying in West Sedona grants access to some of Sedona's best scenic points, like Airport Mesa Overlook, and hiking spots, such as the Thunder Mountain Trailhead.
Part of the Coconino National Forest, a popular hiking spot, Thunder Mountain is more commonly referred to as Capitol Butte, one of the highest summits in Sedona. It achieved its nickname 'Thunder Mountain' by Native Americans, as the mountain was struck by lightning nearly 4,000 times in a single year.
And though West Sedona is known for its outdoor recreation, there are many restaurants that satisfy various appetites, with cuisines and diets such as vegan, Native American, and Southwestern available.
3. Tlaquepaque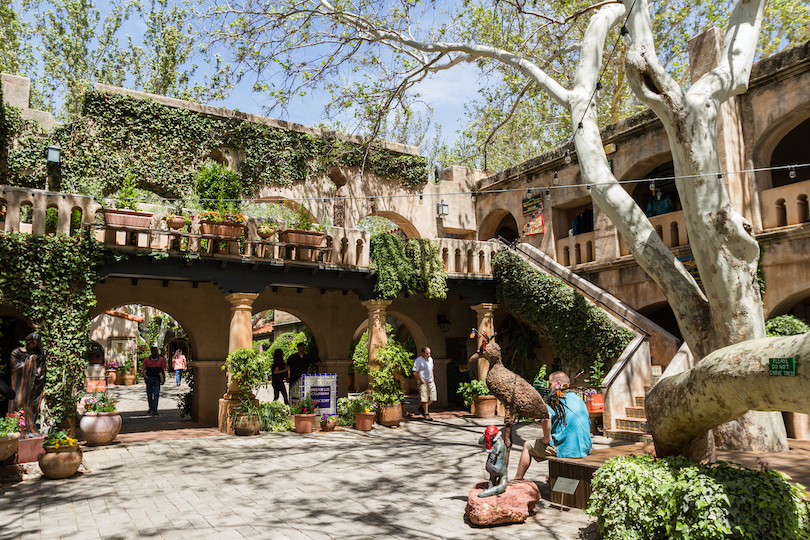 A well-loved landmark of Sedonia since 1970, Tlaquepaque is Sedona's Arts & Crafts Village fashioned after the traditional Mexican village of the same. 'Tlaquepaque' translates to "best of everything" from the Nahuatl Native Indian language passed from the ancient Aztecs.
The village of Tlaquepaque in Sedona is designed with the utmost authenticity to replicate the vibrant culture, including arched entryways, stucco walls, and cobblestone streets.
The village of Tlaquepaque is situated off Oak Creek's banks, with large sycamore trees providing shade from the sun's harsh rays during the summer. Tlaquepaque has many unique specialty shops and renowned local galleries full of intriguing finds and breathtaking displays.
Stop at Vino Zona for a glass of Arizona-made wines while sinking in Tlaquepaque's creative and historic atmosphere. Or, shop at Bella Fine Goods for quality and specialty goods sourced from across the globe.
4. Oak Creek

South of Uptown Sedona, along the Red Rock Byway, the Village of Oak Creek is often called "The Village." Early pioneers once called the area "Big Park" for its expansive location teeming with red rock formations and impressive canyons.
Oak Creek is a laidback area of Sedona, featuring a more rural atmosphere with optimal opportunities for stargazing as one of the specially designated International Dark Sky Places. Oak Creek is a wonderland of opportunity for families, nature enthusiasts, and outdoor adventurers. Here, visitors can sink back into nature with activities like stargazing, hiking, golfing, meditating, rock climbing, fishing, picnicking, and horseback riding.
More specifically, consider hiking or rock climbing Bell Rock, an iconic butte backdrop to Oak Creek. Or, horseback ride with Horse Mesa Ranch for an unrivaled adventure, where you can experience Sedona as pioneers once did as they traveled through the area.
While staying in Oak Creek, don't forget to check out Oak Creek Canyon, a world-famous natural formation reputed for its breathtaking views. Three campgrounds are available at the canyon, so you can start the day surrounded by refreshing nature before fishing for trout in the nearby streams and hiking the canyon.

5. Cottonwood

About 20 minutes from Sedona is Cottonwood, Arizona, a favorite getaway spot featuring spectacular views of Sedona's renowned red rock formations.
This charming historic location is beloved for its quaint historic Old Town district. The historic site dates back to the 1900s when the town was previously used for the smelter and mining industry. Today, visitors can still grasp the rich history of this town that was revived as a tourism and business district.
Cottonwood's Old Town district has adorable cafes, decadent tasting rooms, impactful art galleries, classy historic hotels, and thrifty antique stores.
Outside of Cottonwood's Old Town is the scenic Verde River, loved for its swimming, fishing, canoeing, and kayaking opportunities. These outdoor recreational activities can all be accessed at sites like the Bignotti Picnic Site.