A very popular and picturesque place to explore, Prescott lies in a scenic spot amidst the Central Highlands of Arizona. Surrounded by vast forests of Ponderosa pines with crystal-clear lakes dotted about, it is a very unique destination to visit in the state. Unlike the rest of its sun-scorched cities, it actually has four distinct seasons due to its mountainous setting.
While many people come to enjoy hiking and biking about its nature trails or kayaking and boating on its lakes, there are plenty of things to do in Prescott itself. Besides museums full of Native American artifacts and galleries dedicated to cowboy artworks, there is a fine historic district to stroll around which is home to lots of attractive architecture and the famed Whiskey Row.
With the 'World's Oldest Rodeo' also on offer alongside countless other cultural events and festivals, it is no wonder that Arizonians and out-of-staters alike descend on Prescott at all times of the year.
In this post, we'll cover:
12. Phippen Museum
Dan Darling / Flickr
Home to an incredible collection of artworks, the fantastic Phippen Museum can be found just ten minutes' drive north of the center. Named after George Phippen, the founder and first president of the Cowboy Artists of America, it contains lots of fine paintings, photos, and sculptures that depict the American West and its many landscapes.
First opened to the public in 1984, its galleries are now full of interesting artworks and exhibits that shine a light on some of the best Western artists. In addition to seeing old artifacts such as saddles, stirrups, and stage wagons, guests can check out informative displays on the History of the Cowgirl, Phippen himself, and the museum's Cowboy Hall of Fame.
After having enjoyed its cowboy and Native American related artworks, you can shop for souvenirs in its store with more than a hundred artists congregating at the museum to sell their works over the Memorial Day weekend.
11. Courthouse Square
Located right in the historic center of Prescott is Courthouse Square – a lovely, leafy place that lies just a stone's throw away from many of Prescott's main tourist attractions. Lined by bustling bars and businesses as well as the renowned Whiskey Row, the pretty plaza is the heart and soul of life in town, hosting countless community events, concerts, and celebrations over the course of each year.
While many of the historic buildings that border the block feature some fetching architecture, the center of the square is dominated by the grand Neoclassical Revival-style courthouse after which it is named. Surrounding by hundreds of gently swaying elms, the hulking great granite edifice makes for quite the sight with some magnificent fountains and memorials lying all around it.
Aside from ambling along its shady paths and taking in all the attractive old architecture, locals and tourists alike enjoy stopping by its numerous shops and saloons and attending its packed schedule of festivals and events.
10. Smoki Museum
Recently renamed the Museum of Indigenous People due to the wishes of the local community, the 'Smoki Museum' offers a fascinating look at the rich history, culture, and heritage of the Southwest's Native Americans. Situated just a short walk away from the square, it boasts a vast array of artifacts, artworks, and archaeological findings with plenty of exhibits also on show.
Founded in 1935, its captivating collection now occupies a delightfully distinct and creative-looking stone building right next to both the Citizens Cemetery and Ken Lindley Park. Dating from the Pre-Columbian era right up to the modern day, its innumerable objects and artworks include everything from basketry and beadwork to pottery, petroglyphs, and photo exhibitions.
In addition, the museum hosts a number of inclusive Native American cultural events each year and sells some wonderful jewelry and art in its trading post.
9. Heritage Park Zoo
If instead of art and culture it is awe-inspiring animals both large and small that you are interested in seeing then you'll definitely want to head to the excellent Heritage Park Zoo. Located just fifteen minutes' drive north of downtown, the sanctuary's spacious enclosures and educational exhibits lie on the banks of the scenic Willow Lake.
Long a firm favorite with families, it was established in 1988 to protect local and exotic animals from all around the world. In total, it now has over 175 residents that are unfortunately unable to be returned to the wild with black bears and boa constrictors to be spotted alongside leopards, lynx, and even mountain lions.
Asits motto is 'Conservation through Education', visitors learn about the animals, their behavior, and natural habitats through displays and demonstrations with invertebrates, reptiles, and birds also living at the sanctuary.
8. Goldwater Lake
Although it only lies ten minutes' drive south of the center, the peaceful and picturesque Goldwater Lake feels a world away from the hustle and bustle of downtown. Besides some simply stupendous scenery, it offers up all kinds of outstanding outdoor activities with playgrounds, picnic areas, and park benches dotted here and there.
Surrounded by tracts of pristine pine forest, the man-made reservoir was formed in 1923 following the damming of Bannon Creek. Nowadays, it is a very popular recreation spot with some delightful hiking, fun volleyball, games and fruitful fishing to be enjoyed along its shores which are lined by secluded coves and grassy open spaces.
Moreover, the lake's reflective waters are perfect for kayaking, canoeing, and paddleboarding about with fine views wherever you go although sadly no swimming is allowed.
7. Palace Restaurant and Saloon
Emily / Flickr
The oldest operating bar and business in all of Arizona, the atmospheric Palace Restaurant and Saloon lies on Whiskey Row and dates all the way back to 1877. Like the rest of the saloons along the street, it also burned down during the infamous fire of 1900 before bouncing back, rebuilding, and reopening for business just under a year later.
While it once included a brothel, opium den, and gambling rooms and was frequented by renowned Wild West gunslingers Wyatt Earp and Doc Holliday, the Palace is now a popular, touristy place to simply grab a drink or meal. After pushing past its swinging doors, you'll see old artifacts, adverts, and memorabilia plastered across its walls with the highlight being its beautiful Brunswick bar.
Besides taking in its appealing ambience and aesthetic, the state's oldest bar also has electrifying live music sets and tribute acts for guests to enjoy.
6. Prescott Frontier Days
Billed as the 'World's Oldest Rodeo', the Prescott Frontier Days really is an exciting and adrenaline-packed event like no other. Held every year since 1888, its incredible 'Cowboy Contests' encompass everything from bull and bareback riding to steer wrestling, roping, and trick riding with plenty of performances and a parade also taking place.
Due to its prestige and all the phenomenal shows its contestants put on, thousands upon thousands of people descend upon the city each year to enjoy the fun-filled festival. Held on and around the weekend of the 4th of July, its chaotic competitions and all the associated activities, exhibitions, and events now occupy the Prescott Rodeo Grounds just northwest of the center.
Here too you can find countless stands and stalls selling food, drinks, and souvenirs as well as a large arts and crafts fair with the highlight, of course, being its thrilling sporting spectacles.
5. Thumb Butte Hike
Rising up dramatically on the western outskirts of town is the prominent Thumb Butte which boasts the best and most breathtaking views around. As such, hiking to the top of its lofty summit is a very popular pastime with its scenic trail winding its way here and there amidst the resplendent nature of the Prescott National Forest.
Stretching four kilometers in length, the picturesque, mostly paved path forms a long loop, taking you through thick groves of Ponderosa pines and over rolling hills with fabulous fauna and flora wherever you look. Although it climbs steadily, the trail is not too challenging with the marvelous views from its 1,985 meter-high summit being ample reward for all the effort you have put in.
Aside from snapping photos of the unforgettable panoramas of Prescott and its surroundings, you can also bike about the butte which is one of the city's most distinctive natural landmarks due to its striking size and shape.
4. Prescott National Forest
An absolute treat to explore, the almost untouched and unspoiled wilderness of the Prescott National Forest coats an enormous part of central Arizona. In no time at all, you can find yourself hiking and biking about its scenic confines which offer up a whopping number of fun outdoor activities and recreation opportunities.
Divided into eight designated wilderness areas, its sprawling forests and mountains are punctuated by pretty lakes and streams with boulder-strewn sites and ancient basalt lava flow fields also dotted about. While wandering along its innumerable trails, you can enjoy the forest's pristine scenery and nature with bobcats, black bears, and bald eagles all to be spotted from time to time.
In addition to hiking and cycling around, visitors can fish, boat, and horseback ride with countless cozy campsites being tucked away amidst the sprawling park should you want to stay overnight.
3. Sharlot Hall Museum
A very interesting and educational place to visit, the superb Sharlot Hall Museum both protects and promotes the history and culture of Arizona's Central Highlands. Its huge open-air campus in the city center has almost a dozen well-preserved historic buildings for guests to explore that are full of artifacts and exhibits highlighting the area's past.
Named after the remarkable woman and visionary who founded the museum in 1928, its collection not only includes early residences and the Governor's Mansion but Fort Misery too – the oldest surviving log cabin in the state. Set amidst gorgeous grounds and gardens, the rustic-looking group of buildings are fascinating to peruse with period pieces, artifacts, and informative displays bringing them to life before your eyes.
In both its more modern Lawler Exhibit Center and Transportation Building, visitors can delve into Arizona's prehistory and Sharlot's life as well as see amazing stagecoaches and an extraordinary 1927 Durant Star Touring Car.
2. Whiskey Row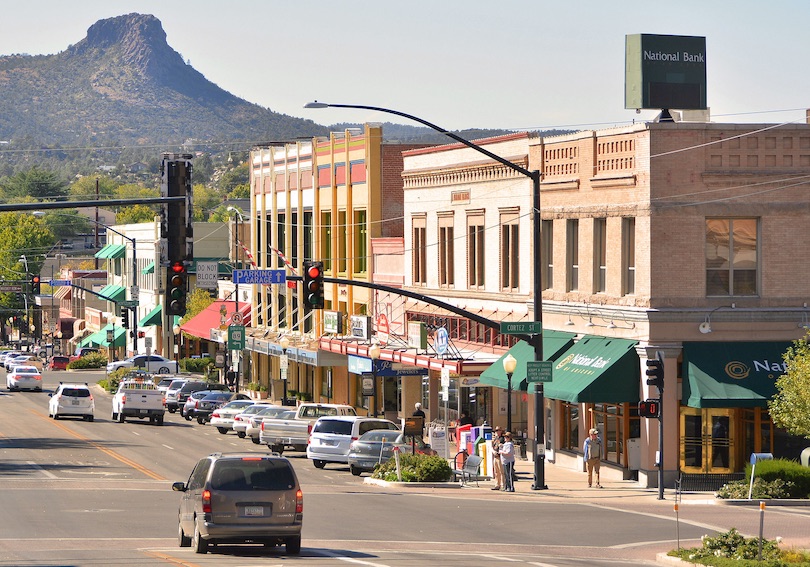 Mike McBey / Flickr
As it is the most famous part of Prescott's historic downtown district, no visit to town can ever be complete without checking out at least a couple of its lively saloons. While there were once more than forty of them dotted about the block, now just a handful of the atmospheric old bars remain.
Following the town's founding in 1864, business boomed with rowdy and raucous saloons attracting everyone from gamblers and gunslingers to prospectors, prostitutes, and cowboys. Over the decades, a number of fires burnt down the area with the bustling bars having to be rebuilt each time.
Nowadays, there are just five of the historic establishments to try out with the Palace Restaurant and Saloon being the oldest of the lot. Matt's Saloon and the Jersey Lilly Saloon also have a lovely Old West look to them with great drinks, excellent live music and an energetic atmosphere guaranteed wherever you go along Whiskey Row.
1. Watson Lake
Another picture-perfect nature spot that lies just on the outskirts of the city is the wonderful Watson Lake which is lined by lots of enormous and impressive rock formations. Created in the early 1900s following the damming of Granite Creek, it has all kinds of awesome outdoor activities for visitors to enjoy amidst its spellbinding scenery.
One of two reservoirs at the Granite Dells, its dark blue waters standout delightfully against the big boulders, craggy cliffs, and dramatic rocky outcrops that lie around it. While fishing, kayaking and canoeing are all very popular things to do out on the lake, some exquisite hiking and rock climbing can be had along its shores and cliffs.
As Watson Lake is protected as part of a park, countless trails can be found nearby with cycling, horseback riding and camping also being on offer and the whole area being particularly known for its brilliant birdwatching.
Map of Things to do in Prescott, AZ