Fittingly known as the 'Sunniest City on Earth', Yuma is situated in the southwest corner of Arizona, surrounded by the Sonoran Desert. Set right on the border with both Mexico and California, it has a wealth of interesting historic attractions and fun outdoor activities for visitors to check out.
Lying along the south bank of the Colorado River, the town was founded in the 1850s at one of the only safe places in the entire region to cross its rushing waters. It quickly developed as a steamboat stop and military depot with agriculture and the army still forming the basis of its economy.
Due to its long history, Yuma has a number of fabulous museums relating to its military and mining operations to stop by. Other things to do in Yuma can be found in its downtown which has lots of attractive architecture and leafy parks to explore. Its year-round blue skies and sunny weather also make the city a brilliant spot to either relax and unwind or explore the dramatic desert landscapes all around it.
In this post, we'll cover:
16. West Wetlands Park
A firm favorite with families, West Wetlands Park lies right at the northern limits of the city, on the border with California. As well as a huge, well-equipped playground, it has plenty of tranquil picnic spots, playing fields and hiking trails for all ages to enjoy.
Once used as a landfill, the sprawling site alongside the Colorado River was restored and opened to the public in 2002. Now regularly voted Yuma's best park, its winding paths meander their way past picturesque gardens, groves of trees and a reflective pond stocked with fish. Dotted about are lots of informative plaques that teach you all about the plants and wildlife found in the area.
While kids can clamber about the cool Castle Park playground, other visitors can jog and bike about the park or boat along the river. You can also lounge on Centennial Beach or fish in its pretty pond while cultural events and community festivals take place from time to time.
15. Waylon's Water World
If you're looking to cool off and escape the city's stifling summer heat, then Waylon's Water World is definitely the place to go. Located just ten minutes' drive directly east of downtown, it has roughly a dozen wild and wet rides to try out with splash pads, a lazy river and sunbathing areas also on offer.
Only open in the scorching summer months, the water park was established in 2012 as part of the Z Fun Factory which is a family-oriented entertainment complex. Aside from shooting down the Red Racer waterslide, guests can swirl about the rushing waters of the Big Bowl or soak up some sun by one of its twinkling pools.
The rest of the year, you can amuse yourself in the park's massive arcade or make use of its billiards tables and batting cages. There are also fun mini golf courses and a Go Kart track to whisk around.
14. Mittry Lake Wildlife Area
Rickbramhall / Wikipedia
Another scenic spot to hit up nearby is the magnificent Mittry Lake Wildlife Area which can be found just half an hour's drive to the northeast of town. In addition to all its awesome outdoor activities, it has some spellbinding scenery and views for you to take in.
Centered around the lovely lake of the same name, the enormous wildlife area occupies a floodplain of the Colorado River on the border with California. While majestic mountains rise dramatically in the distance, lush bulrushes and cattails cluster about its shoreline which is otherwise surrounded by harsh and unforgiving desert climes.
Other than hiking and biking alongside the lake, you can fish, kayak and camp in the wildlife area with bird watching also being a very popular pastime here.
13. Stay at the Shilo Inn Yuma
Shilo Inn Yuma
Thanks to its attractive outdoor pool and immaculately manicured gardens, Shilo Inn Yuma really is a great place to stay when visiting the city. Conveniently located not far from the airport, just off the freeway, the resort has top-class rooms and facilities for guests to enjoy in a picture-perfect setting.
Part of a chain of independently owned and operated hotels across the Western United States, it was first opened in 1987 with numerous renovations having taken place over the years. While its comfy rooms and suites are tastefully decorated with southwestern furnishings, its hot tub, sauna and pool allow you to relax and unwind after a day spent sightseeing and exploring the area.
Just a short walk or drive away are scores of shops and restaurants to try out while all its welcoming staff members are only too happy to help out with suggestions. A fitness center and conference spaces are also available at the hotel.
12. Tubing Down the Colorado River
A wonderful way to see even more of the state's spectacular scenery and nature is to tube your way tranquilly down the Colorado River. While floating along, you can marvel at the striking mountains, valleys and desert all around you and stop off to splash about or swim at secluded beaches.
From the center of town, a couple of companies run unforgettable excursions along the mighty river that stretches more than 1,450 miles across the southwest of the States. Many take you up to nearby Gila where you then slowly float back to West Wetlands Park over the course of a couple of hours.
Another option is to be dropped off at Gateway Park which lies just an hour's float from Centennial Beach. You can also sometimes bring coolers full of drinks and snacks if you want to make the most of your time tubing amidst all the area's incredible landscapes.
11. Yuma Art Center
Yuma Art Center / Facebook
Home to lots of interesting artworks and exhibitions, the Yuma Art Center can be found just a short stroll from both Gateway Park and the Yuma Territorial Prison. Besides enjoying all its intriguing installations, you can also catch concerts, plays and dance performances in its historic theater.
Now thankfully restored to its former glory, the fantastic old vaudeville theater was erected in 1912 with a packed schedule of shows still taking place on its stage. Other than local theater productions and film festivals, countless community art classes and drama workshops are held in its elegant Art Deco interior.
The center's stylish galleries are just as delightful to wander about as terrific temporary installations by local artists are featured alongside historical photos and a pottery studio.
10. Imperial National Wildlife Refuge
Certain to delight nature lovers and outdoor enthusiasts alike, the Imperial National Wildlife Refuge lies just forty-five minutes' drive northeast of downtown. Here you can hike around its vast tracts of pristine wetlands and desert while watching out for some of the plentiful waterfowl and wildlife that inhabit the area.
Established in 1941, the ginormous refuge protects a thirty-mile stretch of the lower Colorado River and some of the scorching Sonoran Desert surrounding it. Within its seemingly endless, untouched reaches are not just meandering waterways and marshlands to explore but soaring mountains too.
At its visitor center, you can learn all about the refuge's wildlife and what recreational opportunities are on offer. After having hiked the phenomenal Painted Desert trail, you can cool off by fishing and boating out on the river with some campsites also scattered here and there.
9. Lutes Casino
soupstance / Flickr
Back in downtown is Lutes Casino which has long been one of the most popular places to dine and drink in all of Yuma. At the destination restaurant, you can enjoy some simple yet tasty bar food and cocktails while taking in the eclectic collection of art and objects all around you.
Billed as the spot 'Where the Elite Meet and the Locals Eat', the unique eaterie impressively opened back in the forties though the building itself dates to 1901. Covering every conceivable inch inside are posters and paintings with a mounted deer head, replica biplanes and bright flashing neon lights also featuring alongside all the other amazing memorabilia.
Over the decades, everyone from artists and musicians to politicians and celebrities have dined here with its menu now consisting of classic American and Mexican dishes. A must for its cool decor, the Casino has a lovely lively yet laidback feel with pool tables and foosball also lying next to the bar.
8. Arizona Market Place
After quenching your thirst and being inspired by all the quirky curiosities around you, make sure to head to the Arizona Market Place and amble about its equally unusual and extensive list of stalls. At the massive flea market, you can pick up everything from tools and textiles to handcrafted artworks, jewellery, clothing and more.
Loads of fun to explore, its 150 or so colourful stands and stalls occupy a humongous outdoor area on the southeastern side of the city. Since 2001, locals and tourists alike have flocked to the covered market to both swap and sell unwanted items or hunt for bargains and souvenirs amidst the cluttered jumble on display.
On top of shopping til you drop, you can stop for a snack or drink at one of its food stands or listen to the live music that often takes place.
7. Yuma East Wetlands
Paige Lineberry
Just past the Territorial Prison is yet another pretty and peaceful park to hit up when in town. At the Yuma East Wetlands, visitors can hike, bike and horseback ride alongside the Colorado River with attractive nature and wildlife being on show wherever you go.
Also reclaimed and rehabilitated after having formerly been a city landfill, the protected area is now mostly home to some important woods and wetlands. While hiking about its cottonwoods and reeds, you can usually see dozens of ducks and other waterfowl as well as the occasional furtive rabbit or rattlesnake amidst the undergrowth.
Asides from enjoying the park's pleasant scenery and views, you can also picnic and barbecue here or fish in the river and read the informative plaques that explain more about the area's habitat.
6. Gateway Park
Only a few minutes walk west of the prison from the wetlands is the gorgeous Gateway Park which also offers up all kinds of epic outdoor activities. Partly located under the impressive old Ocean-to-Ocean Bridge, it has plenty of picnic areas, playgrounds and even a little stretch of sunny beach for visitors to make use of.
As it lies so close to downtown and has lots of shade and cool, refreshing waters, the park is a very popular place to head in summer. From its small swathe of sand, you can swim and splash about in the Colorado River or fish, picnic and kayak if you feel like it.
Besides walking, jogging and biking along the river, you can also snap some fantastic pics of the hulking great bridge towering overhead. Built in 1915, it showcases an arresting through truss design with it now recognized as a National Historic Landmark.
5. Yuma Proving Ground
One of the largest military installations in the world, the Yuma Proving Ground is set in an isolated spot in the Sonoran Desert, some forty-five minutes drive from downtown. At its visitor center and museum, you can learn about the history of the important army base and see some fascinating tanks, planes and missiles.
While the US Army has been based in and around town since 1850, the harsh desert environment of the proving ground has only been used to test equipment and ammunition since 1950. Amidst all its unforgiving landscapes, everything from trucks and tanks to helicopters, fighter jets and even smart weapon systems are put through their paces.
After having presented your visitor pass at the entrance to the base, you can examine all the various military vehicles displayed outside before seeing the artifacts and exhibits in its excellent museum.
4. Colorado River State Historic Park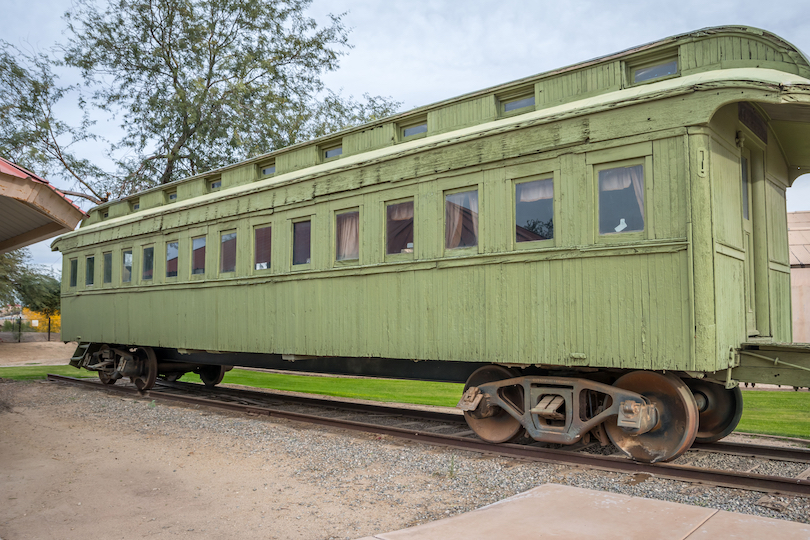 Right next to Gateway Park and downtown is yet another of the city's many sites that are connected to the military. At Colorado River State Historic Park, guests can wander about several restored old buildings, cars and wagons that cover five centuries of settlement and transportation in the area.
Established by the US Army in 1864, the strategic riverside depot played a key role in the expansion and development of both the city and the larger Southwest as a whole. Despite being abandoned for decades, its historic old military buildings are very well-preserved for the most part with exhibitions and artifacts now coating their interiors.
These shine a light on the Colorado River's past, present and future and how Yuma grew largely due to its important role as a river crossing in the times of the Old West.
3. Martha's Gardens Medjool Date Farm
Another very interesting place to stop by is the Martha's Gardens Medjool Date Farm on the eastern outskirts of Yuma. At their sun-scorched site, you can stroll amidst the shady palm groves, sip fresh date shakes and take tours of its vast farm to see how the sweet fruit is produced.
Although originally native to Morocco, Medjool dates have thrived in the Southwestern United States' sweltering climes ever since being brought over in the early twentieth century. In 1990, Nels Rogers and his wife Martha decided to start a date farm in the desert outside Yuma on a remote little parcel of land overlooking the Gila Valley.
Since then, they've sold sweet dates and shakes in their shop and conducted tours that show visitors how the 'most famous date in the world' is grown and harvested on their farm.
2. Castle Dome Mines Museum & Ghost Town
Not to be missed when in Yuma, the captivating Castle Dome Mines Museum has an incredible old Ghost Town for you to explore. Located about an hour's drive northeast of downtown are more than fifty buildings to amble about that replicate what life was like in the secluded settlement back in the 1860s and 1870s.
Once a thriving mining town, its church, bank, buildings and businesses were eventually abandoned in 1978 after numerous periods of boom and bust. While some of its weathered houses and saloons are originals, many of Castle Dome's creaking structures have been rebuilt out of materials salvaged from the site.
Inside each of them are authentic artifacts and period pieces found in the region and old tools, gems and mining equipment brought up from the mines below. Seeing the whole town stuck in time is an amazing experience with terrific tours also taking you underground and into the old mines too.
1. Yuma Territorial Prison
Yuma's standout attraction though has to be the Yuma Territorial Prison which was established around the same time as Castle Dome in 1876. Now protected as part of a state historic park, its cell blocks, prison yard and guard house offer up a fascinating look at how early Arizonan inmates used to live.
Built along the banks of the Colorado River, the imposing detention facility housed more than 3,000 convicts before closing in 1909. Over the decades, everyone from forgers and fraudsters to burglars, train robbers and murderers saw out their sentences here with some being buried in the small cemetery out back.
At the open-air museum, you can learn about some of the prison's most famous inmates and see the cells which they actually had to build themselves. An orientation film, original artifacts and exhibits all provide more information about the prison which was opened before Arizona was even a state.
Map of Things to Do in Yuma, AZ