A literal oasis in the desert, Lake Havasu City is a wonderful place to vacation. Blessed with over 300 days of sunshine a year, it lies on the eastern shore of the large reservoir of the same name, between the searing Mojave and Sonoran Deserts.
Founded in 1963 after having previously been an Army Air Corps rest camp in World War II, the planned city is most famous for being home to the original London Bridge. Aside from this iconic landmark, other things to do in Lake Havasu City include exploring its beaches and numerous nature parks as well as boating or watersports out on the lake's expansive waters.
Although geographically isolated from other settlements in the state of Arizona and neighboring California, Lake Havasu City's attractions are definitely well worth visiting with its sunsets over the lake being particularly spellbinding.
In this post, we'll cover:
12. Lake Havasu State Park
Eduard Marmet / Flickr
A perfect spot to either relax and unwind or enjoy fun outdoor activities and watersports, the scenic shores of Lake Havasu State Park lie just a short drive from downtown. Located not far from the famous London Bridge, it has beautiful beaches and cozy campsites, pristine nature trails and diverse wildlife.
Along the rambling coastline you can find white sand beaches and secluded swimming spots, with boat ramps, picnic areas and kayak rental stands dotted about. Further inland the Mohave Sunset Trail winds its way through delightful lowland desert scenery, while more fauna and flora from the region is on show at the Arroyo-Camino Interpretive Garden.
In total, there are over fifty campsites to stay at which are equipped with fantastic amenities and are within easy access of the lake's welcoming waters.
11. Cattail Cove State Park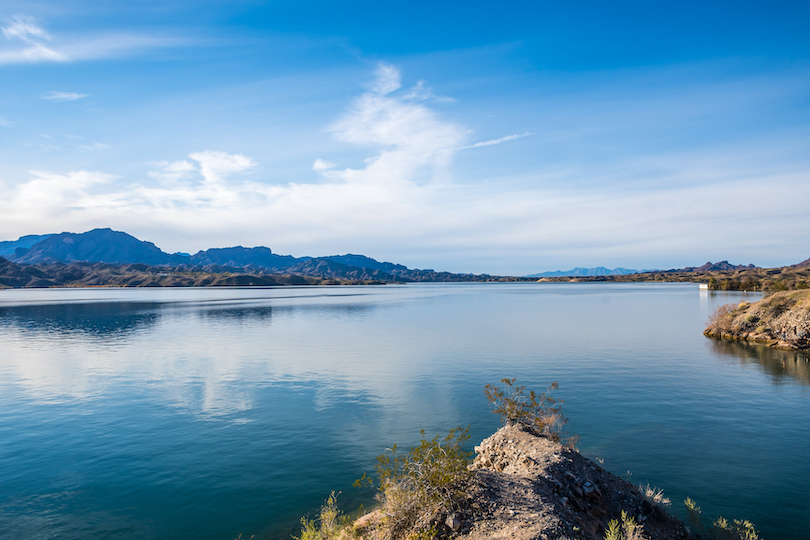 A bit further to the south of the city is another of its many outdoor attractions and nature reserves: the charming Cattail Cove State Park. Quieter and less crowded than its northern neighbor, it is set along the shores of Lake Havasu with striking scenery wherever you look.
Protected since 1970, it encompasses coves and beaches with more rugged landscapes and arid desert areas found inland. Besides sunbathing and swimming, visitors can hike and fish along its shores or bask in the breathtaking views of the low-lying mountains across the lake.
On top of its more than sixty regular campsites, the state park has thirty in-boat campsites to make use of. Water skiing, jet skiing and boating are also on offer from its boat ramp.
10. SARA Park
On the way back into town from Cattail Cove, you'll come across SARA Park, another picturesque place to visit and explore. Its scenic confines contain an extensive network of tantalizing trails that weave here and there amidst almost lunar-like landscapes.
While parts of the park do border the lake, most people come here to hike, bike and even motocross its often challenging tracks. Sara's Crack for instance has steep, slippery sections with ladders and ropes on hand to help you pass through its stunning slot canyon before you reach a phenomenal viewpoint that looks out over the lake and mountains.
The park also has an impressive array of facilities with picnic areas and playing fields located next to rodeo grounds, a roller hockey rink and an RC plane and helicopter field.
9. Lake Havasu Balloon Fest
While Lake Havasu City is always a treat to visit, one of the most magical and memorable times of year to stop by is in January. This is when a spectacular balloon festival takes place and hundreds of colorful hot air balloons slowly rise up into the clear blue skies above the city.
Founded in 2011, the fun-filled festival and its accompanying fair have been one of the city's top draws, attracting thousands of visitors from all around the state and further afield. Held on the third weekend of January, its hot air balloons launch from Lake Havasu State Park with various competitions, special events and air shows taking place.
Besides enjoying an unforgettable balloon ride, you can peruse stands and stalls that sell arts and crafts, food and beverages with carnival rides, concerts and kite displays also on offer.
8. Bill Williams National Wildlife Refuge
As it lies at a major ecological crossroads, the idyllic Bill Williams National Wildlife Refuge boasts diverse landscapes and scenery. Due to this, the park is popular with both nature lovers and outdoor enthusiasts alike, and is situated just half an hour's drive southeast of the city.
Named after the river that runs through it, the refuge is set at the spot where its rushing waters meet Lake Havasu in a unique transition zone between the Mojave and Sonoran Deserts. As such, visitors can expect to see wonderful wetlands and cottonwood woodlands, spiky saguaro cacti forests and craggy shores and mountainsides.
Amidst all this untouched and unspoiled wilderness, you can enjoy hiking, kayaking and fishing. While birdwatching and wildlife watching can be had by the lake or in its botanic garden.
7. Lake Havasu Museum of History
A must-visit if you are interested in learning more about the region, the magnificent Lake Havasu Museum of History can be found right in the center of town. Packed with artifacts and exhibits, it looks at not only the city's history, culture and people but the nature and wildlife surrounding it too.
Established in the year 2000, the small but superb museum contains a large collection with ancient archaeological findings and historic photos set beside interesting costumes, models and artworks. Its informative displays shine a light on the lives of early settlers to the city and the rich culture and heritage of the Native Americans who inhabited the area before them.
As well as learning about the nomadic Chemehuevi, guests can watch short clips on the city's past, see shiny geologic samples and delve into its desolate desert environments.
6. London Bridge Beach
Located just to the south of London Bridge – Lake Havasu City's standout symbol and sight – is a lovely strip of sand to lounge on. Bordering the famous Bridgewater Channel, it also has green, grassy spaces to enjoy with plenty of picnic areas, playgrounds and park benches dotted around.
Popular with locals and tourists alike, the beautiful London Bridge Beach has both soft sands and large lawns to laze on, as well as a secluded swimming area to splash about in. Beside its volleyball and basketball courts you can find barbecue facilities and shady ramadas, while kayaks, canoes and paddleboards can be rented in the sunny summer months.
In addition, it lies not far away from a number of great cafes and restaurants with picnics, parties and community events held by locals at the beach each year.
5. Lighthouses
Considering that it is surrounded by endless desert, it is all the more remarkable that Lake Havasu City is actually home to more lighthouses than any other settlement in the States. Scattered about the shores of the large lake are twenty-eight of them in total, with tours even taking visitors to see around a dozen of them at a time.
Back in the year 2000, concerned residents came together and decided that something needed to be done to improve nighttime navigation out on the lake. Their creative solution was to construct fully-functioning miniature replicas of famous lighthouses from all around the country.
When sailing about the lake or hiking along its shores, you'll now often come across a couple of the distinctive lighthouses, each decorated to look exactly like their original. Funnily enough, the west side of the lake is lined by West Coast lighthouses while the east is dotted with East Coast replicas leaving the Great Lakes models to the lake's islands.
4. Havasu Landing Casino
Across the lake from the city center, you can spy the humongous Havasu Landing Casino which is located on the Chemehuevi Reservation in California. In no time at all, its hourly ferry will whisk you from the landing in London Bridge to the enticing slot machines and table games of its state-of-the-art casino.
In total, its gigantic gaming floor now has more than 300 fun slot machines for you to play on with all the standard table games such as blackjack, poker and roulette on offer. A swanky lounge and restaurant serve up sumptuous dishes and refreshing cocktails. Also boasting breathtaking views over the lake and the sparkling lights of the city far off in the distance.
Aside from gambling and sampling its fine dining, guests can stay overnight at its resort or camp in the Mojave Desert with boats and fishing gear available for rent from its waterfront marina.
3. Rotary Community Park
Set just a short stroll from the center and offering an extensive array of excellent amenities and recreation activities, the Rotary Community Park is the main place in town that people head to relax and play. Lying along the shores of both the Bridgewater Channel and Thompson Bay, it has lots of lush green spaces, shady spots and welcoming waters for you to enjoy.
The largest public beach and park in Lake Havasu City, it sprawls across a huge area with plenty of picnic tables, benches and ramadas lining its winding walkways. Amidst shady trees and perfectly manicured lawns you'll also find exercise equipment stations, barbecue facilities and a skate park.
Besides walking, running and cycling around the park, you can also play volleyball and bocce on its courts or simply lounge on its soft sands taking in the fantastic views over Lake Havasu.
2. London Bridge
While the city certainly boasts lots of scenic shoreline and spectacular nature spots, its main claim to fame is that it is home to the original London Bridge. Initially erected over the River Thames in London in 1831, it now instead spans Lake Havasu City's Bridgewater Channel.
As it was falling down and could not deal with the increased traffic load, the bridge was put up for sale and bought by property developer Robert P. McCullough who wanted to drum up interest in the planned community of Lake Havasu City. The entire bridge was then shipped over to the States and painstakingly reassembled brick by brick in the scorching Arizona desert.
Considered to be the world's largest antique, it has been the city's top tourist attraction since 1971 and makes for a striking sight against the waters, city and desert around it.
1. Go Boating on Lake Havasu
When in town, no visit can ever be complete without taking to the lake's almost endless waters and exploring all its hidden coves and beaches. Thanks to its calm surface, stunning surroundings and year-round warm weather, it is widely lauded as one of the best boating lakes in the States.
Nestled between both the Mojave and Sonoran Desert, the massive reservoir was actually formed in 1934 when the coursing Colorado River was dammed. Impressively enough, the large lake and its adjoining waterways now stretch nearly hundred kilometres in total, with phenomenal views and nature guaranteed wherever you go.
As such, its expansive waters attract everyone from families and spring breakers to fishing fanatics, sightseers and water sport enthusiasts, with myriad marinas and docking stations dotted along its shores. With beautiful beaches, pretty parks, and of course London Bridge, lining the lake, boating really is one of the best ways to see, experience and enjoy the city and its surroundings.
Map of Things to do in Lake Havasu City