The Caribbean islands are made up of more than 7,000 unique and culturally rich islands scattered throughout the Caribbean Sea. You won't struggle to find an island that suits you amongst this diverse and enchanting set of destinations!
The best islands in the Caribbean gets an influx of tourists from around the world each year who come for the diving, tropical weather, and luxurious white-sand beaches. Most of the islands are considered safe to travel – although you should always check for hurricane season and tropical storms before you go.
Whether you're a couple going on a honeymoon, a group of young springbreakers looking to stay up dancing all night, or a retired couple who want to go away on a tranquil cruise – you'll find your dream holiday in the Caribbean.
28. Dominica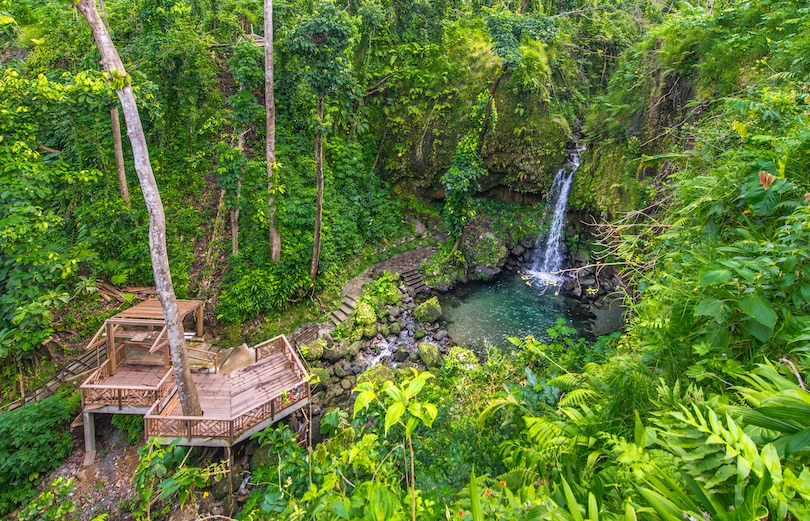 If you want to spend your holiday sunbathing on sandy beaches then Dominica isn't for you, but if exploring valleys with thick jungle-like vegetation and hiking to the top of mountain peaks sounds more like your thing then this is definitely a destination worth considering.
The island was nicknamed "the nature island" and it's not hard to see why – Dominica has natural hot springs not far from the capital Roseau, gushing waterfalls surrounded by rainforest, and bountiful hiking trails. Pack your hiking boots and take on the 115 mile Waitukubuli Trail!
Go snorkeling off the island's rocky shores and visit the Boiling Lake that changes color and bubbles away deep within a volcanic crater.
27. Martinique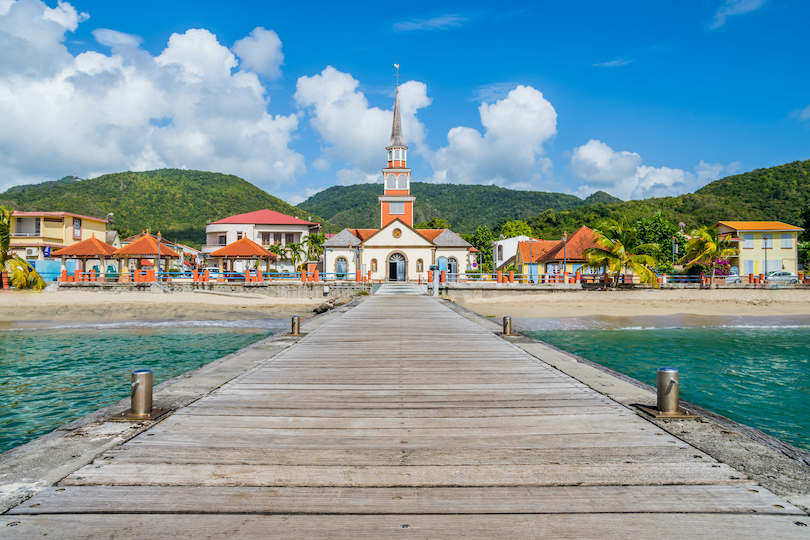 This French-speaking (and French ruled) Caribbean Island is less touristy than some of the more well-known Caribbean Islands. It feels authentic and local, although it can still get very busy. The island is dotted with secluded beaches that are hard to get to but worth the effort, and plenty of stunning hikes.
The best option is to stay in Fort-de-France and explore the island from there. From the city, look up at the Mount Pelee volcano that in 1902 wiped out the old capital of the island, St-Pierre. The volcano still smulders away today – who knows when it could next erupt!
Top attractions on the island include the Route de la Trace, a visit to the Habitation Clement rum distillery, a visit to the Jardin de Balata botanical gardens, and a lazy day on the Plage des Salines beach.
26. Trinidad and Tobago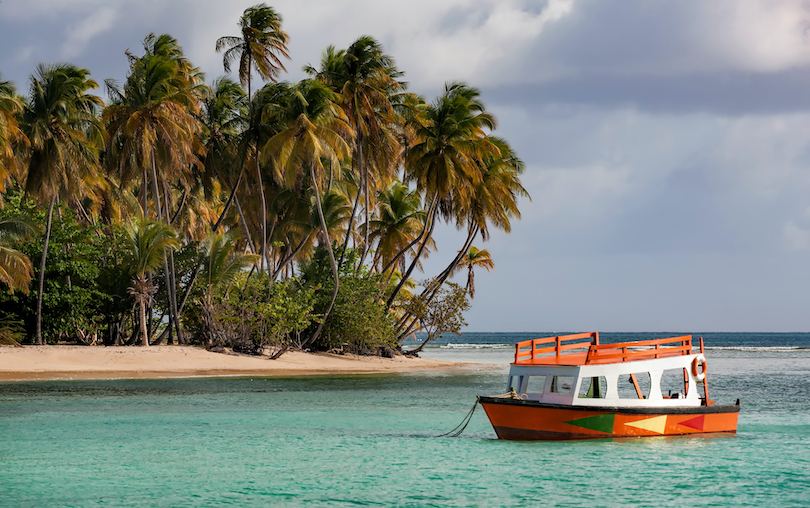 Trinidad and Tobago are two very different Caribbean islands that perfectly compliment each other. What Trinidad offers in lively nightlife and wild parties, Tobago matches in nature and tranquil beaches.
If you want to rumba the night away and party in true Caribbean fashion, head to Trinidad for the annual Carnival – be prepared to calypso through the streets and drink rum cocktails for days on end!

Is partying not your scene? Then head to the quiet beaches in Tobago and spend your holiday with a book in one hand and a cocktail in the other. Make sure you visit Pigeon Point and the Corbin Local Wildlife Park for fantastic bird watching and nature.
25. Bonaire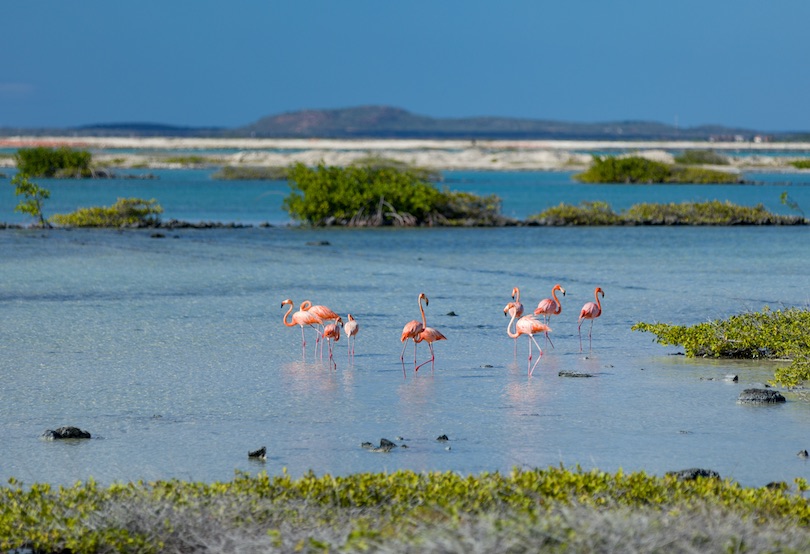 Bonaire is known for its world-class diving spots that are just a stone's throw away from the shore. But this little Dutch island has a lot more in store too. Its tiny, coastal capital, Kralendijk, is quaint and very cute (plus it's so small it's easily walkable!).
Looking for some adrenaline? Try out windsurfing at Lac Bay or go kayaking amongst the winding paths that run through the island's mangrove forests.
The island also has the advantage of being more affordable than a lot of the more popular Caribbean islands.
24. Roatán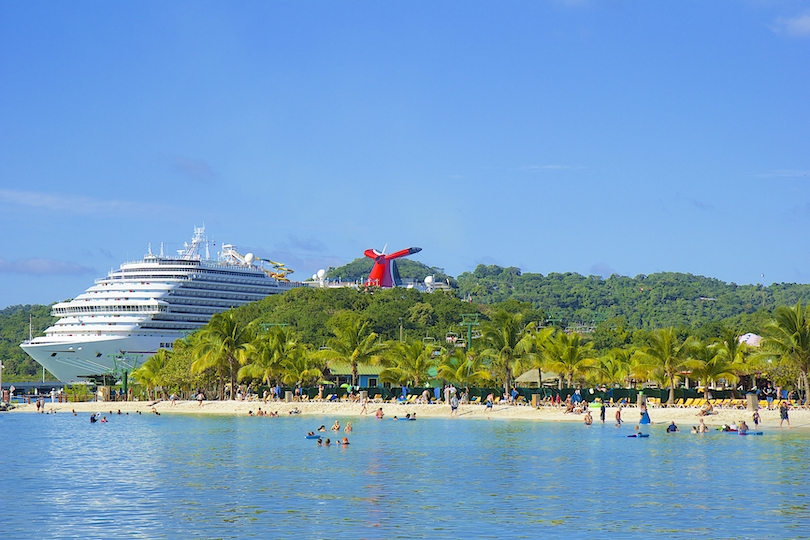 Roatan is some 40 miles off the coast of Honduras. The island is part of the Bay Islands archipelago, and is in fact the largest of all the islands in the archipelago. It is also part of the Mesoamerican Reef Barrier, which has made it a very popular destination for enthusiast snorkelers and divers of all levels. Come and explore the colorful and vibrant life below the ocean's surface and marvel at the coral reefs!
In Roatan it's not just the wonders below water that will delight you. You can also go horseback riding on the beach and take a tour of one of the many sloth and monkey sanctuaries to get up close to the island's wildlife.
The island has a fascinating history too, as it has been influenced by ancient cultures like the Mayas and Payas, as well as by the colonization of Spanish and English fleets. 

23. St. Barths (Saint Barthélemy)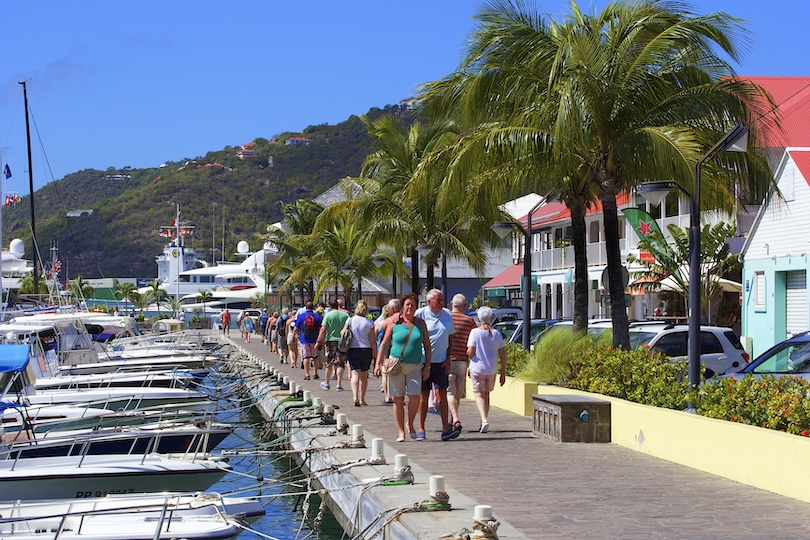 Want to holiday like the Hollywood stars do? Then hop on a plane to this volcanic island that attracts travelers who are looking for luxury and don't mind spending a bit more to get it.
The island is French, and it has topless beaches, delicious cuisine, and stylish boutique shops to show for it. Explore the trendy stores in Gustavia and spend the afternoon watching the yachts bob up and down in the bay of St. Barth's charming capital.
If you're looking for a unique experience, scuba dive 100 feet down to the Kayali shipwreck. Fun fact, did you know the island was discovered by Christopher Colombus and named after his brother?
22. St. Martin & St. Maarten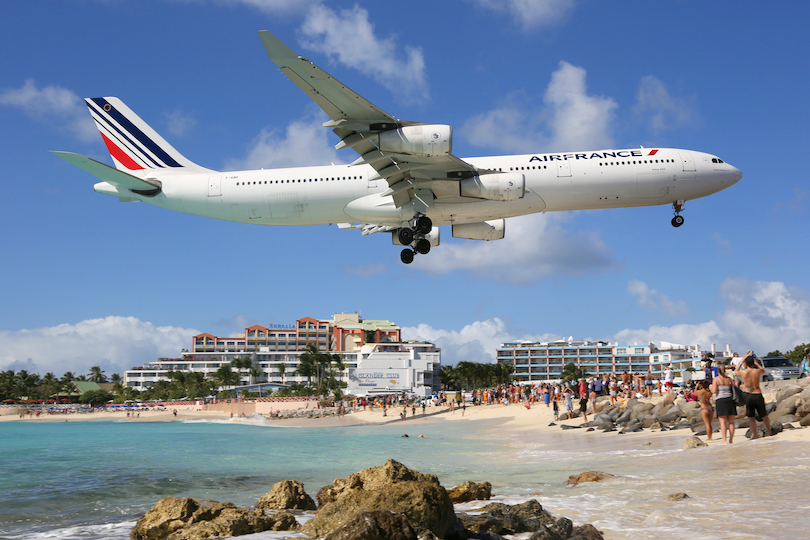 The island of St. Martin and St. Maarten is in the northeast Caribbean Sea, and a part of the Leeward Islands. The island has been influenced by French and Dutch cultures, and is still ruled by the French and Dutch nations – making it the smallest island in the world to be ruled by two different countries.
In St. Maarten you can explore the Caribbean with a Dutch twist, and in St. Martin you can enjoy dining on delicious French food. The island is very lively, and has a lot of beach parties, casinos, bars, and clubs that are mostly in St. Maarten. It's the perfect Caribbean destination for groups of friends!
You can also spend lazy days on the beach and do some hiking on the island, so there's a real mix on offer.
21. Puerto Rico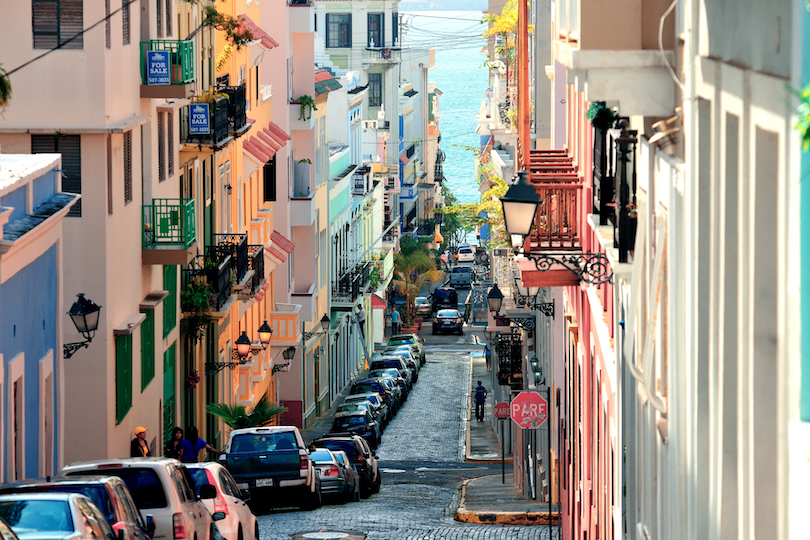 Puerto Rico is a US island territory in the Caribbean that is home to welcoming people with a warm and exotic demeanour. Rhythmic music and dancing often fill the streets, along with the smell of Caribbean dishes.
One city you have to visit whilst you're in Puerto Rico is Old San Juan, that is more than 500 years old and full of historically significant architecture and monuments.
Next, go on an outdoor adventure in El Yunque National Forest, which is a tropical rainforest riddled with funky wildlife you won't have come across before and magnificent flora.
Later on, go night swimming at one of the island's three bioluminescents bays (there are only five in the world!). The best one, recognized as the brightest in the world, is Mosquito Bay. But Laguna Grande and La Parquera are impressive too.
20. Anguilla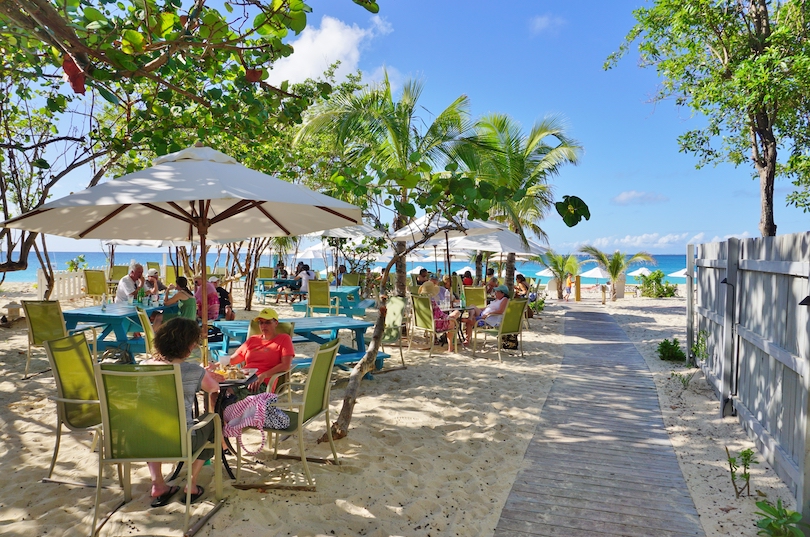 Anguilla has been owned by the British since back when Britain was an empire. The only drawback is that the island is one of the hardest to get to. The upside? You're guaranteed a quiet and private get-away. Think of it as a hidden gem where famous guests come to enjoy some time out of the eye of the paparazzi.
There is an airport, the Clayton J. Lloyd International Airport, but the island is basically impossible to get to directly. You'll likely have to fly to the Juliana International Airport in St. Maarten then take a ferry the rest of the way.
Most people come to the island to enjoy the beaches, like Meads Bay Beach and Little Bay Beach. Describing them as white-sand beaches with pristine waters doesn't quite do them justice, the beaches are truly some of the best in the world.
19. Aruba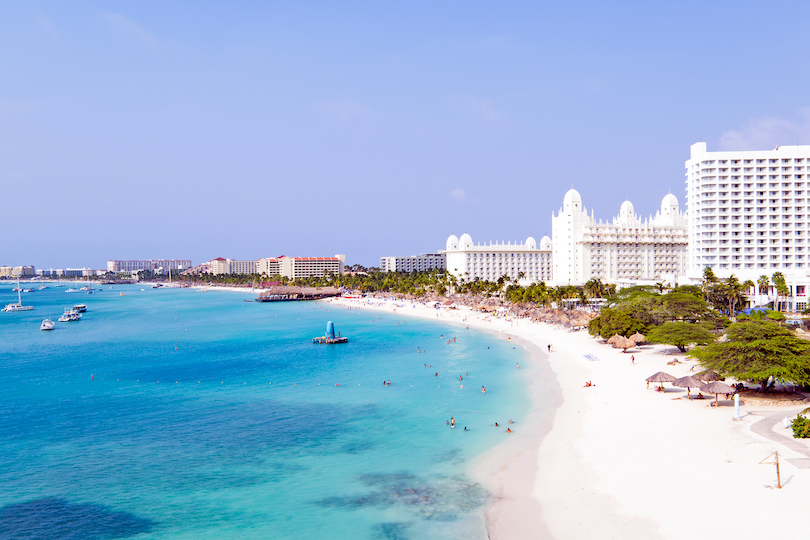 The main languages spoken on the island are Dutch and Papiamento, though lots of the locals also speak Spanish and English, and their local currency is the Aruban florin.
Aruba is a Dutch island that entices travelers of all types, so it's not surprising it's the most visited island in the southern Caribbean!
Try out different water sports like kitesurfing on Palm Beach, or enjoy some solitude and quiet on less popular beaches like Baby Beach and Arashi Beach.
Snorkeling and scuba diving are some of the funnest things you can do in Aruba, where the marine life is exotic and colorful. Take your snorkel to beaches like Malmok and Mengal Halto, or scuba dive down to The Antilla, a sunken WWII freighter.
Once you tire of the coast, rent a 4×4 and explore the volcanic coastline and desert landscape in Arikok National Park.
18. Caye Caulker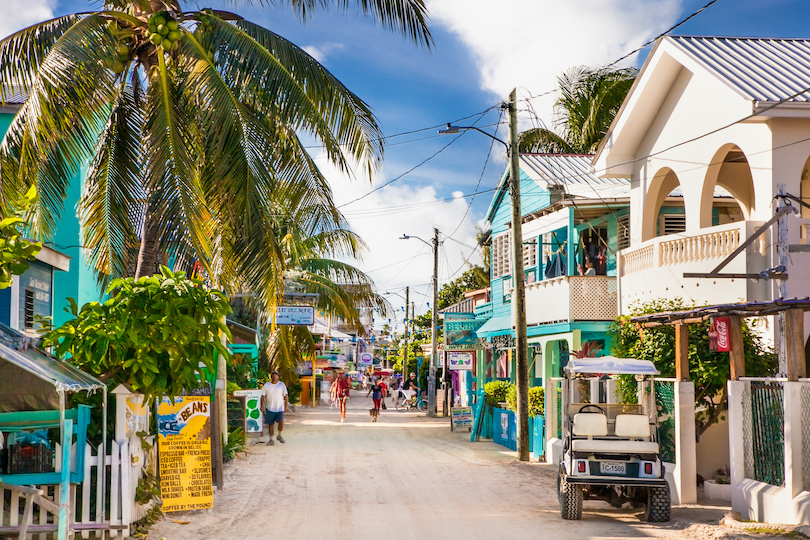 A tiny 5-mile long island off the coast of Belize, Caye Caulker has spectacular corals and is visited by marine species like sharks and rays that you can go diving with! The island is divided into two by a small water channel, and the northernmost part of the island isn't very touristic because it's fairly underdeveloped.
But if you head to the southernmost of the two parts of the island you're guaranteed a (very) quiet and relaxing beach holiday. It takes about 45 minutes to get to Caye Caulker from Belize City by boat, so you could even go on a short day trip.
Chilling and lounging on the beach will take up most of your time here, but you should get off your beach towel and go diving at the Belize Barrier Reef or take a flight over the Great Blue Hole – a 400-foot deep sinkhole that is so blue you can see it from space!
17. Bahamas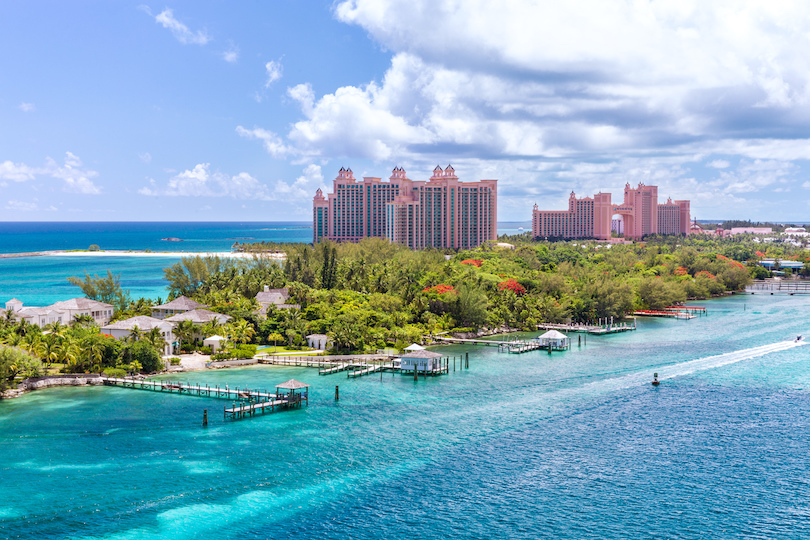 There's not much you can't do in The Bahamas. As it is made up of some 700 islands, the Bahamas have it all! Whether you want to go on a luxury holiday, escape to secluded beaches, party all night, island hop, or go on a family trip – there's an island for you in the Bahamas.
A popular destination is the lively Nassau Island, which is home to an array of luxury and all-inclusive resorts and caters for families and party-lovers alike. If it's nature you're looking for, explore the mangrove swamps on Andros Island.
Those looking to relax and de-stress should consider the pink-sand beaches where you can swim with wild pigs in Eleuthera. To experience the Bahamas like a local, don't miss out on a night at a fish fry – keep your class full of rum punch in true Caribbean style!
16. Grenada
Grenada is popular for an array of things, from the famous Molinere Underwater Sculpture Park to its fascinating capital. The island is also the home of nutmeg, and the smell of the spice is always lingering in the air.
Don't miss out on the once in a lifetime chance to scuba dive your way through an underwater park with 65 different sculptures. The Molinere Underwater Sculpture Park in the Molinere-Beausejour Marine Reserve is one of the island's most unique attractions.
Stay in Grenada's capital, St. George, and enjoy this little city that boasts surrounding mountains and an adorable harbor.
15. Guadeloupe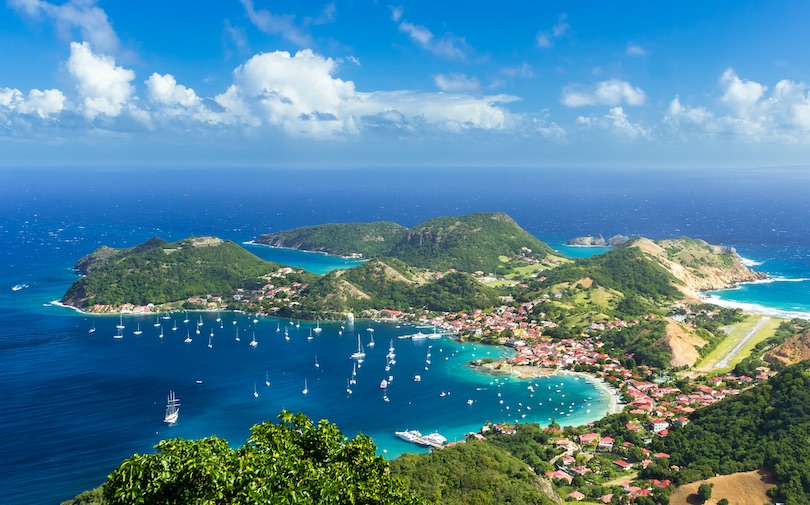 The French island of Guadaloupe is spread across Basse-Terre, Grande-Terre and numerous smaller islands nearby. But if you go, you'll likely stay on Basse-Terre or Grande-Terre.
It is a hotspot for foodies and laid-back travellers who want to spend their time doing very little and taking it easy. The island has spectacular restaurants that serve freshly caught fish and seafood dishes layered with spices and a Caribbean flare.
Laze around on the island's sunny beaches, and when doing something more active takes your fancy head into the hills and explore the tropical flora. Excitingly, you can hike the La Grande Soufriere volcano (which is still active today) on the Basse Terre island!
14. Cozumel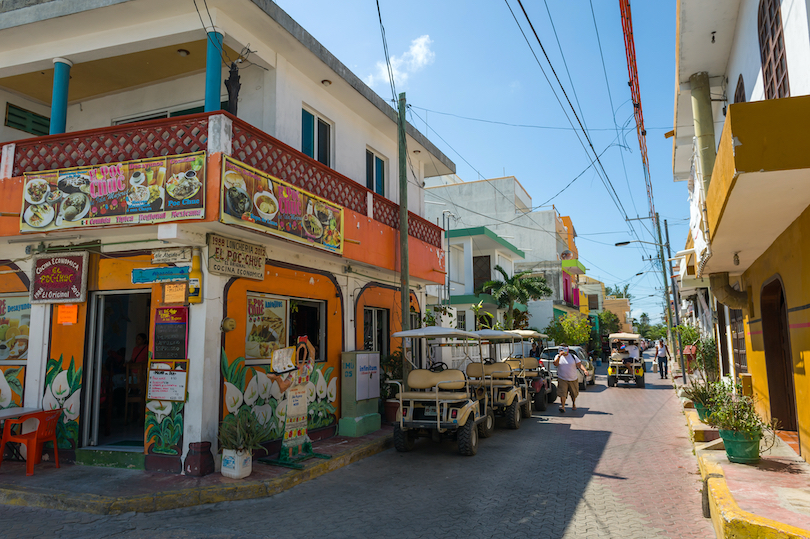 Cozumel is a vibrant Mexican island that has a mix of resorts, beach clubs, and swanky hotels on the west side of the island. The west is nicely contrasted by the secluded beaches and little beach bars crowded with locals on the east side.
Once you've explored the different areas of the island, take a jeep tour to Cedral. The town is surrounded by dense jungle and hills in every direction, and you'll get to stop at caves and cenotes along the way! Be sure to try fish tacos before you leave Cozumel.
The island, like many in the Caribbean, is also visited by divers. One of the best diving spots for beginners is the Columbia Shallows, a great spot for less experienced divers who want to explore the Columbia Reef without diving too deep!
More experienced divers should check out Punta Tunich, where you can dive as far as 130 feet below the water's surface!
13. St. Kitts & Nevis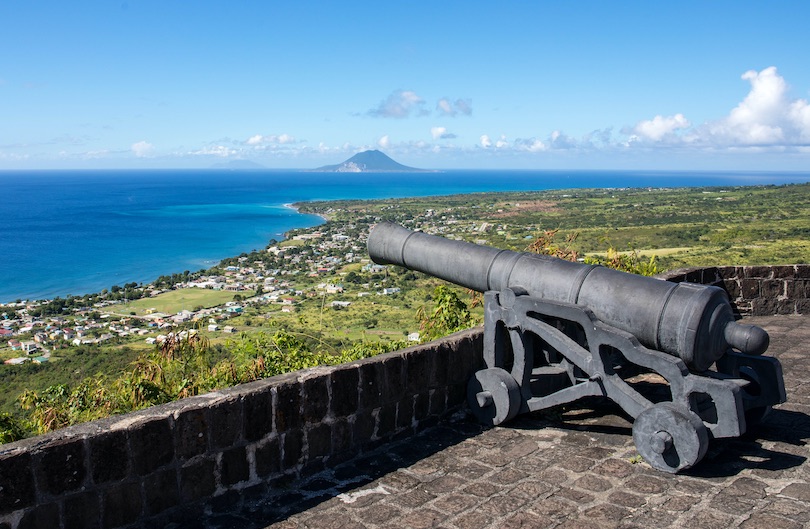 St. Kitss and Nevis has lots of condos and comfortable hotels, making it a great family holiday destination. The two islands have a laid-back feel to them and the rhythms of soca are often playing in the background.
You can spend the day on St. Kitts exploring the old military Brimstone Hill Fortress, which is a UNESCO World Heritage Site and will impress all kinds of travelers with its old barracks and citadels. After, dance the night away at a club in Frigate Bay.
On Nevis, wander around the capital, Charlestown, and soak up the colonial architecture, or walk through abandoned sugar plantations that are dotted around the little island. Last but not least, get out into nature and explore the volcanic landscape of this charming island!
12. Dominican Republic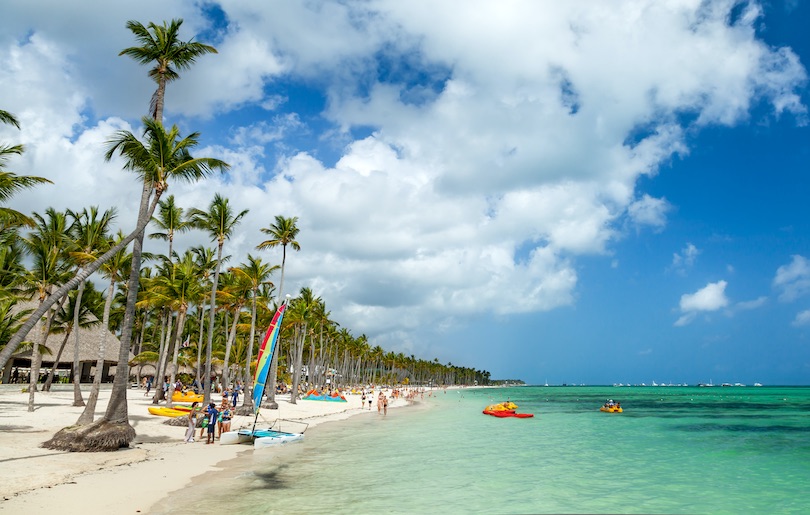 The Dominican Republic has resorts left, right, and center and accommodates every budget. Now, it's important to note that the Dominican Republic is a country that takes up the largest part of Hispaniola island (made up of Haiti and the Dominican Republic).
Some of the must sees in the Dominican Republic include its capital, Santo Domingo, and the Cascada El Limón. The capital has a mixture of quaint colonial streets and metropolitan areas with sky-high hotels.
To get to Cascada el Limón you'll take an exciting horse ride through a jungly landscape that leads up to the 172-foot tall waterfall. Have a dip in the swimming hole at the foot of the waterfall before heading off!
11. Cayman Islands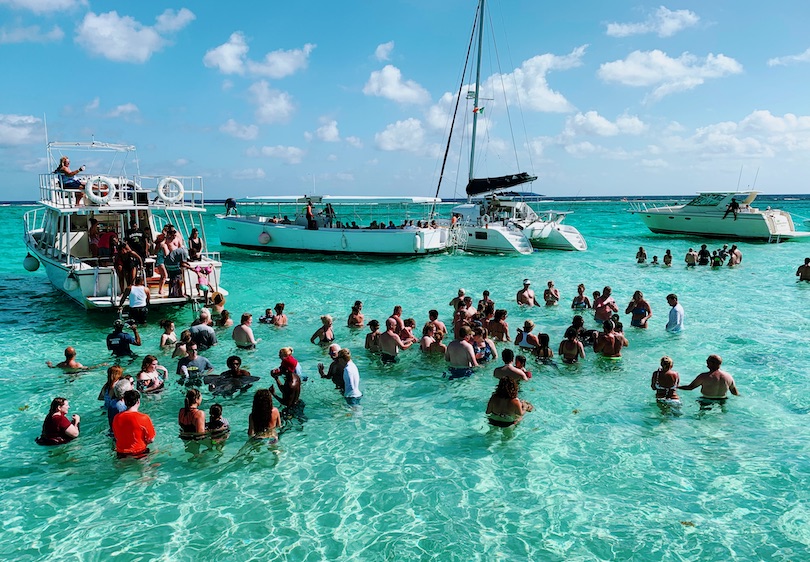 The collection of islets that make up the Cayman Islands offer nature, beaches, and unique opportunities like the chance to swim with stingrays. They are still owned by Britain and most of the islets are well developed and have plenty of resorts and beachside condos on offer.
If you've come to the Caribbean to dive and get up close with corals and marine life, then you can't go wrong on Little Cayman. The island's Bloody Bay Wall is one of the best diving spots in the World.
Alternatively, stay on the isle of Grand Cayman for a relaxing beach holiday, plus the opportunity to swim or kayak through a sea lit up in twinkling blues at the Grand Cayman's Bioluminescent Bay! Keep a lookout for blue iguanas as you explore the island – spotting this rare animal is a real treat.
10. Barbados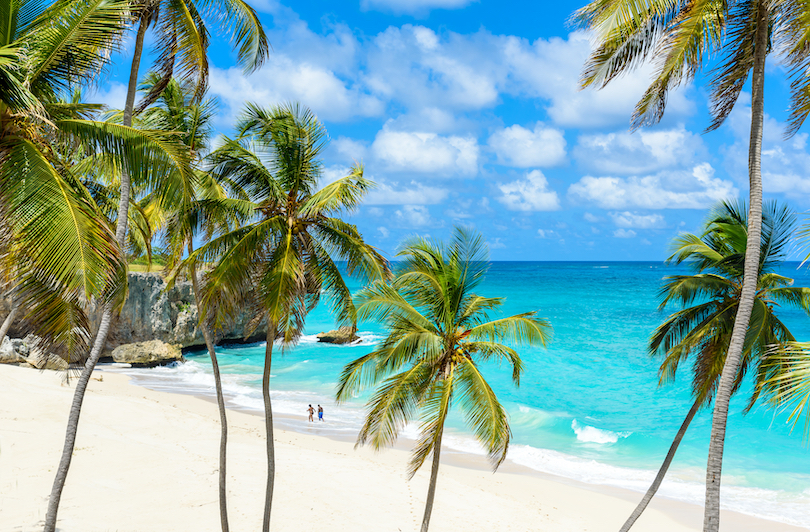 The island of Barbados is a great choice for travelers on a budget, though the island has plenty of luxury destinations too. The island is also a great place to sample some of the best rum!
Surfing, windsurfing, and days on the beach doing absolutely nothing are just some of the things the island has in store. You'll be spoiled for beaches on your trip, but Rockley Beach is definitely a must-see.
Once you tire of the sand and the sea, head to Bridgetown and spend the day shopping and strolling through the downtown area, which is another of the Caribbean's UNESCO World Heritage Sites.
9. Jamaica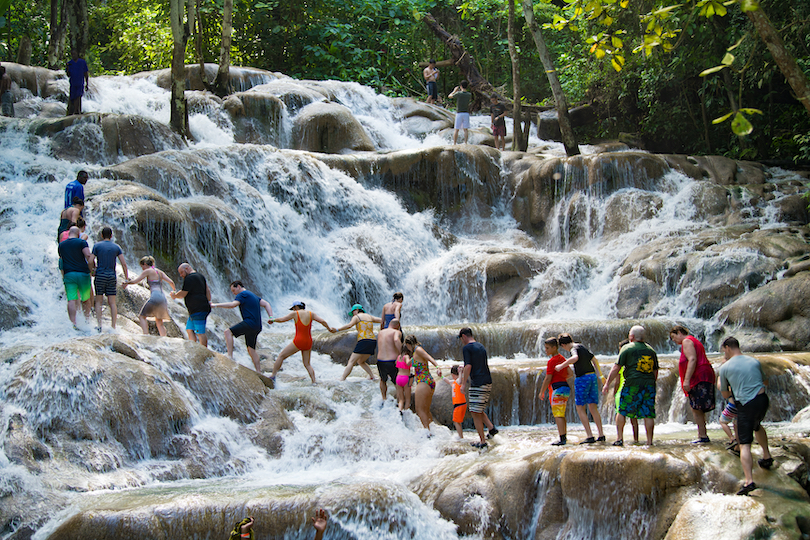 Jamaica is a lively Caribbean Island that is filled with music, great food, and colorful cities and beaches. Jamaicans have a thirst for fun, and that is reflected in the many street parties. Dancehall music is amongst the most popular tunes played in Jamaica, the Caribbean's third largest island.
Taste the best rum punch at local bars in Kingston, laze on a tropical beach on the north shore of the island where well-known spots like Seven Mile Beach are, or head into the Blue Mountains and get a taste of the jungle.
If you're a reggae fan you can't leave the island without going to the birthplace of the legendary Bob Marley. Make your way to the town of Nine Mile and go on a Bob Marley tour!
8. U.S. Virgin Islands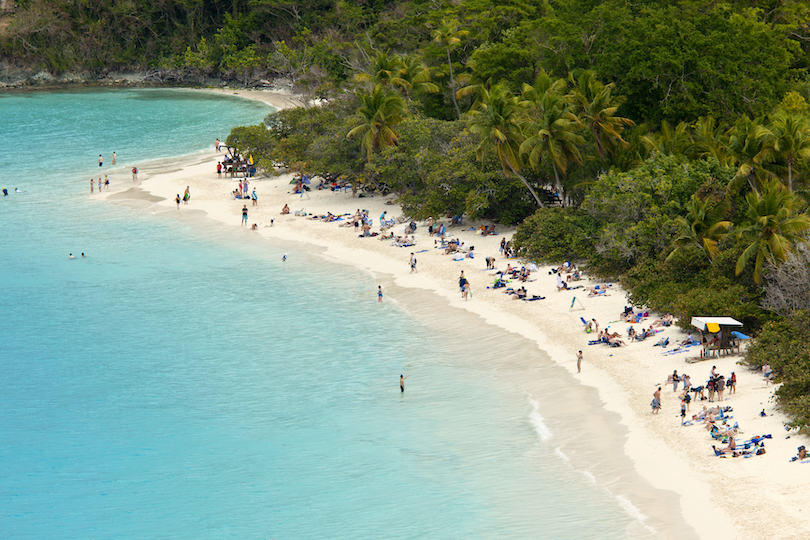 The U.S. Virgin Islands constitute about 50 islands that are all a part of the US. Some are so small they don't have a single inhabitant on them! St. Croix is the biggest, and it's most likely to be your base during your holiday.
There's lots you can do from St. Croix, like taking a trip to Buck Island that is known for its colorful reefs. Island hopping is one of the best things about the U.S. Virgin Islands!
Another popular island is St. Thomas. It has a fabulous stretch of white-sand beach, Magens Bay. Should you decide to stay on St. Thomas, you can easily catch a day charter to Water Island, which has quiet and picture-perfect beaches like Honeymoon Beach.
7. St. Vincent & The Grenadines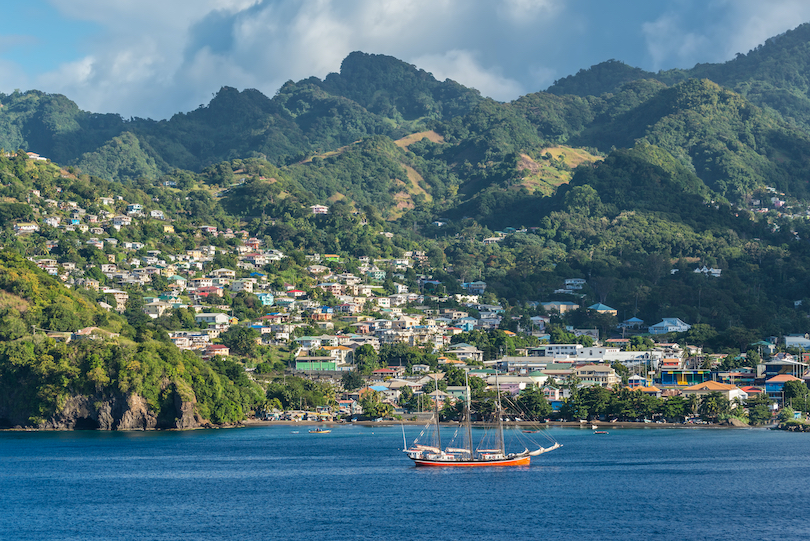 Scattered between St Lucia and Grenada there are 32 islands and islets that together make up St. Vincent & The Grenadines. The main island, as you might have guessed, is St. Vincent.
So why come here over some of the more well-known Caribbean Islands? Well, the beaches are less crowded and the laid-back, slow pace of life is great for travelers looking for a tranquil and peaceful holiday.
It's easy to island hop in St. Vincent & The Grenadines – make sure you visit the largely undiscovered island of Bequia from St. Vincent! Based on the island's pirate riddled history you might even find hidden treasures…
6. Cuba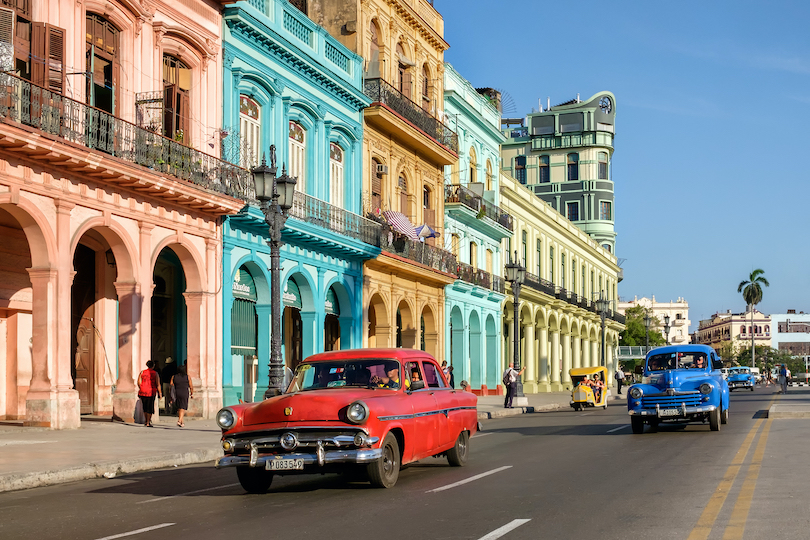 Cuba is fascinating for a number of reasons, like its lively culture, rhythmic son music, and dance scene. Aside from that, it's also the biggest island in the Caribbean!
Whilst you're in the capital, Havana, make sure you go to Habana Vieja, it's a must-see UNESCO World Heritage Site.
If you want to escape the city to somewhere smaller, then head to the colonial town of Baracoa and sit and people-watch at the Parque Central. Similarly, if it's the sand and sea that you want then head to Cayo Guollermo and Cayo Coco.
5. British Virgin Islands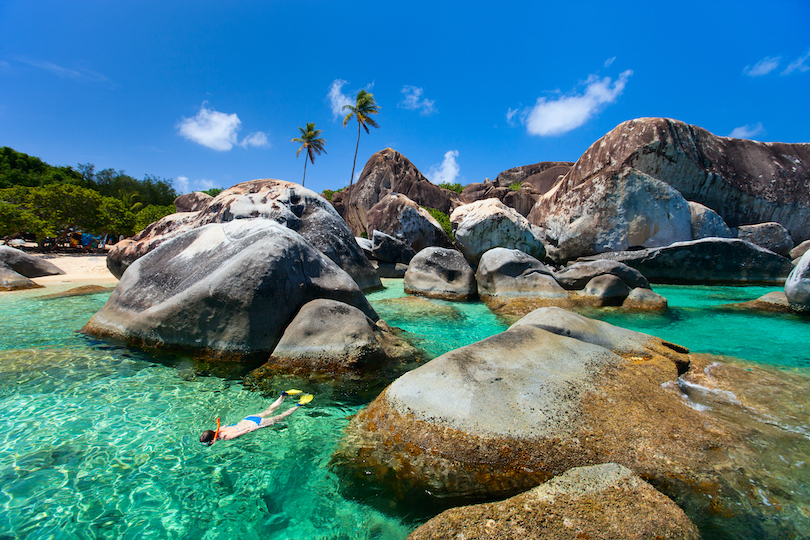 The British Virgin Islands are made up of more than 50 isles and are a hotspot for sailors! As you might have guessed based on the name, it's an overseas territory that still technically belongs to Britain.
There are some must-see destinations, like the Ancient volcanic rocks at The Baths, and the secluded beaches at Cow Wreck Bay that was named after the cow bones that mysteriously washed up onto the shore many moons ago.
You can also go treasure hunting on Norman Island – legend has it that the treasure buried there in 1843 is yet to be discovered! Other highlights of the islands are their fun full moon parties and fresh fish and chips.
4. Curacao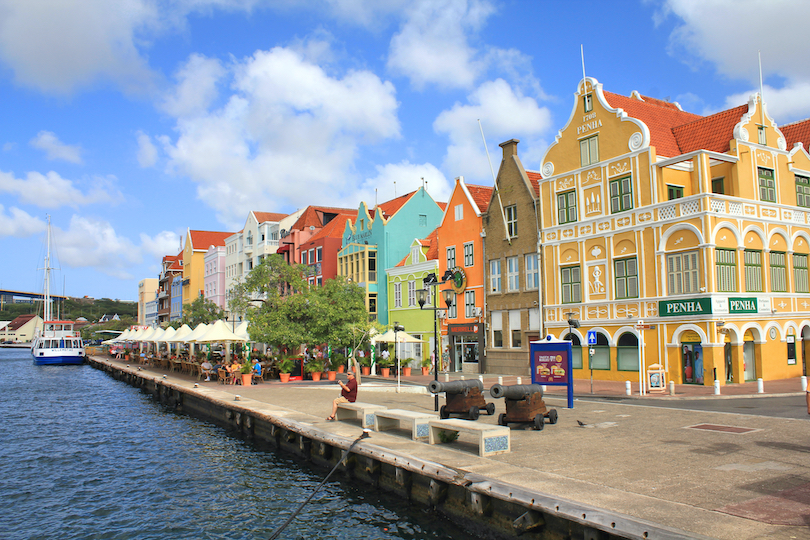 The Caribbean island of Curacao has brightly colored colonial architecture round every corner. It's culture and cuisine have a certain European flair to them, in accordance to their past as a colony.
It's one of the ABC islands, and the perfect destination for travelers who want a more authentic experience of the Caribbean.
When you're there, visit as many of the island's 40 beaches as you can – put Playa Kenepa and Playa Porto Marie at the top of your list. After, stroll around the island's capital, Willemstad, where Dutch colonists built lavish mansions that are still intact today!
3. Turks & Caicos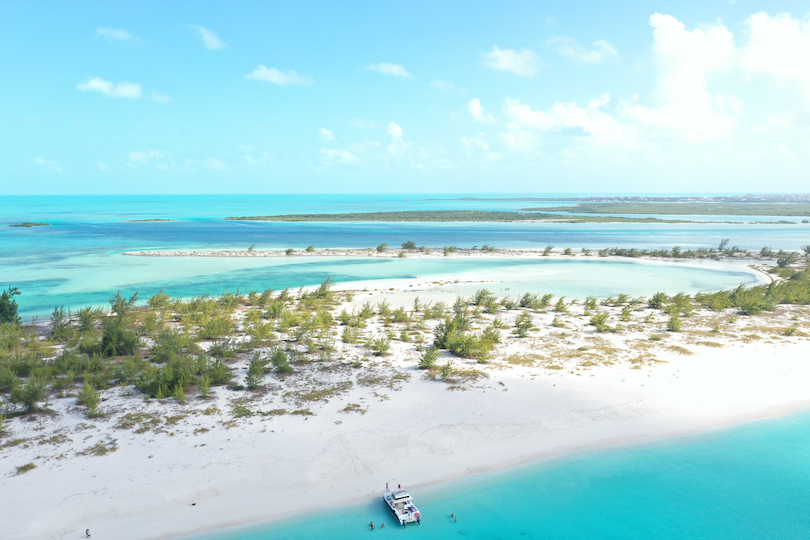 Turks and Caicos are a collection of some 300 tiny islets that are a British Overseas Territory, though some of them are no bigger than a small beach! The islands attract visitors thanks to their spectacular tropical beaches and pristine turquoise waters.
One great thing about the islands is that they aren't as touristy as some of the other Caribbean Islands, so you won't have to share your beach spot with hundreds of other visitors!
The capital of the islands is Cockburn Town, but Provindeciales is a more popular destination. You can expect pirate carvings from the 19th century dotted around, opportunities to go scuba diving through vibrant coral reefs, and out-of-this-world beaches at Grace Bay. Don't leave without trying deep-fried conch clams!
2. Antigua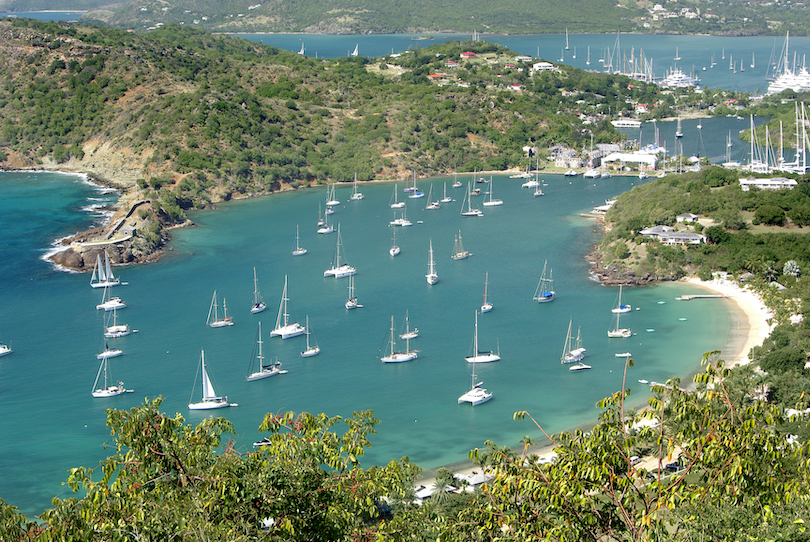 Beaches, beaches, beaches! Antigua Island has a lot of beaches, around 365 of them to be precise. Probably due to its landscape, the island is riddled with resorts. All-inclusive holidays are definitely easy to find in Antigua – whether you're looking for luxury or budget!
Most of the resorts along the island are along Dickenson Bay, Jolly Harbour, and Five Islands Peninsula. The west coast is less of a beach destination, but it does have some great spots history lovers will enjoy.
Explore the Rendezvous Bay, which is more secluded and takes a walk through the rainforest to get to, and Nelson's Dockyard National Park, the island's UNESCO World Heritage Site. Eat fresh fish and sip on piña coladas on the beach in Half Moon Bay.
1. St. Lucia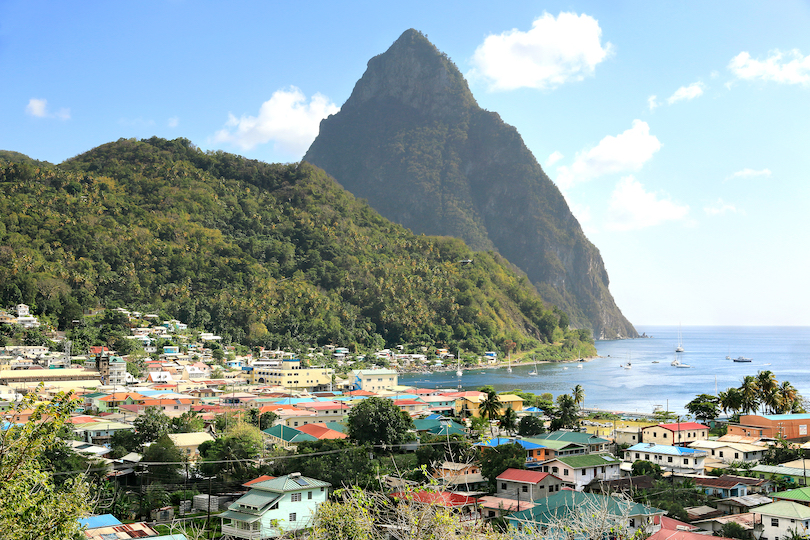 Whether you're looking for adventure or luxury, St. Lucia has it! The island is perfect for all kinds of travelers, from solo travelers to honeymooners. If you're a nature lover, you can spend your time trekking in the mountains, whilst sports enthusiasts can windsurf, kayak, and snorkel in the blue Caribbean waters.
If you're looking for lazy beach days and an easy holiday with all the luxuries included, head to the north of the island and stay in Rodney Bay.
But, if it's the outdoors that has called you to St Lucia, then Soufriere in the south will be more your cup of tea. The area is home to the breathtaking Pitons, volcanic spires that line the coast and create views that are a photographer's heaven.
The island has been greatly influenced by French culture, and the delicious Creole cuisine prepared around the island reflects it! Make sure you try a plate of Green Fig and Saltfish before you head home.
Map of the Best Islands in the Caribbean