The stunning Caribbean island of Puerto Rico is a US territory, but it has a mix of a Latin and Caribbean feel to it. The island's capital, San Juan, is a melting pot of the colonial and metropolitan.
From the ancient forts that once protected the city to the high-end shopping and dining options, San Juan delights history buffs, adventurers, and luxury seekers alike.
The city has an array of quaint and colorful streets in the Old San Juan district, which is contrasted by the modern skyscrapers in the Condado neighborhood. Its beaches are well worth a mention, too! From the small El Escambron to mile long beaches like Condado Beach, there's a haven of tropical paradises waiting to be discovered.
Whether you're here for the sand and sea, historical buildings and colonial architecture, or the museums and restaurants – there are tons of things to do in San Juan to keep you busy.
Map of Things to do in San Juan, Puerto Rico
© OpenStreetMap © MapTiler © Touropia
16. Playa Ocean Park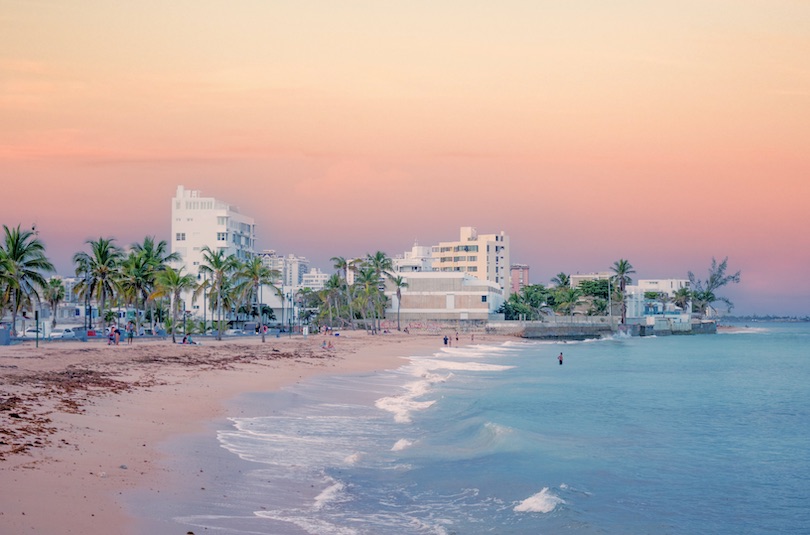 This stunning white sand beach along the edge of the city is spoiled with turquoise waters and a tropical feel. Tall palm trees stretch high into the air and provide a little shade from the hot sun.
It's one of the best spots in San Juan for relaxing and sunbathing! Bring a book, go shell hunting, and just chill for the day. La Playa Ocean Park is perfect for travelers who want to take a break from sightseeing and visit spots that are popular amongst the locals.
Throughout the day there tend to be vendors with carts stocked with cool ice creams roaming the beach!
15. La Perla District
Along the northern edge of the historic city wall of Old San Juan there is a neighborhood known as La Perla. It was once a shanty town, and was established in the late 19th century.
It was the home to humble farmers and the working class residents of the city. It's not as derelict and poor as it once was, and recently all the houses were painted different colors, making the neighborhood rainbow colored!

If you want to visit make sure you go during the daytime. There aren't any major attractions in the old barrio (neighborhood), but it's riddled with locals, a few bars, and culture.
14. La Puerta de San Juan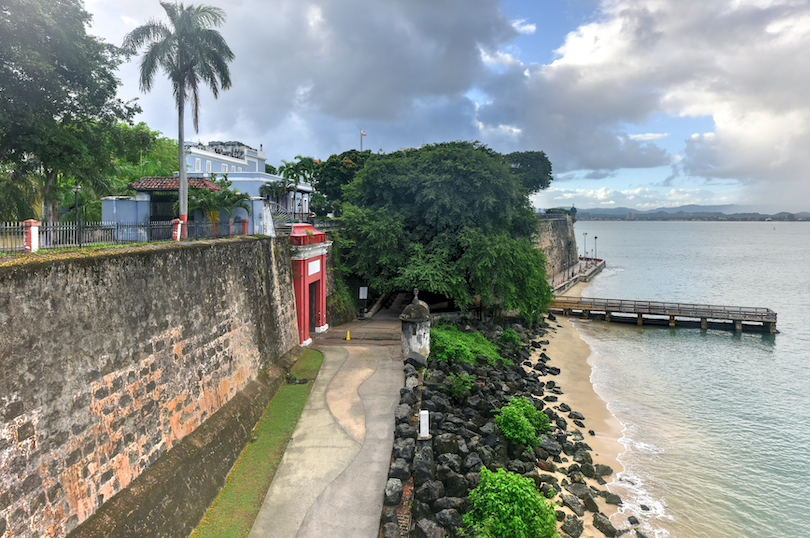 The entrance to Old San Juan goes by two names, Puerta de San Juan and Puerta de Aguas. It's not the only entrance along the old city wall, but it's definitely one of the most popular and colorful!
It leads onto the Paseo La Princesa and stands 16 feet tall! At 20 feet thick, it's pretty impenetrable.
At the top of the entrance are engraved the words "Benedictus Oui Venit In Nomine Domini", which means "Welcome Those Who Come in the Name of God", reminding visitors of the Catholic faith of Puerto Rico.
13. Calle de la Fortaleza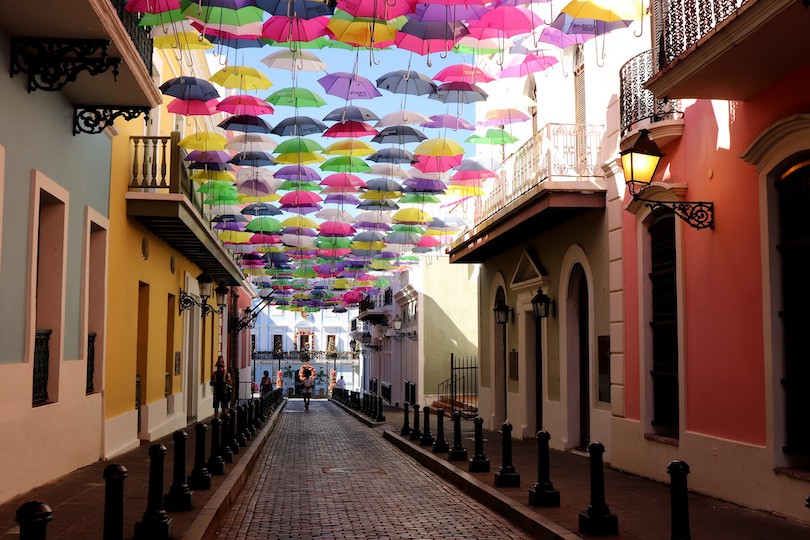 prayitno / Flickr
This cute street in San Juan is picturesque. It's named after La Fortaleza, a National Historic Landmark and UNESCO Heritage Site (also the Governor's Mansion!).
The enormous La Fortaleza mansion was built between 1533 and 1540 to protect San Juan. It's strategically placed and absolutely huge.
The wonky cobblestones, idyllic cafes, and colorful houses give Calle de la Fortaleza (which translates to the "street of the fortress") an undeniable charm. You'll definitely want to get some Insta snaps here – you're bound to make everyone back home green with envy!
12. Museo de Las Americas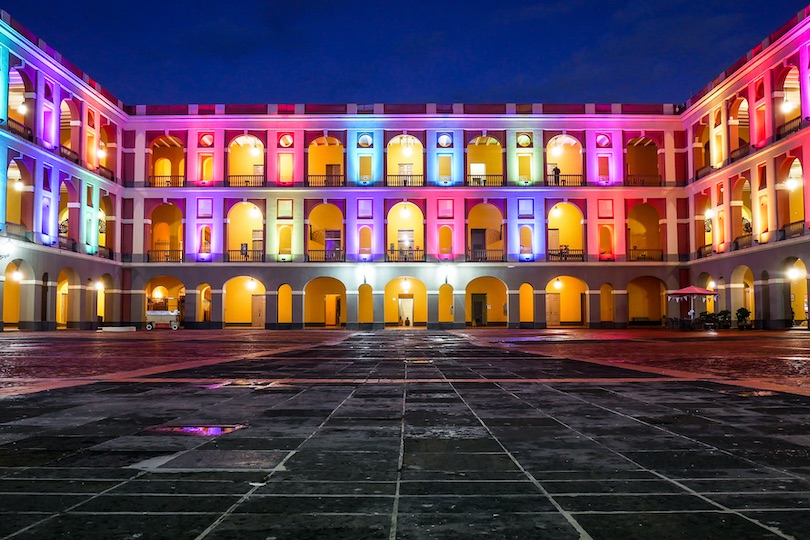 The Museo de Las Americas explores the history and multiculturality of the American continent. They have temporary and permanent exhibits, so there's always new artifacts on display!

Their exhibits explore American art, the African heritage of the continent, and the effects that conquest and colonization have had. You can find the museum inside the Cuartel de Ballaja.
It's not just what's inside that's loaded with mystery and history, the building itself (the Cuartel de Ballaja) is a historical relic of San Juan. It was once a military barrack that belonged to the Spanish military and later it was used as a hospital during WWII.
11. Balneario El Escambron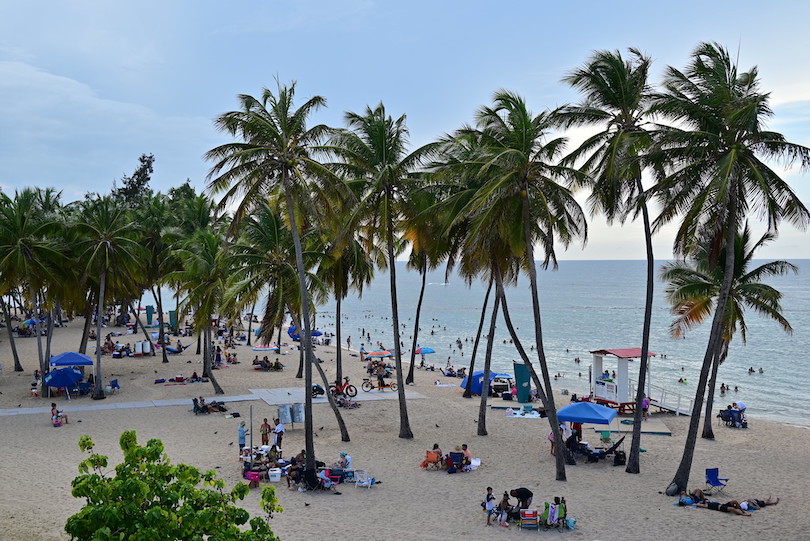 Anthony G. Reyes / Flickr
This quaint and quiet beach is to the east of Old San Juan. It's sandy and boasts pristine waters that make it a great swimming spot. There's also a cluster of palm trees where you can picnic and hide from the hot midday sun.
The beach is crescent shaped and has a laid back atmosphere. Another plus is it's usually not too crowded!
Come and snorkel, relax, and work on your holiday tan. Even when you're on holiday you need an occasional lazy day, and Balneario El Escambron is as good a spot as any!
10. Capitol of Puerto Rico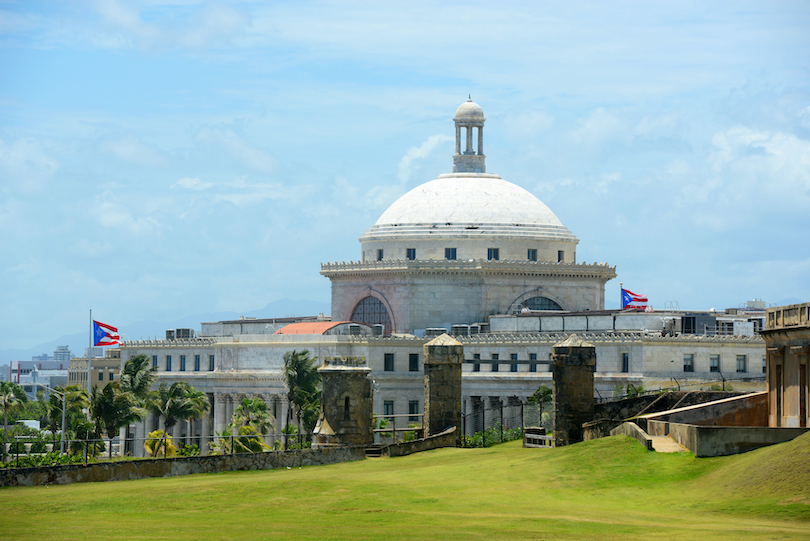 This grand and imposing building sits just outside the wall into the Old San Juan area. It was inaugurated in 1929 and was the former residence of Commissioner Luis Muñoz Rivera.
It's built following a Neoclassical Revival style and was designed by Rafael Camoega. Curiously, the dome in the middle of the building wasn't built until 1961. There are stunning murals and mosaics that depict Puerto Rico's history inside!
The sheer size of the building is impressive, but factor in the elegant interior and grand decorations and you're looking at one of San Juan's most lucrative buildings.
9. Museo de Arte de Puerto Rico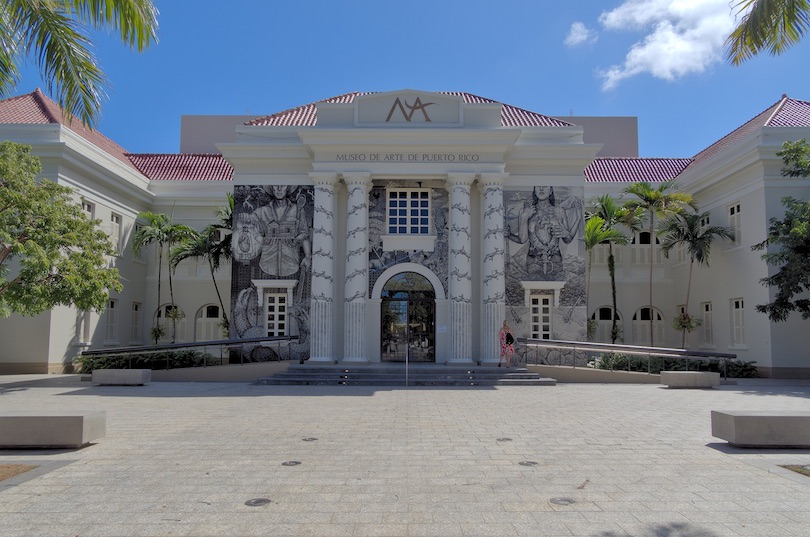 Šarūnas Burdulis / Wikipedia
The story of this art museum starts back in 1995 when they began restoring the old Hospital Municipal de San Juan, an old hospital that had been neglected for decades. The Museo de Arte de Puerto Rico didn't have its official inauguration until 2000, when the building had been restored to its former splendor.
Whether it's the art or the architecture of the old hospital that you're interested in, there's plenty of surprises in store. From brightly colored murals depicting scenes of indigenous communities, to elegant sculptures, and lush botanical gardens. With 24 different galleries to explore you're going to need a few hours at least.
They also have an exciting ethnographic exhibition called Puerto Rico Plural which, across more than 250 art pieces from the 18th century to the present, explores Puerto Rican identity.
8. Trip to El Yunque National Rainforest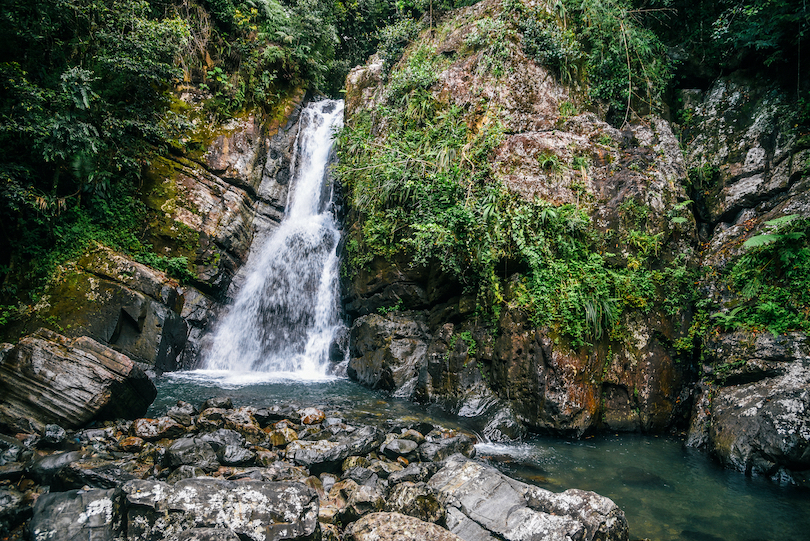 This stunning rainforest is considered sacred by Puerto Rico's communities. Where the name comes from isn't totally clear, it may be derived from the Taino word for white earth or the word Yucahu, the Taino deity of fertility.
Start your nature adventure at El Portal Visitor Center, where you can get handy information about the park and possibly spot an endangered Puerto Rican Parrot! Of course, like most nature parks, El Yunque is known for its hiking trails. Hike the 2.5 mile long El Angelito trail or cool off in a pool along the La Coca trail.
The park's wildlife is another reason it's so popular. There are hundreds of endemic plant and animal species in El Yunque, so keep your eyes peeled! One last thing worth mentioning is the Yokahu Observation Tower that has some of the best views in El Yunque. Oh, and you can zipline in the park too…
7. La Fortaleza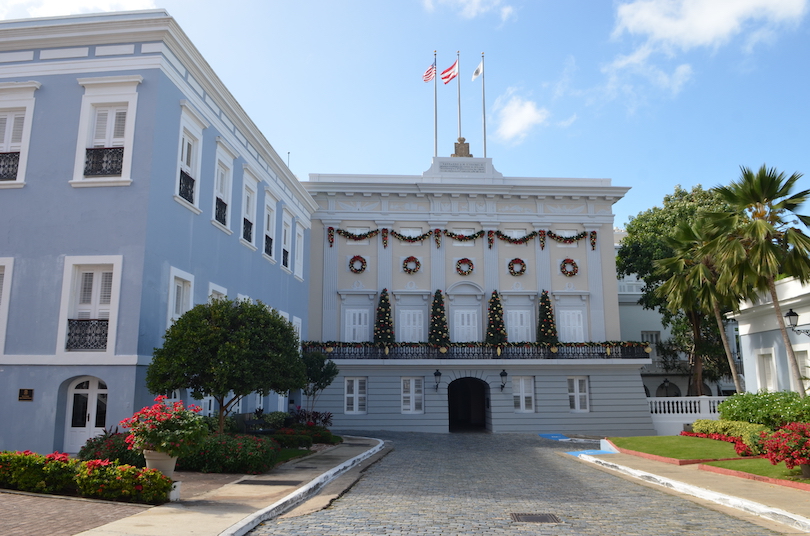 La Fortaleza sits along the street of the same name, Calle de la Fortaleza. It's a grand palace that is currently the governor's residence. The vibrant blue and white exterior of the palace certainly catches the eye.
It dates back to 1540, and was built as a protective fortress that would ensure the safety of San Juan. Admittedly it didn't do very well, and was defeated on various occasions like in 1598 and 1625 by foreign commanders.
With that in mind, it was designated as the residence of Puerto Rico's governors in 1846 and remodeled. It has housed 170 governors! You can't explore La Fortaleza independently but there are scheduled tours that you can go on that take you through the mansion and gardens.
6. Catedral de San Juan Bautista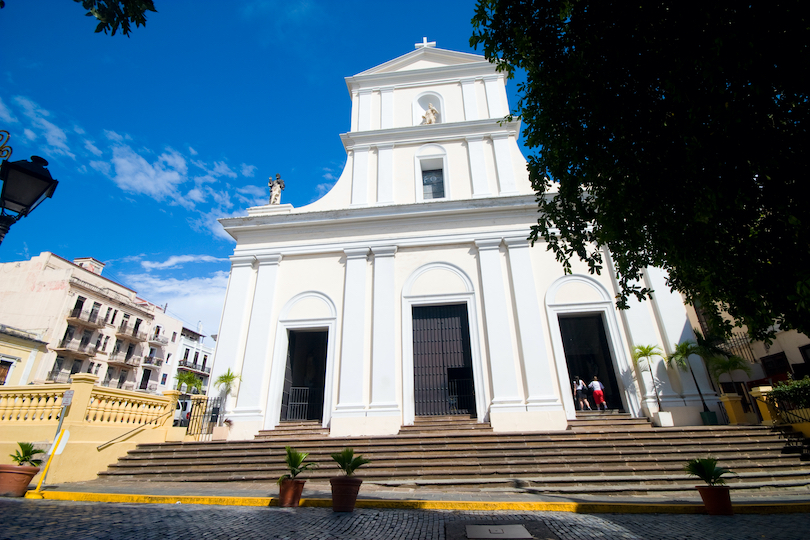 This 500 year old cathedral is one of the finest in all of Puerto Rico. Located along Calle del Cristo (which translates to the street of Christ, a rather fitting location!) in Old San Juan, the church has been standing since 1521.
Sadly, it was destroyed by a storm not much later, but its reconstruction began in 1529. It houses a few religious relics, like ornaments and clothes used by the Pope Juan Pablo II who visited the island in 1984.
You can also visit the remains of Juan Ponce de Leon, a Spanish explorer, and San Pio. The church's exterior is white and elegant, and it's in exceptional condition considering its long history!
5. Castillo de San Cristóbal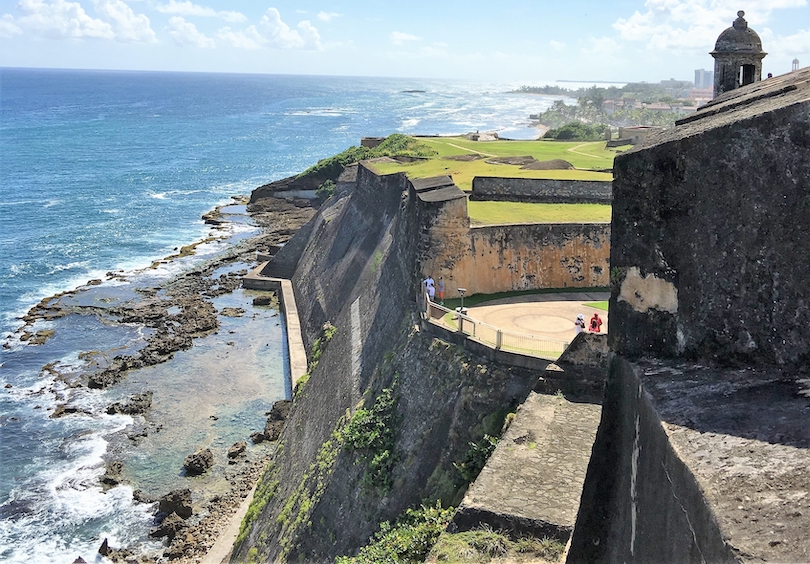 With forts already positioned along the ocean, the last thing missing was a fort to protect the city from invaders attacking by land. Thus, the Castillo San Cristobal was built at the eastern gate.
Impressively, it's the largest fort built by the Spanish in the New World. It also houses the Garita del Diablo, a sentry box where a soldier is believed to have been kidnapped.
Aside from the legends that revolve around the castle and the sheer size of it, it's also got great views of the city that make it worth a visit!
4. Condado Beach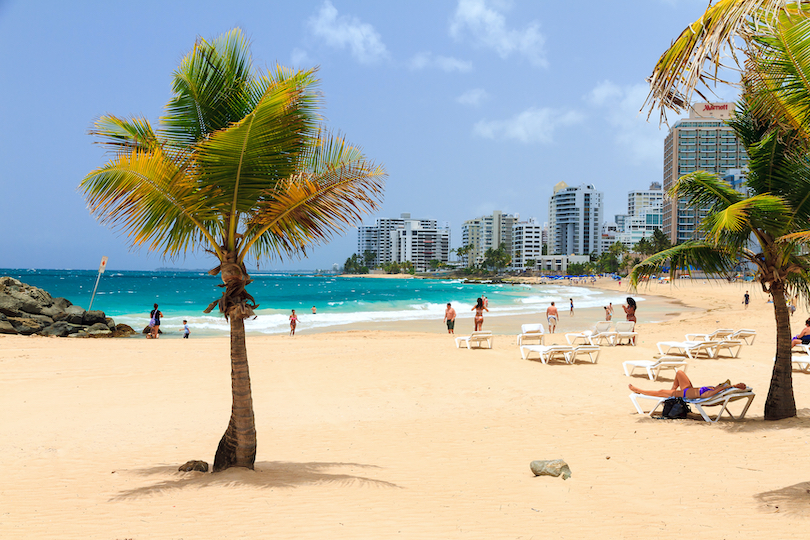 Looking for somewhere to relax? This long stretch of tropical beach in San Juan is the place to go. It's over a mile long, blessed by sunny days year-round, and easy to get to as it's along the edge of the city.
It's in one of the city's fancier neighborhoods, Condado. There are restaurants, boutique shops, and luxurious hotels right behind the beach.
You can go on sailing tours, parasailing trips, join a yoga class on the beach, and take off on diving adventures from the beach! It's suited to those who just want to chill as well as travelers looking for a unique island experience.
3. Paseo de la Princesa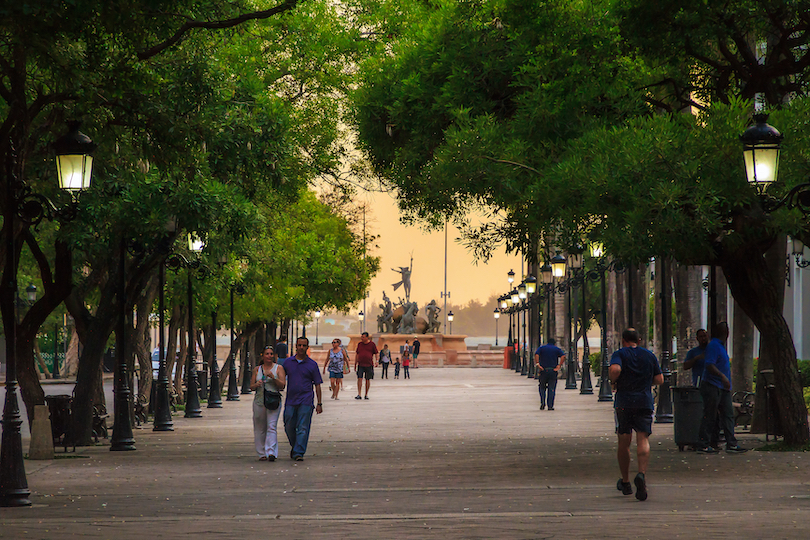 This lively walkway in the center of San Juan is busy and vibrant. There are lots of great restaurants you can stop to eat at, vendors selling shaved ice that will cool you down on a hot day, and artists selling their masterpieces.
It's close to the Castillo del Morro, San Juan Gate and the Raices Fountain too, so you can easily add it into your itinerary. The street is spoiled with shoreline vistas that will take your breath away and charming buildings
Walk beside stretches of the old city wall and enjoy the cool sea breeze before ducking into a cute bar for a cocktail. It's especially gorgeous during the sunset when a golden hue covers the sky and the sun reflects off the sea.
2. Castillo San Felipe del Morro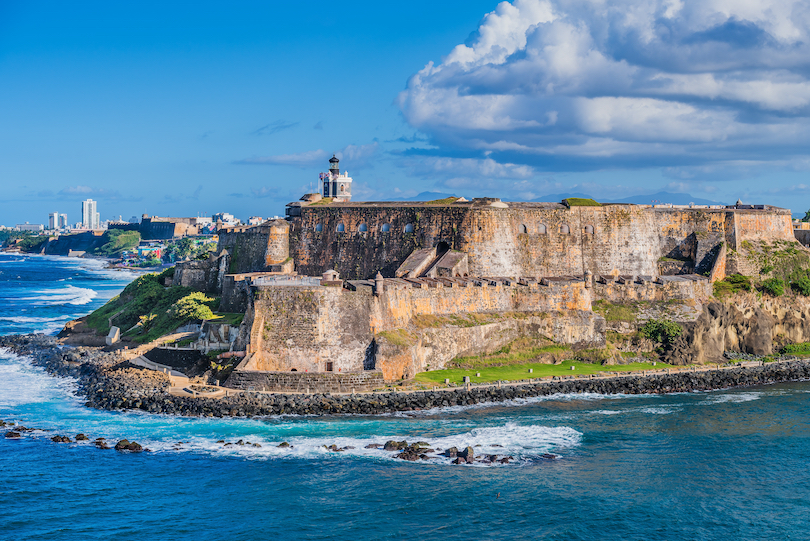 This old fortification perches on an islet in Old San Juan. Historically, it has been an important outpost for Spain and then the United States. Mind you, with all the cannons fit snugly in the embrasures of the castle wall it's not hard to imagine it might have played a military role in Puerto Rico's past!

It was far from a quick build, undergoing continuous construction between 1539 and 1790. In that time it leveled up from a small promontory with a single cannon to a six-level fortress that would intimidate even the bravest attackers.
It protected San Juan from pirates, British invaders, and Dutch invaders when it was reigned by the Spanish, then later served as a military installation during WWI and WWII under US rule. It's now a museum and UNESCO World Heritage Site.
1. Old San Juan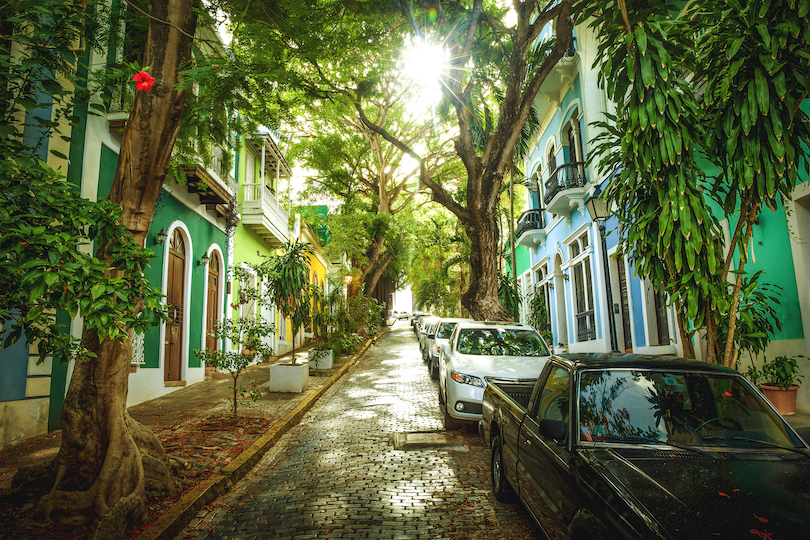 Old San Juan is probably the most popular tourist destination in Puerto Rico, and for good reason. It's home to five-century old forts, fine dining, and vibrant streets. It has an upbeat atmosphere and plenty of must-see attractions.
A walk through the Old San Juan district is like a history tour, with colonial architecture around every corner and enormous forts and mansions behind every bend! The best way to explore Old San Juan is to walk around and get a bit lost.
Make sure you see the Castillo San Felipe del Morro, Castillo San Cristobal, Capilla del Cristo, Casa Blanca (the oldest residence in Old San Juan), and the Santa Maria Magdalena de Pazzis Cemetery.